Colin Oates: Commonwealth champion announces retirement from judo
Last updated on .From the section Judo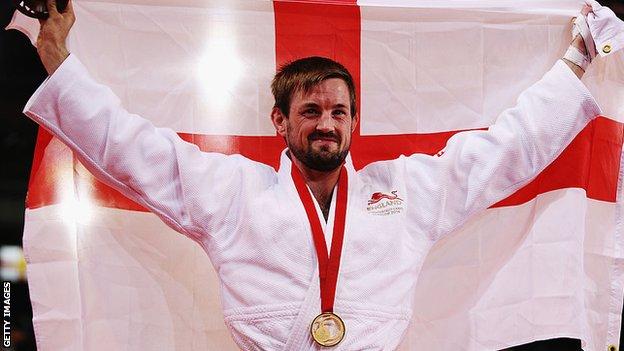 Commonwealth judo champion Colin Oates has announced his retirement.
He competed for Team GB at the London and Rio Olympics, but missed out on medals on both occasions.
"Competing in judo has been the time of my life and the journey was worth it no matter the outcome," the 34-year-old said in a post on his Facebook page.
"After competing in the sport of judo for the best part of 26 years every road comes to a junction.
"It's time for me to start down a new road and from this day forward I will be retiring from competitive judo."
Oates, from Norwich, confirmed he was thinking over his future in the sport after losing in the first round at the 2016 Olympics in Rio.
Since then he has been concentrating on coaching in both England and Scotland, and working towards a level three qualification.
He caused a major upset at London 2012 by beating former world champion Khashbaataryn Tsagaanbaatar before losing in the quarter-finals.
"From there onwards, the last five years have been a blur, winning my first ever Grand Slam medal in Russia and my first ever Grand Slam gold in Baku after which I reached number five in the world rankings," he said.
"The final high came when I reached my first ever major championship finals at the Europeans last year. It was a shame not to take the gold but I was proud of my achievement."