Natalie Powell: Welsh judoka targeting European Gold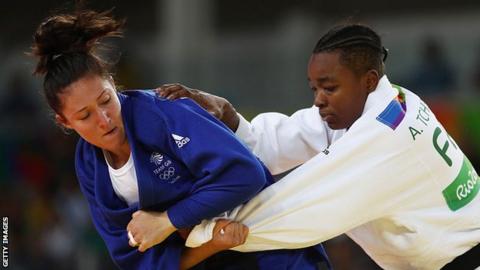 Natalie Powell says watching Team Wales' success at the Commonwealth Games will inspire her to win gold at the European Judo Championships.
The Welsh judoka will compete in the -78kg category between 26-28 April at the Championships in Tel Aviv, Israel.
Powell, who won gold in the 2014 Glasgow games was unable to defend her title with Judo being replaced by Basketball in the Gold Coast.
However Powell said she was inspired by the success of Team Wales at the Games.
"I know on my best day I can deliver, I've just got to bring it," said Powell. "I knew even before Glasgow that Judo wouldn't be in the Gold Coast.
"Wales did so well and it's really sad that Judo wasn't in it this time as we could have had another 15 senior players on the mat.
"But it will be in for the next games and after that it will become a core sport."
Powell won bronze at the 2016 European Championships in Kazan, Russia as well two IJF Masters medals including an historic silver in 2015 as she became the first British judoka to reach a Masters final.
She was also be the first Welsh female judoka to compete at an Olympics when she competed in Rio 2016.
"It's obviously nerve racking at any major event, but I'm just looking to get out onto the mat now," added Powell.
"Gold is the dream, that's obviously what I want to win. "That's my aim, that's my goal. I've just got to perform to the best I can on the day."