Stephanie Inglis coaches Louise Renicks at European Veteran Judo Championships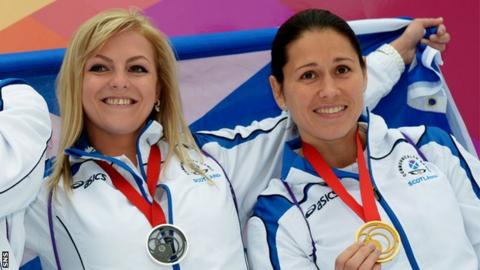 A lot can happen in the space of four years, but for two Scottish judoka, the unimaginable has brought them closer together.
Following the 2014 Glasgow Commonwealth Games, Louise Renicks and Stephanie Inglis were on a high after winning gold and silver, respectively. However, within two years of their Commonwealth success, major road accidents changed their lives.
Bouncing back from countless operations, numerous setbacks and loss of hope, this Saturday, both will be back at Glasgow's Emirates Arena for the first time in four years. Renicks, 35, is competing for the first time since retirement in 2015, with Inglis her coach at the 2018 European Veteran Championships.
"From everything that's happened in the last couple of years, this competition on Saturday is a little bit of normality," said Inglis, 29. "It's what I was used to and what I always knew. I'm looking forward to having that day on Saturday - coaching and watching the judo.
"It's my first big tournament to coach and to be coaching one of my best friends is really special. But it's strange because this is the first time I've been involved in judo when I can't physically do it myself. So it's a bit strange but it's nice to have that closeness."
A motorbike accident in Vietnam two years ago resulted in Inglis being given a 1% chance of survival. After months of rehabilitation and a metal plate fitted to the side of her skull, the Scot reluctantly announced her retirement from the sport last year.
"It took me a while to want to coach - I didn't really want to be around it because it was hard," she explained. "When I'd try and coach now and again it would be quite frustrating that I couldn't be doing the sport myself.
"It took me time to get over that and when I let go that that was my career over and accepted it, then I decided that yeah, I enjoy coaching. It allows me to be involved in something. To never have it in my life is a strange thought.
"I'd love to stay in the world of judo. Whether that's coaching one of my best friends at the veteran Europeans or coaching in a local club and helping kids progress. That's probably the most important role any professional athlete has is to try inspire and encourage our future generations."
Prior to the 2014 Games, Inglis and Renicks were touring the world, winning medals and making their mark on the judo circuit.
"I'll never forget when the two of us were in Uruguay and Stephanie got a fifth place and I got a silver medal and that was it - we knew we'd qualified [for Glasgow 2014]," Renkicks recalled.
"We both were jumping about on the beds, cuddling each other, celebrating. We were just really happy. And then at the Commonwealth Games we had a really good experience.
"Then after that, I remember getting told about Stephanie's accident. And I remember those two nights. I was up all night crying."
Renicks announced her retirement in 2015 and, following three operations due to injury, she was involved in a car accident.
"I did have emotional days, I did think I was depressed," she explained. "I'm lucky I've got a good support around me and I think if I didn't have that, I probably would have gone into that area.
"People see when I'm down and they instantly try to get me back in a good place. They keep me busy and they keep me trying to see positive.
"I know what it's like to be in a hard place and to have people hurt you and put you down - it's a horrendous place to be in. But you have to find a way to pick yourself up. Me and Stephanie both have that skill but in completely different areas.
"Because she has such a good bond with me, she said 'you know what, I would really love to coach you on this day, be a part of this journey and help you through the last couple of months'. And that's just what she's done - although she's taken it more seriously than what I thought, checking up on me. But she's had me laughing.
"Right away she went into this bossing me about and saying, 'right you're going to have to up your cardio, you're going to have to do this and you're going to have to do that'. And I was like 'aye right, okay, calm down'. But we're just supporting each other through a chapter of our life that's closed.
"They say things happen for a reason don't they? This competition coming at the time it has has given me a wee kick-start."