2018 Zagreb Grand Prix: Sally Conway wins bronze in -70kg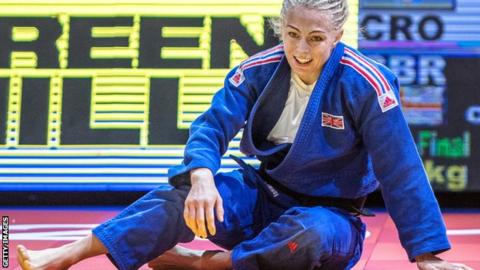 Britain's Sally Conway has claimed bronze in the -70kg category at the Zagreb Grand Prix.
The 31-year-old Olympic judo bronze medallist recorded three ippon wins to reach the semi-finals.
The Scot was beaten by France's Marie Eve Gahie, but overcame 2017 European champion Sanne Van Dijke after 42 seconds in the bronze-medal match.
Amy Livesey lost in Golden Score to finish seventh in the -63kg and Stuart McWatt was also seventh in the -81kg.
Conway, who won silver at the European Championships in April, had been troubled by a stomach upset on Saturday but overcame Patricija Brolih of Slovenia, Belgium's Roxane Taeymans and Brazilian Amanda Oliveira to reach the last four.
Elsewhere, Daniel Powell beat Marin Franusic, but lost in the second round of the -73kg category to Vadzim Shoka of Belarus.
Eric Ham lost to Austrian Lukas Reiter in round one of the -73kg and James Hayes also went out at the first round stage of the -81kg category, beaten by Serbia's Jovan Niskanovic.
The final day of competition in Zagreb on Sunday will feature five more British judoka - Natalie Powell (-78kg), Jemima Yeats-Brown (-78kg), Sarah Adlington (+78kg), Frazer Chamberlain (-90kg) and Max Stewart (-90kg).