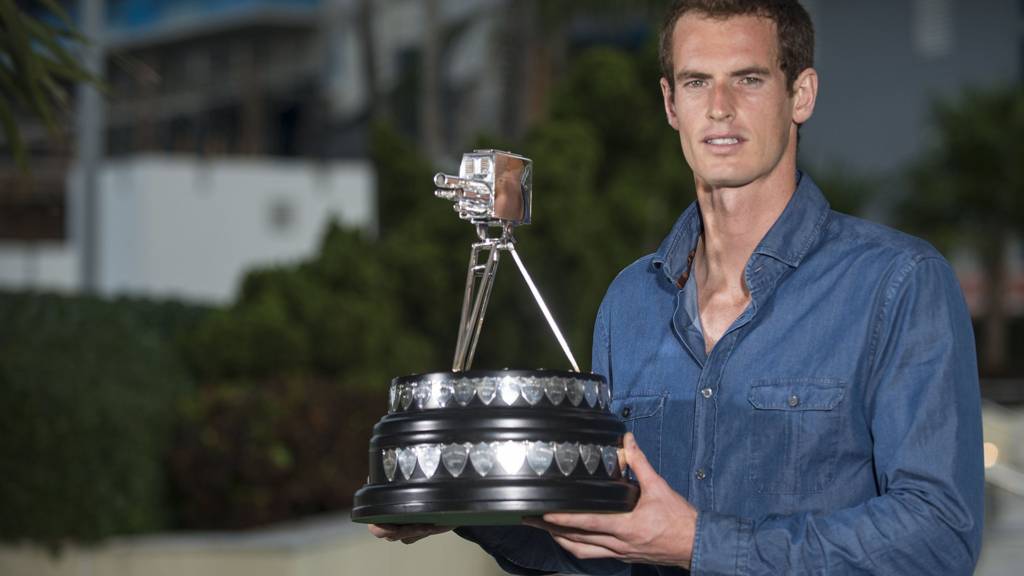 Sportsday - SPOTY nominations
And that is everything from today's Sportsday thanks for joining us. Bye for now.

The nominees

Sports Personality of the Year

So here are our 10 nominees...

Top row - Lizzy Yarnold, Charlotte Dujardin, Lewis Hamilton, Charlotte Evans and Kelly Gallagher, Max Whitlock.

Bottom row - Adam Peaty, Rory McIlroy, Carl Froch, Gareth Bale, Jo Pavey.

Breaking

BREAKING NEWS

BBC Sports Personality of the Year

The final five sportsmen and women to be nominated for the 2014 BBC Sports Personality of the Year are...

Rory McIlroy (golf)

Jo Pavey (athletics)

Adam Peaty (swimming)

Max Whitlock (gymnastics)

Lizzy Yarnold (skeleton)

Breaking

BREAKING NEWS

Sports Personality of the Year

The first five sportsmen and women to be nominated for the 2014 BBC Sports Personality of the Year are....

Gareth Bale (football)

Charlotte Dujardin (dressage)

Carl Froch (boxing)

Kelly Gallagher and her guide Charlotte Evans (skiing)

Lewis Hamilton (Formula 1)

The panel

Sports Personality of the Year

The 10 nominees for the BBC Sports Personality of the Year are to be announced shortly live on BBC One.

But who is on the panel that picked the final 10?

Well, these are the people tasked with the responsibility...

Olympians Rebecca Adlington and Denise Lewis, Paralympian Dame Tanni-Grey Thompson and footballer Jason Roberts.

Newspaper sports editors Mike Dunn (Independent, the i and Evening Standard), Howard Wheatcroft (Express Newspapers head of sport) and Alex Butler (Sunday Times); pan-sports broadcaster/journalist Alison Mitchell and the chair of SportScotland Louise Martin.

Director of BBC Sport Barbara Slater; head of TV sport Philip Bernie and Carl Doran (executive editor, BBC Sports Personality of the Year).

Award details

Sports Personality of the Year

This year's BBC Sports Personality of the Year programme, in Glasgow on Sunday, 14 December, will celebrate a year of drama which included the World Cup, Winter Olympics and Commonwealth Games.

A public phone and online vote will take place on the night to choose a successor to 2013 winner Andy Murray.

Shortlist to be named at 19:00 GMT

Sports Personality of the Year

The 10-person shortlist for the 2014 BBC Sports Personality of the Year award will be announced on The One Show on BBC One at 19:00 GMT.

Rebecca Adlington, one of the people on the panel to decide the nominees, has given us a behind-the-scenes look at the nomination process and discusses how difficult it has been to choose 10 competitors.

Bayern Munich news conference

Football

"Some guy called Xabi Alonso, flanked by Mario Gotze. Bayern Munich have arrived, at last.

"The first question is asked by Bayern official. 'How does it feel to be playing against Manchester City with nothing at stake, at least for Bayern.' Ouch.

"Xabi Alonso on whether he may return to the Premier League one day. 'I don't know if I will have time, I'm getting old.'

"Alonso smiles broadly as he is asked about the 2005 Champions League win. 'That year with Liverpool was a great surprise, a great miracle,' he says."

Manchester City entertain Bayern Munich on Tuesday.

Roberto Di Matteo news conference

Schalke v Chelsea (19:45 GMT, Tuesday)

Roberto Di Matteo guided Chelsea to the Champions League title in 2012, and is now manager of Schalke, who entertain Chelsea on Tuesday.

"A win means we would get three points and be in a good position in the group, nothing else," says Di Matteo. "I have no sentiment of revenge or anything like that; I enjoyed a wonderful time at Chelsea.

"They have every opportunity to be very successful this season. They have signed good players, functional players, and they are expressing themselves at the highest level. It looks like they have a very strong team and in the Premier League nobody can match them.

"That's why we have to play a great game and I hope they are not in the best shape for that match."

Jose Mourinho news conference

Football

At his news conference this afternoon, Chelsea manager Jose Mourinho was asked about his side's reported interest in Borussia Dortmund midfielder Marco Reus.

"No. The market is closed and the player belongs to Borussia Dortmund," says Mourinho. "He is a fantastic player, obviously, but we have top players in his position.

"I also have fantastic relations with the coach (Jurgen Klopp) and the general director of Dortmund. No secrets. There is nothing in it."

With Reus out injured until January, will that stop Premier League clubs from signing him in the next transfer window?

'Let's do this'

Aston Villa v Southampton (20:00 GMT)

Injured Aston Villa centre-half Phil Senderos on Twitter: Come on Villa. Let's do this tonight. I will be back very soon hopefully.

There will be live commentary on BBC Radio 5 live from Villa Park, while there will also be a dedicated live text commentary on the BBC Sport website.

Colchester sign Packwood on loan

Football

Colchester United sign American defender Will Packwood on loan from Birmingham City until 1 January.

The 21-year-old will provide cover for U's club captain Magnus Okuonghae, who ruptured an Achilles tendon against Coventry on Saturday and may not play again this season.

Where are Bayern?

Football

"Manchester traffic has caused Bayern Munich to be 20 minutes (and counting) late for their press conference."

Bayern Munich play away at Manchester City in the Champions League on Tuesday night.

Get involved

#bbcsportsday

Some more suggestions for who you would like to see included in the BBC Sports Personality of the Year nominees.

The chosen 10 will be revealed on The One Show on BBC One at 19:00 GMT.

Alfie Tutt: Lewis Hamilton for sure, he's an absolute legend, and has shown what the award is really about.

Karen Lynch: Jo Pavey for her incredible achievement (winning gold in the 10,000m at the European Championships at the age of 40).

Mark Coker: Has to be Rory Mcllroy. Unbelievable year. If he hadn't, it would be Hamilton.

Best NFL catches

American Football

We have been praising Odell Beckham Jr's incredible catch for the New York Giants all day.

But is it the best we have seen in the NFL? Well, here are a selection of other stunning catches from the past, so sit back and enjoy.

Last chance to vote

Football

Right, this is your last chance to vote for BBC's African Footballer of the Year 2014. There are five contenders for the prize, and they are...

Pierre-Emerick Aubameyang (Borussia Dortmund / Gabon), Yacine Brahimi (Porto / Algeria), Vincent Enyeama (Lille / Nigeria), Gervinho (Roma / Ivory Coast) and Yaya Toure (Manchester City / Ivory Coast).

You can vote by clicking here.

Or to vote for BBC African Footballer of the Year 2014 by SMS, text the number of the player you wish to vote for to +447786202008.

Text 1 for Pierre-Emerick Aubameyang

Text 2 for Yacine Brahimi

Text 3 for Vincent Enyeama

Text 4 for Gervinho

Text 5 for Yaya Toure

Chelsea Ladies sign winger Davison

Football

Chelsea Ladies have agreed a deal to sign England international Gemma Davison from Liverpool Ladies.

The 27-year-old winger will join the Blues on 1 January, having penned a two-year contract.

Davison joined Liverpool from Arsenal last December and helped the Reds win the FA Women's Super League on goal difference ahead of Chelsea.

The ex-Watford youngster, who has had four spells with the Gunners, has won two international caps for England.

Livingston deducted points

Football

'Our game management was poor'

Rugby Union

England rugby union coach Stuart Lancaster has been looking ahead to his side's match against Australia on Saturday.

"We scored three good tries (in the 29-8 win against Samoa) but we missed a few more ," said Lancaster. "Our game management was poor and that has been the area that has hurt us and is something we have to improve on.

"Australia will come to Twickenham with a lot of confidence. We have put ourselves in positions against South Africa and New Zealand to win, but didn't do so."

Jose Mourinho news conference

Football

Chelsea manager Jose Mourinho is facing the media before his side's Champions League game against Schalke on Tuesday.

"We have two matches to qualify, but it would be better for us to qualify tomorrow," says Mourinho. "We have so many matches in December so if you can avoid a crucial final match where you need to qualify against Sporting and avoid that pressure it would be very good for us.

"We will try to qualify tomorrow. This team is in a state of evolution. To go into the Europa League would be very bad for this team. Evolution gets faster when you are playing in the best competitions. It would be very disappointing if we went into the Europa League."

Chelsea are currently top of their Champions League group. If they finished third they would drop down into the Europa League.

A few more videos on the BBC Sport site that you may have missed.

Formula 1: Watch as BBC Sport takes a look at the defining moments of the 2014 F1 championship battle between Mercedes team-mates Lewis Hamilton and Nico Rosberg.

Football: Former Manchester United and Everton player Phil Neville says that qualification for the Europa League is Liverpool's best hope for the season.

Cricket: Ian Bell believes England's mindset is "always aggressive" in one-day international cricket as they begin a seven-match series in Sri Lanka ahead of next year's World Cup in Australia and New Zealand.

Westley 'victimised' by official

Football

Stevenage boss Graham Westley has accused the fourth official of treating him "like a child" during his side's

Westley claims he was repeatedly intercepted by the official when he tried to step out of the dugout.

"I was asking my bench to get photos and video of Northampton's bench leaving the dugout and not being spoken to," he told BBC Three Counties Radio. "I felt I like I was being victimised, I was being discriminated against."

Some more of your suggestions for those men and women who you feel should be included in the Sports Personality of the Year nominees.

William Coleman: I think it would be a travesty if Joanna Rowsell isn't nominated. Two world golds, one commonwealth gold.

Andrew Roberts: Sam Burgess, international rugby league player of the year, first Englishman to win Clive Churchill medal and with a broken cheek.

G Richards: Hamilton (pictured), McIlroy, Gemili, Bale for starters.

The chosen 10 will be announced on The One Show on BBC One at 19:00 GMT.

Tredwell aims to preserve England place

Cricket

England off-spinner James Tredwell has revealed his secret weapon ahead of the upcoming ODI series against Sri Lanka: home-made jams and chutneys.

"I have that many jars of it in the cupboard, it's nice to take it away and let the boys enjoy it," Tredwell told BBC Sport.

You can read more about England's unassuming king of spin in Marc Higginson's excellent feature here.

Bellew set for Hollywood role

Boxing

Tony Bellew could be set for a Hollywood career move after winning his cruiserweight bout against Nathan Cleverly.

The Daily Mail is reporting that Bellew has landed a major role in the Rocky spin-off Creed.

"My life's going to change," said the Liverpudlian. "I can't go into the details but let's just say it's big. It will be 40-odd days of filming, I just hope I can do it."

Injury setback for Colchester

Football

BBC Essex on Twitter: Colchester defender Magnus Okuonghae could be out for the season after rupturing his Achilles tendon.

Get involved

#bbcsportsday

Some early suggestions for those competitors who should be among the 10 nominees for the BBC Sports Personality of the Year award.

Mark Robinson: Gymnast Claudia Fragapane for her four gold medals in the Commonwealth Games.

Simon Hawkins: Ryan Moore deserves to be among the favourites for @BBCSPOTY. Won some of the biggest races in the world this year.

Becky Warkup: Hamilton, Mcllroy, Wayne Rooney after these last few weeks, Jenny Jones (pictured) after Sochi.

The list will be revealed on The One Show on BBC One from 19:00 GMT.

Hamilton destined for greatness - Stewart

Formula 1

Newly-crowned Formula 1 world champion Lewis Hamilton is on the path to Formula 1 greatness, three-time world champion Sir Jackie Stewart has told BBC Sport.

"Lewis can become one of the great drivers," Stewart said. "There's a lot still to be done to achieve the greatness that I think everyone has perhaps placed on him prematurely.

"But he's a young man, so he has many more years in the sport and I think we are going to see even greater things from him."

We must be at our best - Di Matteo

Football

A little earlier on, Schalke boss Roberto Di Matteo gave a press conference before his team's meeting with Chelsea in the Champions League tomorrow.

He said his side would need to produce their "best performance of the season" to stand a chance of defeating Jose Mourinho's Blues.

Schalke are currently seventh in the Bundesliga.

Here's a brief digest of the top stories this afternoon:

Football: Former Arsenal striker Ian Wright says Alexis Sanchez is single-handedly keeping the club from being a mid-table side.

Formula 1: Ferrari replace Marco Mattiacci as team principal with Maurizio Arrivabene.

Rugby union: Billy Vunipola is ruled out of England's match against Australia.

Get involved

#bbcsportsday

It is that time of the year when we start thinking about which sportsman or sportswoman will win the BBC Sports Personality of the Year award.

The 10-person shortlist will be announced on The One Show on BBC One from 19:00 GMT, but who deserves to be among the nominees and why? Send us your suggestions for those competitors who have had a great year.

Tweet us on #bbcsportsday or leave a message on the BBC Sport Facebook page.

To get you in the mood, watch our video showing Sports Personality of the Year statistics through the years.

Loeb returns to racing

Rallying

Nine-time world rally champion Sebastien Loeb has announced that he's coming out of retirement to drive in the Monte Carlo Rally in January.

Loeb, 40, who has not competed since the French Rally in September 2013, will drive a Citroen DS3, with his usual co-driver Daniel Elena.

The Frenchman said he was "entering for fun".

Sanchez saving Arsenal - Wright

Football

Former Arsenal striker Ian Wright says the Gunners are too reliant on forward Alexis Sanchez and despite his presence may still miss out on Champions League qualification.

"[Arsenal] are mid-table without Alexis Sanchez," said Wright on the BBC Radio 5 live 606 show he co-presents. "I can't see Arsenal getting in the top four at the moment."

Wright fell short of backing under-fire manager Arsene Wenger, saying: "It's very frustrating. It's getting to that time now."

Catalans trial NFL player

Rugby League

Copyright: @DragonsOfficiel

Catalans Dragons are giving a week-long trial to American Football player Brent Calloway.

The 22-year-old plays as a running back for the University of Alabama.

"It's interesting to work with him and to give him the opportunity to show his qualities," Catalans CEO Christophe Jouffret said. "We'll take a decision at the end of the week."

Last month, Australia international rugby league player Jarryd Hayne quit the sport to pursue a career in the NFL.

Wenger must admit mistakes - Usmanov

Football

Arsenal shareholder Alisher Usmanov says Arsene Wenger must admit his mistakes in order to realise the team's potential.

The Russian told CNBC "no genius can retain the same level of genius if they do not acknowledge mistakes," adding that the Gunners need to "strengthen every position" in order to compete with the likes of Manchester City and Chelsea.

But he called for Wenger to be given the opportunity to turn things around, saying: "He is one of the greatest coaches, not just of European, but of world football."

Vermaelen may need surgery

Football

Barcelona defender Thomas Vermaelen may need thigh surgery as his wait for a debut continues.

The 29-year-old centre-back cost the club £15m when they signed him from Arsenal in August, but is yet to play having suffered an injury in Belgium's 1-0 World Cup group win over Russia in June.

"We are worried for him and the medical staff are evaluating what's best," said sports director Andoni Zubizarreta.

"We don't know if Vermaelen is now going to need surgery. We are studying the situation."

Get involved

#bbcsportsday

Plenty of you have been getting in touch today to share your theories on where it's going wrong for Liverpool...

Chongwe Mwenya: The dressing room at Liverpool lacks motivation and that's what Brendan Rodgers should address. There is no team spirit.

Jay: Rodgers should have taken a leaf out of Sir Alex Ferguson's book. He didn't try to replace Ronaldo, he changed the system to fit his players.

Mark: Stuck in the boot room while everyone else moved forward decades ago. That's what. Liverpool just cannot compete financially.

I'm no clown - Podolski

Football

Arsenal forward Lukas Podolski has once again vented his frustration over his lack of playing time at the club.

"I like London, I like the club, but I don't like the situation," he told German magazine Kicker having again sat on the bench for Arsenal's 2-1 defeat by Manchester United. "I'm not some clown who can sit out his contract in the stands."

Montano to sue Latics

Football

Cristian Montano, the winger sacked by Oldham following allegations of spot-fixing, is to sue the club.

The Colombian, 22, was dismissed by the League One Latics in December following a newspaper sting which saw him and five other players arrested.

However, the National Crime Agency (NCA) has since released all five from bail - although it says the investigation is ongoing. The player is now to seek damages, BBC Sport has learned.

Earlier today we asked this question...

Today's @QuestionofSport #QSTeaser is: The ten nominees are named later for @BBCSPOTY Since 1980 who are the five winners with a five-letter surname?

The answers are… Steve Davis (1988), Nick Faldo (1989), Ryan Giggs (2009), Lennox Lewis (1999, pictured with Muhammad Ali) and Tony McCoy (2010).

Vote for the African Footballer of the Year

Football

Today is the last day of voting to find BBC's African Footballer of the Year 2014. There are five contenders for the prize, and they are...

Pierre-Emerick Aubameyang (Borussia Dortmund / Gabon), Yacine Brahimi (Porto / Algeria), Vincent Enyeama (Lille / Nigeria), Gervinho (Roma / Ivory Coast) and Yaya Toure (Manchester City / Ivory Coast).

You can vote by clicking here.

Or to vote for BBC African Footballer of the Year 2014 by SMS, text the number of the player you wish to vote for to +447786202008.

Text 1 for Pierre-Emerick Aubameyang

Text 2 for Yacine Brahimi

Text 3 for Vincent Enyeama

Text 4 for Gervinho

Text 5 for Yaya Toure

Birmingham are on the up - Donaldson

Football

Birmingham City top scorer Clayton Donaldson is confident they will retain their Championship status this season if they continue the form shown in their 1-0 win at Rotherham United.

The Blues have taken eight points from four matches since Gary Rowett took over as manager to move out of the bottom three, and only conceded one goal doing so.

"We know we've got the players and, if we keep playing like we did here, we'll have no problem," he told BBC WM.

Schmeichel has 'faith' in Pearson

Football

Garth's Team of the Week

Football

Our football analyst Garth Crooks has picked his Team of the Week, based on Saturday and Sunday's Premier League matches.

Here is his selection. Do you agree with his 11?

More bad news for Dortmund

Football

As if Borussia Dortmund aren't having a bad enough season.

The German side, 16th in the Bundesliga with only three wins from 12 league matches, will now be without star midfielder Marco Reus until January after he tore ligaments in his right ankle during Saturday's 2-2 draw with Paderborn.

The 25-year-old missed Germany's World Cup win with an ankle problem and then, after starting the season, missed seven Dortmund games with a similar injury.

The celebrations continue for Lewis

Formula 1

Watch Lewis Hamilton's family celebrate after the British driver claimed his second world championship at the season-ending Abu Dhabi Grand Prix.

Hamilton's father Anthony and girlfriend Nicole Scherzinger give their thoughts, with Scherzinger revealing they decided to fly in and surprise him on the morning of the race.

Hamilton's victory moves him level with fellow Britons Jim Clark and Graham Hill on two titles, and one behind Sir Jackie Stewart.

Koeman unhappy at 'crazy' schedule

Aston Villa v Southampton (20:00 GMT)

Southampton manager Ronald Koeman describes his team's schedule over the next couple of months as "crazy".

The Dutchman's side play at Aston Villa tonight as part of a possible 16 matches in the space of approximately two months, including a potential hectic period of four games in nine days over Christmas and the new year.

"It's difficult because we have to play December 26, 28 and January 1 and maybe on the 3rd in the FA Cup. That's crazy," Koeman tells the Southern Daily Echo.

Get involved

#bbcsportsday

There are some frustrated Liverpool fans out there. Here are some more of your thoughts on what is going wrong at Anfield.

Tanim Istiaque: A few quality signings will do the job for Rodgers but again I don't think he is capable of spotting or attracting top class.

Sheldon W. Serrao: Not replacing Suarez for me was the key. Three average players don't replace one world-class player. It doesn't work that way.

Raymond RT3 Tolulope: Liverpool never had a playing formation last season they had a pacey front two running riot. Now without them Rodgers look confused.

Saints boss praises England quartet

Rugby Union

Man City news conference

Football

Manchester City defender Martin Demichelis is asked about coming up against his former club Bayern Munich.

"I have a lot of experience there," he says. "I know the German mentality - they will come here to win."

Demichelis was at Bayern Munich from 2003 to 2010 and helped the German club win the Bundesliga title four times and also reach the 2009-10 Champions League final.

Man City news conference

Football

Stand down Manuel. It's Manchester City defender Martin Demichelis's turn to answer some questions.

He's asked about City's qualification prospects. He says: "We're not happy with our performances [so far]. But why shouldn't we go through? We have a good squad and we can do better."

Man City news conference

Football

Manchester City manager Manuel Pellegrini continues to field questions from the press corps.

He says of the club's European aspirations: "It is important for this club to do well in Europe. Tomorrow the team will fight to the end to continue in the Champions League."

He says he is likely to make changes to the side, not just in terms of personnel but also in the way the team plays.

Man City news conference

Football

Manchester City manager Manuel Pellegrini says the club must wait before beginning the inquest into another difficult Champions League season.

"If we don't qualify we will analyse [why not]," he says. "But we must play the game tomorrow and against Roma before drawing conclusions."

He's also asked about the influence of Bayern Munich midfielder Xabi Alonso. He says: "He is an important player. He's important for a team that likes to have the ball."

Man City news conference

Football

More from Manchester City manager Manuel Pellegrini.

He's asked about injuries to Bayern Munich's key players, but he's having none of it. "We also have important players out," he says. "They have a big squad and other players who can play well."

He says of their previous meeting this season: "We were unlucky to lose in the last few minutes. But what happened in the past doesn't matter."

Man City news conference

Football

Manchester City manager Manuel Pellegrini is facing the media before Manchester City's Champions League match at home to Bayern Munich on Tuesday.

He says Sergio Aguero and Stevan Jovetic are in the squad list and are fit to face Bayern despite reports that they were injured.

Stenson up to second after Dubai win

Golf

More great videos for you

Officials probe Pistorius birthday bash

Officials are to investigate after Oscar Pistorius was reportedly allowed to celebrate his birthday in prison, complete with cake, balloons and a gift bag.

According to South Africa's Times newspaper, cars belonging to the athlete's siblings were allegedly not searched as they entered Kgosi Mampuru Prison grounds in Pretoria through a side entrance.

Pistorius is currently serving a five-year jail term for killing his girlfriend Reeva Steenkamp last year.

Waldrom 'deserves' England recall

Rugby Union

Exeter head coach Rob Baxter says back-row Thomas Waldrom deserves his chance to play for England again.

Waldrom, whose last of five caps came in 2013, is in Stuart Lancaster's squad for Saturday's Test with Australia.

The 31-year-old has scored three tries in the past two weeks for Exeter.

"He's probably been one of the in-form players through this start of the season period who may not get any international exposure, which is a shame," Baxter told BBC Sport. "But at the same time it's great to see him being recognised and being brought back into a squad that he previously dropped out of."

'We need to do a lot better'

Aston Villa v Southampton (20:00 GMT)

Aston Villa manager Paul Lambert says the club has to improve on their 17th-place position and quickly climb the Premier League table.

Lambert, who will take charge of Villa for the 100th time tonight when his side entertain Southampton, tells the Birmingham Mail: "We need to do a lot better.

"It's too big a club and too good a club to keep doing what it's been doing. It needs to be up there. But we need to earn the right to get there.

"There is an incredible expectation level. It's a brilliant club, it's had its hard times but we've got through it."

Gunter urges Reading to stick with Adkins

Football

Reading captain Chris Gunter says sacking manager Nigel Adkins would be a mistake.

The Royals have already lost nine games this season and are only three points above the Championship relegation zone.

There have been calls on social media from some fans for Adkins to go, but Wales defender Gunter believes the club's new Thai owners should stay loyal.

"What this club doesn't need is to make a decision like that, it would be one of the worst things we could do," he told BBC Radio Berkshire.

Ferrari replace team principal

Formula 1

A bit more on that breaking news of Maurizio Arrivabene's appointment at Ferrari.

57-year-old Arrivabene (pictured) was previously the vice-president of global communications for Ferrari sponsor Philip Morris.

He replaces Marco Mattiacci after just seven months, with the Scuderia having suffered their worst season in 20 years, finishing fourth in the constructors' championship.

Breaking

BREAKING NEWS

Ferrari replace team principal

Ferrari F1 have replaced their team principal Marco Mattiacci with Maurizio Arrivabene.

Catch it like Beckham

American Football

There are great catches, there are superhuman catches, and then there's this effort from Odell Beckham Jr.

The New York Giants wide receiver seemingly defied physics to haul in Eli Manning's pass and score a touchdown - as you can watch in this video.

Basketball star LeBron James called it "the greatest catch ever possibly" on Twitter, but it didn't stop the Giants losing 31-28 to the Dallas Cowboys.

Missed anything? Not been paying attention? Well, never fear, here are the top stories at midday from the BBC Sport website.

Formula 1: Lewis Hamilton says winning his second world title will be the start of a run of success for himself and his team Mercedes.

Football: Liverpool manager Brendan Rodgers accepts full responsibility for his team's stuttering run of form.

Boxing: Britain's Sandy Ryan and Lisa Whiteside both win silver medals at the AIBA Women's World Boxing Championships in South Korea.

Rugby union: Wales lock Jake Ball says "nothing" about Saturday's opponents South Africa worries him.

Ice hockey: Viktor Tikhonov, who coached the Soviet Union team to gold at the 1984, 1988 and 1992 Winter Olympics, has died at the age of 84.

Quigg targets Frampton showdown

Boxing

Scott Quigg wants to fight Carl Frampton after a unanimous points win over Hidenori Otake saw him defend his WBA world super-bantamweight title.

The Bury boxer has defended his belt five times and wants a bout with IBF super-bantamweight champion Frampton.

"Obviously the Carl Frampton fight is the fight everyone wants to see," Quigg, 26, told BBC Radio Manchester.

"It's the one I want. There is a lot of big fights out there and they're the fights I want to be in."

Man Utd planning Shaqiri swap?

Latest gossip

Time to bring you up to date with some of this morning's hot-off-the-press transfer gossip.

German newspaper Bild is reporting that Manchester United are planning to lure Bayern Munich midfielder Xherdan Shaqiri in a swap deal, with Ander Herrera going the other way.

You can find that story and many other transfer-related titbits in today's BBC Sport gossip column.

So it's a big happy birthday to the following people...

Sir Ian Botham (cricket) - former England and Somerset all-rounder, born 1955.

Dean Ashton (soccer) - former Crewe, Norwich and West Ham striker who won one England cap and retired through injury in 2009, born 1983.

Sean O'Loughlin (rugby league) - Wigan and England captain, born 1982.

Get involved

#bbcsportsday

We asked you what is going wrong at Liverpool? Here are some more of your reasons for the Reds' poor form.

Paul Bowen: Wasted money in the transfer market. We needed a few squad players not a overhaul. And we needed one world-class replacement for Suarez.

Ken Gorry: Lack of movement up front leads to many touches in midfield, along with leaving themselves open to counter attack = defeat.

Shuvam Sinha: Rodgers has got to go. Never a real deal anyway. All the frailties in the team are so glaringly obvious in Suarez's absence.

Former Chelsea manager Neal dies

Football

Some sad news to bring you now: former Chelsea, Middlesbrough and Wrexham manager John Neal has died at the age of 82.

County Durham-born Neal replaced Geoff Hurst at Chelsea in 1981 and led the club to the 1984 Second Division title.

He took the Blues to sixth place in the First Division in 1985 before retiring due to ill health.

Sri Lanka weather not ideal - Bell

Cricket

Ian Bell admits that England face the threat of persistent bad weather during their one-day international series in Sri Lanka.

England's second warm-up fixture was a washout at the P Sara Oval, meaning Bell is one of just four England batsmen to have had a competitive innings before the seven-match series begins on Wednesday.

"It's not ideal, is it?" said Bell. "I suppose, on this tour, we're going to get interrupted by rain all the way through."

There are a few BBC Radio 5 live podcasts available for you to download and enjoy.

Formula 1: In the final Chequered Flag of the season, Jennie Gow takes an extended look at the Grand Prix in Abu Dhabi, where Lewis Hamilton clinched his second drivers' World Championship with an authoritative, stylish victory.

Sportsweek: Listen to an interview with England head coach Stuart Lancaster after his side's win over Samoa. There is also a piece with former New Zealand winger Jonah Lomu about the All Blacks win over Wales and he updates us on his health. And there is also football and F1 chat as well.

Sports report: This programme includes reaction to Saturday's football and rugby interviews after the latest autumn internationals.

Right, thinking caps on, this is a tough one.

Today's @QuestionofSport #QSTeaser is: The ten nominees are named later for @BBCSPOTY Since 1980 who are the five winners with a five-letter surname?

The answers will be revealed later today.

Waldrom named in training squad

Rugby Union

England boss Stuart Lancaster has named a 34-man training squad for Saturday's final International against Australia at Twickenham Stadium.

Exeter Chiefs' in-form number eight Thomas Waldrom, who has scored seven tries in eight Premiership games this season, replaces Billy Vunipola. The Saracens man suffered concussion in Saracens' defeat to Northampton Saints at the weekend will undergo the Graduated Return To Play protocol at his club.

Fly-half Stephen Myler, who kicked 16 points for Saints in that victory, regains a place in the squad after a hamstring strain. Courtney Lawes (also Northampton Saints) continues to be treated in camp for a knee injury suffered against Samoa.

Diamond praises 'defining' Sale win

Rugby Union

Sale Sharks director of rugby Steve Diamond believes his side's first away win of the season at Harlequins could be a defining point in their season.

Dan Braid scored the only try of the game as Sale won 16-12 - their first league win at the Stoop since 2008.

"Coming away from home and putting in a performance like that, it is a tipping point for a season," Diamond told BBC Radio Manchester.

"You can go on and achieve the goals that you set, and one of the goals that we set is to try and finish in the top half of the division."

Aguero and Jovetic miss training

Football

"Sergio Aguero and Stevan Jovetic sat out training as Manchester City prepared for their must-win Champions League tie against Bayern Munich tomorrow. Both players started Saturday's victory over Swansea.

"Edin Dzeko, David Silva and Aleksandar Kolarov also missed training as they continued their respective recoveries from injury."

Just a reminder that we'll have live text updates on Manuel Pellegrini's Champions League press conference at 12:45 GMT.

Carberry signs Big Bash deal

Cricket

Former England opener Michael Carberry has signed a deal to play defending champions Perth Scorchers in the Big Bash League, Australia's domestic Twenty20 competition.

The 34-year-old last played for England in an ODI against Sri Lanka in May, and has also played six Tests.

"I'm delighted and thrilled to get out there," Carberry said. "It's a fantastic opportunity."

Veh leaves Stuttgart

Football

Stuttgart coach Armin Veh has resigned 12 matches into the Bundesliga season.

Veh stepped down after a 1-0 home loss to Augsburg that left Stuttgart last in the Bundesliga.

He had left Eintracht Frankfurt at the end of last season to return to the club which he guided to the Bundesliga title in 2007.

Here are some of the best videos on the BBC Sport website for your enjoyment.

Formula 1: A mischievous pair from the Mercedes pit crew throw a custard pie in the face of BBC F1 pundit Eddie Jordan live on air.

Football: England women's team are beaten 3-0 by two-time World Cup winners Germany in a historic women's match at Wembley.

Rugby union: Wales lose their 26th consecutive game against New Zealand as the All Blacks triumph 34-16 in Cardiff.

Snooker stars Judd Trump and Shaun Murphy warm up for the 2014 UK Championship with some adrenaline-fuelled driving action at Silverstone.

Gillespie laments 'lack of confidence'

Football

Former Liverpool defender Gary Gillespie has been having his say on Liverpool's plight on Radio 5 live.

"I think there is a total lack of confidence," he said. "The way Liverpool want to play, nice crisp, sharp passing, they are just taking too many touches in the middle of the park. The defence is weak at times and they are getting over exposed."

But he doesn't believe centre-back Dejan Lovren should be dropped. "I quite like Lovren, he's going through a sticky spell, but I think he'll come good," Gillespie said.

Rodgers to stay at Liverpool

"Brendan Rodgers's position at Liverpool is not under immediate threat despite the club's poor start to the season.

"It is understood that Tom Werner and John W Henry, the co-owners, remain behind their manager although Liverpool have declined to comment.

"Rodgers was voted LMA manager of the year in May after guiding Liverpool to a second-place finish in the Premier League. The club's targets for this season were to finish in the top four and qualify from their Champions League group."

Tait goes shark diving with World Cup

Cricket

The Cricket World Cup begins on 13 February, and to gear up for the occasion the trophy is on a tour around Australia, which is co-hosting the tournament with New Zealand.

Here's former Australia fast bowler Shaun Tait taking the silverware for a spot of shark-cage diving in South Australia.

Sun doping ban revealed

Swimming

Big news from the world of swimming. Chinese superstar Sun Yang tested positive for a banned stimulant earlier this year, the country's anti-doping agency has revealed.

Sun won gold in the 400m and 1500m freestyle at London 2012, setting the world record in the latter event.

He tested positive at China's national championships in May, but returned to win three gold medals at the Asian Games in August.

Ex-All Black named Tigers head coach

Rugby Union

Former New Zealand centre Aaron Mauger has agreed to join Leicester Tigers as their new head coach.

Last week, Tigers director of rugby Richard Cockerill said the club would be looking to add to their backroom staff with the side currently struggling in the Premiership.

Mauger, who played 45 Tests for New Zealand, had three seasons with Tigers player between 2007 and 2010 and will start his new role at the end of the 2015 Super 15 season in the southern hemisphere.

Who is the best goalkeeper of 2014?

Football

Five players have been included on the shortlist to find the best goalkeeper of 2014.

The nominations are...

Manuel Neuer (Germany / Bayern Munich), Claudio Bravo (Chile / Barcelona), Thibaut Courtois (Belgium / Chelsea), Iker Casillas (Spain / Real Madrid), Gianluigi Buffon (Italy / Juventus).

The best goalkeeper will be included in the FIFA FIFPro World XI, the world football team of the year. Neuer won the award last year and had a great 2014 as he helped Germany win the World Cup and was instrumental as Bayern Munich won a domestic league and cup double.

Get involved

#bbcsportsday

This morning we've been asking you what's going wrong at Liverpool. Here are a selection of your responses so far...

Andrew Priestley: Liverpool failed to learn from Spurs' mistakes of 12 months ago. They sold their superstar and failed in the transfer market.

Marque Pierre: Only when Gerrard retires will Rodgers be free to manage as best he can. Sad to have an undroppable captain as a passenger.

Kartikay: Bad signings, inept defence, liability of a keeper, lightweight midfield, toothless attack and a stubborn manager.

'Noodle soup and bacon sandwiches'

Formula 1

Lewis Hamilton has been on Radio 5 live talking about his world championship victory.

"It's the ultimate dream, winning the world championship, with people putting my name alongside Jackie Stewart, Stirling Moss, all these legends of the sport," he said. "Waving that flag was the proudest moment a sportsman can have."

"Last night, we were sitting at dinner, reminiscing about the different experiences we have had - sitting back with noodle soup and bacon sandwiches and driving in a banged up motorhome with my dad. We left singing we are the champions of England, we had won the British Championship. We don't have to put the England part in now."

Taylor takes gold in South Korea

Boxing

News from the women's world boxing championships in South Korea.

Ireland's Katie Taylor has claimed her fifth consecutive world title, while there were silver medals for two British fighters, Lisa Whiteside and Sandy Ryan.

Noisier than the neighbours

Football

Now, this is sure to cause a bit of controversy. Manchester United may not be top of the league at the moment, but they do lead one table - a new ranking of the Premier League's noisiest fans.

Over the past fortnight Press Association Sport has been using the 'Sound Meter' smartphone app to provide a rough guide to which fans in the Premier League are the loudest - adding figures for home and away support.

United lead the way on 167 decibels, with Stoke second on 161, along with Tottenham and West Brom. Despite Jose Mourinho's complaints, Chelsea are a respectable fifth on 160.

West Ham are currently bottom on 152, with Liverpool just ahead.

Rio mascots revealed

Olympics

Mascot fans, rejoice! The official creatures of Rio 2016 have been launched.

The as yet unnamed pair were apparently "born out of an explosion of joy" and "feature various pop culture influences, along with elements of animation and computer game characters".

And it gets better - you can even help choose their names. The choices are Oba and Eba, Tiba Tuque and Esquindim, and Vinicius and Tom. You can cast your vote by going to the Rio 2016 official website.

Villa weakened by defensive injuries

Football

Aston Villa will be without three injured central defenders, Ron Vlaar, Phillipe Senderos and Nathan Baker, for tonight's home game with second-placed Southampton, reports BBC WM's Daz Hale.

Christian Benteke is still suspended, but the one positive piece of team news is that full-back Alan Hutton is available again after an ankle injury.

Monday night's game, which is live on BBC WM, sees 17th-placed Villa, who have scored just one goal and picked up one point in their last seven games, take on a Southampton side who have won their last five matches.

Kandamby and Perera in Sri Lanka squad

Cricket

Now, it may be November, but the cricket season is still alive and well. At least it is in Sri Lanka, where England begin a seven-match one-day international series on Wednesday.

The hosts have just announced their squad and there are a few surprise names in there. Batsman Thilina Kandamby and all-rounder Dilruwan Perera are included despite not having played an ODI since 2011 and 2008 respectively.

Spinner Rangana Herath is also in, but paceman Lasith Malinga is still injured. You can see the full squad here.

Gunners fan's sour grapes

Football

While Morgan took to the telephone, another Gunners fan had a more direct means of showing their displeasure at the defeat by Manchester United.

The unnamed individual approached the Manchester United dugout during the 2-1 defeat and flung red wine at the visiting coaching staff.

Sour grapes indeed.

Morgan wants Wenger out

Football

Of course, it's only fair to point that Brendan Rodgers is far from the only manager under pressure at the moment.

Arsenal have also suffered an underwhelming start to the season, and last night celebrity Gunners fan Piers Morgan rang in to BBC Radio 5 live to register his anger on the 606 phone in.

"It's a heartbreaking divorce, but divorce it has to be," is Morgan's verdict. You can listen to his rant in full here.

Get involved

#bbcsportsday

This morning we're asking you to have your say on what's going wrong at Liverpool.

The Reds are closer to the relegation zone than the Champions League qualification places at the moment, and they're only four points ahead of Burnley.

So is it a full-blown crisis, and who, or what, is to blame? Let us know on Twitter at #bbcsportsday, or via the BBC Sport Facebook page.

On this day

NZ beat Ireland to seal perfect season

Today's On This Day comes to you courtesy of 2013. You may well remember it - in fact if you're an Irish rugby fan it will be hard to forget.

Yes, it was on this day that New Zealand beat Ireland 24-22 to seal the first perfect season ever recorded by a rugby union side in the professional era.

That was only half the story though - Ireland had led 19-0 at one stage and were only overhauled by an injury-time try by Ryan Crotty.

Mancini makes point on return

Football

Copyright: Corriere dello Sport

Meanwhile, Italy's Corriere dello Sport leads on the Milan derby, which finished in a 1-1 draw between AC and Inter.

Joel Obi rescued a point for AC Milan against Inter Milan, who are currently managed by Roberto Mancini.

Messi makes history

Football

Federer wasn't the only sporting legend securing his place in the pantheon over the weekend.

Barcelona striker Lionel Messi broke the record for La Liga goals as he scored his 251st against Sevilla on Saturday. And his 252nd. And his 253rd.

The headline on the front page of Spanish daily Sport says it all: 'Messi: the legend'.

Glory for Hamilton and Federer

Formula 1

The Times also leads on Lewis Hamilton's second world title, but the picture is of a man who makes Hamilton's mantlepiece look positively bare.

Roger Federer captured the one trophy missing from his illustrious CV by helping Switzerland to the Davis Cup, by beating France's Richard Gasquet in the reverse singles yesterday.

New deal for Hamilton

Formula 1

Let's have a look at this morning's papers, shall we? The Sun says Lewis Hamilton will reap the rewards of his second world title with a new £100m deal at Mercedes.

The paper also reports that Brendan Rodgers admits his job at Liverpool may not be safe after yesterday's loss to Crystal Palace.

Sports Personality of the Year shortlist announced

Tonight sees the grand unveiling of the Sports Personality of the Year shortlist, live on the One Show from around 19:00 GMT.

We'll be asking you who you think should be on the shortlist later on today.

Hamilton says second title 'means more'

Formula 1

While there was misery on Merseyside, there was dancing in the streets of Stevenage yesterday (probably) as local hero Lewis Hamilton secured his second world title.

Hamilton, who won his first drivers' championship in 2008, became the first Briton to win multiple world titles since Sir Jackie Stewart in 1971.

It was a red-letter day for Hamilton, who also moved into fifth place on the all-time race wins list, with his 33rd victory taking him one clear of rival Fernando Alonso.

However, he is still some way behind Michael Schumacher. The German won a remarkable 91 F1 races.

Rodgers takes the blame

Football

No doubt about the big story of the Premier League weekend. After a 3-1 defeat at Crystal Palace, Liverpool are closer to the relegation places than the Champions League spots - are Brendan Rodgers' team in crisis?

Rodgers is in no doubt who's to blame - himself.

"We are very disappointed with the performance and the result, and as the manager it is something I need to take full responsibility for," he said.

Hello and welcome to another edition of Sportsday. We'll be giving you the chance to have your say on Liverpool's woes and looking back on plenty more talking points from another busy weekend of Premier League action.

We'll also be reflecting on a second world title for Britain's Lewis Hamilton, who clinched the drivers' championship with victory in yesterday's Abu Dhabi Grand Prix.

And as ever, we'll be bringing you the latest news and gossip as it breaks, and looking ahead a little later to tonight's Premier League clash between Aston Villa and Southampton.

'A difficult moment'

Football

18 points off the lead.

Without a win in four league matches.

Their worst start to a Premier League campaign since 1992.

Just what has gone wrong at Liverpool?