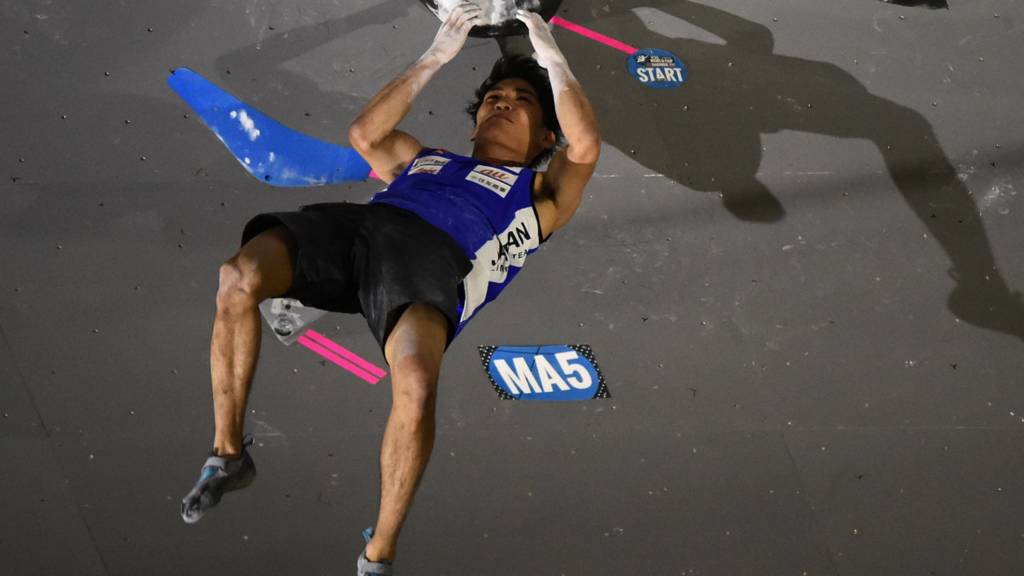 Catch-up: Climbing World Championships - women's and men's bouldering finals
Watch: Shauna Coxsey clinches bronze medal on final wall

Watch: Shauna Coxsey tops first wall

How do the bouldering finals work?

Final rounds consist of four boulders each with a four minute time limit
Collective observation time in finals is 2 minutes per boulder
During the observation period, competitors are allowed to touch only the marked starting holds, without leaving the ground with both their feet

Scoring is based on:

Number of successfully completed boulders (TOPS)
The number of zone points gained
The number of attempts made to complete the boulder
The number of attempts made to achieve the zone points

Speed climber v milk-drinking & biscuit-eating

British record-holding speed climber Will Bosi can climb a 15-metre vertical wall in just 8.45 seconds.

Watch below as Will shows off his skills racing against people trying ordinary day-to-day stuff.

You can watch the men's and women's speed climbing finals on Saturday on the Red Button, BBC Sport website and iPlayer.

2020 Olympics: Climbing faces challenge for acceptance

There has arguably never been an event more fitting of the Olympic motto - 'faster, higher, stronger' - than sport climbing.

It is among four* new sports set to make Olympic debuts at the Tokyo 2020 Olympics, but climbing's inclusion has divided opinion.

Some believe the new triathlon format, which will see athletes awarded medals based on scores across three formats - speed, lead and bouldering - is an exciting innovation.

Others view it is a gimmick, destroying the art of each specialist climbing discipline and worry that Olympic rules risk of 'over regulating' the sport which thrives on freedom and expression.

Image caption: Shauna Coxsey became the first Briton to win the Bouldering World Cup

Image caption: Nathan Phillips won the 2019 British Bouldering Championship

Climbers have to scale a number of fixed routes on a 4/5 metre wall in a specified time. There are no harnesses or ropes and the aim is to complete short but tricky bouldering 'problems' (a route, or sequence of moves).

Athletes aim to complete as many boulder problems as possible, in the fewest number of attempts.

A climber will also get marks if they fail to top the climb, but manage to reach a 'zone' hold; this is a climbing hold, usually half way up the problem or after the crux move on a problem.

How to follow the 2019 Climbing World Championships

The Climbing World Championships are taking place in Hachioji, Japan. Over 253 athletes from 39 different countries are due to compete in what will include the first ever Olympic climbing qualifying event.

BBC Sport will bring you live coverage across the tournament on the Red Button, BBC Sport website & app as well as on Connected TV.

Tuesday, 13 August

08:40 – 10:40 -Women's Bouldering Final

11:55 – 13:55 - Men's Bouldering Final

Thursday, 15 August

10:55 13:35 - Women's & Men's Lead Finals

Saturday, 17 August

09:25 – 10:45 - Women's and Men's Speed Finals

Tuesday, 20 August

10:55 – 13:40 - Women's Combined Final

Wednesday, 21 August

11:55 – 13:40 - Men's Combined Final

You can catch-up on all the action for 30 days on the BBC iPlayer.

Get Inspired: How to get into climbing

How do I start?

British Mountaineering Council (BMC) will be able to help you find a club near you in England and Wales. If you live in Scotland, get in touch with Mountaineering Scotland and in Northern Ireland, try Mountaineering Ireland.

What to expect?

To get started you'll need ropes, harnesses, a helmet and comfortable shoes. Most climbing centres have these available for hire or purchase.
Paraclimbing is an inclusive sport which caters for all abilities. The BMC host the National Paraclimbing Series which is a competition open to any level of climber.
It's a perfect family activity because it's fun and it teaches teamwork and trust. The Youth Climbing Series offers climbing competitions for young people.
Regular climbing can improve stamina and all the reaching and stretching for holds improves flexibility and agility.
The activity uses lots of muscle groups, both in the upper and lower body. Your arms,back and shoulders as well as abdominal and leg muscles all get exercised.