Summary
Mo Farah wins 5,000m by huge margin
Johnson-Thompson wins long jump, Proctor second, Ennis-Hill seventh
GB's Oskan-Clarke, Hudson-Smith and men's 4x100 relay also win
Ta Lou wins 100m and Schippers 200m
Paralympians Whitehead and Clegg set world records
That is over and out from the Olympic Stadium for now.
Next stop: Rio.
Ta Lou eases to victory in 100m
Ivory Coast's Marie-Josee Ta Lou upstaged Shelly-Ann Fraser-Pryce in the women's 100m.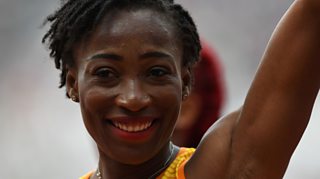 'I'm in form but what about my rivals?'

Mo Farah on BBC Radio 5 live after winning the 5,000m:
"I know I am in form, training has been going well, but how are my rivals doing? It's not as easy as me saying 'I've run a decent time, I should win'. It's not like that.
"I will try my best not to have anyone to beat me but anything can happen.
"It's easier to win first time but harder to defend because people have had four years to work out how to beat me."
Schippers eases to victory
Talking of which...
Netherlands Dafne Schippers dominated the 200m earlier, winning in 22.15 seconds. 
There will be some serious heavy metals brought back from Rio in these two's hand luggage by the end of next month.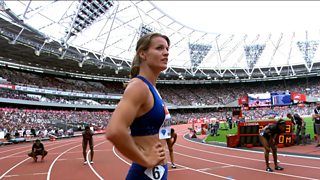 This was a brutal demolition, a public dissection, a sporting video nasty.
Mo Farah at his brilliant best.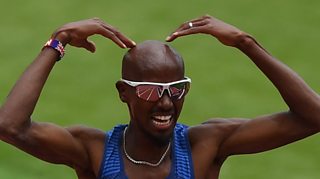 GB performance of the day

Colin Jackson
Two-time world 110m hurdles champion on BBC One
My pick is Katarina Johnson-Thompson. She had a busy weekend but had two great competitions. She had a personal best in the high jump yesterday and then to return today to win the long jump with a PB was brilliant.
Farah reigns supreme in London
Take a look at how Mo Farah destroyed the rest of the field to win the 5,000m.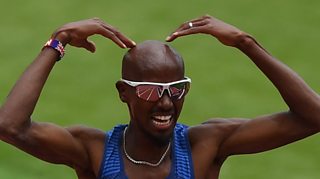 'Kenyans hoping to catch Farah'
Farah wins men's 5,000m

Michael Johnson
Four-time Olympic gold medallist on BBC One
It gets more challenging for Farah now he's older. He's dominated but the Kenyans are trying to figure out how to beat him. They are coming up with a plan and hoping to catch him on an off-day. It'll be fun because it'll make it even more competitive.
Mo Farah - at the age of 33 - probably won't have another Olympics after Rio.
This is his final shot at a feat - a distance double-double - that will not be matched for many years.
Appetite whetted.? Hope so. The 5,000m final is exactly three weeks away.

Brendan Foster
Olympic medallist and BBC athletics commentator on BBC One
These are great moments for Mo Farah. He's loving being the star of the show and it gives him warmth in his heart before Rio.
This was Mo Farah showing his stamina. Everyone knows about his speed but he showed his endurance with that run and he looked brilliant today.
'I've just got to stay cool'
Mo Farah on BBC One: "I just wanted to go for it, it wasn't that quick but this track means so much to me.
"It's great to win before Rio. I want to thank everyone who has supported me.
"I am in good shape I just have to keep my feet on the ground. In two weeks anything could happen - I've just got to stay cool."

Paula Radcliffe
Women's marathon world record holder on BBC One
What will be important to him is that he dominated the race.
12:59.31!
Whomph! That is the sound of a gauntlet being slapped down on the Olympic Stadium surface.
A world-leading time to show the rest that he has no interest in giving up his twin Olympic titles.
Farah on his last lap
Men's 5000m
Mo Farah has broken 13 minutes on three previous occasions in his career.
Whether he can do so for a fourth time is the only question left...
Farah out on his own
Men's 5000m
This is fast becoming a collection of victory laps. Mo Farah looks like he is racing the clock rather than rivals now.
Isiah Koech is a distant dot in the rear view mirror.
Two laps to go. 

Steve Cram
BBC athletics commentator on BBC One
This sends a message out because he looks so comfortable at this pace.
Farah hits the front
Men's 5000m
Mo Farah, inscrutable as a poker pro behind his shades, looks loose and easy as he comes through 3000m in 7.52.
He is asking some serious questions of the rest, wanting to kill the race before the last 50m.
Isiah Koech and Edwin Soi are leading the chase.

Paula Radcliffe
Women's marathon world record holder on BBC One
Mo knows he is in great shape and is feeling confident and comfortable but he's stretching them out and making them work hard.
Farah up front
Men's 5,000m
Mo Farah has taken up position around third, just behind the two pacemakers and in front of Isiah Koech. 
The first 1000m have been chalked off in 2.37. It is spicy pace out there so far.
Have a look at how Shelayna Oskan-Clarke manages to pip Molly Ludlow to 800m victory.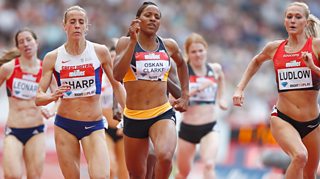 The Mo Show
Men's 5,000m (16:36 BST)

Paula Radcliffe
Women's marathon world record holder on BBC TV
Mo Farah knows how extraordinary what he's accomplished in the four years since the 2012 Olympics is - and that has bolstered his confidence. He took a knock in the world half marathon, he didn't win at Monaco, but at 5,000m and 10,000m he still holds all the cards. He is the dominant performer. 
Mo Farah slaps a little water onto his bald head and heads off for a spring-heeled bounce along the back straight.
The double Olympic, double world champion is on home turf.
Kenyan duo Paul Koech and Edwin Soi might be the party poopers.
'I'm happy but wanted a PB'
Women's 100m
Dina Asher-Smith after coming fourth tells BBC One: "It was OK, I'm happy to come fourth in that type of race, but I wanted a PB. 
"I felt I was in good shape but head winds made it difficult, but ultimately I'm happy to have held my own against such a good field."
'Ta Lou looking strong'
Women's 100m

Colin Jackson
Two-time world 110m hurdles champion on BBC TV
Marie-Josee Ta Lou ran a good heat and came back with a strong performance in the final.
Fraser-Pryce got out well but not the bullet start she would like because she's a bit rusty after injuries. 
Ta Lou eased through at the end and will arrive at the Games feeling very confident but she'll need to run faster there.
We might have find a dark horse for the Olympics. Ivory Coast's Marie-Josee backs up her heat win with another personal best run of 10.96 to take victory.
Michelle-Lee Ahye was second with Shelly-Ann Fraser-Pryce was third with Dina Asher-Smith fourth after a slow start.
Next up on track
Women's 100m final
Shelly-Ann Fraser Pryce - whose duel with Dafne Schippers will be feisty in Rio - is front and centre.
Trinidad and Tobago's Michelle-Lee Ahye and Marie-Josee Ta Lou are the main competition.
'How fast can Schippers go?'
Women's 200m

Colin Jackson
Two-time world 110m hurdles champion on BBC One
It must be frustrating for the other athletes to see how in control Schippers is and worrying to think how fast she could go in Rio.
She stays so relaxed and that enables her to hold her form.
'Schippers looks so strong'
Women's 200m

Steve Cram
BBC athletics commentator on BBC One
It's like she has another gear to go into with 50m to go. She came into the straight with competitors in sight but then she just moved away from them. 
She is so strong in the latter part of the race. She'll be quicker than that in Rio. It's difficult to see anybody beating her.
Schippers wins
Women's 200m final
The Netherlands' Dafne Schippers strangles the life out of the opposition, stretching out in front of the rest to win in 22.15 seconds.
Tiffany Townsend finishes second in 22.63, leading home a trio of Americans.
Jodie Williams was fifth in 22.99 - a tenth of a second outside of her season's best.
Next on track
Women's 200m final
World champion Dafne Schippers is the top dog in the 200m.
Since making the switch from multi-eventing to become a sprint specialist, she has made mincemeat of most opposition.
The flying Dutchwoman is in lane six. Britain's Jodie Williams is in lane eight.
'Guts and determination'
Women's 800m
Jenny Meadows on BBC One: "Oskan-Clarke showed real guts and determination to win. I thought Lynsey Sharp would come through but this is the biggest win of her career."
'Peaking for Rio'
Women's 800m

Paula Radcliffe
Women's marathon world record holder on BBC One
Oskan-Clarke is peaking in time for Rio. I don't think she realises how fast she can go and how much she has left in the tank at the finish.
Oskan-Clarke wins
Women's 800m
What a finish!
American Molly Ludlow looks like she has the spoils sewn up as she leads into the home straight, but there is trouble brewing over her shoulder.
Shelayna Oskan-Clarke and Lynsey Sharp come on strong, and it is Oskan-Clarke who comes through strongest nosing ahead to steal the win. 
Next on track
Women's 800m
Scottish European silver medallist Lynsey Sharp is the best of British in the women's 800m.
This is the event that Caster Semenya is hot favourite for in Rio.
'Aggression and top speed'
110m hurdles final

Colin Jackson
Two-time world 110m hurdles champion on BBC TV
Dimitri Bascou is out of the blocks really well, a clean first hurdle and once he gets to that top speed he holds on to it well. Such an aggressive start.
France's Dimitri Bascou - sporting a one-sleeved singlet - comes home well clear of the rest to win in 13.20.
David Omeregie was untidy over the hurdles, clipping several and ending up well down in fifth.
'Frustrating. Infuriating'
110m hurdles final

Colin Jackson
Two-time world 110m hurdles champion on BBC TV
I am surprised. Hurdlers area usually far more disciplined than this(..!)
It is frustrating though. They will be really infuriated - it upsets that nervous tension you build up yourself.
Eaton disqualified
110m hurdles final
Another false start. 
American Jarret Eaton is the guilty part and he is off to join Lawrence Clarke on the naughty step.
Just six remain.
Clarke disqualified
110m hurdles final
Lawrence Clarke has been over-eager. False start and the old Etonian is banished backstage before the starting gun.
Great Britain's David Omoregie - who clocked an Olympic qualifying a few weeks too late for Rio - is alongside Dimitri Bascou and may be the best of the rest.
Also look out for Lawrence Clarke in lane one. And Greece's Konstantinos Douvalidis.