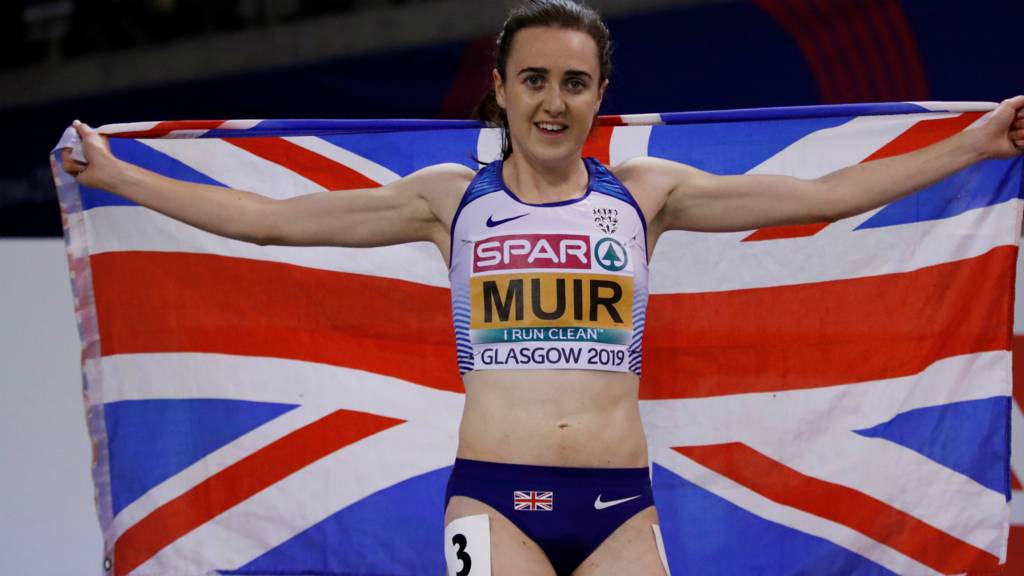 Catch-up: European Indoors - Britain's Johnson-Thompson and Muir win gold
GB's Johnson-Thompson eyes world record

Britain's Katarina Johnson-Thompson has the world pentathlon record in sight after a superb morning on the first day of the European Indoor Championships.

The world indoor champion leads with 2,989 points. Personal bests in the long jump and 800m later on Friday would see her beat Nataliya Dobrynska's 5,013 set at the 2012 event.

France's Solene Mdama is second, with Great Britain's Niamh Emerson third.

Read the full report here of the first session on day one at the European Indoor Athletics Championships in Glasgow.

Johnson-Thompson leads pentathlon after lifetime best in shot

British pentathlete Katarina Johnson-Thompson leads the standings after three events at the European Indoors in Glasgow, including a lifetime best of 13.15m in the shot put.

'I want to go out there and smash it!' - Muir hopes for golden year

Laura Muir heads to Glasgow hoping to start a golden year with success in the 1500m and 3000m in the European Indoors before 1500m glory at the World Champs in Doha in September.

"It is just a matter of executing on the day," she said. "I showed that in the Diamond League final last year, which was the equivalent of a global final.

"I would love to get on the podium in Doha. That really would tick the last box for me."

Find out what else Muir had to say to BBC Sport's Tom Reynold's - including the debate with her coach about getting a post-Olympics dog - here.

Steve Cram's British athletes to watch in Glasgow

Former 1500m world champion Steve Cram has picked his British athletes to watch at the European Indoor Championships, which begin on Friday in Glasgow.

Cram, who will again be part of BBC's commentary team, expects the team to shine on home soil over the three days of competition.

He said: "I think we want to be top of the medal table here.

"We'll have successes and win a lot of medals - hopefully a lot of golds."

You can find out who Cram thinks will shine here.

How can I watch the European Indoor Championships?

All times are GMT and subject to change

You can watch live coverage from all three days of the European Indoor Championships from Glasgow on BBC TV, and on the BBC Sport website and app at the top of this page.

All the action will also be available on the BBC iPlayer, where you can catch up on each day's coverage shortly after each broadcast.

Friday, 1 March

09:30-14:00, BBC Two (12:00-14:00, BBC Two Scotland)

18:30-22:00, BBC Two (18:30-19:00, BBC Two Scotland; not on BBC Two Wales & NI)

Saturday, 2 March

09:30-13:00, BBC Two (12:00-13:00, BBC Two Scotland)

17:30-21:15, BBC Two (17:30-19:00, BBC Two Scotland)

Sunday, 3 March

10:00-13:00, BBC Two (12:00-13:00, BBC Two Scotland)

17:30-20:00, BBC Two (17:30-19:00, BBC Two Scotland; 18:45-20:00, BBC Two Wales)

20:00-21:30, BBC Four

What is it and who's taking part for Great Britain?

Since its introduction in 1970, the European Indoor Championships has become one of the most prestigious events on the Indoor circuit. Despite starting as an annual event, it is now held once every two years with the 2019 competition being held in Glasgow.

Among the Brit's Laura Muir, Asha Philip, Richard Kilty and Andrew Pozzi will all be aiming to defend the titles they won two years ago in Belgrade.

Guy Learmonth will captain GB's team in Glasgow. The 26-year-old secured his place after winning 800m silver at the British championships and will follow in the footsteps of Andrew Pozzi and Dai Greene, fellow middle-distance runner Shelayna Oskan-Clarke and fellow Scot Eilidh Doyle in being chosen by his peers to captain the team.

After winning a bronze medal in last year's European Championships, Holly Bradshaw is vying for gold in the pole vault.

Get Inspired: How to get into Athletics

You might want to be the next Mo Farah, or just want to get fit and see how well you can do - either way, athletics can be the sport for you.

It includes a huge variety of disciplines, so whether you want to run, jump or throw you can find an activity that suits you.

For more information, you can check out our handy guide or find local athletics opportunities in England,Northern Ireland, Scotland and Wales.