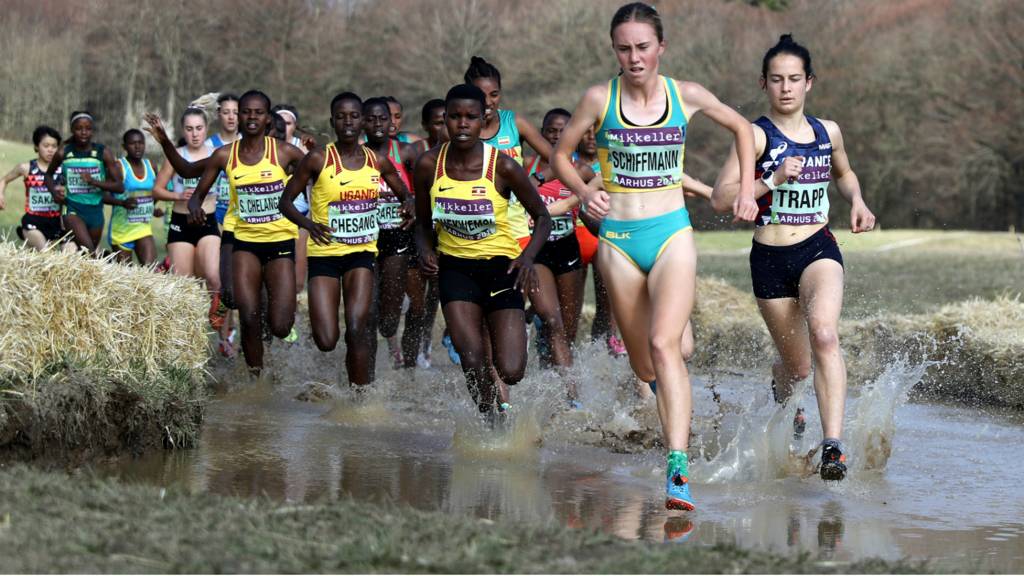 Catch-up: World Cross Country Championships
Today's timetable

Times are GMT and subject to late changes

The 32 runners representing Great Britain

Great Britain is taking eight competitors for each of the senior and junior men's and women's races to Aarhus, with three-time European champion Kate Avery leading the line-up.

Senior Men: Adam Craig, Patrick Dever, Oliver Fox, Adam Hickey, Mahamed Mahamed, John Millar, Ross Millington, Luke Traynor.

Senior Women: Kate Avery, Jessica Coulson, Lauren Heyes, Emily Hosker-Thornhill, Mhairi Carmen McClennan, Jennifer Nesbitt, Amelia Quirk, Pippa Woolven.

Junior Men: Euan Brennan, Joshua Copperthwaite, Joshua Lay, Rory James Leonard, Zakariya Mahamed, Lachlan Wellington, Benjamin West, Matthew Willis.

Junior Women: Charlotte Alexander, Becky Briggs, Grace Brook, Grace Carson, Olivia Mason, Holly Page, Amelia Samuels, Eloise Walker.

GB call up for Mahamed brothers: Siblings take on the world's best in Denmark

Zak Mahamed will follow in the footsteps of his older brother, Mahamed as he makes his Great Britain debut at the World Cross Country Championships in Denmark this weekend.

Mahamed Mahamed is a distance runner who has come to attention in recent years on the road and cross-country events and hopes to emulate the career of his idol, Sir Mo Farah. Now he will get to share the start line with his younger brother.

The Mahamed brothers, who emigrated from Ethiopia as young children, now live and train together in Southampton. They believe their sibling rivalry and training dynamic has strengthened and benefited them to become elite athletes at the international stage.

Mud, sweat and running on a museum

An aerial guide to the course for this weekend's World Cross Country Championships.

You can watch every race from the World Cross Country Championships on the BBC Red Button, online and on the iPlayer starting with the Mixed Relay and finishing with the Senior Men's Race.

If you miss any of the action, you will be able to catch up on the iPlayer.

Saturday 30 March

09:45-14:00. BBC Red Button, Connected TV and online

Danish Prince to take place in Aarhus relay race

Recreational runners taking part in the World Cross Country Championships will find themselves going up against royal opposition.

His Royal Highness Crown Prince Frederik of Denmark will take part in the relay as a warm-up to the Royal Run, the nationwide mass participation race initiated last year to celebrate the Crown Prince's 50th birthday.

The course leads runners over the sloping roof of the Moesgaard Museum in Aarhus and through the area's spectacular natural surroundings over distances ranging from 2-12km as well as a 4x2km relay.

"The fact that the Crown Prince wants to be part of it is for us the best start of a year of running, embracing the World Cross Country Championships, Royal Run 2019 and more than 1000 recreational runs all over Denmark," said Jakob Larsen, CEO of the Danish Athletics Federation.

Kirui shocks favourites at Kenyan trials

The surprise winner at the recent Kenyan Cross Country Championships was steeplechase specialist Amos Kirui, who beat two-time world cross-country champion Geoffrey Kamworor and Rhonex Kipruto, among others, to secure his place in Aarhus.

Kirui, Kamworor and Kipruto were among a six-man breakaway group that left the field behind just before the halfway mark but it was Kirui, the 2016 world U20 steeplechase champion, who sprinted away from a strong field to win by win by seven seconds.

The 21-year-old crossed the line in 29min 51secs to record his first victory in any race since his 2016 Worlds win.

Kamworor and Kipruto both held on to claim their places in the World Championship squad and will both feature in Denmark.

Kenyans dominant in Cross Country

The World Cross Country Championships have been held 41 times since the first event in 1973 and has been dominated by African nations since the turn of the 1980s.

Ethiopia's early successes were soon replaced by Kenya's control of the event. In the last 29 competitions, the men's team event has been won no fewer than 24 times by Kenya, who have also made the podium on the other five occasions.

It's largely the same story in the women's event. Kenya has achieved a podium finish in each of the last 24 Championships, winning half of them. Five different Kenyan women have won the last six editions – Kenyan men have won four of the last five races and won eight of the 15 medals on offer.

Get Inspired: How to get into running

You can also find your local athletics club on the British Athletics website - there are more than 1,400 throughout the country.

If you are new to running, or you've not been active for a while, Couch to 5K is a free nine-week running plan especially designed for people who want to work on their fitness levels.