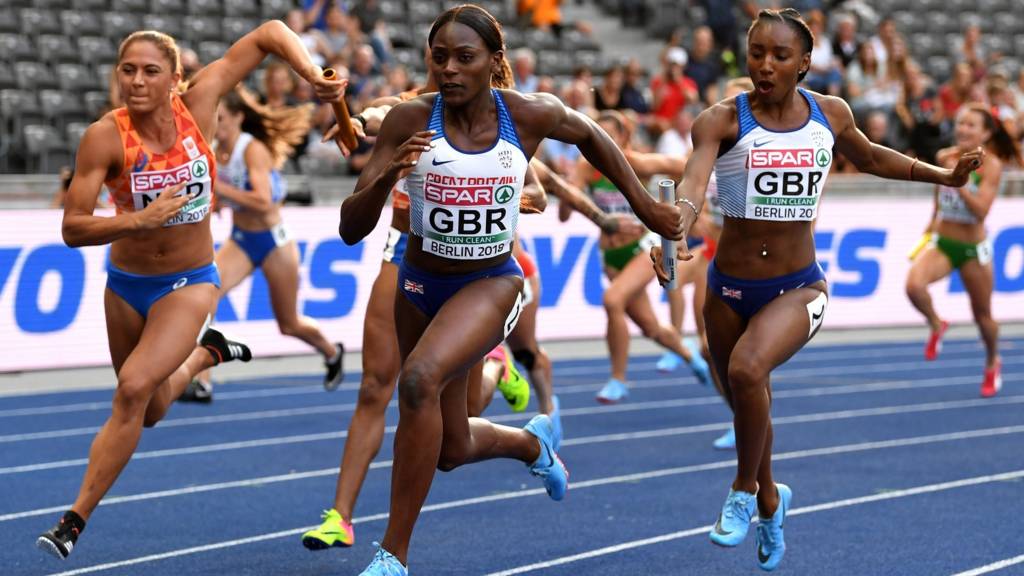 Watch: World Relay Championships - GB men take 4x100m bronze
Brazil's Oliveira produces 'leg of his life' to take gold in Men's 100m relay final as GB take bronze

Jamaica claimed a disappointing bronze medal in the women's 200m relay after poor handovers.

How can I watch the World Relay Championships?

The BBC has live coverage on the Red Button, iPlayer, Connected TV and online, as well as highlights on BBC Two.

Sunday, 12 May

Live coverage

10:00-13:00, BBC Red Button and online

Schedule

10:10 - Women's 4x200m heats

10:31 - Men's 4x200m heats

10:52 - Women's 4x400m B final

11:05 - Men's 4x400m B final

11:21 - Women's 4x400m final

11:37 - Men's 4x400m final

11:53 - Mixed 4x400m final

12:09 - Women's 4x200m final

12:23 - Men's 4x200m final

12:37 - Women's 4x100m final

12:52 - Men's 4x100m final

Watch Japan pull off an astonishing - but illegal - catch of the baton in the 4x100m heats at the World Relay Championships in Yokohama, Japan.

Great Britain run the quickest time of 2019 to qualify fastest for the men's 4x100m final on Sunday at the World Relay Championships in Yokohama, Japan.

Who will be competing for GB?

The road to Tokyo 2020 begins for Britain's sprinters at the World Relay Championships in Yokohama, Japan, from 11-12 May.

Britain's men won the world 4x100m title in 2017 and will be optimistic about taking the World Relays crown with three of that victorious quartet - Adam Gemili, Nethaneel Mitchell-Blake and CJ Ujah - in action in Japan.

Only Dina Asher-Smith will be missing from the women's quartet that won 4x100m silver at the last World Championships.

In the 4x400m, Emily Diamond, Eilidh Doyle and Anyika Onuora all have Olympic bronze medals from 2016, while Martyn Rooney headlines a men's squad that also includes fellow world bronze medallists Dwayne Cowan and Rabah Yousif.

As well as the regular relay events seen at the Olympics, the Championships also include mixed relays and the 4x200m.

Britain will be fielding a team in the mixed 4x400m, which will be introduced to the World Championships schedule for the first time ever in Doha later this year, but will not be competing in the 4x200m, shuttle hurdles or 2x2x400m relays.

Mixed relay "interesting and fun" says Shakes-Drayton

Track athletics' new event, the mixed 4x400m relay will bring "something different and exciting" to the sport, says Great Britain World silver medallist Perri Shakes-Drayton, ahead of this weekend's World Relay Championships in Yokohama.

Shakes-Drayton admits that the new event, which will make its debut in the Tokyo Olympics and involves teams of two men and two women, takes some getting used to and throws up some challenges.

"When I saw it was listed on the programme, I thought 'a mixed relay?' It took me by surprise," said the 30-year-old.

Shakes-Drayton also said that passing the baton between tall male athletes and shorter female team-mates had proved a challenge and that this made men a more likely choice to run the anchor leg.

"I think that's what the sport needs - something different and exciting," she said, reporting that the GB squad was in good shape as they began their preparations for the World Championships in Doha in September and the Olympics in 2020.

Get Inspired: How to get into athletics

You might want to be the next Mo Farah, or just want to get fit and see how well you can do - either way, athletics can be the sport for you.

It includes a huge variety of disciplines, so whether you want to run, jump or throw you can find an activity that suits you.

Find local athletics opportunities in England, Wales, Scotland and Northern Ireland.