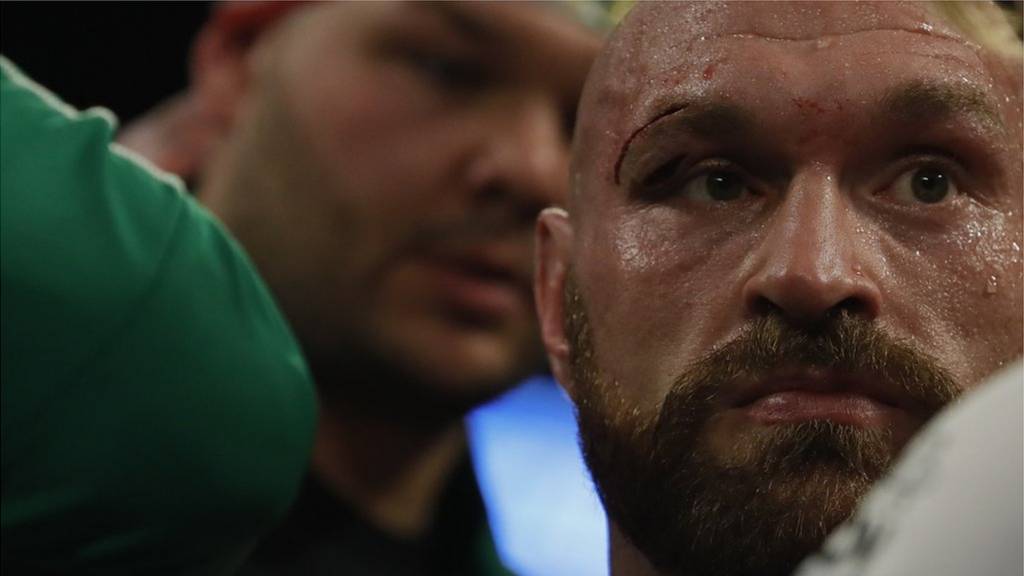 Fury beats Wallin on points - how the fight unfolded in Las Vegas
Wallin has two minutes to change his life.

But Wallin lands with three in a row. A late twist?

Another cracking combination from Fury.

Andy Lee

Former middleweight world champion on BBC Radio 5 live

You have to take your hat off to Wallin. He might see the final bell. Tremendous heart, tremendous courage and you have to take your hat off to him.

One more to go. Wallin needs to hit the jackpot. He needs to throw a life-changing, career-changing punch and knockout Fury.

It has not looked likely for the last six rounds.

Fury, despite a horrendous cut in the third, is three minutes away, three minutes of staying out of trouble, from victory.

Wallin takes another couple of brutal shots to the body.

Another brutal uppercut from Fury. Wallin hanging on. Great chin, great desire. But the Swede is losing this one.

Two rounds to go. If it goes the distance, it will be Fury's fight.

A cut as bad as this would've finished off many fighters, but not Tyson Fury. He's come on stronger and stronger. It looks in his hands now.

Luke Reddy

BBC Sport at the T-Mobile Arena in Las Vegas

Wallin's trainer clutching his towel during rounds now. It could come in.

A lovely one-two from Fury. He's ending this fight much stronger. Wallin has not had much success for a long time.

A crushing left hook from Fury. Wallin again in trouble.

Fury lands with the body shots then another uppercut. Wallin gives an anxious look to his corner. Never a good sign.

Wallin, backed up in the corner, is taking some more punishment...

Andy Lee

Former middleweight world champion on BBC Radio 5 live

A really good round for Tyson and he's showing that he can win ugly. With that cut, he knows the fight could be stopped at any moment and he knows he needs to do this emphatically and get the stoppage.

Fury lands and lands and lands. In the 10th. Wallin in trouble.

Fury lands a couple more to the body. Wallin waves his man on. Moments later a crushing right uppercut, with a fine left cross from Fury. The bell comes to save the Swede.

"That's what championships come from, heart," says Tyson's trainer Ben Davison, loving his fighter's work.

Fury was all jokes and charm in the build-up. No laughing now. It's just a brutal, bloody battle.

But when it gets into a brutal fight, who is better than Fury?

Wallin still believes he can win this one. He's a good few points down though and then eats a straight right hand from Fury.

Eight gone, we're into the final third of this fight.

Fury, as he has done since the third, has had extensive work done on that cut.

He's still digging deep though, he's still winning the rounds. but if that cut gets any worse that could see everything change.