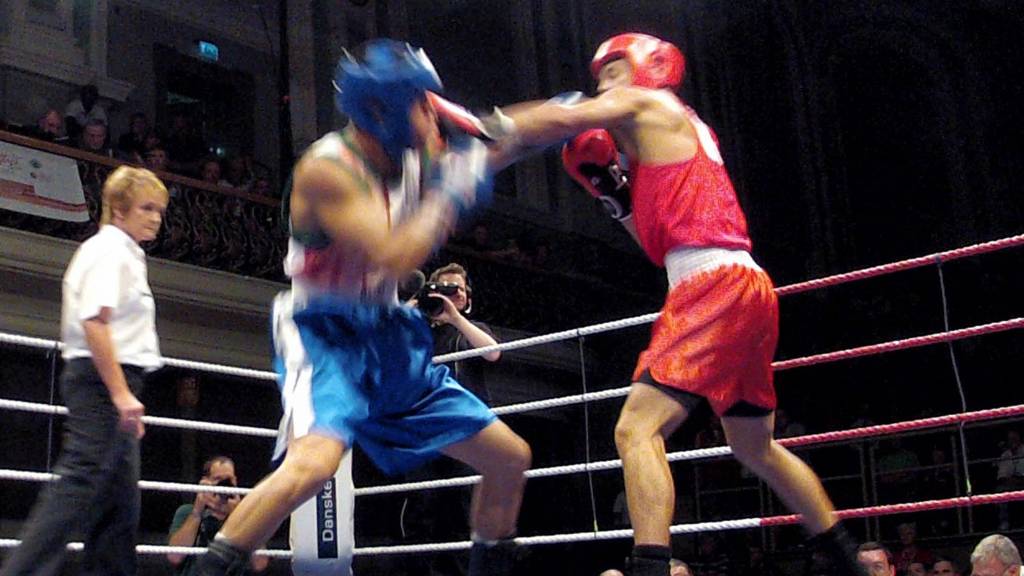 Watch again: Ulster Amateur Boxing finals
Use the icon to watch the Ulster Elite boxing finals
That's all for now - thanks for joining us on for a fantastic night of amateur boxing.

Women's Flyweight (51kg)

Caitlin Fryers (Immaculata) - Walkover

Women's Welterweight (69kg)

Rosemary Doherty (St.Francis Limerick) - Walkover

Men's Flyweight (52kg)

Jack O'Neill (Corpus Christi) - Walkover

Men's Bantamweight (57kg)

John Paul Hale (Star) beats Colm Murphy (St.Georges)

The fitting finale to this evening's action as this pair put on an absolute crackerjack of a contest in a repeat of last year's final.

Hale wins it again on a 4-1 split decision - easily the best fight of the finals with the rounds of non-stop punching.

Brilliant stuff!

Men's Welterweight (69kg)

Eugene McKeever (Holy Family Drogheda) beats Matthew McCole (Illies GG)

McKeever retains the title with a 4-1 split decision but he was pushed all the way by McCole.

Men's Middleweight (75kg)

Jake Tucker (Emerald) beats Gerard French (Emerald)

Another tight one at the Ulster Hall and the 3-2 split decision goes in favour of 18-year-old Jake Tucker.

Men's Light Welterweight (63kg)

Jack McGivern (St.Georges) beaten by Darryl Clarke (Monkstown)

That was a close one and Darryl Clarke wins the title on a 3-2 split decision.

Clarke edges it after a titanic tussle - another great fight.

Men's Heavyweight (91kg)

Karl Dlugosz (Immaculata) beats Michael Erpelding (Holy Family GG)

Karl Dlugosz is a unanimous victor after a classy performance.

Dlugosz defends his title and is one to look out for in the future.

Men's Super Heavyweight (91+kg)

Dennis Boriskins (Sacred Heart Newry) beaten by Patrick Rodgers (St.Johns)

In the battle of the big lads it's a unanimous victory for Patrick Rodgers.

Some heavy punches thrown in the Ulster Hall ring with the Slaughtneil fighter cruising to the provincial title.

Daithi (3) delivers knock-out punch to Olympian Barnes

Men's Light Heavyweight (81kg)

Gareth McDowell (Eastside) beaten by Kane Tucker (Emerald)

The fight is stopped in the first round after a big punch from Kane Tucker.

French can't go on and Tucker is the winner.

Men's Lightweight (60kg)

Rory Lavery (Holy Family GG) v Mosa Kambule (Holy Trinity Boxing)

A clash of heads resulting in Rory Lavery sustaining a deep cut stops the fight early in the second round.

It goes to the judges and Lavery takes the title on a unanimous decision.

Men's Light Flyweight (49kg)

Craig Bigger (Cookstown) beaten Diarmuid Toland (Holy Family GG)

Diarmuid Toland dominates the bout and it's no surprise when his arm is held aloft after a unanimous decision.

Women's Flyweight (54kg)

Clodagh McComiskey (Gilford) beaten by Sionnan McKenna (Holy Family GG)

An enthralling duel ends with teenager Sionnan McKenna edging it 3-2 on a split decision.

It was a fantastic fight and so little to choose between two tough boxers.

Women's Welterweight (64kg)

Shauna O'Callaghan (Clann Noafa) beats Rosie Doherty (St.Francis Limerick)

Shauna O'Callaghan impresses as she wins the first competitive bout of the night with a 4-1 split decision victory.

Little Daithi floors Olympian Barnes

We may have already witnessed the best performance of the night - three-year-old Daithi MacGabhann, who was born with a congenital heart defect, makes a stunning ring debut.

With a few sweet jabs followed by a powerful punch he floors Olympic Games medallist Paddy Barnes, who has no answer against this pocket rocket.

Congratulations Daithi - a star of the future!