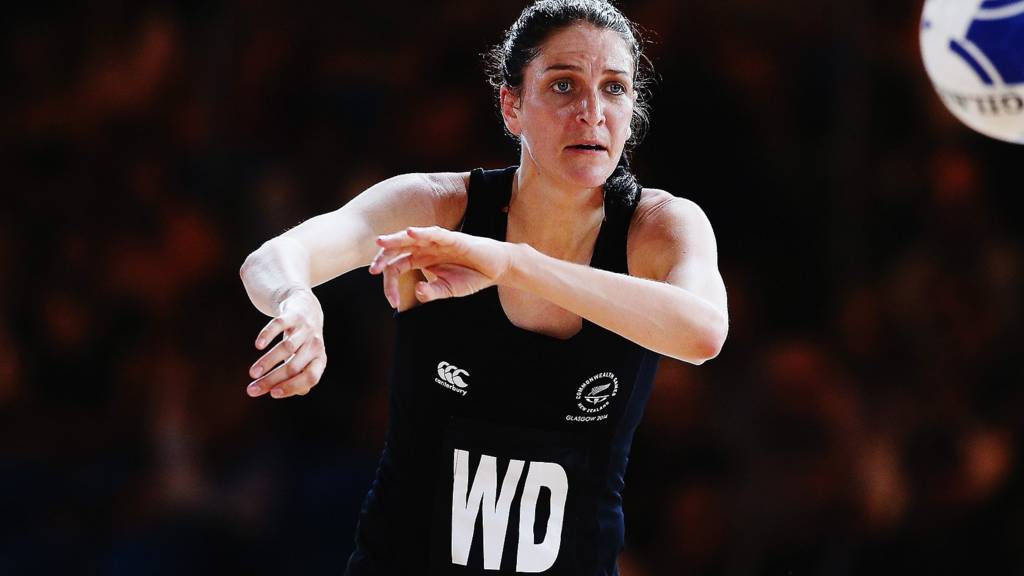 Netball: N. Ireland v New Zealand
Summary
Women's preliminary round: Northern Ireland v New Zealand
Thanks for your time today. I'll see you back here tomorrow. Don't leave us hanging...
Tomorrow never knows sang the Beatles. Well I do. This is what is on the cards for Monday.
14:30 BST - Squash: World champion Nick Matthew (above) will meet James Willstrop, with the former looking to become the first man to retain a Commonwealth singles title.
18:30 BST - Boxing: Women's boxing makes its Commonwealth Games debut and England's Olympic champion Nicola Adams remains the star attraction as the world number one at flyweight.
19:00 BST - Athletics: No Usain Bolt but Adam Gemili (the fastest qualifier in the heats), Richard Kilty and Harry Aikines-Aryeetey are the English entrants looking to qualify for the evening's 100m final, which concludes proceedings on the track at 2150 BST.
Scotland's 13-year-old swimmer Erraid Davies has
won bronze in the SB9 100m breaststroke final.
The Shetlander is Scotland's youngest ever competitor and the youngest competing in this Commonwealth Games.
So what has gone down today in the fair city of Glasgow? Well for those at the back, here is a re-run of the fun starting in the pool.
Fran Halsall won her second gold of these Games, third Commonwealth title and 10th Commonwealth medal overall, as England claimed another two golds in the pool.
Halsall, 24, emulated her 50m freestyle success in the 50m butterfly after Siobhan-Marie O'Connor, 18, had won the 200m individual medley.
Scotland's men's 4x200m freestyle team won silver, while compatriots Hannah Miley, 24, and Erraid Davies, 13, both took bronze, as did England's Liam Tancock in the men's 50m backstroke.
Fancy catching up with the events of the day at Glasgow 2014 in a pop-up jazz-bar style setting? You didn't know you did, but you do now right?
Tonight at the Games, hosted by Mark Chapman and Clare Balding, is
underway on BBC One.
England's Steve Way, formerly 16 and a half stone, today the 10th placed man in the marathon, is on explaining his backstory.
#bbcglasgow2014
Athletes on Twitter
Australian cyclist
Anna Meares tweets
on catching up with an old friend and rival: Couldn't believe seeing this face again on the other side of the fence tonight So good 2 see u @v_pendleton @bbc5live
Pendleton, a two-time Olympic champion and multiple world champion who retired after the London Olympics, earlier spoke to BBC 5 live about her old rivalry with Meares.
"We didn't really talk that much while we were competing, to be honest. I didn't really know her that well. But we had very similar experiences and were in each other's lives quite a lot," she said.
"When we were on the boards I desperately wanted to beat her. We had a lot of medal races against each other and it was an intense rivalry. But my husband Scott Gardner used to work with the Australian Institute of Sport and he always says we were very similar in lots of ways.
"I think Anna is more physically gifted than me in terms of what the sprint requires."
It's all over at the National Hockey Centre as England's men survive a downpour to rain goals down on Malaysia in an 8-1 win.
England now head New Zealand on goal difference following two wins apiece at the top of Pool B.
Ashley Jackson bagged four penalty corners as England racked up seven unanswered goals in the second half.
Alastair Brogdon, Mark Gleghorne, Phil Roper and Adam Dixon also got on the scoresheet.
There will be tougher battles to come.
England are running riot now. It's 7-1 with a couple of minutes to go against Malaysia.
Apologies, I called time on the day's boxing too early.
Scott Forest of Scotland
is going hammer and tongs
with David Nyika of New Zealand in the last 16 of the light heavyweight division.
The pick of the results from earlier today came in the flyweight tournament where Scotland's Reece McFadden, conqueror of Wales' Andrew Selby in the last round, beat Charlie Edwards of England.
Hockey
England 4-1 Malaysia
And then there was one.
In the only remaining action on day four of the Commonwealth Games, England lead Malaysia 4-1 thanks, in a large part, to a hat-trick from Ashley Jackson.
Jackson's successfully converted three penalty corners and an excellent finish from Adam Dixon, which survived an umpire's referral, have given England control with 15 minutes to go.
England look to be on course for their second straight win in Pool B as they lead 3-1 against Malaysia in the men's competition.
Two successful penalty corners from Ashley Jackson and an excellent finish from Adam Dixon, which survived an umpire's referral, give England control with less than 20 minutes to go.
Stewart Milligan:
Great finish to the rugby 7s. Not sure what makes me happier, SA team winning or their hairstyles! #bbcglasgow2014 #dreadlocksgalore
New Zealand 12-17 South Africa
South Africa coach Neil Powell gathers his side round and gets them to take knee and bow their heads while he says a few words.
New Zealand counterpart Gordon Tietjens leads an immediate debrief with his own men.
Gold Medal
South Africa - Rugby sevens
South Africa gleefully hoof the ball into the stands and their players leap skywards.
New Zealand sink the other way, kneeling on the ground and trying to come to terms with being the first of their nation's sevens sides to return from a Commonwealth Games without gold.
Rugby Sevens
New Zealand 12-17 South Africa
The ball skids off the greasy Ibrox surface and forward off the hand of New Zealand's Akira Ioane.
South Africa only need to get the ball in a scrum, out of a scrum and out of play.
Rugby Sevens
New Zealand 12-17 South Africa
New Zealand have nipped a try back. Joe Webber dives over. The conversion is missed.
Just a minute to go. Nails down to the quick.
Rugby Sevens
New Zealand 7-17 South Africa
Is that the gold-medal winning try?
DJ Forbes gets a going-over in a tackle from Warren Whiteley, the ball spills loose and Cecil Afrika scoops up and scoots downfield.
New Zealand chase, but they can't catch him and the game might be up. Three minutes to go.
Ben Dirs
BBC Sport at New Zealand v South Africa in the rugby sevens
We had a weapons-grade rendition of I Will Walk 500 Miles at half-time at Ibrox, loud enough to take your face off and singe all the hairs on your chest. I think South Africa might win this...
England are also through to the final of the mixed team event in badminton.
A 3-0 win over India was secured by Chris Adcock and Andrew Ellis who came from a game down to win 2-1, 12-12, 21-13, 21-16 against Akshay Dewalkar and Pranaav Chopra in their doubles rubber.
England will now play Malaysia in the gold medal match at 16.00 BST on Monday.
Rugby Sevens
New Zealand 7-12 South Africa
Seabelo Senatla sniffs a gap down the blind side and has the scorching pace to turn the narrow corridor of space into a route to the tryline.
South Africa lead and are seven minutes away from a historic win over a New Zealand side who have never lost a match of Commonwealth Games sevens.
Rugby Sevens
New Zealand 7-7 South Africa
South Africa finally make the man advantage count. New Zealand had been attempting to run down the sin-bin clock, strolling around, retaining possession and avoiding contact.
But the Boks eventually hunt them down, turn over the ball and Seabelo Senatla switches inside and scampers under the sticks.
Even stevens at the break.
At last! England and Liam Pitchford reach the final of the men's team event as the 21-year-old from Chesterfield makes his 11th match point count.
Pitchford comes through 17-15 to secure a 3-2 win over India's stone wall of Harmeet Desai.
England will face Singapore with the gold medal at stake on Monday.
A huge roar swirls around the Tollcross Swimming Centre as the Scottish quartet receive their silver medals for the 4x200m freestyle relay. A mention must be made for England as well, who finished fourth in the final, and Wales, who took sixth. But it is Scotland who take the main plaudits for four stunning swims.
Rugby Sevens
New Zealand 7-0 South Africa
Some skulduggery from New Zealand's Bryce Heem who boots the ball upfield after the whistle has blown to try and delay a South Africa penalty.
The referee has the yellow card out of his top pocket before the South Africans have even turned his way in protest.
New Zealand are down a man...
#bbcglasgow2014
Athletes on Twitter
Chris Walker-Hebborn Tweets:
How not to swim a 50 back! Live and learn! Appreciate the support, will be putting that right and Europeans in a few weeks time :)
Rugby Sevens
New Zealand 7-0 South Africa
Quick turnover ball is flipped quickly to Ben Lam who bursts upfield for the All Blacks, pops the ball to DJ Forbes and Sherwin Stowers strolls in unopposed for the opening try of the final.
The momentum is with India now as Harmeet Desai makes it 2-2 against Liam Pitchford.
Semi-final back in the balance.
Swimming
Men's 4x200m freestyle final
After helping Scotland repeat their men's 4x200m freestyle relay silver from Delhi, and take five seconds off the national record, Robbie Renwick told BBC Sport: "It's been a really tough few days, so to get a silver medal with these boys has been a real highlight for me."
Australia won gold, and Renwick added: "Unfortunately, we won't be hearing Flower of Scotland at the medal ceremony, but we'll be back in four years' time."
Rugby Sevens
New Zealand 0-0 South Africa
With two minutes gone in the gold-medal final, there is a hold-up in play while South Africa lynchpin and captain Kyle Brown is treated for a shoulder injury.
He gingerly makes his way off the pitch and the Springboks are going to have make history without him.
Rugby Sevens
New Zealand v South Africa
The All Blacks have never lost a match of Commonwealth Games sevens, winning every tournament since Christian Cullen and Jonah Lomu starred in the 1998 Games.
Will they make it five titles out of five?
South Africa are the team trying to stop them...
Gold Medal
Sathish Kumar Sivalingam (India) - 77kg class weightlifting
Sathish Kumar Sivalingam of India wins weightlifting gold, hoisting 11 more kilograms than his nearest challenger.
England's Jack Oliver finishes just outside the medals in fourth.
Liam Pitchford loses seven match points as England fail to close out their team event semi-final.
Harmeet Desai of India battles back to make it 2-1 in the best-of-five encounter when victory for England would take them into the final.
Rebecca Adlington
Four-time Olympic medallist and BBC Sport swimming expert
Paying tribute to women's 200m individual medley gold medal winner, England's Siobhan-Marie O'Connor: "Siobhan raced it perfectly. She has the best start in the world as far as I'm concerned."
Bronze Medal
Australia - Rugby Sevens
Australia complete a comprehensive 24-0 win over Samoa.
There looks like there is plenty more to come from this squad. All but two of their 12 -strong squad are under 25.
Silver Medal
Scotland - Men's 4x200m freestyle relay final
What a swim from the Scotland quartet. They changed all their swimmers from the heats this morning and are rewarded with a silver medal. Australia take gold, with South Africa third. But the home nation are the story. They led at times but just couldn't see it through. It is still a new Scottish record, knocking five seconds off the previous one set in Melbourne. It took a new Games record of 7:07.38 to beat them. That is how you relay. Take a bow Daniel Wallace, Stephen Milne, Duncan Scott and Robbie Renwick.
James Willstrop will be going for gold against England rival and defending champion Nick Matthew in the final of the singles after beating India's Saurav Ghosal 3-0.
It promises to be a classic final on Monday after Willstrop booked his place with an 11-8, 11-8, 11-5 victory.
Ghosal will face England's Peter Barker for the bronze.
Rugby Sevens
Australia 10-0 Samoa
Two tries for the surprisingly-swift Greg Jeloudev give Australia a healthy half-time lead in the bronze-medal match.
Scottish cyclist Chris Pritchard climbed straight off his bike after this afternoon's keirin run-off to climb into the stands and propose to his partner Amanda.
"I have been plotting this for about five or six months. It has taken a lot of hard work, " said Chris.
"I thought, 'she is going to say yes' so I just put that away and I just thought about what was going on in the keirin. It was a really good keirin, I really enjoyed it."
"It was never in doubt," added Amanda.
"I have been nagging for long enough. The ring is just like the one I took a picture of and left on the computer screen!"