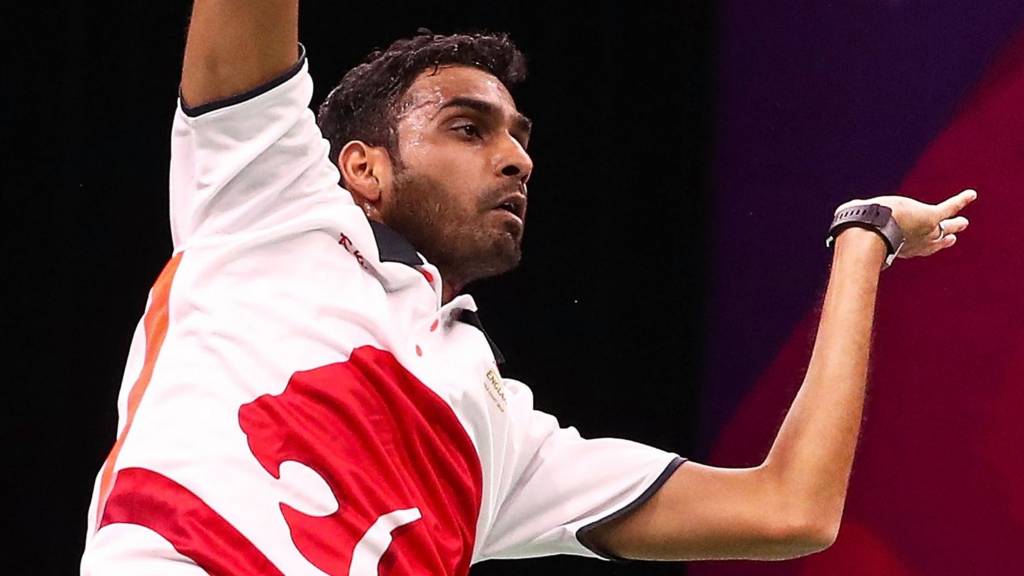 Summary
England 5-0 Australia
India 5-0 Scotland
That's all from us on day two.
Here are a few things you might need for day three...
What's to come on day three?
It's busy. There are 22 gold medals on offer.
Cycling – track (6): Men: Sprint, scratch race, blind & visually impaired sprint
Women: time trial, points race, blind & visually impaired time trial.
Gymnastics - artistic (2): Men's & women's all-around
Swimming - (8): Men: 100m breast, 200m fly, SB8 100m breast.
Women: 50m free, 100m back, 200m breast, 4x200m free relay, SM10 200m individual medley.
Triathlon - (3): Team relay, para men & women
Weightlifting - (3) Men: 77kg, 85kg. Women: 63kg
England make it two from two
Netball
England earned a second win of the Games with a 74-49 victory over Malawi.
Wales lost 70-44 against world number two side New Zealand, while Jamaica beat South Africa 57-46 and Australia thrashed Barbados 79-24.
Wales' women are out of the table tennis competition after defeat by Australia.
They lost their quarter-final against the home favourites 3-1.
There was plenty of success for the home nations in the squash.
Wales' Joel Makin beat Jamaica's Chris Binnie 3-0
England's men and women all progressed beyond their round of 16 matches, including Nick Matthews and Laura Massaro.
Scotland's Kevin Moran won his quarter-final, but Greg Lobban lost to England's Daryl Selby.
Australia's Matt Glaetzer takes gold in the men's keirin
England claimed silver in the gymnastics team event, with a total score of 162.650 points.
Canada claimed the gold, while Australia had to settle for bronze.
Dawson celebrates like it's gold
Women's 100m backstroke

Nick Hope
BBC Sport on the Gold Coast
Scotland's Kathleen Dawson celebrates like she's won gold, but that swim-off success over England's Lizzie Simmonds is an important one for her.
Yes it puts her into tomorrow's final, but it should confirm her place in the British team for the European championships in the Summer.
Simmonds - a former European and Commonwealth medallist, who raced at the Beijing 2008 and London 2012 Olympics - was written off by many in the sport after having her funding axed and being controversially overlooked for selection for Rio 2016.
She'll now have to hope for a big performance in the 200m event later in the Gold Coast Games if she's to extend her career to another major event.
Dawson through to final
Women's 100m backstroke
Scotland's Kathleen Dawson beat England's Lizzie Simmonds in a swim-off to reach the final of the women's 100m backstroke.
They both finished their semi-finals in a time of 1 minute, 00.67 seconds meaning they had to go head-to-head in order to complete the final line-up.
That result could have consequences for Simmonds as Dawson is now more likely to be selected for the Glasgow European championships in the summer.
England's women were beaten by Canada in their opening Pool A match - they lost 80-54.
The men are in action tomorrow, when they play India, while Scotland's men take on Cameroon at 11:00 BST on Saturday.
Friends and rivals
Swimming

Nick Hope
BBC Sport on the Gold Coast
Rivals in the pool, but always friends out of it.
Great to see Scotland's Duncan Scott and England's James Guy share a laugh and joke together moments after receiving their respective bronze and silver 4x100m freestyle relay medals tonight.
Remember they won two Olympic silver medals together as part of the Team GB relay line-ups at Rio 2016 and will unite again for the European championships this summer.
Watch Australia take relay gold
Dominant.
Easy win for England
Badminton
It's another dominant 5-0 win for England's badminton players against hosts Australia in the mixed team event.
Wins for the Adcocks, Rajiv Ouseph and Olympic bronze medallists Chris Langridge and Marcus Ellis ensured the win, before Chloe Birch and women's doubles pair Lauren Smith and Sarah Walker hit the final nail in the Aussie coffin.
They're through to the quarter-finals without dropping a rubber - impressive stuff!
England v Wales highlights
Hockey
England's men began their Commonwealth campaign by thumping Malaysia 7-0.
England's women also won, with a 5-1 victory over Wales, while Scotland are currently taking on Canada.
You can watch that one over here.
'My best is yet to come'
Manx swimmer Atkinson fifth in 100m fly final

Mark Edwards
Reporter, BBC Isle of Man
An amazing fifth-place finish and another Manx record for the remarkable Charlotte Atkinson.
She told the BBC: "It's a another PB and there's more to come from me.
"It's not even my main event."
Her time of 57.88 secs was 1.10 second down of Australian winner Emily Mckeon, (56.78) who set a new Games Record.
Her strongest event is the 200m butterfly.
Day two turns green and gold
Swimming

Nick Hope
BBC Sport on the Gold Coast
Well, it was nice whilst it lasted on day one with England dominating in the pool, but day two certainly belonged to the Aussies.
Fifteen medals - six of them gold - and a one-two-three in the women's 100m butterfly certainly a major highlight on a night of so much success for the hosts.
We're not quite finished though - next up are a couple of swim-offs including the 100m backstroke between Scotland's Kathleen Dawson & England's Lizzie Simmonds.
It was Australia's day at the aquatics centre as the team came away with 15 medals in total - including six golds.
South African Chad le Clos became the most successful male swimmer in history at the Commonwealth Games after winning the 50m butterfly - his 13th medal.
Scotland claimed three: a bronze from Duncan Scott in the 200m free, silver from Mark Szaranek in the 400m individual medley and bronze in the 4x100m free relay.
England bagged two more golds through Sarah Vasey (50m breaststroke) and Alice Tai (S9 100m free) while Lewis White added S9 100m free silver and so did the relay team.
'I'm ridiculously proud'
Weightlifting
Wales' man of the moment Gareth Evans finally calmed down after winning weightlifting gold a little earlier today, and spoke to BBC Sport.
"It was hard not to get a bit teary, if I'm being completely honest. Like every Welshman, I'm ridiculously proud," he said.
"I missed out on a medal in Glasgow [2014 Commonwealth Games] and vowed I would never miss a medal again. I have let that spur me on for the past four years."
So what next for the 31-year-old?
"Beer."
Gold for Wales' Evans
Weightlifting
Gareth Evans claimed Wales' first gold medal of these Games with victory in the men's -69kg.
His total of 299kg was enough to surpass Sri Lanka's Indika Dissanayake Mudiyanselage, and India's Deepak Lather.
There was disappointment for the home nations in the women's -58kg final, however.
England's Laura Hewitt finished fourth, with Wales' Christie Williams and Scotland's Jodey Hughes in seventh and ninth respectively.
England in control
Badminton
In the badminton mixed team event, England beat South Africa 5-0 in the morning session.
They're now playing their evening match against Australia and it's going in their favour.
Meanwhile, Scotland were beaten 5-0 by India.
Wait, am I allowed to say snog on the BBC?
Let's quickly move on...
Oh my days, the Commonwealth Games has taken a turn.
Kiss cam appears at the swimming and a over-exuberant couple decide to go big and start snogging like teenagers in the stands.
My poor innocent eyes.
What happened on the track?
Lewis Oliva performed strongly in the keirin to claim silver for Wales - their third medal of these Games.
The Australians were dominant on the track - Matthew Glaetzer claimed keirin gold, while compatriot Stephanie Morton defended her sprint title.

Luke Reddy
BBC Sport on the Gold Coast
If ever you're watching TV and think those racing make it look easy, standing above the track gives you an even greater appreciation.
It's not so much a slope at each end of the track, more a cliff. The TV just doesn't do it justice. It could double up as a dam.
What happened on the track?
It was a double medal day for the Archibald household.
First, Scotland's Katie beat Australia's Rebecca Wiasak to women's 3,000m individual pursuit gold...
Then big brother John won men's 4,000m individual pursuit silver, just behind England's Charlie Tanfield.
Still waiting for a breakthrough
Women's hockey, Scotland v Canada
We're not done with today's sport yet...
Into the third quarter of the women's hockey pool match between Scotland and Canada and it's still scoreless.
You can watch it live by selecting the tab above.
That's it for the medal-giving on day two so it's time to recap on all the goings-on from around the venues.
Hang on...confusion reigns. The official times haven't appeared on the board and all the athletes look nervous.
Here it comes...it turns out Sri Lanka have been disqualified but the other results stand.
This is how they finished:
Bronze Medal - Scotland
Men's 4x100m freestyle relay final
Scotland's first ever medal in this event!
Silver Medal - England
Men's 4x100m freestyle relay final
England cap off another excellent day on the Gold Coast!
Gold Medal - Australia
Men's 4x100m freestyle relay final
They've done it and they've done it in style.
But look out, it's good news for the home nations just behind...
Men's 4x100m freestyle relay final
Australia regain the lead and England push Scotland out of second place after a great leg from Ben Proud.
Men's 4x100m freestyle relay final
Off we go.
Can Australia add another medal?
It's Scotland who lead after the first leg!
Line-ups
Men's 4x100m freestyle relay final
South Africa: Calvyn Justus, Chad le Clos, Bradley Tandy, Ryan Coetzee.
Canada: Yuri Kisil, Markus Thormeyer, Ruslan Gaziev, Carson Olafson.
New Zealand: Daniel Hunter, Sam Perry, Corey Main, Matthew Stanley.
Australia: Cameron McEvoy, James Magnussen, Jack Cartwright, Kyle Chalmers
Scotland: Duncan Scott, Jack Thorpe, Kieran McGuckin, Stephen Milne.
England: David Cumberlidge, Ben Proud, Jarvis Parkinson, James Guy
Northern Ireland: Jordan Sloan, Calum Bain, David Thompson, Curtis Coulter
Sri Lanka: Matthew Abeysinghe, Akalanka Peiris, Kyle Abeysinghe, Cherantha de Silva.
Aussies cycle clear
Track cycling

Luke Reddy
BBC Sport on the Gold Coast
Those two gold medals for Australia takes their tally to five on the track and gets them to 12 overall, pulling clear of England.
As I wrote earlier today, it's no fluke. The Aussies sent just a handful of riders to the World Championships last year as they were targeting this instead. It is home soil after all!
The Velodrome slowly empties. Hopefully there's overnight security to look after the bikes as there's about enough money's worth to buy a small country propped up in the the middle of the track.

Nick Hope
BBC Sport on the Gold Coast
Erm - so you know how England dominated day one in the pool and started well on day two?
Well the Aussies have owned the pool on the second day of competition. A breathtaking lockout of the podium places for the hosts in the women's 100m butterfly event takes their total to 12 honours tonight - five of them gold - and there's still the men's 4 x100m freestyle relay to come.
And that too will be won by the Aussies - trust me!
Head-to-head
Women's 100m backstroke
Scotland's Kathleen Dawson and England's Lizzie Simmonds will have a race-off to qualify for the women's 100m backstroke final after both finished their semi-finals in a time of one minute 00.67 seconds.
That race will take place at 13:42 BST.
Women's 100m butterfly final
Charlotte Atkinson was the best performing home nations swimmer from that 100m butterfly final.
The Isle of Man athlete finished fifth, with Alys Thomas of Wales in seventh.
Gold Medal - Emma McKeon (Australia)
Women's 100m butterfly final
It's an Australian 1-2-3!
Emma McKeon grabs the gold, Madeline Groves takes the silver and Brianna Throssell earns bronze.
McKeon nails it in 56.78 seconds - a new Games record.