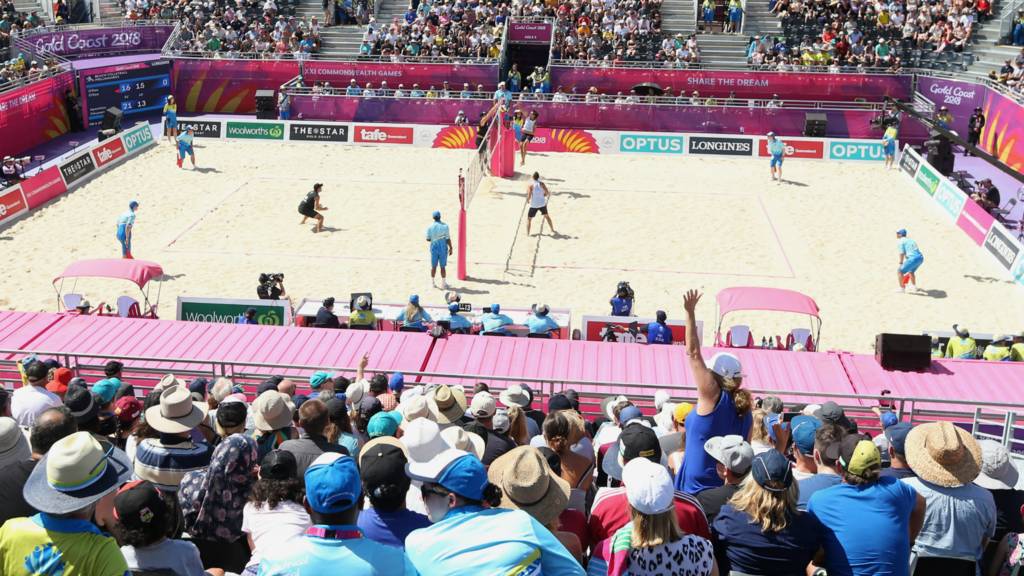 That's all from us on day two.

Here are a few things you might need for day three...

What's to come on day three?

It's busy. There are 22 gold medals on offer.

Cycling – track (6): Men: Sprint, scratch race, blind & visually impaired sprint

Women: time trial, points race, blind & visually impaired time trial.

Gymnastics - artistic (2): Men's & women's all-around

Swimming - (8): Men: 100m breast, 200m fly, SB8 100m breast.

Women: 50m free, 100m back, 200m breast, 4x200m free relay, SM10 200m individual medley.

Triathlon - (3): Team relay, para men & women

Weightlifting - (3) Men: 77kg, 85kg. Women: 63kg

England make it two from two

Netball

England earned a second win of the Games with a 74-49 victory over Malawi.

Wales lost 70-44 against world number two side New Zealand, while Jamaica beat South Africa 57-46 and Australia thrashed Barbados 79-24.

Video content

Wales' women are out of the table tennis competition after defeat by Australia.

They lost their quarter-final against the home favourites 3-1.

Video content

There was plenty of success for the home nations in the squash.

Wales' Joel Makin beat Jamaica's Chris Binnie 3-0

England's men and women all progressed beyond their round of 16 matches, including Nick Matthews and Laura Massaro.

Scotland's Kevin Moran won his quarter-final, but Greg Lobban lost to England's Daryl Selby.

Australia's Matt Glaetzer takes gold in the men's keirin

Video content

Post update

Gymnastics team final

England claimed silver in the gymnastics team event, with a total score of 162.650 points.

Canada claimed the gold, while Australia had to settle for bronze.

Dawson celebrates like it's gold

Women's 100m backstroke

Nick Hope

BBC Sport on the Gold Coast

Scotland's Kathleen Dawson celebrates like she's won gold, but that swim-off success over England's Lizzie Simmonds is an important one for her.

Yes it puts her into tomorrow's final, but it should confirm her place in the British team for the European championships in the Summer.

Simmonds - a former European and Commonwealth medallist, who raced at the Beijing 2008 and London 2012 Olympics - was written off by many in the sport after having her funding axed and being controversially overlooked for selection for Rio 2016.

She'll now have to hope for a big performance in the 200m event later in the Gold Coast Games if she's to extend her career to another major event.

Dawson through to final

Women's 100m backstroke

Scotland's Kathleen Dawson beat England's Lizzie Simmonds in a swim-off to reach the final of the women's 100m backstroke.

They both finished their semi-finals in a time of 1 minute, 00.67 seconds meaning they had to go head-to-head in order to complete the final line-up.

That result could have consequences for Simmonds as Dawson is now more likely to be selected for the Glasgow European championships in the summer.

England's women were beaten by Canada in their opening Pool A match - they lost 80-54.

The men are in action tomorrow, when they play India, while Scotland's men take on Cameroon at 11:00 BST on Saturday.

Friends and rivals

Swimming

Nick Hope

BBC Sport on the Gold Coast

Rivals in the pool, but always friends out of it.

Great to see Scotland's Duncan Scott and England's James Guy share a laugh and joke together moments after receiving their respective bronze and silver 4x100m freestyle relay medals tonight.

Remember they won two Olympic silver medals together as part of the Team GB relay line-ups at Rio 2016 and will unite again for the European championships this summer.

Watch Australia take relay gold

Dominant.

Video content

Easy win for England

Badminton

It's another dominant 5-0 win for England's badminton players against hosts Australia in the mixed team event.

Wins for the Adcocks, Rajiv Ouseph and Olympic bronze medallists Chris Langridge and Marcus Ellis ensured the win, before Chloe Birch and women's doubles pair Lauren Smith and Sarah Walker hit the final nail in the Aussie coffin.

They're through to the quarter-finals without dropping a rubber - impressive stuff!

England v Wales highlights

Hockey

Video content

England's men began their Commonwealth campaign by thumping Malaysia 7-0.

England's women also won, with a 5-1 victory over Wales, while Scotland are currently taking on Canada.

You can watch that one over here.

Video content

'My best is yet to come'

Manx swimmer Atkinson fifth in 100m fly final

Mark Edwards

Reporter, BBC Isle of Man

An amazing fifth-place finish and another Manx record for the remarkable Charlotte Atkinson.

She told the BBC: "It's a another PB and there's more to come from me.

"It's not even my main event."

Her time of 57.88 secs was 1.10 second down of Australian winner Emily Mckeon, (56.78) who set a new Games Record.

Her strongest event is the 200m butterfly.

Image caption: Charlotte Atkinson

Day two turns green and gold

Swimming

Nick Hope

BBC Sport on the Gold Coast

Well, it was nice whilst it lasted on day one with England dominating in the pool, but day two certainly belonged to the Aussies.

Fifteen medals - six of them gold - and a one-two-three in the women's 100m butterfly certainly a major highlight on a night of so much success for the hosts.

We're not quite finished though - next up are a couple of swim-offs including the 100m backstroke between Scotland's Kathleen Dawson & England's Lizzie Simmonds.

It was Australia's day at the aquatics centre as the team came away with 15 medals in total - including six golds.

South African Chad le Clos became the most successful male swimmer in history at the Commonwealth Games after winning the 50m butterfly - his 13th medal.

Scotland claimed three: a bronze from Duncan Scott in the 200m free, silver from Mark Szaranek in the 400m individual medley and bronze in the 4x100m free relay.

England bagged two more golds through Sarah Vasey (50m breaststroke) and Alice Tai (S9 100m free) while Lewis White added S9 100m free silver and so did the relay team.

Video content

'I'm ridiculously proud'

Weightlifting

Wales' man of the moment Gareth Evans finally calmed down after winning weightlifting gold a little earlier today, and spoke to BBC Sport.

"It was hard not to get a bit teary, if I'm being completely honest. Like every Welshman, I'm ridiculously proud," he said.

"I missed out on a medal in Glasgow [2014 Commonwealth Games] and vowed I would never miss a medal again. I have let that spur me on for the past four years."

So what next for the 31-year-old?

"Beer."

Gold for Wales' Evans

Weightlifting

Gareth Evans claimed Wales' first gold medal of these Games with victory in the men's -69kg.

His total of 299kg was enough to surpass Sri Lanka's Indika Dissanayake Mudiyanselage, and India's Deepak Lather.

Video content

There was disappointment for the home nations in the women's -58kg final, however.

England's Laura Hewitt finished fourth, with Wales' Christie Williams and Scotland's Jodey Hughes in seventh and ninth respectively.