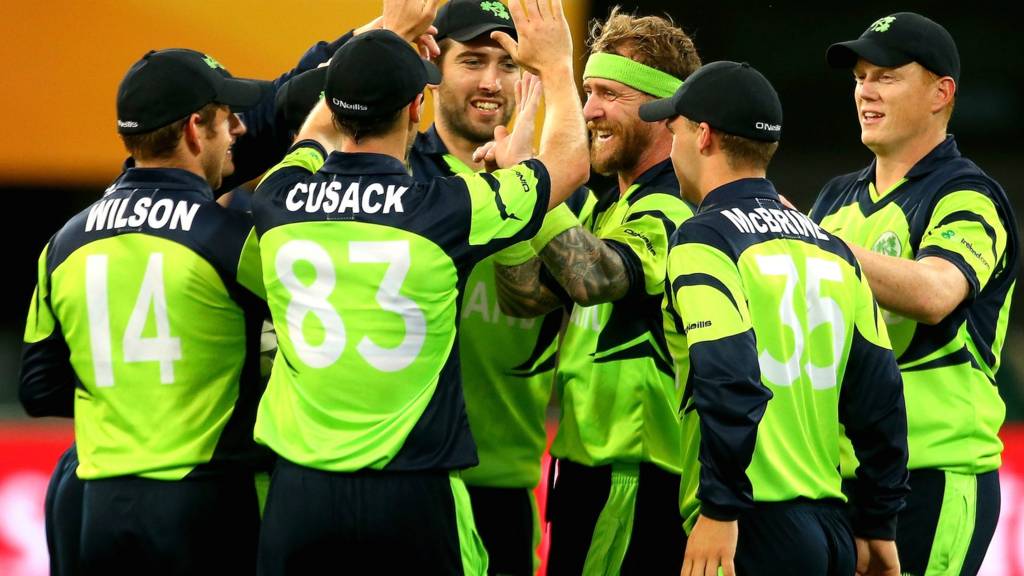 That is almost it from us at the end of another superb day of World Cup cricket. This tournament continues to surprise, delight and emotionally drain in equal measure. You can join us again from around 21.30 GMT tonight for New Zealand v Afghanistan, followed by Australia v Sri Lanka (online, mobile, tablet and also Radio 5 live sport's extra) I suggest you do.

More from Zimbabwe captain Brendan Taylor on his 121: "It's frustrating to have got out when I did. I would've wanted to carry on for a bit longer."

On John Mooney's catch on the boundary to dismiss Sean Williams: "It looked pretty clear to me and you take the fielder's word in those circumstances and you move on."

Ireland captain William Porterfield: "We had to be on the money and thankfully we got over the line. Alex Cusack didn't let us down - fantastic effort from him."

On whether John Mooney's foot touched the boundary when he caught Sean Williams for 96: "It's very hard to tell when you're on the line. I haven't seen a replay. Whether or not he did or didn't, it was a great catch.

"It's still in our hands. We've go game to game. We can go to Hamilton against India and get two points there - that's our next goal."

Ireland are in fourth place in the group with six points - the same as South Africa and Pakistan. They have to play the latter in their final group game on 14 March after facing India. You might want to make sure you catch that.

Zimbabwe captain Brendan Taylor: "Ireland were a little bit more hungry and they deserved the win. We haven't been in this position much before in a tight position where we need to held our nerve and it's hurting a lot. But, credit to Ireland for the way they played.

"We were poor in the field, I didn't think we were hungry, our energy levels were low and it's not something I can comprehend.

"We've got one game left, so we need to pull our socks up and play with some pride."

Alan Lewis

Ex-Ireland captain on BBC Test Match Special

"It looks like in this group that you will need eight points to get through but who knows? But the way this group has gone, I don't know what to say."

More from Ireland's Ed Joyce on his earlier 112: "I had a lot of luck early on before I got to about 30 or 40. But, we took a few chances and got away with it and I ended up playing well towards the end.

"Andrew Balbirnie played fantastically as well towards the end of the innings, so he deserves a lot of praise too."

Join the debate at #bbccricket

Oliver Clements: Best match of the World Cup so far.

Ireland beat Zimbabwe by five runs

Ireland 331-8 (50 overs): Joyce 112, Balbirnie 97

Zimbabwe 326 all out (49.3 overs): Taylor 121, Williams 96

Fall of wickets: 32-1 (Raza 12), 32-2 (Chibhaba 18), 41-3 (Masakadza 5), 74-4 (Mire 11), 223-5 (Taylor 121), 259-6 (Ervine 11), 300-7 (Williams 96), 305-8 (Panyangara 5), 325-9 (Chakabva 17), 326-10 (Mupariwa 18)

Bowling figures: Cusack 9.3-2-32-4, Mooney 10-0-58-2, K O'Brien 10-0-90-2, G Dockrell 10-0-56-1, McBrine 8-0-56-1, Stirling 2-0-26-0

Zimbabwe won toss

Alan Lewis

Ex-Ireland captain on BBC Test Match Special

"When the human brain gets under pressure we do strange things and that's why we love the game. I hope Australia can provide as much entertainment in the next game."

Man of the match Ed Joyce, who scored 112 for Ireland: "We certainly did need those all runs playing a team with three spinners and three medium pacers.

"We knew we'd have to bowl and field well to defend that target. I thought the boys did really well at the end to hold it together.

"Alex Cusack has got a cool head, a great guy to have bowling that last over. I'm glad he was the one bowling at the end there with Will Porterfield under that last catch."

Join the debate at #bbccricket

Sam Rogers: Do you think Eoin Morgan is considering playing Ireland from now on?

Alan Lewis

Ex-Ireland captain on BBC Test Match Special

"It was set for a grand finale finish but what a game of cricket. The 'Blarney Army' have gone nuts."

Finally, I can breathe again. That game took more twists and turns than a snake on a roundabout. Ireland seemed to have it won, then they didn't, then they did again, then didn't and finally, dramatically, decisively, they did.

It is three wins now for Ireland in this tournament, making it their best ever World Cup and they are on the verge of reaching the quarter-finals.

Champagne moment

IRELAND WIN BY 5 RUNS

WICKET

Mupariwa c Porterfield b Cusack 18 (Zim 326 all out)

Six runs needed by Zimbabwe. One wicket by Ireland. It is the latter who strike as Mupariwa hits a full Cusack ball high and straight and into the hands of captain Porterfield to end the most wonderful of cricket matches.

Chatar gets a single as the ball is chopped on to his own legs and just misses the stumps.

WICKET

Chakabva b Cusack 17 (Zim 325-9)

More drama! Cusack bowls Chakabva off an inside edge. Out comes the last man Chatara to join this most sensational of matches.

Alan Lewis

Ex-Ireland captain on BBC Test Match Special

"At this stage I'm speechless."

Zim 325-8 (need 7 off 6 balls)

Kevin O'Brien continues and continues to concede boundaries. Mupariwa may be the number 10 but he hits very cleanly to smash two consecutive fours through extra cover before hammering a six over deep square leg. And like that, Zimbabwe are favourites. Amazing!

Zim 306-8 (need 26 off 12 balls)

Tawanda Mupariwa comes out to try and save Zimbabwe. Mooney concedes a single to Chakabva but then bowls a crucial dot ball to the new man. Great over.

Alan Lewis

Ex-Ireland captain on BBC Test Match Special

"If you ever wanted a man under a catch, it's William Porterfield. In cricketing terms, it was an easy catch. But even the way he took it, you can see there's so much pressure."

WICKET

Panyangara c Porterfield b Mooney 5 (Zim 305-8)

Ireland strike again to edge themselves closer to victory. Mooney is hammered down the ground by Panyangara but straight down the throat of captain Porterfield, who makes no mistake with the catch.

This is an incredible game. Tinashe Panyangara is the new batsman. Are we going to see another twist?

Charles Dagnall

BBC Test Match Special

"A brilliant innings from Sean Williams - an incredible effort to get Zimbabwe close."

Alan Lewis

Ex-Ireland captain on BBC Test Match Special

"I have to confess, I thought it was six from the moment it hit the bat. That is a fantastic piece of work but John Mooney. What a piece of judgement. He was within a whisker..."

WICKET

Williams c Mooney b K O'Brien 96 (Zim 300-7)

What drama! Chakabva hits O'Brien for four from the first ball of the over before the bowler almost runs out Williams at the striker's end with a throw that misses by inches. Then, Williams hammers what initially looks like a certain six but dips and is caught on the very edge (about an inch judging by the replay) by Mooney. The game swings back in Ireland's favour. And what a game this is!

Zim 293-6 (Runs required 39)

Porterfield turns back to his top man Cusack and is rewarded with an initially economical over that is let down by Niall O'Brien who stupidly kicks the ball at the stumps as Zimbabwe attempt a quick single and propels the ball for two more over-throws.

Alan Lewis

Ex-Ireland captain on BBC Test Match Special

"Williams was a great foil for Taylor and Chakabva has been a great foil for Williams. But with the run rate required at 10, it's evenly poised. The one thing you can say about Ireland is they do entertain."

Zim 283-6 (Williams 88, Chakabva 9)

Williams is the main man for Zimbabwe. After a tidy first three balls (going for three) from McBrine, the batsman drops to one knee and hammers a six into the stands behind backward point. Chakabva hasn't hit cleanly yet but he is running hard and dives to beat a throw at the striker's end for another vital single.

Andrew Samson

BBC Test Match Special statistician

"Sean Williams has reached 80 for the first time in his ODI career, having made eight scores in the 70s before this game."

Zim 273-6 (Runs required 59)

Ireland were 271-3 at this stage. However, they had more batsmen at their disposal and it is a lot harder chasing in these circumstances. Williams is doing his best to keep the Zimbabwe chase alive as he whips a ball off Mooney off his hips for four during an over that goes for 11.

Join the debate at #bbccricket

Ben Willmott: Every time I ask my boss a question at work and wicket falls... For Ireland's sake I need to ask more questions.

The new man is Regis Chakabva, who averages 16.39 with a strike-rate of 54.47. Not the stats of a man who is likely to finish this game successfully for Zimbabwe. Looks like it is down to Williams. The run-rate required is exactly 10 an over.

Join the debate at #bbccricket

Karen Lynch: Oh my word, what a good 'can they/can't they' match. Wouldn't want to call this one.

Brett Geeves

Ex-Australia pace bowler on BBC Test Match Special

"If the reverse-sweep comes off you look like champion; if it doesn't you look like a grade player. Ervine was batting nicely - he didn't need to take risk; all he needed to do was rotate the strike."

WICKET

Ervine c N O'Brien b McBrine 11 (Zim 259-6)

The costly O'Brien is taken out of the attack and replaced by McBrine, who makes a big impact by dismissing Ervine. Questions have to be asked of the batsman. Was there really any need to try and reverse sweep? The fact that it went straight to the hands of Niall O'Brien proves not.

Zim 257-5 (Runs required 75)

Mooney does a superb job for Ireland with a succession of full deliveries that, despite their most creativ efforts, the Zimbabwe pair are unable to get away. Just the three runs from the over. That is gold dust at this stage of such a game.

Zim 254-5 (Ervine 8, Williams 72)

Kevin O'Brien continues to leak runs. Four runs come from his first three balls before the fourth is pulled for four by Ervine. The big bowler tries to make amends by collecting a prod from Ervine and running out Williams at the striker's end but the batsman is in, as a replay confirms. To add to the bowler's woes his final ball is punched down the ground by Williams and is allowed to cross the boundary by a misfield at long-on. Ireland can ill afford such generosity.

Join the debate at #bbccricket

Andy Donley: Almost not in Zimbabwe's best interests to win - if Ireland go out it's easier for the ICC to justify the 10-team tournament next time.

Zimbabwe 241-5 (40 overs) - target 332

Batsmen: Williams 65*, Ervine 3*

Fall of wickets: 32-1 (Raza 12), 32-2 (Chibhaba 18), 41-3 (Masakadza 5), 74-4 (Mire 11), 223-5 (Taylor 121)

Bowling figures: Cusack 8-2-24-2, Mooney 7-0-40-1, K O'Brien 7-0-51-1, G Dockrell 10-0-56-1, McBrine 6-0-41-0, Stirling 2-0-26-0

Ireland 331-8: Joyce 112, Balbirnie 97

Zim 241-5 (Runs required 91)

Ireland need to hold their nerve and be sensible now. Cusack shows them the way with five neat balls that go for just three before then offering a warning of what can happen if you err as his final ball is whipped away through mid-wicket for four by Williams.

Graeme Swann

Ex-England spinner on BBC Test Match Special

"I like the way Porterfield is going about this powerplay. He could just put his men in the ring but he's trying to swarm the batsmen and put them under pressure."

Listen to ball-by-ball Test Match Special commentary by clicking on the audio icon.

Zim 234-5 (Required run-rate 8.90)

The Ireland fans are singing again, but they are silenced as Williams launches a short ball from Kevin O'Brien over midwicket for six. Ervine is handed strike and top-edges one just short of the fielder sprinting in from deep square-leg. Williams adds another two from the final ball with a whip to leg.

Zim 224-5 (Williams 51, Ervine 0)

Taylor's wicket overshadowed Williams reaching his 50 from the first ball off that Cusack over. He is now the senior man with a lot of pressure on his shoulders. He is joined by Craig Ervine. The game was slipping away from Ireland but they are back on top now.

Graeme Swann

Ex-England spinner on BBC Test Match Special

"A very good bit of bowling, a slower ball out of the side of the hand, Taylor didn't pick it - the lack of pace did him completely. That's just the tonic for Ireland. This chase suddenly looks twice the size it was."

WICKET

Taylor c K O'Brien b Cusack 121 (Zim 223-4)

Huge wicket for Ireland. the danger man is gone. It is his first real loose stroke as he mis-times another lofted drive and pops it high into the air for O'Brien to run in and claim in the mid-wicket area. Suddenly, what was looking like an achievable target seems much further away for Zimbabwe.

Join the debate at #bbccricket

Desmond Cassidy: I think Ireland's inadequacies in the bowling department are exposing themselves very vividly..Zimbabwe winning this at a canter.

Graeme Swann

Ex-England spinner on BBC Test Match Special

"Very, very clever batting from Brendan Taylor, he's not letting Dockrell settle at all."

Zim 222-4 (Runs required 110)

Having shown respect to Cusack, Taylor targets Dockrell and hammers two mighty sixes over mid-on, either side of picking up two with a drive through extra-cover. He ends the over with another hit over mid-on, this time for four. Big over for Zimbabwe - these are very worrying times for Ireland.

Graeme Swann

Ex-England spinner on BBC Test Match Special

"Taylor has played magnificently, but you can see from his shape that he's not the fittest bloke out there. That's when tiredness comes into it, you make a little mistake..."

We are into the powerplay and Ireland decide to bring back their best bowler of this innings, Cusack. He starts really well, with three successive dot balls that lift the required run-rate to 9.00 before Williams pokes one away for a single and then Taylor lofts a drive through cover for two. One final single means the over goes for just four. If Ireland aren't going to get a wicket with a good ball, they need to frustrate these two and force a poor shot.

Join the debate at #bbccricket

Tom Mackley: I'm sorry Ireland. You were controlling the game until I tuned in and started watching.

Pakistan recorded their third successive victory with an unlikely 29-run win over South Africa in a rain-reduced Pool B match in Auckland.

South Africa's target was revised to 232 from 47 overs but, although star batsman AB de Villiers made 77, he was the ninth wicket to fall as his team were all out for 202.

Left-arm seamers Rahat Ali, Mohammad Irfan and Wahab Riaz took three wickets apiece.

Alan Lewis

Ex-Ireland captain on BBC Test Match Special

"Taylor has been magnificent; he hasn't put a foot wrong. I can't recall a false stroke."

Zim 200-4 (Williams 48, Taylor 100)

The run to bring up his hundred is almost Taylor's last as he goes down to sweep Dockrell's last ball, misses and is greeted by a huge appeal from the Ireland players. It is given not out on the field but Ireland review it and are dismayed when Snicko shows that no contact was made with either bat or glove.

What a superb knock this has been from Taylor. He brings it up with a flick towards short fine leg.