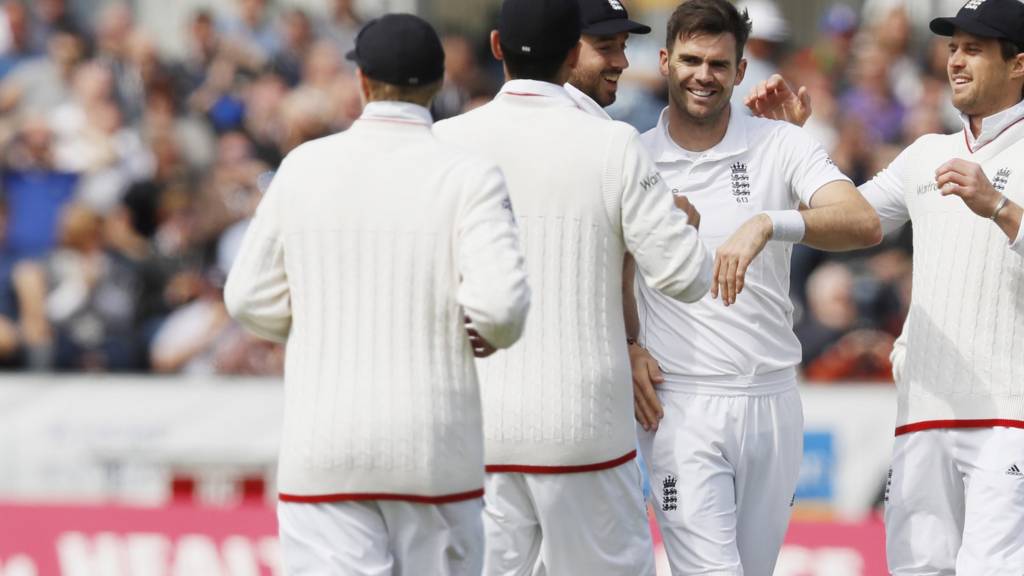 To enforce or not to enforce? We'll find out tomorrow. Until then, enjoy your Saturday night.

SMS Message: Not sure this is a fair fight. It's just like David Haye v the next no-hoper he picks for a pay day. Unfortunately it will be Durham CCC that pays through empty seats etc. from Steve from Watford (wife is from Langley Park, Durham)

Geoffrey is done for the day, and we are nearly done too. Moeen Ali says England would seriously consider enforcing the follow-on if the Sri Lanka tail is wrapped up early tomorrow. Alastair Cook is eyeing the bank holiday off work.

Geoffrey Boycott

Ex-England batsman on BBC Test Match Special

"He's a class performer with the new ball in English conditions as he examines your technique. You knew the Sri Lankans were going to nick it sooner or later. Broad came in with a couple of wickets at the end. Should England bat again? The bowlers haven't been overworked - I think you just bowl again and beat them."

More from Moeen Ali: "Finny has been playing quite well. I wasn't sure how I was going to bat with the tail, then I spoke to Rooty and a few of the guys and I had a bit more of an idea.

"I like playing with freedom so, if I see it, I go for it.

"My off-side play is a strength and weakness, so I will keep playing that way. I enjoy batting at number six, but batting eight hasn't fazed me. I have to get scores if I want to go up the order."

Geoffrey Boycott

Ex-England batsman on BBC Test Match Special

"His batting was OK, steady, but he's got more pace in his bowling than when he first played - it kisses the top and it carries better. You need to have enough pace to create problems and hurry batsmen, and he did that today. It's not as difficult a pitch as Headingley, where it can jump at you and whack you on the glove, but here it kept low. Steven Finn, though, looked as if he was running in treacle."

Moeen Ali on Sky Sports: "It was perfect, especially the way we bowled. To have them eight down is a brilliant evening.

"I think we would make them follow-on and try to bowl them out again.

"It's about time I got some runs, I felt like I owed the team. Today was a great feeling."

Geoffrey Boycott

Ex-England batsman on BBC Test Match Special

"He plays like I expected him to play. There's a bit of David Gower in him, but he's always going to give the bowlers a chance. Normally as he bats down the order, the ball will be softer by then. We saw in the UAE how he struggled opening against the new ball. He's let himself down in recent Tests in South Africa where he didn't perform. He's got reasonable hand-eye co-ordination, he doesn't use his feet much but he can take the game away from any opposition. More plusses than minuses."

Paul Cotterill: Vince really needs to be catching those, not depending on mates.

The coup de grace for England? The cherry on the cake? This stunning catch. It's wonderful athleticism from both James Vince and Joe Root, who eventually is the man to cling on. Sensational stuff.

Geoffrey Boycott

Ex-England batsman on BBC Test Match Special

"It's men against boys, a mismatch. I said early in the match that Sri Lanka are just not good enough in any department to compete against England. Yesterday they caught brilliantly and the seamers kept them in the game, but today they were awful. Three catches went down, and the keeper never even got his gloves on a straightforward nick. The ground fielding was scrappy, the captaincy got worse, he spread the field and had seven or eight on the boundary for Moeen. What chance do the bowlers have there? That was the worst day I've seen from Mathews, and I like his captaincy."

Sri Lanka 91-8 (40 overs) - trail by 407

Batsmen: Thirimanne 12*, Lakmal 0*

Fall of wickets: 10-1 (Karunaratne 9), 44-2 (Silva 13), 53-3 (Chandimal 4), 58-4 (Mathews 3), 76-5 (Mendis 35), 67-6 (Siriwardena 0), 7-88 (Herath 12), 8-90 (Eranga 2)

Bowling: Anderson 11-2-31-2, Broad 11-2-35-3, Woakes 7-4-9-3, Finn 7-3-15-0, Moeen 4-4-0-0.

England 498-9 dec (Moeen 155*, Hales 83, Root 80, Pradeep 4-107)

England won toss

Suranga Lakmal survives, but that isn't event scant consolation for Sri Lanka. They have been steam-rollered once more by an England side that is all high fives as they leave the field. Their overnight discussion will be to enforce the follow-on or not.

Ali Clapton: What a catch! Vince on to Root. #teamwork

Stuart Rowles: How was that taken?!

Alan Baird: Astounding reaction by Root.

Does Thirimanne know this is the last over of the day? He's exposed Lakmal to the final two deliveries...

Dr Simon Davey: Can we have a whole Test series where the opposition team score less than our highest scoring batsman?

SL 90-8 (Broad 11-2-35-3)

Two wickets in the over, the second a quite awesome bit of fielding. Root's take of the rebound was brilliant in itself, full-stretch backwards, taking it in one hand. Suranga Lakmal is in the middle and survives the final ball of the Broad over. Thirimanne has to see off James Anderson for the last over of the day.

Phil Tufnell

Ex-England spinner on BBC Test Match Special

"If you know you're struggling, just bunt it up in the air to one of your mates. Vince pushed that over the bar beautifully like Kasper Schmeichel."

Jonathan Agnew

BBC Test Match Special

"A brilliant piece of catching. A full-blooded drive, it went very hard to Vince at third slip and Root at second slip moved in to take the rebound one-handed. Remarkable."

WICKET

Eranga c Root b Broad 2 (SL 90-8)

Whadda catch! Stunning work in the slips by England, mainly by James Vince. Shaminda Eranga plays an awful drive at Stuart Broad, getting a thick edge that flies over the head of Vince at third grabber. He throws himself backwards, palming the ball skywards. Joe Root, at second slip, dives for the rebound, clinging on. Brilliant stuff.