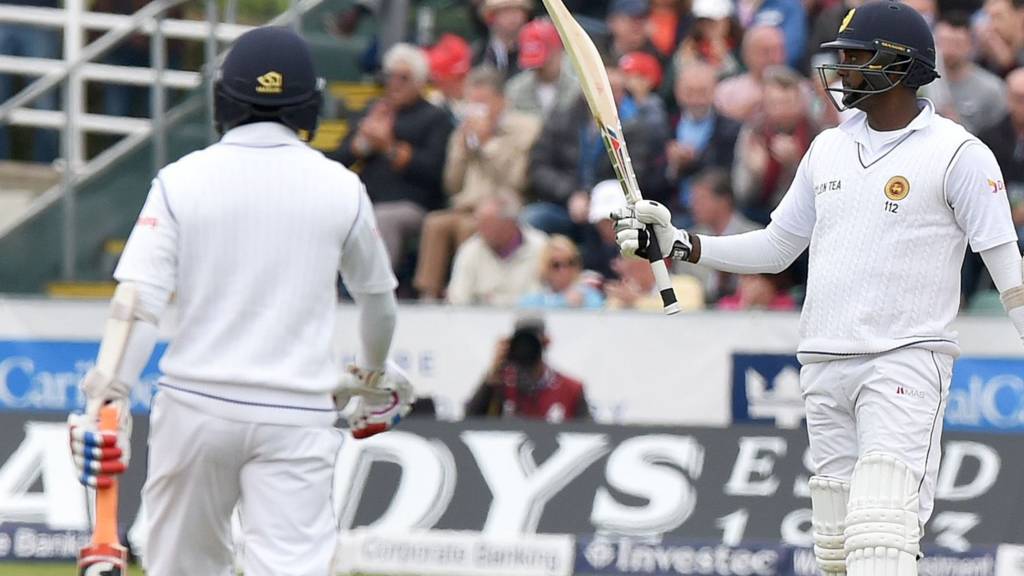 Right, that's the end of us for today. Join us tomorrow at 10:30 for day four. Until then, goodbye.

Sri Lanka batsman Kaushal Silva on Sky Sports: "We have to bat positively tomorrow. The first session will be crucial - we have to start well and set the tone. We have to get those 80 runs and then set a target.

"With the seam movement that they have I think we need to cover the off stump. I wanted to bring my head forward and reach the length and line of the delivery so it's easier for me to adjust to the delivery."

Geoffrey Boycott

Ex-England batsman on BBC Test Match Special

"England strove manfully. Woakes bowled really really well, very pleased for him. Anderson bowled beautifully. Every time he bowls, it's an examination batting against him. He gets a lot of balls in that corridor of uncertainty, he's a very very good performer."

England bowler Steven Finn on Sky Sports: "It's just about trying to find more consistency. [The rib injury] is not in my mind, my body is fine, I'm just trying to get in a battle and take wickets for England."

Geoffrey Boycott

Ex-England batsman on BBC Test Match Special

"The difference today was the technique of the batsmen, starting with Silva. I thought a lot of their batsmen moved their feet better. The pitch helped, nothing alarmingly bouncy, and you were confident that you could get forward, which they did. The other thing they did well was rotate the strike quickly - they won that battle." 

So, we'll all be back tomorrow, and even though Sri Lanka remain in a big hole in this match, they'll be cheered by the fortitude they showed today. Angelo Mathews and Dinesh Chandimal came to the party - but how Sri Lanka will wish their senior players could have shown a bit more application when it really mattered earlier in the series.

Geoffrey Boycott

Ex-England batsman on BBC Test Match Special

"A very good day's cricket. Good for Sri Lanka as a team, they showed some fight and determination and some very good technique. It's been good for Test match cricket because there was a competition out there for once. It's probably the only good day they've had and it was good for the people who paid good money to come and watch so all in all pleased for everybody."

Sri Lanka 309-5 (following on, 84 overs) - trail by 88

Batsmen: Chandimal 54*, Siriwardana 35*

Fall of wickets: 38-1 (Karunaratne 26), 79-2 (Mendis 26),100-3 (Thirimanne 13), 182-4 (Silva 60), 222-5 (Mathews 80)

Bowling: Anderson 16-3-40-2, Broad 17-5-47-0, Woakes 15-7-51-1, Finn 16-0-55-1, Moeen 17-2-94-1, Vince 1-1-0-0, Root 2-0-13-0.

Sri Lanka first innings 101 (Broad 4-40, Woakes 3-9, Anderson 3-36)

England 498-9 dec (Moeen 155*, Hales 83, Root 80, Pradeep 4-107)

England won toss

Jonathan Agnew

BBC Test Match Special

"Today, Sri Lanka have shown much more resilience with the bat. England's bowlers look a bit jaded."

Mattie Bagnall: Fair play SL. Good batting recovery. Don't want to be winning every Test in 3 days. Unless it's against Australia... #60AllOut

Broad sends one hooping down the leg side and Bairstow can only turn it round the post for four leg byes. That's the end of the day, and you have to say Sri Lanka have played pretty well to take this match into a fourth day.

Jonathan Agnew

BBC Test Match Special

"Jimmy didn't make him play enough in that over. He looks a bit jaded there and we'll see him tomorrow morning fresh and fired up."

SL 304-5 (Chandimal 53, Siriwardana 35)

Anderson isn't happy - he's chuntering away to himself, not happy with the footholes. Nonetheless, he manages to produce a probing maiden over to Siriwardana.

Andrew Samson

BBC Test Match Special statistician

"It's his first fifty against England in his eighth innings here."

Phil Tufnell

Ex-England spinner on BBC Test Match Special

"Young Sri Lankan batsmen must be thinking 'thanks heavens for that - not every pitch in England's like Headingley.'"

Jonathan Agnew

BBC Test Match Special

"It shows what can be done. Buckle down, don't try to be too expansive, adjust to the conditions."

Ooh, Milinda Siriwardana's got away with one there, playing very hesitantly against Stuart Broad and almost inside-edging an attempted leave onto his stumps. Chandimal, meanwhile, goes through to his fifty by stroking a four through the covers. He's played nicely, though like Mathews, it's really too little, too late from a senior player.

Right then, here we go, Jimmy Anderson with the new nut. Bit of movement but slightly too wide and Chandimal's not going to be drawn into playing anything out there.

Where are you listening from?

#bbccricket

Root rattles through another over of fill-in for the cost of three singles, and Alastair Cook has absolutely no hestitation in taking the new ball.