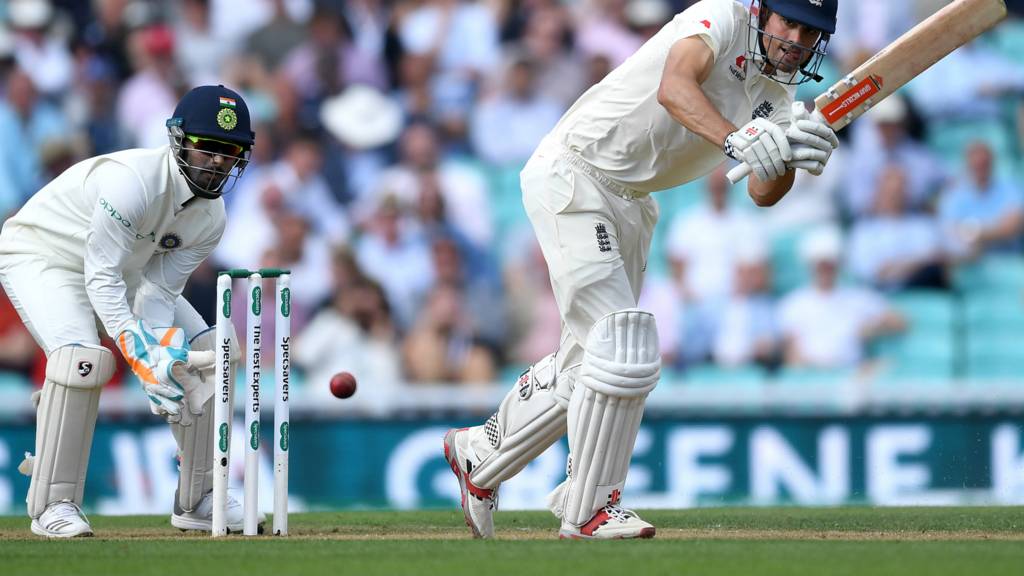 Michael Vaughan

Ex-England captain on BBC Test Match Special

Often when teams get on top in Test match cricket it becomes boring because the opposing team, for whatever reason, has not been able to get back in the Test match.

However, on three or four occasions in this series we've felt the game has been drifting towards one side and all of a sudden a session surprises us.

The morning session today surprised us. Credit to England for the way they batted after that.

India had momentum, there was emotion around Alastair Cook and I thought they might lose a couple of quick wickets but they overcame all of that and are now in a good position in the match.

But from 62-2, Alastair Cook and Joe Root combined carefully and then with growing authority to guide England to 114-2 at the close, leading by 154.

Cook will return tomorrow on 46 not out in pursuit of one more, final, glorious innings.

Video content

Video content

Video content

Video content

As in the first innings, Moeen Ali was watchful in his new role at number three.

But he drove all around this fine delivery from Ravindra Jadeja to be bowled for 20...

Video content

Michael Vaughan

Ex-England captain on BBC Test Match Special

Keaton Jennings is a concern. I know Ed Smith said he didn't want two new openers for Sri Lanka but sometimes you have to be ruthless.

Is Keaton Jennings good enough? Is he getting picked by default because Cook is retiring? He will be under so much pressure in Sri Lanka.

Is it worth the risk of playing somebody with baggage? Or should they pick two fresh minds?

Look at Jadeja and Vihari in this match - they were fresh and just went out there and hit the ball. Only those inside the dressing room know if Keaton Jennings has got something. I look at his game and he's struggling.

Not so Keaton Jennings.

The under-fire opener shouldered arms to a sublime delivery by Mohammed Shami that jagged back in and removed the bails.

Not a good luck for a batsman. It's been a tough series for Jennings. Does he go to Sri Lanka?

Video content

And - whisper it - Cook was looking in fine touch from the off...

Video content

Video content

Cue the start of Alastair Cook's 291st and final Test innings.

Another emotional reception for the retiring England great...

Video content

But Jadeja's desperation to keep the strike eventually saw him sell Bumrah short, with the number 11 run out to end India's resistance.

Jadeja ended unbeaten on 86, with his side posting 292 in reply to England's 332, a deficit of 40 runs.

Video content

But Jadeja continued to frustrate the hosts brilliantly, rationing how many balls they got at Jasprit Bumrah and counter-attacking in fine style...

Video content

Video content

And when Mohammed Shami recklessly chipped Adil Rashid to Stuart Broad, it seemed England would be batting again very soon...

Video content

And Moeen returned after the interval to snare Ishant Sharma in the same fashion...

Video content

But Moeen Ali entered the fray to make a key breakthrough just before lunch as Hanuma Vihari was caught behind for a fine 56 on debut...

Video content

The tourists resumed in a spot of bother, six wickets down and still 158 behind.

But it was all India this morning as Ravindra Jadeja and Hanuma Vihari combined brilliantly to deny England quick wickets and cut the deficit to under 100 runs.

Video content

Video content

Video content

Let's have a run through the highlights of yet another excellent day of Test cricket in this superb series...

England will start day four 154 runs ahead and with eight wickets remaining.

So what does Ravindra Jadeja reckon India can chase?

"We need to restrict them for as little as possible - 250 is a par score to chase down," he told Sky Sports.

More from Ravindra Jadeja: "I was just looking to play normally and not thinking about my shot selection.

"You can't ask for tough than batting in English conditions, with clouds and Anderson and Broad bowling. They bowled very well, swinging it both ways so I was just looking to carry on for as long as I could. I was getting cramp in my hand by the end.

"After a long time I needed to rub the dust off my bat and bring out that sword celebration again for my fifty.

"I was telling Bumrah that I'll play four balls and then look to get a single off one of the last two. You have to keep counting and calculate who you can let him face."

Watching Alastair Cook's final knock tomorrow is a valid reason to skip school or work, right?

Michael Vaughan

Ex-England captain on BBC Test Match Special

Jadeja is a good character, he's got loads of energy, he's good fun and he's a terrific cricketer. You know what he's going to deliver with the ball, and he played very cleverly with the bat.

India's Ravindra Jadeja, who hit 86 not out, to Sky Sports: "We did well, me and Vihari we were just talking that we needed to spend as much time in the middle.

"Initially it was swinging and they were bowling it in good areas. We just looked to bat as long as we could.

"It's all about pride when you represent your country. We were saying to each other that the scoreboard didn't matter, just keep batting."