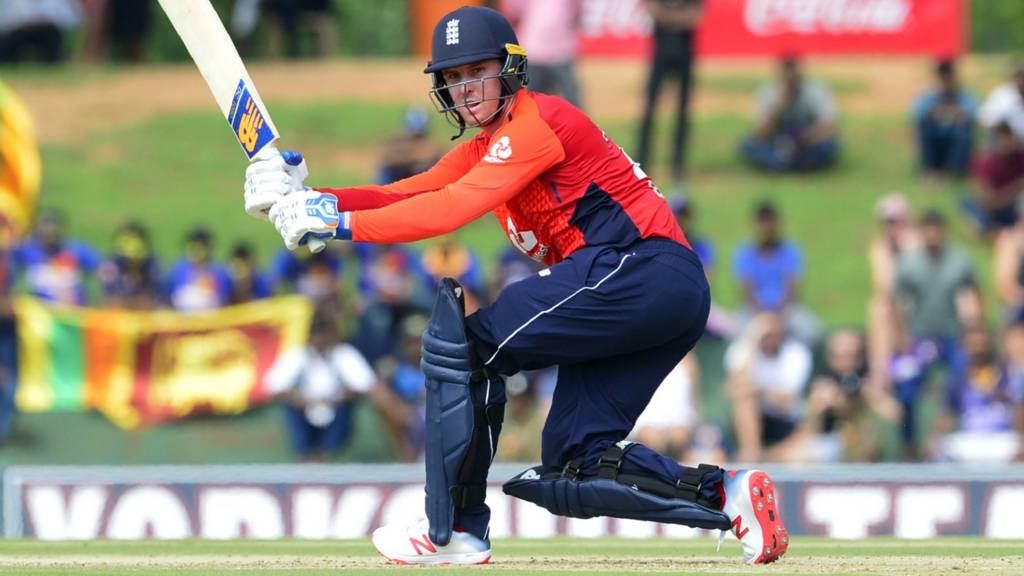 Summary
England win fourth ODI to clinch one-day series against Sri Lanka
Tourists win rain-hit match by 18 runs
Lead series 3-0 with one game to play
England 132-2 ahead of Duckworth-Lewis-Stern score when rain came
Roy 45, Root 32no and Morgan 31no
Shanaka top-scored with 66 for hosts
Well that is all from us today. England have won yet another one-day series.

Thank you once again from joining us.

Click here for a full report on the match. There's also a football match going on here.

We'll be back on Tuesday for the final match of the series from Colombo at 09:30 BST.

See you then.

England captain Eoin Morgan: "I thought today was a scrappy game. We had the better of the conditions and it turned more in the Sri Lanka innings than when we batted. Sri Lanka posted a competitive score but we felt the wicket got better.

"We could have been more disciplined in the areas we bowled. Credit to Sri Lanka. They fought back well and played our spinners well. They didn't get too far away from us in the last 10 overs.

"We were trying to be cagey with the rain. We felt our two best bowlers were Adil and Moeen so I bowled them out as quickly as I could.

"The fact we have won the series doesn't mean we won't want to win the next game but it may be an opportunity to look at other guys as well."

'I thought 274 was a winning total'

Sri Lanka captain Dinesh Chandimal: "We batted well and can take the positives from that. I think 274 was a winning total, weather permitting, but unfortunately it wasn't to be. Overall we played some outstanding cricket.

"Mistakes were made but that's part of the game and you have to learn from them. We are a young unit and I am sure they will learn quickly going forward.

"That no-ball to Joe Root was our mistake. We could have won the game if it wasn't a no-ball, but we have to take that."

'England shown great mental strength'

Michael Vaughan

Ex-England captain on The Cricket Social

What this series has taught me is that this England team is tough.

On tour when it is raining a lot and you are sat in a dressing room all day, to switch on shows great mental strength.

There might be a stage at the World Cup like this.

They seem to have 'it'. Whatever 'it' is, they have it. You don't win a World Cup without luck. I do fancy England will be lifting the trophy next year.

The presentation is now taking place indoors as the rain continues to hammer down.

We'll have quotes from both captains shortly.

'Morgan has quelled any doubts'

Simon Hughes

The Analyst on The Cricket Social

What have England learned in this series? Not very much. Maybe that they shouldn't play football before one-day matches.

Eoin Morgan has quelled any doubts about his future, not that I had any. He has totally confirmed his presence and status as England's one-day captain.

'England in a great place'

Kate Cross

England bowler on The Cricket Social

It's been frustrating that there's not been as much cricket as we'd wanted but it shows where England are that they can adapt and turn it on when they need to.

There might be some rain next year at the World Cup in England and this proved they can have crucial partnerships when they need them to get across the line.

They are in a great place in white-ball cricket.

England's best one-day squad ever?

This is England's ninth win in a row in a 50-over series of two matches or more.

That run goes back to defeat in India in 2016-17.

The only 'series' loss in that time was the one-off match against Scotland earlier this year.

Simon Mann

BBC Radio 5 live in Kandy

Steady, persistent and sometime torrential rain has seen this game called off.

It was canny batting from England to stay ahead on DLS. They played it pretty well.

Breaking

England beat Sri Lanka by 18 runs on DLS

All over.

The match has been abandoned.

England win by 18 runs on the DLS method and clinch the series.

They are 3-0 up with one match to play.

The players have now been off the field for 50 minutes and it is still raining.

The scheduled close of play was 13:00 BST with an extra half an hour available.

This game could be called off soon.

In that case England will win on the DLS method and will clinch the series.

Alex Hales had the chance to stake a claim for a starting spot today with Jonny Bairstow out injured.

He failed however, scoring just 12 from 23 balls before being stumped off Akila Dananjaya.

The Nottinghamshire man also dropped a catch in the Sri Lanka innings.

The story of the Sri Lanka innings

If you missed it earlier - and I wouldn't be surprised if you did since it happened in the early hours - here's what happened in the Sri Lanka innings.

England started well with Chris Woakes taking the early wicket of Sadeera Samarawickrama.

Sri Lanka captain Dinesh Chandimal and opener Niroshan Dickwella then slowly built a partnership of 70 before both fell to Moeen Ali.

Adil Rashid dismissed Kusal Mendis as England's spinners tightened their grip on the game, reducing Sri Lanka to 102-4.

But Dasan Shanaka played the knock of the innings. He hit 66 from 66 balls before being run out in the 43rd over.

Thisara Perera and Akila Dananjaya also chipped in with 44 and 32 respectively.

'Any more play looks impossible'

Simon Mann

BBC Radio 5 live in Kandy

I can't see any possibility of finishing this game, it's absolutely lashing it down. I would think the umpires will have to make a decision pretty soon. It's still very dark where the weather came from and there's no breeze now.

And that means England are heading to a series victory.

Congrats James on sending what is without doubt the best text I've read today! This is such a good idea.

If you have any other ideas of how a team could discretely relay the DLS situation then get in touch!

SMS Message: In response to Simon Mann at 11:15 - I've always wondered why one of the coaches isn't put on the balcony, perhaps in an incongruous and pre-agree "DLS" hat, if he is standing on the left then we're ahead on DLS on the right then we're behind. from James Keen

This game looks now to be going England's way but they got a big moment of fortune earlier.

Joe Root was out caught but a no-ball was given because Sri Lanka did not have enough fielders inside the 30-yard circle.

That happened with the score 112-2 with England well ahead on DLS.

If Root had have been out then the DLS par score would have moved to 112-3 and the scores would have been tied.

Henry Moeran

BBC Radio 5 live in Kandy

This is the sort of rain that makes cricket unimaginable here not just today but for the next month. You half expect Pinsent and Redgrave to row around the boundary edge.