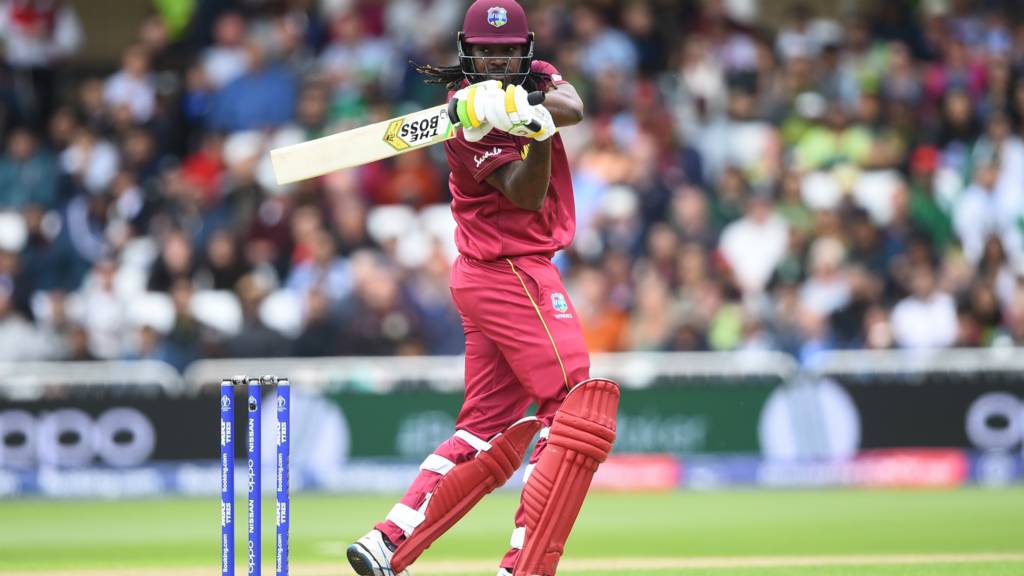 Arron Sankey: The highlights for this one is likely to just be a full match replay.

A free day out, in the pub for 2 o'clock, seen a Chris Gayle 50. Textbook.

Sir Curtly Ambrose

Former West Indies bowler on BBC Test Match Special

How can you defend 105?! It's almost impossible.

Matthew Henry

BBC Sport at Trent Bridge

One bit of housekeeping. There have been a number of complaints today because large numbers of people missed the start of play due to long queues at the ticket collection points. Organisers says a full refund will be automatically provided to all fans who entered after 10.30am.

SMS Message: A hat-trick now would make this interesting!? from Ezekiel

Shimron Hetmyer has got the memo, scampering a fine two from the first ball of the latest Hassan Ali over.

How impressive have the Windies been today? Potential winners?

Phil Long

TMS statistician

Wahab Riaz bowled a maiden to Chris Gayle - and then his last two overs have gone for 14 and 14.

Simon Mann

TMS commentator

It's a shame this is going to finish in 10 minutes because it's very good, entertaining cricket.

Beautiful! Nicholas Pooran drops back and pulls through long on for a superb six. Again, nothing of the slog about that, just wonderfully timed!

That next one is a bit ugly, slapped away up in the air but again it drops short. West Indies closing in.

Video content

Graeme Swann

Ex-England spinner on TMS

That was a good effort by Imam. He had to sprint in off the boundary. I think he's taken a hit in the face for his troubles as well.

Fewer than 30 needed for the win now for the Windies. Chance!

Shimron Hetmyer top-edges a bouncer out towards the square-leg boundary and a diving Imam-Ul-Haq can't quite gather it in! It just fell short I think.

Matthew Henry

BBC Sport at Trent Bridge

"The game is not over yet", one member of the West Indies press says to me. Quite the pessimist.

Shimron Hetmyer is the new batsman and sees out the over.

Simon Mann

TMS commentator

That just delays the inevitable. Gayle is struggling, though. He walks off very, very slowly.

WICKET

Gayle c Shadab b Amir 50 (WI 77-3)

The Gayle show is over!

He goes for another massive pull but doesn't get all of it at all, top edging over his own head and caught comfortably by Shadab Khan.

Gayle trudges off very slowly indeed, but manages to raise his bat to the crowd. Who've seen what they came to see from him.

Video content

Simon Mann

TMS commentator

It must be hard running with Gayle, if you're someone who likes to rotate the strike, get the quick singles. It must be so frustrating.

Phil Long

TMS statistician

Chris Gayle's half-century came from 33 balls with six fours and three sixes.