Video content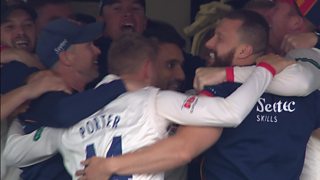 Another season done and dusted - and what an afternoon of gripping excitement to round it off as Essex held their nerve to become champions for the eighth time.
It was a case of so near, but so far again for Somerset, who have now finished second in the Championship in three of the last four seasons and are still one of three teams yet to win the title.
The others are Northamptonshire and Gloucestershire, but it was a good day for them as both secured promotion back to Division One despite their game at Bristol being abandoned.
They join Lancashire in a 10-team top-flight next season, when The Hundred will make its debut in the domestic calendar.
Thanks for your company over the past few months. Congratulations to Essex, and we'll see you again in 2020.