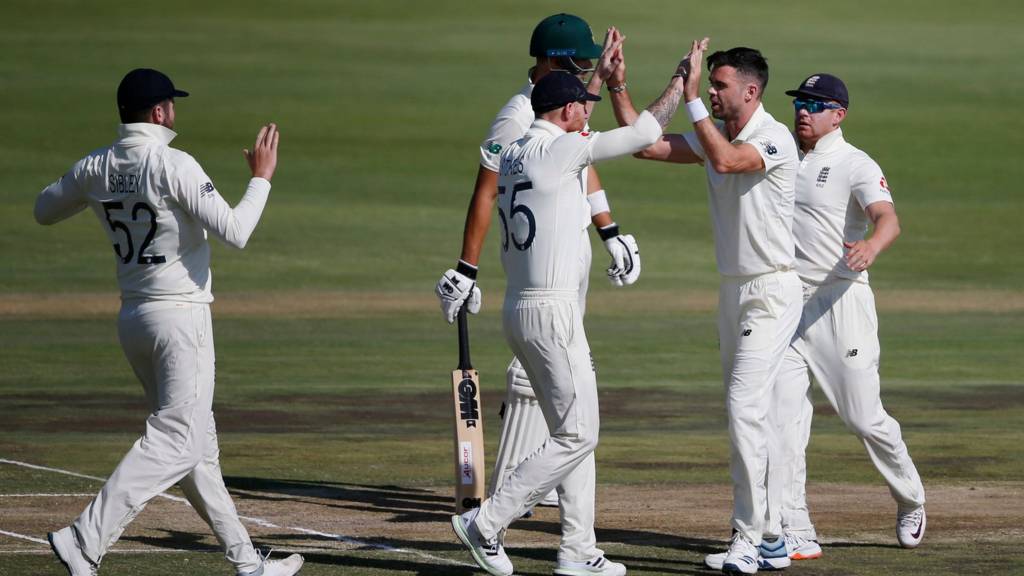 South Africa lead by 175 after England collapse - as it happened
Now, though, I'm off to watch Fallon Sherrock in the darts.

She's winning again.

Bye for now.

You know the drill, The Cricket Social will be back bright and early tomorrow morning to bring you all the action from Centurion.

I wonder if it might even be the last day of the match?

'The game is in the balance'

South Africa's Vernon Philander, who took 4-16, on Sky Sports: "The game is in the balance now. If we get 300-plus it would be a good score. We've got to start again tomorrow morning."

Will the cracks widen? "They normally do. I can't see it getting any better. It's going to be tough."

On his impending retirement from international cricket: "I suppose you're always going to miss it. I'm pretty happy with my decision. You want to see young guys blossom."

Joe Denly has said England are in a good position. Vernon Philander thinks the game is in the balance. Does anyone actually want to admit that South Africa are on top?

'I wanted to exploit the bounce'

South Africa's Vernon Philander, who took 4-16, on Sky Sports: "We bowled pretty well. I watched the England bowlers and saw there was a little bit of bounce outside off stump. I wanted to exploit that."

On removing England captain Joe Root: "It's always good getting top players out. Root is a special player. The more you starve them from having bat on bat, the more impatient they become. I thought, 'when I do see him coming, I'm just going to drag the length back a touch'."

Vernon Philander is speaking to the media wearing what can only be described as a cross between a gillet and a tank top. What a man.

Ah, the 'big first hour'. Tick that off your Boxing Day Test Bingo card.

He's right, though. If England are going to escape this, they need a ripper in the morning.

'There are runs to be had'

England's Joe Denly, who made 50, on Sky Sports: "But it was a great fightback tonight and we're in a stronger position that we were an hour ago, There's a big morning coming up.

"There's not too many demons in the wicket. There is not a great deal of movement sideways. That new ball is tricky with two world-class bowlers. If we can get through that in the second innings, there are runs to be had."

Mike: Another series, another inept batting display. Pathetic.

England collapse 'frustrating'

England's Joe Denly, who made 50, on Sky Sports: "It was tough. It was a very impressive opening spell - they are two high-class bowlers. Once that new ball wore off I managed to find a bit of fluency."

On England's collapse: "It's frustrating. It felt pretty comfortable out there and myself and Ben were starting to get a partnership going. It was disappointing. We spoke at tea about trying to bat long - but it wasn't to be in the end.

"We have spoken about trying to get those first-innings runs. It's about assessing those conditions better and understanding the game situation better, and wearing them down. We weren't able to do that today."

England team of the decade

Here's the England Test team of the decade - as picked by The Cricket Social panel:

Alastair Cook
Andrew Strauss
Jonathan Trott
Joe Root
Kevin Pietersen
Ben Stokes
Matt Prior (wk)
Chris Woakes
Graeme Swann
Stuart Broad
James Anderson

And there's no need to feel left out - you can still pick your team by clicking here.

Jonathan Agnew

BBC cricket correspondent in Centurion

You try to explain today and it is impossible. Try to explain 39-7. Some of the uncertainty about England's batting wasn't necessarily the balls that got them out but the balls that they had seen during the innings.

As a reminder, England had South Africa 111-5 yesterday and they themselves were 142-3 today. After that, they lost 7-39. When I say it will take a big effort for the tourists to get something out of this, I reckon there's a 5-10% chance.

Jonathan Agnew

BBC cricket correspondent in Centurion

It's very confusing all of this. The batsmen have both gone over to Chris Gaffaney to find out what was going on there.

There is no doubt that the first ball was called a no-ball but the second ball was not called a no-ball.

Lots of chat at the end of the day. The batsmen are asking questions of the umpires, Faf du Plessis has gone to the match referee's office. They must think that Archer should have been removed from the attack.

Jonathan Trott

Ex-England batsman on The Cricket Social

You have to give credit to South Africa, they bowled very accurately. They created the false shots that England played.

Close of play - SA 72-4

Lead by 175

The end of a breathless day, one where South Africa took control of this match.

Fifteen wickets have fallen, 10 of them England's. It will taken a big comeback for them to get something out of this Test.

Van de Dussen is being bumped. He's not bothered about playing. Stokes is wasting his energy.

Jonathan Trott

Ex-England batsman on The Cricket Social

There have been lots of ebbs and flows today. England bowling South Africa out early on. Then early wickets before a bit of a fightback by Root and Denly followed by a batting collapse.

South Africa are starting to get away a little bit now, the chance of a win is 75% in there favour

I tell you what, the second one almost bowled Nortje. Jofra may have even been trying to bowl him with a donkey drop.

In other news, Ben Stokes is bowling...