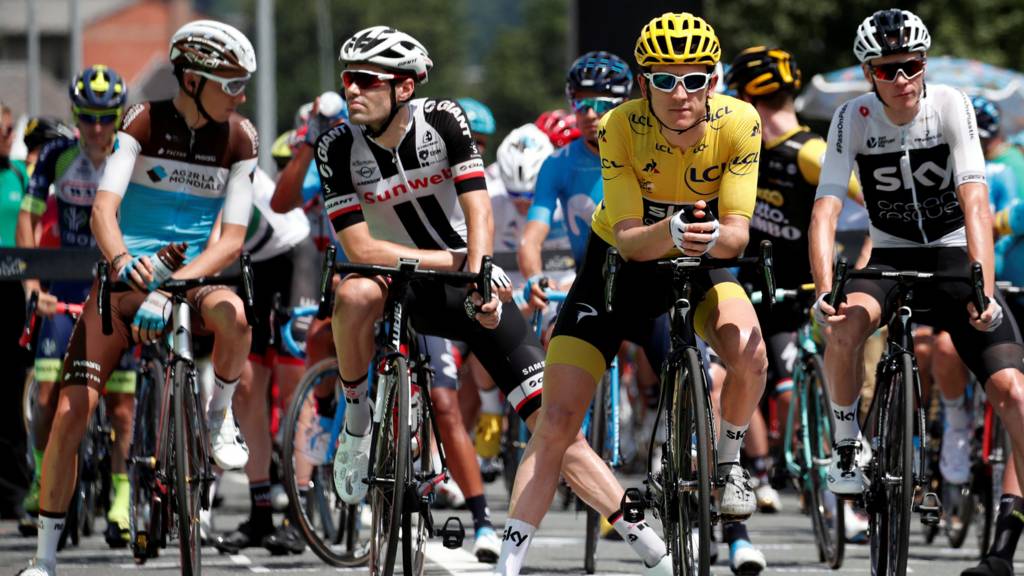 Thomas extends lead, Froome fades, Quintana wins stage - relive stage 17
We will be back tomorrow with live text and audio commentary of the trip to Pau.

See you there.

Is this the point that hope starts to turn to belief?

That the dream turns to the real thing?

Geraint Thomas has taken the best that his rivals, team-mate and the French landscape has had throw at him and he is still in yellow. Comfortably.

He has two minutes in hand and only three more competitive stages to negotiate.

Tomorrow is a flat one, Friday's features climbs but a downhill finish, and then it is the individual time-trial.

He is so close to the Champs Elysee that he can almost smell the tourist trap bistro set menu.

General classification standings

1. Geraint Thomas 70hrs 34' 11"

2. Tom Dumoulin +1'59"

3. Chris Froome +2'31"

4. Primoz Roglic +2'47"

5. Nairo Quintana +3'30"

Geraint Thomas, by virtue of coming third, picked up a four-second GC time bonus as well.

All of which means....

1. Nairo Quintana 2hr 21'27"

2. Dan Martin +28 secs

3. Geraint Thomas +47 secs

4. Primoz Roglic +52 secs

5. Tom Dumoulin +52 secs

Selected others:

8. Chris Froome +1'35"

To a barrage of boos, Chris Froome crosses the line down on his GC rivals.

I reckon he shipped at least 30 seconds to Geraint Thomas there.

Full GC ramifications coming shortly.

Geraint Thomas comes home a couple of seconds clear of Tom Dumoulin and Primoz Roglic.

Where is Chris Froome?

Nairo Quintana's long-range attack pays off with a stage win. Dan Martin gets second.

But the main interest is the duff-up behind these two among the GC boys.

Roglic attacks, Thomas follows, Dumoulin sluggish

700m to go

Primoz Roglic goes off the front, but Geraint Thomas is right in his rear view mirror.

Tom Dumoulin just about covers the break, but he is struggling.

This is shaping up very well for Geraint Thomas with Chris Froome back down the road and off the pace.

Bernal back with Froome

1km to go

Egan Bernal has hung back to try and nurse Chris Froome home, minimising the damage.

Dumoulin goes away, drops Froome

2km to go

Tom Dumoulin sniffs blood in the water.

He punches, Chris Froome can't respond.

Geraint Thomas, Steven Kruijswijk, Primoz Roglic follow and all are going to put time into the four-time champion.

Roglic goes, Thomas follows

2.4km to go

Primoz Roglic - the Jumbo Lotto rider - has a little poke, perhaps sensing a little weakness in Tom Dumoulin.

Has he found one in Chris Froome though?

Unlike Geraint Thomas, his team-mate Egan Bernal and Tom Dumoulin, the four-time champion is sluggish in getting back in as the leading group reforms.

Martin slowly closing on Quintana

2.7km to go

At the front of the race, Dan Martin is nibbling back at Nairo Quintana.

The gaps has dropped from 30 seconds down to 25. But will the Irishman just run out of tarmac?

Quintana is still out the saddle and grinding like a barista in the morning rush hour.

Team Sky still have the battery bunny - Egan Bernal - up alongside Geraint Thomas and Chris Froome.

The Colombian claws back to Steven Kruijswijk to reform the band.

Kruijswijk attacks

4.5km to go

The chasing group is strung out. Off the front goes Lotto-Jumbo's Steven Kruijswijk.

Out the back goes Romain Bardet.

Bardet is at risk of being overtaken by both Rafa Majka and Kruijswijk in the general classification standings.

Martin - the closest pursuer

5.2km to go

Dan Martin is the closest rider to leader Nairo Quintana. The Irishman is 30 seconds off the Colombian.

Quintana drops Majka

6km to go

Nairo Quintana shrugs off the company of Rafa Majka like an old cardigan.

A lovely whizz of the pedals and Majka has no response.

No tactics now, the Colombian can go full guns for the stage. He was four minutes 23 seconds down on yellow at the start of the day.

Team Sky look as disciplined and drilled as a military brass band in the peloton.

Woet Poels is locked on the front, churning out the kilometres, with Geraint Thomas and Chris Froome sitting in behind, locked and loaded.

Kangert overhauled

8.2km to go

Nairo Quintana and Rafa Majka finally swallow up the crumbling Tanel Kangert at the front of the race

A lung-buster of a ride from Kangert.

Dan Martin is plugging away just behind.

Poels on the front

8.5km to go

The familar face of Team Sky' road lieutenant Wout Poels - gangly like one of the Belleville Rendezvous charicatures - on the front of the peloton.

The main pack in one minute and 10 seconds off the front.