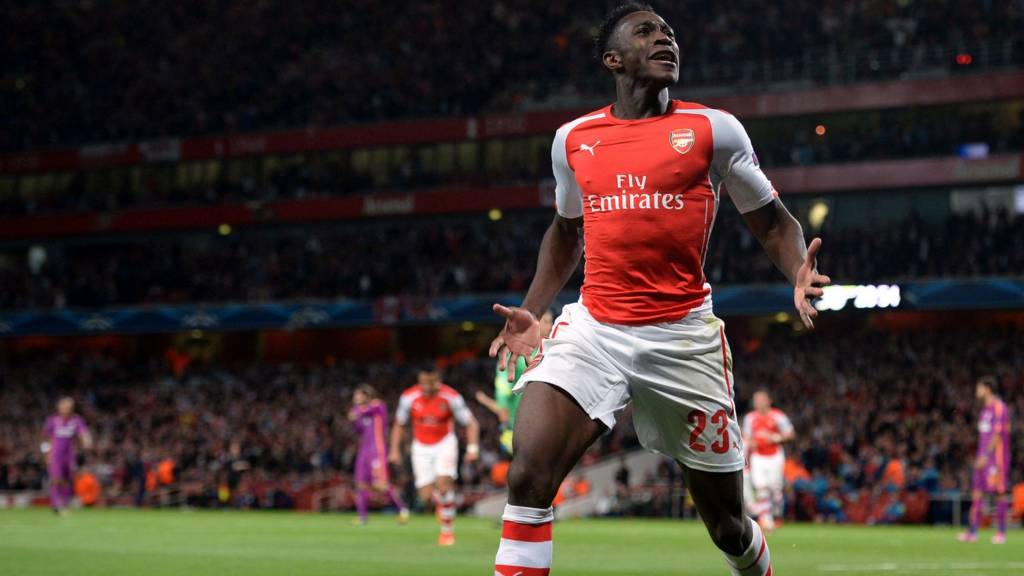 Champions League as it happened
That's your lot from me - I'm off to boil an egg in three minutes. See you later

Join the debate at #bbcfootball

Mitch Mansfield: There are inevitable comparisons between £16m Welbeck and Balotelli. Liverpool would surely have had to pay a premium for a Manchester United academy graduate.

Vinny: Rodgers got lucky last season as Spurs, City, United, Chelsea and Arsenal had European and longer cup run distractions.

Garry McCammon: People are under rating Basel, they can beat anyone on their day. Was never going to be easy for Liverpool.

Manager reaction

Ludogorets 1-2 Real Madrid

Ludogorets coach Georgi Dermendzhiev said: "It was a good game, but the result could have been better for us.

"Ludogorets played a good match against the best team in the world. I am pleased, we almost got a point."

Post update

Basel 1-0 Liverpool

Former Arsenal defender Martin Keown

BBC Radio 5 live

"We'll see what Brendan Rodgers is made of. They're 14th and nine points away from Chelsea. The fans have got to be more realistic. Brendan has to stick to his philosophy and keep believing.

"I've liked the way he was supportive of Mario Balotelli. He was probably seething at his performance. He's not going to be a Suarez but he does energise the manager and they've got to pull together. There seems to be too many problems as a group.

"Balotelli is an individual. The way Suarez and Sterling and Sturridge integrated, it was beautiful. Balotelli is a bit of a fixed mannequin and he has to learn the Liverpool way or he'll just be standing there watching."

Manager reaction

Basel 1-0 Liverpool

Basel boss Paulo Sousa: "It was a perfect evening. We defended well, we fought, were ambitious, have created chances and kept the ball well."

When I get in tonight I'll be boiling an egg. I'll report back the details in tomorrow's Europa League live text...

Dave: Would it take longer to sack Brendan Rogers than boil an egg????

Join the debate at #bbcfootball

Jack Mousley: Liverpool lacked the desire to win the ball, press the Basel players. Low on confidence, they are a shadow of last season.

Frank Lopez: I don't think Liverpool has to fear that Sterling gets bought by Real Madrid to replace Ronaldo anytime soon. Way too light.

Ken Gorry: Liverpool lacking movement in the final third. The midfield players are lacking options, Sterling should have had a hat-trick though.

A good night for Louis van Gaal's cast-offs. As well as Danny Welbeck's hat-trick tonight Shinji Kagawa picked up two sublime assists in Dortmund's 3-0 win at Anderlecht.

Post update

Arsenal 4-1 Galatasaray

Former Arsenal defender Martin Keown

BBC Radio 5 live

"They both arrived at 23 and Danny Welbeck has got going a lot quicker than Thierry Henry did. Whether he goes on to emulate what Thierry did is another matter.

"But Arsenal have embraced him, Wenger loves him in that position. He's provided what Arsenal haven't had. This is an arena where he can launch his career."

Top clarification work there Dale, Good spot.

Dale: You can boil an egg in 180 seconds, or less...you just have to be several (meaning a few thousand) feet below sea level so the water will boil at a higher temperature. Don't worry Tom, I know what you're on about!

Join the debate at #bbcfootball

MOTD presenter Gary Lineker

"Just saw Welbeck's 3rd goal. Now that is the finish of a proper striker!"

Join the debate at #bbcfootball

Jack Igglesden: Sturridge will bring goals. Missing him is costing Liverpool a lot. We did reasonably well without Suarez a bit last season.

Matthew Coote: All them Liverpool fans mocking Spurs for what AVB did last year looking rather foolish now.

Alex Smith: Liverpool spent £117m this summer, and they don't have a good defensive unit or bench that could change a game. Wise spending?

Post update

Basel 1-0 Liverpool

Liverpool now face back-to-back games against Real Madrid while Basel face Ludugorets twice. Those fixtures could prove decisive in the race for qualification from Group B.

Join the debate at #bbcfootball

Ibrahim Ismail: Nights like this makes me appreciate Benitez. Rodgers need to be scrutinized. £100m spent and it seems the Reds have poor scouts.

Dominic O'Caollai: What's the panic about? Beat Ludogorets and Basel (not unrealistic) and Liverpool still go through barring hammerings vs Real?

Tom: Liverpool's last season wasn't a fluke. They worked hard to get second. It's a changed team this season and it will take time.

Post update

Basel 1-0 Liverpool

Former Arsenal defender Martin Keown

BBC Radio 5 live

"What Brendan Rodgers has done is go and buy players but it's about more than that. Dejan Lovren came in looking like he's the leader and Martin Skrtel seemed more determined to head Lovren than the ball. I don't know if Brendan is up for bringing in former players to his staff and whether Jamie Carragher would be interested in that.

"I know his philosophy is to pass the ball but you have got be tight at the back but it's their Achilles heel at the moment. I wasn't sure about Lovren at Southampton. He sees himself as the leader but the way Mamadou Sakho responded when he wasn't picked at the weekend suggested that wasn't handled well.

"When you're in all these competitions, last season looked like a honeymoon period. Game to game you get ragged and he's got to get the team together for the weekend and pressure's starting to build for Brendan."

Danny Welbeck scored the same amount of goals tonight as he did for Manchester United in 2014. Is he the new Thierry Henry?

You know what I think but more importantly BBC Radio 5 live are asking you. Call 0500909693 with your opinions.

Manager reaction

Arsenal 4-1 Galatasaray

Arsenal manager Arsene Wenger, speaking to Sky Sports: "That instinct of a goalscorer (in Danny Welbeck) was more aggressive and he finished well with the work of the team. He has such good pace it gives him time to finish calmly.

"We had good pace. We did have good pace in all areas of the pitch. You can see how quickly you can lose control of a game when we went down to 10 men but overall the performance was good."

Asked if it was Alexis Sanchez's best game for Arsenal: "Yes he played well and made some good passes. Overall he had a very good performance."

Joe Turner: I know this isn't TMS but you can't boil an egg in 180 seconds, it's 4-5 minutes man! Take a moment to consider the disappointing breakfasts you will cause across the English speaking world if you don't correct this and it spreads.

It's a point I was called up on on the BBC Sport desk Joe, I'm happy to retract that spur-of-the-moment call. As you can tell, I don't boil many eggs...

Bolton boss Dougie Freedman was under pressure before tonight, well it's going to be even worse now - they've lost 4-0 at Fulham, who were one of the two teams below them in the table. Kit Symons has surely boosted his chance of the permanent job with that result.

Huddersfield surprised Wolves with a 3-1 Molineux win, and Leeds and Reading played out a goalless draw.

Join the debate at #bbcfootball

Basel 1-0 Liverpool

Strong stuff from Steven Gerrard.

An opponent 'wanting it' more is always a painful one to accept as a fan.

Thoughts? Get in touch at #bbcfootball, pop on to the BBC Sport Facebook page or BBC Sport's Google+ area.

You can also text us on 81111 in the UK only - don't forget to say who you are and where you are texting from.

Join the debate at #bbcfootball

James Searle: I'm starting to think signing Ballotelli was a mistake. We've stopped playing as a team.

Mikey: Liverpool looking very mediocre. Markovic needs time and practically the whole of the back four needs to change.

Danny: It's not all is bad for Liverpool. Get Sturridge and Allen back and that will add better passing and goal-scoring soon be back on top.

Player reaction

Basel 1-0 Liverpool

Liverpool captain Steven Gerrard: "We were too soft all over the pitch and I think they wanted it more all over the pitch, which is hard to say, but is the truth.

"We cannot keep defending like that from set-pieces we made it easy for them. We came here wanting to win and expecting to win and it is disappointing. It is not good enough."

Tony: Brendan has taken us one year forward two years back in the space of three months. In Europe he's way out of his depth and domestically we're playing way off where we were after overspending in the transfer market. A long, long year ahead.

Rob from London: We're so blinkered in the UK. Liverpool were seeded third for a reason. It's their first away match in Europe for a while against a solid, if not spectacular team. The focus has to be on the league now.

Rhys from Wales: Liverpool look emotionally exhausted. I think losing the league the way the did has done serious damage to them and their confidence.

Manager reaction

Basel 1-0 Liverpool

Liverpool manager Brendan Rodgers: "We didn't start great and were not technically good early on but when we started to combine and create chances I thought we did enough to take something from the game.

"But we defended badly from the corner and it is not for the first time.

"It is something that we continue to talk about in training but you need to deal with it on the field. You have to win your first contact and if you don't do that then you can be punished.

"Mario Balotelli worked hard but needs to do more. He will be judged on what he creates and what he scored and he didn't do that, but he is trying hard."

Red alert

Arsenal 4-1 Galatasaray

One down side for Arsenal tonight was the red card for goalkeeper Wojciech Szczesny, and the Gunners have now picked up 15 red cards in the Champions League. Only Juventus (20) & Inter (17) have more.

Post update

Basel 1-0 Liverpool

Liverpool captain Steven Gerrard says he expected to win tonight. He looks utterly cheesed off.

Post update

Arsenal 4-1 Galatasaray

Thierry Henry, Ian Wright - can Danny Welbeck not just have a good game without having to compete with Arsenal legends?

Peter: As a Liverpool fan, after accepting a slow start, I'm now officially concerned. We look astoundingly average.

Jamie from London: That's the Arsenal performance I've been waiting for all season. Well done Welbeck I'm chuffed that Arsene bought you. Hope you emulate Ian Wright.

Jane: I've seen many a poor Liverpool performance but this must be one of the worst. Enrique, Gerrard and Balotelli should have been replaced at half time.

Player reaction

Arsenal 4-1 Galatasaray

Arsenal striker and hat-trick hero Danny Welbeck: "I forgot the matchball! I'll get it after.

"My last hat-trick was for Manchester United's reserves and I'm trying to score goals. I am getting into positions and it is paying off."

If you need to check out the latest group tables, fixtures, results and match reports for this season's Champions League - you are in luck my friend.

Just to wrap things up across Europe, Real Madrid have won in Bulgaria but only by two goals to one, more plucky stuff from Ludogorets.

Atletico Madrid beat Juve, Bayer Leverkusen dispatched Benfica and Dortmund cruised to a win against Anderlecht.

Post update

Arsenal 4-1 Galatasaray

Former Arsenal defender Martin Keown

BBC Radio 5 live

"The fans already have a special relationship with Danny Welbeck and they're singing his name. He'll be realising his career is taking off, he's the darling of the Arsenal fans. He just keeps making the runs, he's loving his football, he's got a smile on his face and the goals keep coming.

"They're going to be asked a lot more questions by Chelsea so it was interesting to see how the defence coped and they didn't concede after the penalty. It's about relationships and building partnerships. It was a mixed bag from David Ospina after he came on but he can pull off a save that's for sure."

Join the debate at #bbcfootball

Rob Meech: I'd argue that Liverpool are missing Sturridge as much as they are missing Suarez at the moment.

Jake Saunders: Any other Liverpool fans starting to think last season was a complete fluke?

Rian Hoskins: Not good preparation for Real Madrid at the Bernabeu by losing to Basel, narrowly beating Ludogorets and poor domestic form

Post update

Basel 1-0 Liverpool

Steven Gerrard looks increasingly glum as he shakes hands with the Basel players. Basel skipper Marco Streller sorts out a dressing-room shirt exchange.

That's Manchester United, Chelsea and Liverpool all beaten by Basel in recent times.

FULL-TIME

Basel 1-0 Liverpool

Paulo Sousa leaps into the arms of his players as Basel celebrate a big win. Another win against English opposition for Basel!

FULL-TIME

Arsenal 4-1 Galatasaray

CLOSE!

Arsenal 4-1 Galatasaray

Santi Cazorla has the chance to apply the cherry to Arsenal's cake but his chip is cleared off the line by Semih Kaya.

INJURY TIME

Basel 1-0 Liverpool

Write it off and go again. This has been a bad performance from Liverpool, no two ways about it.

Post update

Arsenal 4-1 Galatasaray

Danny Welbeck will sleep well tonight. He's the toast of north London, he just needs to erect a new shelf for his hat-trick ball.

Lasse Vigen Christensen has given Fulham a 3-0 lead over fellow strugglers Bolton, while Bakary Sako has pulled one back for Wolves against Huddersfield, but they still trail 3-1.

Post update

Basel 1-0 Liverpool

Three minutes left. You can boil an egg in 180 seconds, can Liverpool score a goal?

Post update

Basel 1-0 Liverpool

Better! Steven Gerrard, right on cue, curls in a free-kick from 25 yards which forces Tomas Vaclik into action in the Basel goal. Safe hands.

Post update

Basel 1-0 Liverpool

Six minutes left for Liverpool. It's about now that Steven Gerrard has traditionally served up some magic. He hasn't looked remotely close to doing so yet.

Barry: I think we'll need an abacus when this Liverpool defence comes up against Real Madrid.

James from Watford: Liverpool should enjoy these Champions League matches because they won't be in Europe next season at this rate.

You couldn't knock the Sonic Boom could you?

Join the debate at #bbcfootball

John Dykes: Referencing Street Fighter on Champions League night. What a hero, what Guile.

SUBSTITUTION

Basel 1-0 Liverpool

A rescue mission for Rickie Lambert - he's on in place of Lazar Markovic. Nine minutes left in Switzerland...

A great couple of minutes for all Madrid football fans (bar Rayo Vallecano) as Real and Atletico both take the lead.

Karim Benzema has given Real a 2-1 lead against Bulgarian minnows Ludogorets Razgrad in Sofia.

Arda Turan has - more impressively - put Atletico ahead against Juventus - the first goal the Turin side have conceded in 11 games, stretching back to last season.

Meanwhile Adrian Ramos has scored twice to put Borussia Dortmund 3-0 up at Anderlecht.

VJ: I can't believe that Liverpool are looking very average at the moment. £100m spent and nothing to show for it. The defence is far too weak and teams know it. They'll struggle to make the top six at this rate.

Simon: Our whole set up last season was getting on to their back four when we didn't have possession, this year it's Balotelli getting on the nerves of Sterling and co. No movement.

GREAT SAVE!

Arsenal 4-1 Galatasaray

One for the cameras from Arsenal sub David Ospina as he makes a flying save! Burak Yilmaz powers in a header toward the top corner but the Colombian denies him with a leap to his right.

Post update

Basel 1-0 Liverpool

It looks like Basel and Liverpool will be level on three points behind group leaders Real Madrid after two games then - this could go to the wire.

Unless - unless - Liverpool can change it with 12 minutes left.

Post update

Arsenal 4-1 Galatasaray

Former Arsenal defender Martin Keown

BBC Radio 5 live

"Arsenal are just trying to get through this period without exerting themselves too much ahead of the weekend. They're just being tight and compact.

"The team that started might even start at Chelsea. The reception Mesut Ozil is getting from the fans, it was another good performance in that central position. The manager has worked out where to get the best of him and he can have a rest ahead of the weekend."

Post update

Basel 1-0 Liverpool

Kenny Brown will be furious. What a move from Liverpool, their best of the night, as Mario Balotelli and Adam Lallana combine delightfully to free Raheem Sterling, he's in on goal but then takes a woeful touch to toe the ball out of play!

Moments later Lazar Markovic has a chance to open his account at the far post but fires wastefully wide.

Join the debate at #bbcfootball

Ashley Williams: The defence cannot be worse than last season. Manquillo and Moreno are much better than Johnson and Enrique.

Shohidur Rahman: Really surprised Rodgers took off Coutinho. He's been Liverpool's best player by a distance.

Kenny Brown: Raheem Sterling - clearly believing his own press! No idea when to part with the ball and too easily brushed aside. Over rated!

Post update

Arsenal 4-1 Galatasaray

One man who is taking his chance is Danny Welbeck. He has a chance for a fourth goal but can't grow enough to control a teasing cross and heads over the bar.

At the other end, better from the Turkish side as Wes Sneijder fires wide.

Post update

Arsenal 4-1 Galatasaray

Former Arsenal defender Martin Keown

BBC Radio 5 live

"David Ospina is a goalkeeper with a lot of experience. If he gets a chance in the team you wonder whether Wenger will stick with him.

"In that game against Southampton recently he let one in from 40 yards and it's early days but Arsenal haven't had an experienced player there since Jens Lehmann. Szczesny gets better each time but he doesn't want to leave the door open to his team-mate."

YELLOW CARD

Basel 1-0 Liverpool

Mario Balotelli is now in the book for touching the face of Taulant Xhaka. That's all it was too, a brush of the cheek.

Into the final 20 minutes of a frustrating display from the men in yellow.

Wolves were sixth and Huddersfield 21st in the Championship this morning so 3-0 probably isn't a surprising scoreline.

However it's the struggling Terriers who are leading at Molineux with Conor Coady adding the third.

SUBSTITUTION

Basel 1-0 Liverpool

Having praised Raheem Sterling, he then takes a poor touch inside when he had a good chance on his left foot and the danger has passed. Liverpool make a change as Adam Lallana replaces Philippe Coutinho.

Can the former Saint offer some salvation?

Join the debate at #bbcfootball

Jez Needham: Skrtel is like Sakho - an absolute liability. Why did we sell Agger? Rodgers like other managers can't admit dropping a clanger!

Liam Stones: Balotelli offers nothing he needs to come off while Liverpool still have a chance.

Alistair Lowe: Basel are average, Liverpool are below that. The defence is as bad or worse than last season with absolutely no goal threat now.

Eduardo Salvio pulled one back for Benfica but less than 200 seconds later Hakan Calhanoglu scored a penalty to put Bayer Leverkusen 3-1 ahead.

No other goals yet in the second half as Real Madrid are still 1-1 in Sofia.

Post update

Basel 1-0 Liverpool

Where there is Raheem Sterling, there is hope for Liverpool. The youngster bursts away from two defenders to open up a shooting opportunity but at the last minute one of them extends a Dhalsim-like leg to lever the ball clear.

Liverpool have 23 minutes of normal time remaining.

Paul from Norfolk: Totally bewildered about our performance this season. Rodgers seems to have totally lost the plot and not repaired the appalling defence which cost us the title last season. Gutted.

Mo from Manchester: People will say Brendan Rodgers did brilliantly last season, let's not forget Dalglish bought Suarez and let's be honest without him we'd have been in the same place last season. Awful signings, awful management, no plan B. Where's the development?

Jo from Cardiff: Has Dave from Guernsey just woken from a nap thinking its August 2012? We're not a selling club anymore, exciting times ahead.

Post update

Basel 1-0 Liverpool

While that penalty drama was unfolding at the Emirates Mario Balotelli forced Tomas Vaclik into an unorthodox save with a swerving free-kick from fully 40 yards. Slightly better from Liverpool but they need to raise it.

Post update

Arsenal 4-1 Galatasaray

Former Arsenal defender Martin Keown

BBC Radio 5 live

"Szczesny missed the ball. He thinks it's going to come into his body. He doesn't extend his arm and catches his opponent. Maybe Calum Chambers just kept everyone onside and Szczesny came out at speed and completely mis-read it.

"It was a great finish from the penalty and David Ospina almost dived out of the ground."

GOAL

Arsenal 4-1 Galatasaray - Burak Yilmaz (Pen 63 mins)

Burak? Yes he can! Confident spot-kick from Burak Yilmaz as he converts into the corner, before a fist pump and a sprint to retrieve the ball that suggests that it may not be just a consolation.

SUBSTITUTION

Arsenal 4-0 Galatasaray

Here comes David Ospina then, the Arsenal goalkeeper replaces Alexis Sanchez and will have to face the spot-kick first up.

RED CARD

Arsenal 4-0 Galatasaray - Wojciech Szczesny

Wojciech Szczesny is off his line quickly and wipes out Burak Yilmaz - he has to go! Penalty and a red card, the old double whammy.

PENALTY to Galatasaray

Arsenal 4-0 Galatasaray

Post update

Basel 1-0 Liverpool

Into the last half an hour. Liverpool haven't had a shot on target in the second half.

Join the debate at #bbcfootball

Alastair Speed: Skrtel again, more interested in holding the man than a solid defensive header. Poor effort.

Toby: First rule of goalkeeping: Don't palm the ball back into the box. Poor from Mignolet.

Karim: Liverpool conceding from a set piece yet again! When will they learn?

Treble Six

Arsenal 4-0 Galatasaray

Danny Welbeck is the sixth Englishman to score a hat-trick in the Champions League.

The other legends of the game are Mike Newell, Andrew Cole, Michael Owen, Alan Shearer and Wayne Rooney. What a club.

YELLOW CARD

Basel 1-0 Liverpool

I asked earlier if a draw would be a good result for Liverpool, how damaging would a defeat be? Steven Gerrard goes into the book for a ragged looking challenge. This Basel side have great intensity.

David from Guernsey: If Welbeck does turn out to match Henry, I doubt Arsenal will be in for quite a few excellent years - they will sell him long before then, as they have most of their best players.

Mike, United fan: So pleased for Danny Welbeck, great honest footballer and lovely guy.

Post update

Arsenal 4-0 Galatasaray

Former Arsenal defender Martin Keown

BBC Radio 5 live

"What a great run from Danny Welbeck and he just lifted it over the keeper with an exquisite finish.

"To do that at pace shows real confidence. He put his arms out to the crowd as if to say 'look at me' and it's heart-warming to see a player showing the potential we knew was there."

GOAL

Basel 1-0 Liverpool - Marco Streller (53 mins)

Liverpool's soft centre is exposed again.

Neither Martin Skrtel or Dejan Lovren deal with a routine corner and when Simon Mignolet palms the ball back into the six-yard box, Marco Streller sweeps home for the opener.

Pretty shambolic from the visitors.

GOAL

Arsenal 4-0 Galatasaray - Danny Welbeck (HAT-TRICK 52 mins)

I'd say this was more like Dennis Bergkamp...

Lovely finish from Danny Welbeck to cap a great night for the England striker. He again times his run superbly to meet Alex Oxlade-Chamberlain's through ball and confidently clips over the keeper and into the net. Get him off now and get him wrapped up. The three points are!

Join the debate at #bbcfootball

Oliver Hughes: Markovic definitely deserves time to get adjusted with the Premier League. I'm sick of people slating him so early on.

William Broom: Markovic isn't quick enough on the ball. He seems a bit lost when he eventually gets the ball.

Sriram: Always felt Markovic was like Sterling in terms of his playing position. Why did we even get him when we have Sterling?

On the stroke of half-time, Fernando Amorebieta makes it Fulham 2-0 Bolton.

Is the end nigh for Trotters boss Dougie Freedman? And is Kit Symons making himself a strong contender for the five-man selection committee at Fulham?

Post update

Arsenal 3-0 Galatasaray

What a run! Alex Oxlade-Chamberlain has a written invite to run at the Galatasaray defence and politely accepts, leaving two men in his wake to burst into the box but he then doesn't know whether to shoot or pass to Meust Ozil - and in the end does neither really. Chance.

I tell you what, there will be trouble when this pedestrian Galatasaray defence comes up against Dortmund...

Join the debate at #bbcfootball

Joseph Murphy: The Henry of the present day could have scored a couple against that woeful Galatasaray defence.

Henry Taylor-Gill: You could literally create a team of players that Man United let go that are better than their actual team right now.

Stephen Shaw: re: Hassan, did you just compare Henry to Zidane? Good, but never that good. And never the best in the world

KICK-OFF

Basel 0-0 Liverpool

And we are back playing in Switzerland too. Paulo Sousa and Brendan Rodgers have met as managers before - and it's ended 0-0. Goals tonight?

KICK-OFF

Arsenal 3-0 Galatasaray

Back in play at the Emirates then. Hat-trick for Danny Welbeck? Hamit Altintop comes on for Yekta Kurtulus for the Turkish side at the break.

Post update

Arsenal 3-0 Galatasaray

Alexis Sanchez's crisp finish tonight ends a run of 17 Champions League games without a goal for the Chilean forward. He last scored in the competition for Barcelona v Benfica in October 2012.

Post update

Basel 0-0 Liverpool

Check out some of the best photos from tonight's Champions League ties on the BBC Sport Facebook page.

Join the debate at #bbcfootball

Aham Ebogu: No one said Welbeck is the new Henry, but HE CAN be, and why not? Remember Henry was not the Henry he later became.

Abhinav Reddy: Brendan Rodgers maybe leader of men, but he clearly isn't a 'buyer' of men. Markovic the latest casualty.

Bilaal: United fans don't feel like we let one go, happy that Welbz is doing well but we don't have any issues going forward.

Post update

Arsenal 3-0 Galatasaray

I'm not going to argue with Martin Keown - he's a lot bigger than me and has just been talking about finishing people off when he's got his foot on their neck - but Danny Welbeck has currently scored 148 fewer Premier League goals than Thierry Henry.

If the 23-year-old does turn out to match that figure then Arsenal are in for quite a few excellent years.

Half-time in two of the Championship's games and Huddersfield are now 2-0 up at Wolves in a potential surprise result. Sean Scannell has scored their second.

Leeds and Reading are goalless at the break, while Fulham are beating Bolton 1-0 in the 20:00 BST kick-off.

The last goal of the first half was scored by West Brom legend Markus Rosenberg for Malmo, who lead Olympiakos 1-0.

Real Madrid are still being held 1-1 by Ludogorets Razgrad, while Bayer Leverkusen lead Benfica 2-0 and Borussia Dortmund are 1-0 up at Anderlecht.

Post update

Arsenal 3-0 Galatasaray

Former Arsenal defender Martin Keown

BBC Radio 5 live

"This is the best performance of the season by a long way. Everything's starting to click for Arsenal. Galatasaray's fans have made a lot of noise but their team certainly hasn't.

"It's what Arsenal are capable of. I hope they don't sit on this and there is that temptation with Chelsea coming up. When you've got your foot on the neck, keep it there and finish the job off, have a big night and send ripples across Europe.

"This is a new team and a new beginning. Danny Welbeck has looked magnificent and he's enjoying the opportunity of scoring goals. It's the pace that gets him there. It looks easy but he gets away and just slides it into the corner.

"Thierry Henry said he always picked one spot and relied on sliding it in there and why can't Welbeck do that?"

Post update

Basel 0-0 Liverpool

Liverpool's best bet may lie on the counter attacks, and they've had just 42% of the possession so far. With these two sides arguably likely to be fighting for second place behind Real Madrid in the group, is a draw a good result tonight for the Reds?

HALF-TIME

Basel 0-0 Liverpool

And half time in Switzerland too. Brendan Rodgers and Mario Balotelli share a grimace, it's been one of those halves.

HALF-TIME

Arsenal 3-0 Galatasaray

Half time at the Emirates - a job very well done for Arsene Wenger and his side so far.

Will Banks: No, Welbeck isn't like Henry - he can head the ball too!

Hassan from London: To those even saying Welbeck is/can be as good as Henry, madness I say! Henry was the best player in the world in 2004 when the likes of Zidane, Ronaldo and Figo were at Madrid alone. Do you really think one day we will say Welbeck was the best in the world? No!

Join the debate at #bbcfootball

Gwilym J. James: If the match gets abandoned it'll only be a 3-0 loss which at this rate is probably Gala's best hope.

Martin Keating (United fan): Welbeck was not going to get games or the position at United. I'm happy for him he can do what that elsewhere.

Andile Maseko: Danny Welbeck isn't anywhere near being Thierry Henry. But like Sturridge did at Liverpool he could come good this year.

Post update

Basel 0-0 Liverpool

Arsenal may be hitting their peak but Liverpool have had a quiet few minutes in Switzerland, though Raheem Sterling does lace in an effort from 20 yards which is easily held. From a corner Dejan Lovren then heads down into the turf. Frustration for Brendan Rodgers.

Post update

Arsenal 3-0 Galatasaray

Former Arsenal defender Martin Keown

BBC Radio 5 live

"Sanchez made a really good run and Ozil put him in. Again it was a lovely side-foot pass into the corner. Arsene Wenger was inspired playing Sanchez on the left tonight, coming back onto his right foot.

"The Galatasaray fans have flares but the fireworks have been from the Arsenal team and they've been too much for Galatasaray.

"When Arsenal turn up the speed of their play to this level there are very few teams that can live with them."

Bayer Leverkusen are 2-0 up against Benfica thanks to goals from Stefan Kiessling and Son Heung-Min. Both sides lost their opening games.

GOAL

Arsenal 3-0 Galatasaray - Alexis Sanchez (41 mins)

...and Arsenal have a third! Mesut Ozil plays a fine pass through to catch the Galatasaray defence totally square, this time it's Alexis Sanchez who streams into space down the left and cuts inside to curl home from 15 yards. A rout.

Post update

Arsenal 2-0 Galatasaray

Does anybody seriously believe that Danny Welbeck is in the same class as Thierry Henry? Few are.

But Welbeck is having a fine game, make no mistake about that. He is busy now to work back and nick the ball back in midfield...

Join the debate at #bbcfootball

Dazzler: Why are the Henry comparisons 'off-target'? Both came with underwhelming reputations, and were poorly used at previous clubs.

Vishnu Ladwa: Danny Welbeck has more goals than RVP and Falcao put together.

Rob Phillips: Henry was a ordinary winger when he joined Arsenal. Give Welbeck time

Flares in fashion

Arsenal 2-0 Galatasaray

Galatasaray's best chances of a result may be getting this game called off as their fans rain down flares on to the Emirates pitch. There are at least five behind the goal and there is a stoppage as Gala keeper Fernando Muslera put his gloves to good use and clears them away.

Captain Wesley Sneijder runs over to call for calm - and he seems to get a good reception. Game on!

Post update

Basel 0-0 Liverpool

One of the best names in Europe? Geoffroy Serey Die plays a smart one-two inside the Liverpool area, sumps Jose Enrique on his backside with a bodyswerve and then warms the hands of Simon Mignolet with a stinging toe-poke.

Join the debate at #bbcfootball

Sophie Gayter: Welbeck will get 15-20 this season for Arsenal. His pace and movement are excellent, and his confidence will continue to grow.

Liam McColgan: Welbeck the new Henry? Probably too early for those shouts but what class finishes.

Saif Rahman: Expecting to see a plane over Emirates with the message 'COME HOME WELBECK'

YELLOW CARD

Arsenal 2-0 Galatasaray

Felipe Melo should be off, a very heavy two-footed challenge on Alexis Sanchez and the Galatasaray man is incredibly lucky only to be booked. He has the neck to tell referee Gianluca Rocchi off too. Terrible tackle.

Post update

Arsenal 2-0 Galatasaray

Former Arsenal defender Martin Keown

BBC Radio 5 live

"That was all about Welbeck's pace and power and then a quality finish. It was just a long ball and it was who was quickest and strongest, and I have to say it again but he opened that body up again like Thierry Henry. He picked his spot fantastically well.

"He's been a provider at Manchester United and working really hard for the team. Now he's a centre-forward and he runs with that extra spring in his step. He thinks he's in a sweet shop with the number of chances he's getting.

"They have to be thinking about the head to head now and Arsenal want to win this by as many as they can. I want to see Mesut Ozil play to embarrass his opponent and it's set up for them to really take this on."

Post update

Arsenal 2-0 Galatasaray

For the hat-trick?! No!

Danny Welbeck has another chance as a cross from the right lands at his feet 20 yards out, but he rather snatches at that one and it's right at the keeper.

GOAL

Arsenal 2-0 Galatasaray - Danny Welbeck (30 mins)

The comparisons with Thierry Henry are quite frankly well off target but Danny Welbeck isn't! Like a certain Frenchman of yesteryear he takes advantage of some horrible defending to latch onto a back header, hold off the challenge of Felipe Melo and then confidently plant the shot across the keeper and into the bottom corner.

Excellent stuff from the England man. Arsenal in control.

Post update

Arsenal 1-0 Galatasaray

Arsenal just finding their feet as Alexis Sanchez jinks into the box and pulls a shot across goal...

Join the debate at #bbcfootball

Post update

Basel 0-0 Liverpool

Just like you and your mates at home on a Sunday morning, referee Jonas Eriksson has to remove some debris from the pitch. It's not a can of cider this time though, in fact I don't know what that is. It looked like a film cartridge from an old camera but I doubt anyone is going to need the dark room this evening.

On the pitch, the home side remain on top but they haven't yet tested Simon Mignolet.

Harry Bunn has fired Huddersfield into a 1-0 lead over Wolves, while Hugo Rodallega has done likewise for Fulham against fellow strugglers Bolton. Potentially a costly goal for Dougie Freedman.

Leeds v Reading is goalless.

Post update

Ludogorets 1-1 Real Madrid

Cristiano Ronaldo has now scored from the penalty spot - blushes saved for Real?

Post update

Arsenal 1-0 Galatasaray

Danny Welbeck's movement off the shoulder of the last defender has been impressive since he joined Arsenal and that was evident again as he opened the scoring. How many can he get this season?

Post update

Arsenal 1-0 Galatasaray

Former Arsenal defender Martin Keown

BBC Radio 5 live

"That came from one end of the pitch to another, Alexis Sanchez was nice and free and it was a lovely ball. Welbeck came through like Thierry Henry to poke it into the corner.

"He opened his body up and the ball didn't get there quick enough so he prodded at it but the goalkeeper should do better."

GOAL

Arsenal 1-0 Galatasaray - Danny Welbeck (22 mins)

Megs! Alexis Sanchez drives in from the left and picks out a fine run from Danny Welbeck. The Arsenal striker beats the offside trap with an arced movement and is able to let the ball run right across him and on to his right foot before he pokes through Fernando Muslera's legs.

Join the debate at #bbcfootball

Antoine: Re: David via text, at least they are actually the Champions of their league. More than Liverpool, Chelsea or even Barca can say.

Jacob Mignano: Re 1950: It's almost as though Ludogorets read David's text message.

Sam Tipton: Dave you are wrong my friend. They have earned their place in the Champions League and always put up a fight.

Post update

Basel 0-0 Liverpool

Liverpool look very shaky at the back as both full-backs get caught on the ball in quick succession, but they possess plenty of pace at the other end of the pitch. Lazar Markovic burns down the right and eventually picks out Raheem Sterling on the left but his final ball is not up to much.

They need a goal to settle down.

Post update

Arsenal 0-0 Galatasaray

Former Arsenal defender Martin Keown

BBC Radio 5 live

"Arsenal really need to move the ball quicker. They're not asking enough questions. Galatasaray's system of playing three central defenders is very interesting with Alex Telles switching positions all the time.

"They've got real adaptability in their system and Arsenal seem unsure about how to get in here. They seem very comfortable, almost too comfortable at the moment."

MISSED PENALTY

Ludogorets 1-0 Real Madrid

It gets more surreal as Cristiano Ronaldo has a penalty saved by Ludogorets keeper Vladislav Stoyanov in Sofia - the hosts still lead 1-0. And now Ronaldo's just had a goal disallowed.

It's probably still odds-on for him to score tonight.

Post update

Basel 0-0 Liverpool

Just as they did against Chelsea last season, Basel are swarming all over Liverpool, playing at a very high tempo indeed. Jose Enrique is buffered off the ball and Basel sub Derlis Gonzalez is almost in on goal but his touch is too heavy.

Post update

Basel 0-0 Liverpool

Man on!

Steven Gerrard, calling for the ball in that deep role, is robbed of the ball in a very dangerous area and Basel quickly sweep it into the box, Marco Streller eventually firing in a left-footed shot which is deflected wide. He did not have that amount of time there...

Join the debate at #bbcfootball

Momo: re: David via text, we all want a competitive tournament but teams like Apoel and Malmo earned the right to play there...

Tom Cummings: APOEL got to the quarter finals a couple of years ago. Bit harsh.

Louis Porter: I agree with David. The Champions League is for the best of the best. Even United in the state they are in would do better.

Post update

Arsenal 0-0 Galatasaray

Settling down in London as Alex Telles pulls a shot wide after a neat move down the left. Galatasaray look slick on the counter.