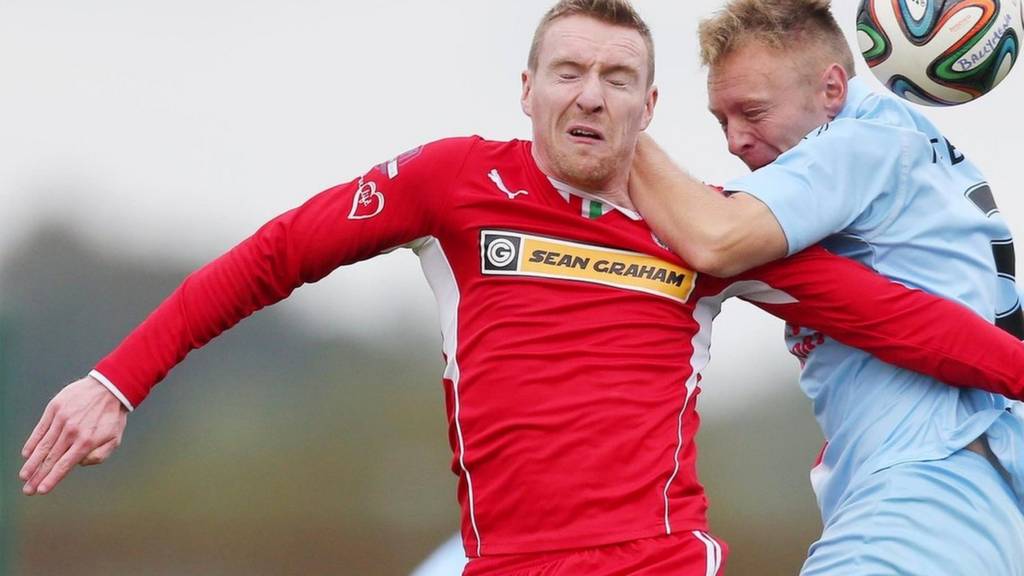 FULL-TIME

Cliftonville's three-in-a-row

It is all over - Cliftonville retain the Irish League Cup by beating Ballymena 3-2 at Windsor Park.

Ballymena keeper Dwayne Nelson makes a superb double save from David McDaid. We're in four minutes of injury time.

GOAL

Ballymena United 2-3 Cliftonville

Cliftonville regain the lead in the 80th minute through Martin Donnelly. A poor defensive header by United's Tony Kane fell to Donnelly who beat keeper Nelson with a sweetly-struck shot.

Eamonn Seydak needs treatment after a bad tackle by Ballymena's David Cushley. The Cliftonville man is stretchered off and Cushley is extremely fortunate all the match officials appear to have missed what was a poor challenge. Ronan Scannell comes on as Seydak's replacement.

Joe Gormley is injured and is replaced by Martin Murray in the Cliftonville team

Cliftonville striker David McDaid comes on for Tomas Cosgrove in the 60th minute.

GOAL

Ballymena United 2-2 Cliftonville

David Cushley blasts in a great right-foot shot from the edge of the box for a 58th-minute equaliser.

This cup final has really come to life now!

Cliftonville squander another great opportunity as Gormley tees up young Jay Donnelly who shoots wide from a superb position in front of goal.

GOAL

Ballymena United 1-2 Cliftonville

Ballymena are back in business as half-time substitute David Cushley forces in from close-range after a corner.

Cliftonville should be three up but they waste a great chance. Jay Donnelly, seemingly in on goal, attempts to unselfishly pass to Gormley, and keeper Dwayne Nelson manages to make a saving interception.

HALF-TIME

Reds in charge at the interval

Referee Crangle blows for the break with Cliftonville 2-0 up.

GOAL

Ballymena United 0-2 Cliftonville

Joe Gormley scores again to put the Reds two up with 36 minutes played.

Ballymena had their chances to clear and when the ball came to Gormley he guided a shot past keeper Nelson for his 31st goal of the season.

Matthew Tipton heads wide in a rare scoring attempt for Ballymena - 30 minutes gone.

Jamie McGovern heads wide at the far post from Martin Donnelly's corner. It was a good chance for a player who has never scored in senior football.

Young Cliftonville prospect Jay Donnelly has a half-chance but drags his shot well wide.

Ballymena get a free-kick on the edge of the box as Marc Smyth is booked for a foul on Matt Tipton. Tony Kane shoots the set piece into the defensive wall.

Image caption: Cliftonville celebrate Joe Gormley's first-minute goal against Ballymena

That really was a gift for Tommy Breslin's men and goalscorer supreme Gormley just doesn't miss opportunities like those.

GOAL

Ballymena 0-1 Cliftonville

What a disaster for Ballymena! A terrible mix-up at the back, keeper Dwayne Nelson misses the ball and leaves Joe Gormley clear to put Cliftonville ahead in less than a minute

Both sides are in their customary colours - Reds v Sky Blues - and the match referee is Robert Crangle who was in charge when Ballymena lost last May's Irish Cup final to Glenavon.

Cliftonville team is: Cherrie, McGovern, McMullan, M Donnelly, Seydak, Smyth, Catney, Winchester, Gormley, J Donnelly, Cosgrove.

And on the Reds bench: Scannell, Bayly, McDaid, Murray, McCarron

The Ballymena line-up: Nelson. Kane, McBride, Taylor, Munster, Jenkins, Ervin, Thompson, Boyce, Tipton, McCaul.

Subs for the Sky Blues are: Cushley, Teggart, Surgenor, Adis, Gawley.