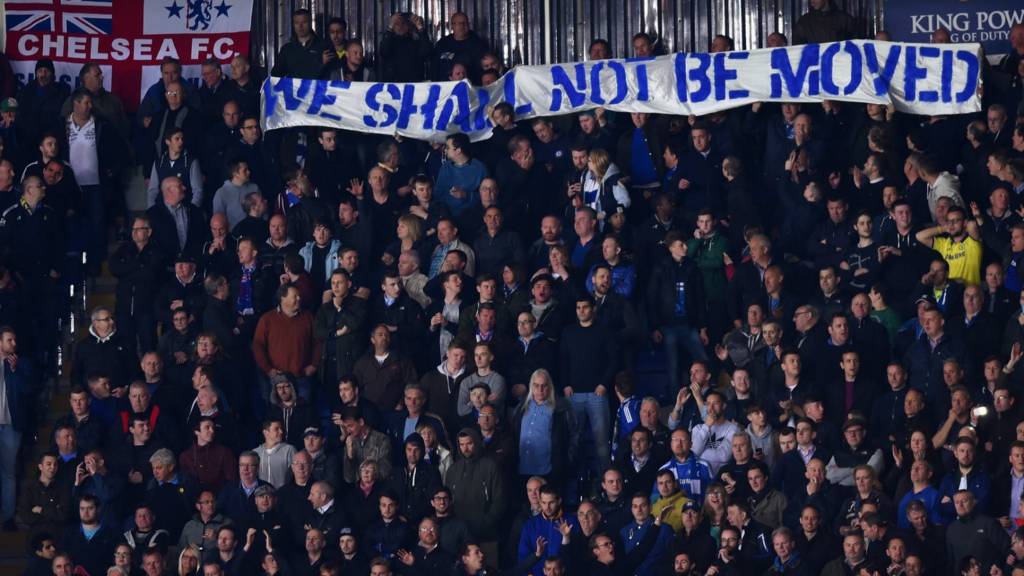 FT: Leicester City 1-3 Chelsea
Summary
Chelsea a whopping 13 pts clear
Mourinho's team can win title on Sunday
Win v Palace will see them champions
Leicester remain 17th in the table
That's all from the Premier League for the night then - see you all on Saturday!
Branislav Ivanovic's assist for Dider Drogba's goal is well worth seeing tonight - great awareness and positioning to get his body across Matty James as he recieved the ball. The Leicester man could do nothing to prevent him from putting the cross in.
Drogba's first goal since December.
Costa back?
Leicester 1-3 Chelsea
Jose Mourinho says that Diego Costa may be fit to play on Sunday against Crystal Palace.
Costa has only played for 12 minutes in April.
Join the debate at #bbcfootball
Leicester 1-3 Chelsea
Terry Mahoney: Don't like to say this as a Liverpool fan but Brendan Rogers could learn some savvy from Jose Mourinho
Matty: Chelsea's style of play is efficient. They've conceded the second least goals and are the second highest scorers in the league.
'Chelsea worthy champions'
Leicester 1-3 Chelsea
Leicester manager Nigel Pearson: "Before the game starts we knew it was a case of when, rather than if, Chelsea win the title.
"It is difficult when you have to make a couple of substitutions in the game which are not really tactical, that is difficult to deal with but we gave a good account of ourselves. I think 3-1 does not necessarily reflect the balance of game but we played against a very good side who will be worthy winners of the Premier League title.
"The depth we have within the squad and the confidence I have with the players that are going to be available for Saturday is there.
"There is a feeling we are capable and have given ourselves a better chance of avoiding relegation, tonight is a setback because when you go ahead you expect to push on but we came up against a side able to take advantage of their quality in second half."
'Chelsea are worthy champions'
Leicester 1-3 Chelsea
Leicester manager Nigel Pearson: "I've heard criticisms of Chelsea recently and I find it bemusing to be honest. The best sides are able to win games in different ways - and Chelsea illustrated that tonight. They are worthy champions."
'We didn't deserve a 3-1 defeat'
Leicester 1-3 Chelsea
Leicester manager Nigel Pearson: "It was difficult tonight because we had to make substitutions in not normal circumstances. It was a tough game, we took the lead and showed a decent account of ourselves.
"To be fair to Chelsea they showed more intent and quality at the times that was needed. I rue the fact we had to make decisions in changing players - but that is life.
"Having taken the lead we showed positive intent but in the second half with them equalising so early, it gives a different complexion and the way the game developed suited their gameplan.
"The players didn't deserve to be on the end of a 3-1 defeat."
Censored Jose
Leicester 1-3 Chelsea
Chelsea manager Jose Mourinho on his half-time team-talk: "If I tell you on television what I said it will be 'peep peep peep'. Too many peeps!"
On the possibility of winning the title at home to Crystal Palace this weekend: "Stamford Bridge is ready to celebrate but if I can ask something from them it is to not celebrate. We all want to win on Sunday but it will be a difficult game. Stamford Bridge must be ready to push us. I hope they want to play the game with us. We need them to help us win the title on Sunday."
On the road again
Leicester 1-3 Chelsea
Chelsea have picked up at least eight more points away from home than any other Premier League team this season.
Join the debate at #bbcfootball
Leicester 1-3 Chelsea
Adedokun Veryfly: Kudos to Leicester for the spirit they been showing over the past weeks
Dee Evans: A goal from a striker, from a midfielder and a defender. Spread of goals, sign of a good team. Still I wouldn't pay to see them.
Tim Arstall: Chelsea don't exist to please everyone but they're definitely pleasing their fans and board right now. What more is needed?
'We destroyed opponents this month'
Leicester 1-3 Chelsea
Chelsea manager Jose Mourinho: "Tonight was not boring for me. To be losing at half-time is not boring - it is pressure. The way we played in the second half, against probably the best team we have played in the last month, was fantastic.
"In April everyone expected us to drop points against Arsenal and Man Utd, but April was the month that we destroyed opponents.
"We won every game except the draw against Arsenal so I'm very pleased. Now we just need three more points."
Jose Mourinho is a proud man. He calls for the Chelsea fans to be ready to roar his side on to victory at the weekend.
'We are what every team would like to be'
Leicester 1-3 Chelsea
Chelsea manager Jose Mourinho: "It is phenomenal what they are doing, top of the league since day one is not easy. They play against a team on a fantastic run, playing at home with big enthusiasm.
"My experience in football teaches me to just worry about my own feelings. I know what I feel in relation to my work in the past two years, I don't need other people to recognise what we are.
"I know exactly what we are. We are what every team would like to be."
Chelsea ended the night with 11 shots in total. Cesc Fabregas has 17 Premier League assists - the most in any one season is Thierry Henry with 20.
Player reaction
Leicester 1-3 Chelsea
Leicester goalscorer Marc Albrighton: "We gave ourselves a good foothold in the first half and we couldn't see it through. So it is difficult to take heart from the game to be honest.
"They scored the early goal and it got them back in the game. We will look to redeem ourselves in a couple of days against Newcastle.
"You can take a little bit from the performance but we have put ourselves in a position where we need points. Performances aren't important - we just need the points and obviously we haven't taken any tonight.
"Staying up is still in our hands, we have got a massive game against Newcastle here at the King Power and the fans will be behind us."
'We deserve more credit'
Leicester 1-3 Chelsea
Chelsea striker Didier Drogba: "We are maybe scared to win the league! Two wins and we get the trophy but this one was very difficult. In the second half we came back and made sure that we won it. We scored fantastic goals.
"We don't get enough credit. We are top of the league, we have the most points and people find us boring because we've been top since day one."
Chelsea captain John Terry: "We are almost there. They were a tough side and they kept fighting. We got a telling off at half-time and we came out and played excellently in the second half. It wasn't good enough in the first half but listen, we got the three points.
"We've been the best side all season. We deserve a lot of respect, we've been very good all year. Let's hope we win it on Sunday."
So Chelsea can win the title at Palace on Sunday, and Leicester remain a solitary point clear of the relegation zone with four games remaining. To the wire...
FULL-TIME
Forest Green 0-1 Bristol Rovers
All over at the first leg of the Conference play-offs and Bristol Rovers take a lead into the second leg. Back in the Football League by August?
John Hartson
BBC Radio 5 live
"This is a big win for Chelsea at a King Power Stadium that's been rocking recently. They won comfortably in the end. Nigel Pearson would have wanted his side to keep it at 1-0 for a bit longer."
John Terry has scored in each of the last 15 Premier League seasons. That Ryan Giggs record could come under threat after all!
Entertaining? 2.1%
Leicester 1-3 Chelsea
Our vote is now closed, with most of you summing up this Chelsea side as 'efficient'.
Just 2.1% say entertaining...
FULL-TIME
Leicester 1-3 Chelsea
Chelsea are three points away from winning the Premier League. Huge, rich applause from all around the ground. Leicester were excellent for the first period but the home fans are also sporting enough to applaud the champions after a strong second-half showing.
SUBSTITUTION
Leicester 1-3 Chelsea
Jon Mikel Obi comes on for Cesc Fabregas, who is now potentially a few days away from winning the Premier League after plenty of years trying. Jose Mourinho is beaming in the dugout. He's seen a really smart second-half display from his side.
Join the debate at #bbcfootball
Gully: Willian has been absolutely unbelievable tonight. Most underrated in the Chelsea team and one of the most in the league.
Iheanyi Uwa: Three shots on target, three goals. Chelsea only shoot to score. Our season in one word? Effective.
David McNaught: A champion turnaround.
Eden Hazard made 88 passes tonight, Cesc Fabregas has 84 so far. Leicester's most prolific passer is Danny Drinkwater on 58.
SUBSTITUTION
Leicester 1-3 Chelsea
'Are you watching Arsenal?' is the chant from the away end as Eden Hazard is replaced by Juan Cuadrado.
John Terry joins David Unsworth as the top scoring defender in Premier League history with 38 goals. What a back two they would be. Units.
Jose Mourinho was cleaning his brown suede shoes with Lucozade as Ramires battered that third goal into the net. Other fizzy sports drinks are available - but none of them should be used to clean suede shoes! Definitely not.
RED CARD
Forest Green 0-1 Bristol Rovers
Can Bristol Rovers protect their slender lead in the first leg of this Conference play-off semi-final? If they do then the visitors will have to do it with 10 men. Rovers forward Ellis Harrison sees red for kicking out at the home keeper Steve Arnold. Two yellows equal red for Harrison, who boots the corner flag in frustration on his way back to the changing room.
Stoke City goalkeeper Asmir Begovic at the King Power Stadium: "Fabregas gets into a great position on the byline and showed fantastic composure to place it right into the path of Ramires, who slotted it home beautifully. It's been a fantastic performance all round from Chelsea."
GOAL
Leicester 1-3 Chelsea - Ramires
Pick. That. One. Out!
An absolute belter. Cesc Fabregas finds a pocket of space on the right-hand-side of the box and it's another assist for Cesc, sliding the ball back to the edge of the box, Ramires arrives on it and left-footed just caresses the ball home first time, right into the corner. A brilliant goal.
Chelsea ready Kurt Zouma. See it out and win the league on Sunday.
'Boring, Boring Chelsea' sing the away fans...
Stoke City goalkeeper Asmir Begovic at the King Power Stadium: "Great delivery from the corner. The lack of tracking of Terry's run cost Leicester, but this is the killer instinct that Chelsea have and this is what makes them champions. John Terry has been faultless tonight, he hasn't put a foot wrong."
Into the last 10 minutes at the King Power. Chelsea were very poor in the first half but have slowly cranked up the dial and now lead into the final 10 minutes.
GOAL
Leicester 1-2 Chelsea - John Terry
A captain's goal! Ramires wins a corner after another neat move and Chelsea score from it. Gary Cahill's header is hard and low, Kasper Schmeichel claws it out and John Terry bundles it in with his knee. Ugly, but effective. Their season in a nutshell?
John Murray
BBC Radio 5 live commentator at the King Power Stadium
"Mahrez has been one of Leicester's bright sparks in a season that was dribbling away until the last four or five games."
Join the debate at #bbcfootball
James D Phiri: I still think Drogba should be substituted for Cuadrado or Oscar to add some more pace.
Mathew Brown: Chelsea play 4 defenders and 2 holding midfielders vs Leicester and Mourinho moans about being taunted for being boring?
SUBSTITUTION
Leicester 1-1 Chelsea
Riyad Mahrez has been excellent for Leicester at times this season and now he is on for the final 15 minutes, replacing Jamie Vardy up front. He won't work as hard as Vardy - not many do.
As it stands Chelsea would not be able to win the title on Sunday. They may not be able to win tonight but Eden Hazard has started to bring his bag of tricks to the party. What a touch to instigate a neat one-two with Cesc Fabregas but the blue wall stands firm and shuts him out.
Another lull now as the game ticks along. Perhaps both sides would be happy with a point from here?
A flurry of stoppages as Nemanja Matic and Leo Ulloa both complain about late tackles. Foul, foul, foul - and then Chelsea come alive. Willian is again the catalyst, tremendous pace through the middle, game-changing run. He finds Eden Hazard on the right, it's three on three but Didier Drogba can't meet his cross. Willian has been superb in this second half.