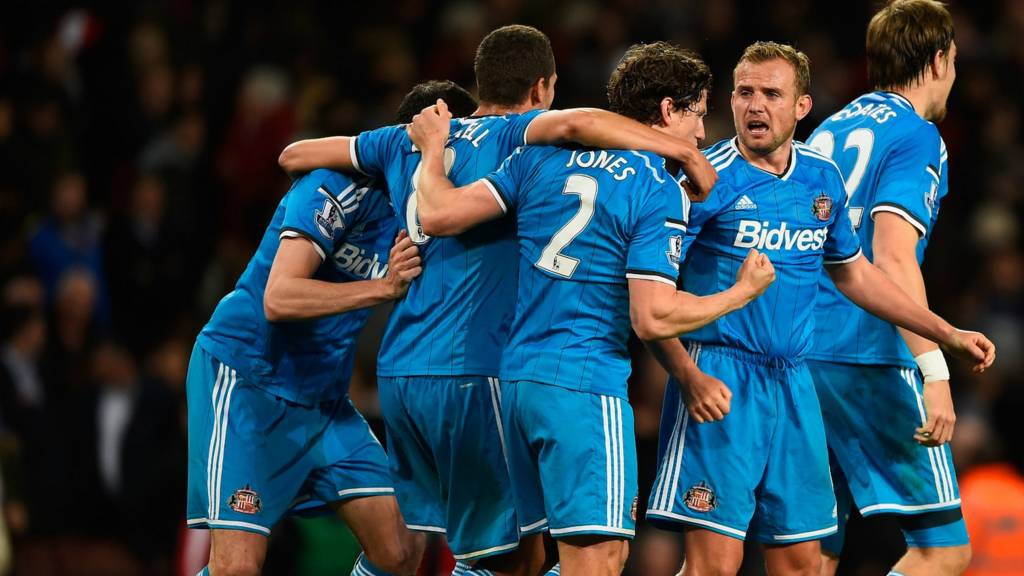 Sunderland secure safety - as it happened
Summary
Sunderland secure top-flight safety
Final relegation spot between Hull and Newcastle
Arsenal not yet mathematically secured third
Gunners had 28 shots
That's all from us tonight folks - see you on Sunday for the big finale.
FULL-TIME
Juventus 2-1 Lazio
Juventus win the Coppa Italia to go with their league title. Next up, the Champions League...
Arsenal manager Arsene Wenger on BBC Sport: "It is an important point. We are frustrated because we couldn't score. Sunderland are jubilant and they played like a team that wanted to be safe.
"We nearly lost the game because we were so focused on winning. We were not sharp enough, not quick enough. We are physically less fresh. We played about 58 games and you can see that."
'A Houdini act'
Sunderland are safe
Sunderland boss Dick Advocaat on BBC Sport: "I am really proud of the group. The group has come so far, they have given everything. Organisation wise it was brilliant. I had a tear in my eye, I have to be honest.
"Second half we had three or four 100% chances. Until the end it was a nervous breakdown. The most important thing is the players start believing, the good thing is I do things in the past and they know that and know I don't talk nonsense.
When asked if he had been invited to stay at Sunderland next season he said; "Yes, I think so. But there is no answer yet.
"Sam Allardyce said something about a Houdini act
but this was the Houdini act."
Sunderland boss Dick Advocaat says he is very proud of his players and says 'they have come such a long way.'
He also says that he has been asked to stay on at Sunderland but he has no answer. Next week!
Ten minutes of extra-time left in Rome and Andrea Pirlo has just hit a free-kick on target. Juventus closing in on another trophy.
Manager reaction
Sunderland are safe
Arsenal manager Arsene Wenger, speaking to Sky Sports: "We couldn't score and Sunderland defended well which is understandable because they knew they could be safe tonight. We tried and tried.
"We gave a lot on Sunday to come back and you could see that the legs were not completely there tonight. At least we didn't concede and we got an important point.
"We have some time to prepare and recover for the FA Cup final and I think we will do that.
"Jack Wilshere gave a lot, he did alright. He had some good movement. But we are all frustrated because we didn't score."
North of the border
Rangers 2-0 Hibs
A big win for Rangers in the play-offs tonight as they took a first-leg lead over Hibernian.
Read the reaction from that game here.
Only Arsenal (5) & Burnley (6) have conceded fewer goals in the Premier League than Sunderland (7) since Dick Advocaat's appointment.
Arsene Wenger is smiling as he faces the cameras. 'You could see that our legs were not there tonight' he says.
Join the debate at #bbcfootball
Arsenal 0-0 Sunderland
Michael Juwon: Arsenal simply lacks the creativity and final touch to break down resolute defence. They always complain of team bus-parking.
Mark Taylor: I am sick of so-called Arsenal fans who slag Arsene Wenger and team off if they don't win every game after five minutes. Should be ashamed.
Viv: The longer Arsenal continues to field average/inconsistent strikers, the longer their wait for the PL title.
Sunderland have alternated between defeats and 0-0 draws on their eight visits to the Emirates Stadium.
Manager reaction
Sunderland are safe
Sunderland manager Dick Advocaat on Sky Sports: "Arsenal had the possession but you know if you keep trying you get your chances. In the second half we had chances and we had to score.
"Arsenal were the better side but the organisation was unbelievably good. The emotion was so high. We only lost one in the last six and that is why they deserve to stay in.
"Our defence was great. An unbelievable feeling we did it by ourselves. The players gave everything to stay up. It is a beautiful stadium, facilities are great, but last couple of years not always lucky with things we have done. The players started believing.
"I will give an answer next week on my future."
Join the debate at #bbcfootball
Sho: Pass pass pass, try one-two, fail, rinse repeat cycle for 93mins. Boring, boring Arsenal. Well done Sunderland.
Vaughan McKee: a phrase I never thought I would mutter: 'defensive performance from Jermain Defoe.' Top work!
A reminder of the crucial final day games at the foot of the table then.
Hull v Man Utd
Newcastle v West Ham
Hull must win, anything else and they are down. Newcastle can be caught if Hull win and they do not.
Join the debate at #bbcfootball
Harry Chalvet: Advocaat's tears are of joy because he has finally realised he's Mourinho in disguise after those tactics tonight.
George Gray: Arsenal fans all moaning about teams defending against them, learn to break teams down and credit good defending.
GOAL
Juventus 2-1 Lazio - Alessandro Matri (97 mins)
Pavel Nedved is buzzing up in the stands as Juventus forge ahead in extra-time. Alessandro Matri picks up the pieces after a long ball forwards and bundles the ball home.
John O'Shea also pays tribute to former manager Gus Poyet and says that the club must get away from trouble again next season.
Will they be down there again next season?
'It's fantastic!'
Sunderland are safe
Sunderland captain John O'Shea, speaking on Sky Sports: "It's fantastic. I saw a Sky advert for survival Sunday and Sunderland featured on it and I thought 'oh my God we have to get away from that'. The manager has been brilliant."
Forward/left-back Jermain Defoe: "When that final whistle went you can imagine the feeling. The relegation battle has been scary."
Sunderland are safe and Arsenal need a point against West Brom to triple-stamp third spot. They can't now finish second.
Join the debate at #bbcfootball
Sunderland are safe
Mathew Penistone: The Ozil is rubbish bandwagon again. Blame the selection which means every player runs into his space rather than creates it!
In Rome there are some tired-looking players as the Coppa final goes into extra time. Can Juve stay on target for a treble?
Arsenal had 28 shots on goal tonight and Costel Pantilimon in the Sunderland goal was forced to make eight saves.
Get that man his clean sheet bonus.
Join the debate at #bbcfootball
Sunderland are safe
Charlie Jenner: I am pleased for Sunderland staying up but a team of Arsenal's quality should be winning these sort of games
Sule Sadiq: Sick and tired of teams playing 11 men behind the ball against us. It's disgusting. Boring Boring Sunderland.
Joshua Edwards: Would it be unfair to ask Arsenal for that completely wasted 90 minutes of my life back?
What now for Dick Advocaat? The Sunderland manager is out of contract in the summer but surely they will keep him on?
I've rarely seen a worse top-flight performance than Sunderland's against Crystal Palace recently. They were an absolute shambles.
But all credit to Dick Advocaat and his side, they came up trumps when it really mattered and have secured safety ahead of Sunday's clash with champions Chelsea.
Manager Dick Advocaat is in tears as he celebrates with his players and staff, the away fans will remember that rearguard display for years and years to come.
Sunderland will be in the Premier League next season - a ninth straight campaign in the top flight.
FULL-TIME
Arsenal 0-0 Sunderland
SUNDERLAND ARE SAFE!
Dick Advocaat can hardly watch...
Classic moment in the away end as the referee blows for a foul and plenty of fans think it's full-time! Not yet lads, not yet...
Still Arsenal come, still John O'Shea and co head the ball away. Arsenal short of ideas but high on intent.
Join the debate at #bbcfootball
Jeremiah Kariuki: The Black Cats really fighting with all claws for this one point, that will ensure they survive relegation fears!
INJURY TIME
Arsenal 0-0 Sunderland
Santi Cazorla has completed more passes in the opposition half in this game than any other player has managed this season in the Premier League.
That doesn't get you any points though. THREE MINUTES added on.
Lee Cattermole clears his lines for the umpteenth time, just a few more crosses to withstand...
Phil McNulty
BBC Sport chief football writer
"These are excruciating moments for Sunderland's fans as they count down the seconds. So close to Premier League survival and their team fighting for everything in their own penalty area."
Aaron Ramsey's cross/shot drifts past the far corner...
GREAT SAVE!
Arsenal 0-0 Sunderland
Another big hand from Costel Pantilimon! Top stop this one from the Sunderland keeper, wrists of steel, to force out Theo Walcott's powerful shot and put it clear of the oncoming Aaron Ramsey...
Sunderland break for the first time in a long time but they waste it, Jermain Defoe's pass is poor and Steven Fletcher is offside. Back to defending...
FIVE minutes of normal time left for Sunderland to see out.
Sunderland really hanging on now! Olivier Giroud's low shot is parried out and Theo Walcott can't force the loose ball over the line...