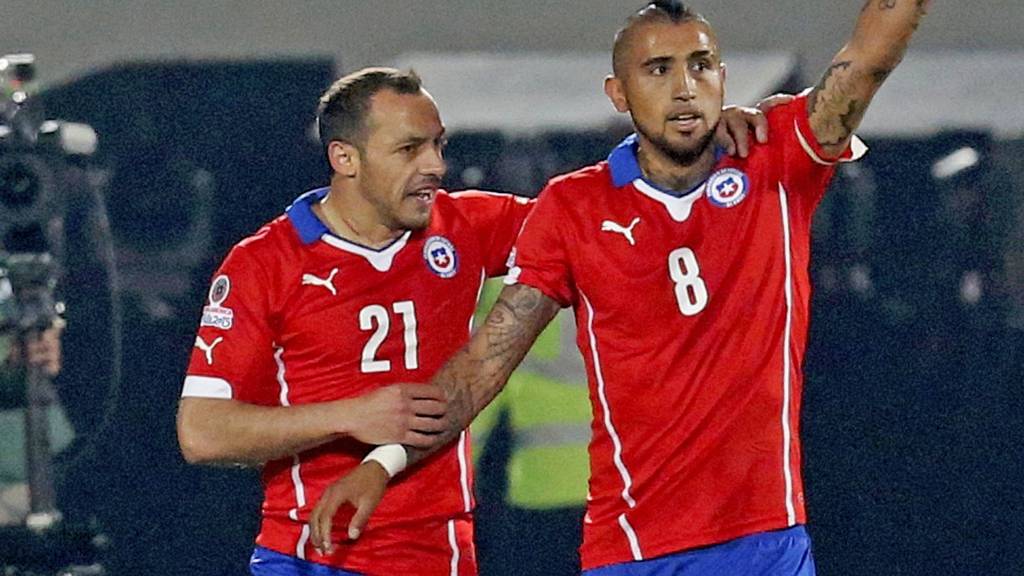 Copa America: Chile v Ecuador
Post update

Chile 2-0 Ecuador

And that's a wrap from us for the night!

Thanks very much for your company as ever. Vamos!

Post update

Chile 2-0 Ecuador

Bit of a scuffle in the tunnel, I can't quite make out who's involved but insert Latin stereotypes about temperament here. There are an awful lot of hard-looking men in mafioso style coats though. Don't ask too many questions.

Post update

Chile 2-0 Ecuador

Good points Noel. I guess we shall see in time.

Chile next face Mexico on Monday before rounding out Group A against Bolivia.

Join the debate at #bbcfootball

Noel Fitzpatrick: Chile all guns blazing, great to watch but they can't slow a game down and not sure they'd cope with going a goal behind.

FULL-TIME

Chile 2-0 Ecuador

RED CARD

Chile 2-0 Ecuador - Matias Fernandez

Oh dear. How to ruin your big night! Chile go down to 10 men as sub Matias Fernandez makes a poor tackle, poor rather than horrific, but he is high and sees red.

Post update

Chile 2-0 Ecuador

Almost a sensational goal! Chile pick through the Ecuadroian press, Arturo Vidal frees Alexis Sanchez down the left, he could square it but wants a goal himself, greed is good, he's inside onto his right foot, delays, puts a defender down, it all opens up - but his shot is brilliantly blocked!

Thriller. Thrilling stuff.

Post update

Chile 2-0 Ecuador

Have Chile shown that they can be real contenders to win the Copa tonight?

Quite possibly. They have not been tested defensively but their midfield is excellent and Alexis Sanchez will be a thorn in any side's side, so to speak.

Post update

Chile 2-0 Ecuador

So it's going to be two goals and three points for Chile tonight, and one job very well done.

GOAL

Chile 2-0 Ecuador - Eduardo Vargas

A crucial minute! Ecuador hit the bar, Chile counter and score.

It's a horrible mistake from Fidel Martinez too, the Ecuador man playing a blind pass back from the halfway line which goes straight to Alexis Sanchez. He drives on and tees up Eduardo Vargas, and he makes no mistake, across the keeper for goal number 19 in 43 caps.

HITS THE WOODWORK

Chile 1-0 Ecuador

But there is a big chance for Ecuador! Enner Valencia gets up well to meet a ball back into the box and he thumps a header against the crossbar!

Post update

Chile 1-0 Ecuador

Ecuador have 10 minutes to fight back. But in truth they have barely tested Claudio Bravo thus far.

Post update

Chile 1-0 Ecuador

Well I did say I had done no research into the weather in Chile! But thanks for pointing out my gross ignorance. Cold in Chile in June? Who knew?Everyone apart from me.

Join the debate at #bbcfootball

Chile 1-0 Ecuador

Foster: Came to Chile for the summer, however Winter has definitely come as its rather cold these days! Nearly ski season!

Matt Ridgway: Tom Rostance #BBCFootball...it's mid winter here in #Chile...expecting -1C tonight..

Post update

Chile 1-0 Ecuador

There are lots of lovely images of that spot-kick coming in already. Huge global media interest in this competition of course. Just wait until Lionel Messi steps out onto the pitch.

Post update

Chile 1-0 Ecuador

What have Ecuador got in the tank? They can't get the ball at the moment so they'll have a job fighting back. Chile bring on Matias Fernandez for Jorge Valdivia, playmaker for playmaker.

Post update

Chile 1-0 Ecuador

That penalty award was a bit soft but there's no denying the fact that Chile deserve their lead.

GOAL

Chile 1-0 Ecuador - Arturo Vidal (Pen)

GGGGGGOOOOOOOOOOOOOOOLLLLLLLLLLLLLLLLLLLLLLL!

Arturo Vidal steps up and puts his size nine right through the ball, bang! You do not save those. Top corner.

PENALTY to CHILE

Chile 0-0 Ecuador

Arturo Vidal cuts in from the right, can he get a shot away? No, he goes down and a penalty is given! Miller Bolanos had an arm on his shoulder and the Juventus man went to ground...

Post update

Chile 0-0 Ecuador

As Noel pointed out [01:58] this is a bit like watching Arsenal. Chile craft some wonderful looking moves but they tend to look for the killer ball when sometimes a shot is on. Alexis Sanchez and Jorge Valdivia are involved but there's no shot but hang on!

Post update

Chile 0-0 Ecuador

The game is getting stretched now as both sides start to look leggy. It's been a high tempo game in (what I can only imagine) are sweltering conditions. I'll be honest, no research has gone into that last point. It looks hot though.

Alexis Sanchez remains the most dangerous looking player on the pitch but Enner Valencia is starting to throw his weight about for Ecuador.

Tears. Tears of pain as Ivory Coast miss a chance to equalise with the very last kick of the game and Thailand hang on to take the win...

Join the debate at #bbcfootball

Chile 0-0 Ecuador

Noel Fitzpatrick: Cracking game but Chile trying to score Arsenal goals...need a few shots from distance

Post update

Chile 0-0 Ecuador

Ecuador will be pleased with 0-0 thus far - but they could also really poop this party with a win tonight. Enner Valencia gets a shot away and Claudio Bravo does well to get down and make the save.

Post update

Chile 0-0 Ecuador

Jorge Valdivia is your Robin Friday, your Rodney Marsh of Chilean football.

The number 10 was once given a 20-match ban for vandalising a hotel and later got another 10-game ban for missing a team meeting after going out with five team-mates after the baptism of his daughter.

Her head was well and truly wetted. He's a character for sure but also capable of unlocking this Ecuador defence...

Post update

Chile 0-0 Ecuador

No holds barred stuff as Ecuador's Osbaldo Lastra smashes the back of Jorge Valdivia. He is incensed by that challenge and the Ecuador man is lucky to get away with it. A proper reducer.

KICK-OFF

Chile 0-0 Ecuador

SUBSTITUTION

Chile 0-0 Ecuador

Chile make a change as Jean Beausejour comes off at the break, with another former QPR man Eduardo Vargas on in his place.

Post update

Chile 0-0 Ecuador

Chile have attempted 314 passes so far - no team made more in the first half of a game in the last Copa America in 2011. They have been impressive in the middle third.

She did, but you don't want to miss this.

Watch as Ivory Coast's Ines Nrehy misses an almost open goal against Thailand with the scores tied at 1-1 in the side's Group B match at the 2015 Women's World Cup in Ottawa.

Half-time reading? You love a bit of gossip, don't you?

Here are the top stories from the Friday newspapers:

Liverpool could hijack Chelsea's bid for unsettled on-loan Manchester United striker Radamel Falcao, 29. (Daily Star)
Manchester United are ready to bid for Tottenham striker Harry Kane, 21, with chief executive Ed Woodward determined to lead the negotiations. (Manchester Evening News)
Arsenal and Manchester United target Jackson Martinez, 28, is on the verge of a move to a top European club, according to the Porto striker's agent. (Daily Mail)

Join the debate at #bbcfootball

Chile 0-0 Ecuador

Ugali Ujang: Haha! Alexis Sanchez is pure joy to watch..!

HALF-TIME

Chile 0-0 Ecuador

And there's half-time. Excellent watch so far, just lacking a goal.

Post update

Chile 0-0 Ecuador

Claudio Bravo hasn't had much to do in the Chile net, but he turned on the style when he made one flying save to keep out a shot from Fidel Martinez.

Brilliant atmosphere in Santiago tonight. Lovely stuff.

Post update

Chile 0-0 Ecuador

Arturo Vidal and Alexis Sanchez link up again, some marvellous one-twos on display in this first half from Chile. They're just lacking the goal their enterprise deserves.

Mauricio Isla and Arturo Vidal link up beautifully down the Chile right but Isla's low cross is just about smuggled away. A long ball over the top then finds Jorge Valdivia but the mulleted maverick can't bring the ball down.

Moments later Isla shoots wide after another neat move. Lovely, lovely football!

Post update

Chile 0-0 Ecuador

Image caption: High foot?

Chile pump in a cross, Ecuador centre-half Walter Ayovi heads it clear. And again.

That's not going to cut it.

Post update

Chile 0-0 Ecuador

You can certainly see why Mauricio Isla ended up at Juventus. He's been terrific at right wing-back for Chile. I'm not sure why he didn't do more for QPR to be honest.

YELLOW CARD

Chile 0-0 Ecuador

Former West Brom man Gonzalo Jara has gone into the book for an off the ball incident, Ecuador having more of it now. A few nerves around the place perhaps?

YELLOW CARD

Chile 0-0 Ecuador

Oooof! Ecuador striker Fidel Martinez with a tackle befitting this time of night. Late, high and rash. A booking.

Post update

Chile 0-0 Ecuador

Kelvin on Twitter has asked me to suss out Chile's formation, and yes, it is Gary Medel and Gonzalo Jara at centre-back for the hosts. Yes, they didn't play there in England. But what do we know?

Post update

Chile 0-0 Ecuador

Patience may well be a virtue for us, and for Chile then. They are putting together some lovely passing moves in the middle third, with Alexis Sanchez and Arturo Vidal threading it all together - but that final touch is just missing at the minute.

Get Salas on.

Post update

Chile 0-0 Ecuador

China beat the Netherlands 1-0 with a last-minute goal, while it's Ivory Coast 1-2 Thailand at half-time.

Post update

Chile 0-0 Ecuador

Ecuador attack! Jefferson Montero, of Swansea, dances to the line on the left wing and puts over a gem of a cross, begging for a tap-in. But there's no striker in the mixer...

Post update

Chile 0-0 Ecuador

Ecuador are just camped in their own half, with a field telephone required for striker Enner Valencia to speak to his team-mates. He's not got a yellow shirt within 45 yards of him.

Post update

Chile 0-0 Ecuador

Mauricio Isla - relegated with QPR last month - is having a bright start on the Chile right wing. His loan spell at Loftus Road is already fading from his mind.

Post update

Chile 0-0 Ecuador

All Chile in these opening stages as Ecuador try and maintain their shape. Twice already they've seen Alexis Sanchez rip it up over the top - maybe dropping deeper is the answer?

Post update

Chile 0-0 Ecuador

Top class Foulger, top class picture!

My money would be on Alexis Sanchez too, and he shows that pace again to scream onto a through ball and try and chip Ecuador keeper Alex Dominguez - but he reads it like a well-thumbed novel and paws the shot away.

Join the debate at #bbcfootball

Santiago Foulger: Following the action from el Estadio Nacional!!! The smart money is on 3-0 with Sanchez first goalscorer

Great start from Chile! If there was a roof on the Estadio Nacional it would have come off as Arsenal's Alexis Sanchez cuts through the Ecuador defence like a knife through hot cocoa. stabbing his shot narrowly wide on the stretch. Wonderful stuff from the Chilean. Romario-esque almost, how he shifted away at such pace.

KICK-OFF

Chile 0-0 Ecuador

LINE-UPS

Chile v Ecuador (00:30 BST)

Chile: Bravo; Isla, Medel, Jara, Mena; Diaz, Aranguiz, Vidal, Valdivia, Beausejour; Alexis Sanchez

Ecuador: Dominguez; Paredes, Erazo, Achiller, Ayovi; Noboa, Lastra, Fidel Martinez, Montero; Bolanos, Enner Valencia

Post update

Chile v Ecuador (00:30 BST)

Chile in red shirts, blue shorts and white socks. Ecuador in canary yellow. Here we go then.

Post update

Chile v Ecuador (00:30 BST)

Hands shaken, anthems sung, flags exchanged. A little late but we are all set...

Post update

Chile v Ecuador (00:30 BST)

Passion in the eyes, in the stands as the Chilean national anthem rings out across Santiago.

Ninety-nine years Chile have been waiting to win the Copa America. Is this their year?

Post update

Chile v Ecuador (00:30 BST)

The players are out on the pitch, the atmosphere is building. Here we go!

Strength in depth

Chile v Ecuador (00:30 BST)

"In the Copa's 99-year history, this could well be the tournament with the strongest field. In contrast to the club game, national team football in South America is living a healthy moment.

"Colombia have just enjoyed their best World Cup, as Paraguay did in 2010 and Ecuador in 2006 - and Chile have just had their best two bar 1962, when they were the hosts.

"There are few minnows about. Indeed, in the last two World Cups only one South American side (Ecuador last year, and by a narrow margin) have failed to make it out of their group."

Join the debate at #bbcfootball

Andrew Vickers: Whenever I see Beausejour play for Chile he looks so direct and dynamic, miles away from the guy who waddled around St Andrews

Breaking

TEAM NEWS

Chile v Ecuador (00:30 BST)

The lines of communication have not been particularly strong but I can tell you that Alexis Sanchez leads the line up front for Chile. Also in the team are Arturo Vidal of Juve, Jean Beausejour formerly of Wigan and Barcelona keeper Claudio Bravo.

Post update

Chile v Ecuador (00:30 BST)

Someone has done the budget on the opening ceremony. It's like a birthday party at Freddie Mercury's house.

Just clear this lot off the pitch and we'll be up and running...

Join the debate at #bbcfootball

Chile v Ecuador (00:30 BST)

Gareth Murray: Chile team full of quality, Alexis has that extra bit which makes him special. Undoubtedly the key man.

Matt Friday: Difficult to look past Argentina but I like this attacking Chile team and would love to see them finally win!

Argentina, yep, Brazil, sure. Uruguay, obviously. Jamaica, er, Jamaica?

The Copa America is a strange tournament as it features two 'guest' nations each time around to make up the numbers. Mexico are one such side this time around and after Japan and then China failed to pick up the phone, Jamaica stuck their hands up.

Image caption: How will Leicester defender Wes Morgan fare against Lionel Messi? And Sergio Aguero? Gonzalo Higuain? Carlos Tevez? Angel Di Maria...?

Jamaica now face Uruguay and Argentina in the group stages. Ouch.

Coach Winfried Schaefer told BBC Sport World Service: "It's difficult to stop Lionel Messi alone. We have to stop the players that give him the ball. We watch the statistics - how many players and which players give the ball to Messi during a match and then we must stop those players.

"Maybe then he only has six balls, not 20 balls. We have to wait. I watched the match Argentina v Paraguay and we're looking at what we have to do."

Stop Lionel Messi Winfried. For your sake...

Post update

Chile v Ecuador (00:30 BST)

You're absolutely off the chain Jack. Calm down.

Jukebox Jack: "Re 00.01 why does it have to be one without the other? My prediction is a dodgy yellow, late goal, late yellow makes red for Arturo Vidal. Scores AND gets an early bath!"

Keep your heads up lads...

Chile v Ecuador (00:30 BST)

Post update

Chile v Ecuador (00:30 BST)

God bless you Ross with your eloquent late night musings on South American midfielders.

Arturo Vidal is going to either get sent off or score tonight. That's my prediction...

Text us on 81111

Chile v Ecuador (00:30 BST)

Ross, Edinburgh: "Arturo Vidal can play as a striker, a box to box midfielder, or a centre back. He's as versatile as footballers get. I think he will be the key man for Chile if they win this tournament, not Alexis Sanchez."

Breaking

TEAM NEWS

Chile v Ecuador (00:30 BST)

The Ecuador team is in and all three Premier League players start for the visitors.

Watford defender Juan Carlos Paredes, Swansea winger Jefferson Montero and West Ham striker Enner Valencia are all in.

Falcao: flop or formidable?

Chile v Ecuador (00:30 BST)

Colombia get their campaign under way against Venezuela on Sunday and all eyes will be on captain Radamel Falcao.

Image caption: Will a sharp new haircut do the job for Falcao?

The 29-year-old has had a bad time of it, missing last summer's World Cup with a knee injury and then having an unproductive loan spell with Manchester United.

However, things may be looking up for El Tigre, with Chelsea boss Jose Mourinho saying he would like to help Falcao revive his career and says he is "hurt" by criticism of the Colombia striker.

Chelsea are understood to be in talks over a move, but it is reported they would want a reduction in his £265,000-a-week wages.

"If I can help Falcao reach his level again, I will do it," said Mourinho

Speaking to DirecTV Sports, he added: "It hurts me that people in England think that the real Falcao is the one we saw at Manchester United."

Post update

Chile v Ecuador (00:30 BST)

Well Kayman, I'm impressed with that, I have to say. I just searched for your establishment and the first link which came up was the question:

'What is the best nightclub in Africa?'

That's a very big question. If you're even in the running then fair play to you.

Join the debate on the BBC Sport Facebook page

Chile v Ecuador (00:30 BST)

Kayman Kahindi: "I am following closely on my TV set from Labz Discotheque, Kabwohe, Sheema District, Uganda."

Post update

Chile v Ecuador (00:30 BST)

A Terry's Chocolate Orange (superficially damaged) to the first person to find this photo on Twitter.

Women's latest

China 0-0 Netherlands

In the Women's World Cup in Canada, it's 0-0 at half-time between China and the Netherlands.

Post update

Chile v Ecuador (00:30 BST)

"Usually the Copa kicks off with a match between the hosts and Bolivia - picked to get the home side off to a winning start. Often the Bolivians fail to read the script, and hang on for a dogged draw.

"This time, though, Chile have to wait until the third game to have a go at Bolivia. First up tonight are Ecuador, opponents who carry a much bigger threat.

"Chile coach Jorge Sampaoli is worried by the pace of the Ecuadorians on the counter-attack - a point well made on Saturday when, with Swansea's Jefferson Montero on fire, Ecuador saw off a decent Panama side by a 4-0 margin.

"Chile, true to their style, will look to carry the game to opponents who can break at great speed. It is a classic clash of styles, and promises to get the 2015 Copa off to an enthralling start."

Opening ceremony time! Dancers! Lights! Fire!

Questionable codpieces! Stewards in fluorescent jackets!

They're all there...

Join the debate at #bbcfootball

Chile v Ecuador (00:30 BST)

Messi, Higuain, Aguero, Tevez, Di Maria, Lavezzi, Mascherano, Pastore.

Argentina start the Copa as favourites for a reason, it's a staggeringly good squad on paper. But is it a good squad in Chile?

We shall find out over the next few weeks. Who do you make favourites, who are you looking forward to seeing in action? Any potential signings out there you want to flag up? Anyone ever been to Chile?

Get in touch at #bbcfootball, pop on to the BBC Sport Facebook page or BBC Sport's Google+ area.

You can also text us on 81111 in the UK only - don't forget to say who you are and where you are texting from.

Mascot matters

Chile v Ecuador (00:30 BST)

Every tournament needs a mascot and a massive animal is normally a sound bet.

The good people behind Chile 2015 have followed that path to a logical conclusion. Meet Zincha, a young culpeo fox. You know, a culpeo fox - a South American species of fox.

It is the second largest native canid on the continent, after the maned wolf. But we all knew that.

Don't pay the Pope

Chile v Ecuador (00:30 BST)

The Vatican has suspended a deal that would have seen it receive US $10k for every goal scored at the Copa America.

The region's football association, Conmebol, had agreed to donate the money to a charity sponsored by Pope Francis.

However, in light of the recent corruption scandal, the Vatican has asked Conmebol not to donate money.

South American media have reported that Archbishop Marcelo Sanchez sent a letter to Conmebol saying: "Given the well-known public events that have happened since 27 May, I have decided to suspend the application of the agreement until otherwise informed. Please abstain from making any money deposits."

Where are we?

Chile v Ecuador (00:30 BST)

There are nine stadia in use in this year's Copa, with tonight's game held at the Estadio Nacional in Santiago.

The Nacional holds around 47,000 fans and is based on Berlin's Olympic Stadium. It is filling up nicely with the home fans in expectant mood.

Post update

Chile v Ecuador (00:30 BST)

Shotgun not sitting behind these guys...

Post update

Chile v Ecuador (00:30 BST)

We expect team news from Santiago in the next 10 minutes or so but I'd be staggered if Alexis Sanchez doesn't start for Chile.

First goalscorer of the tournament?

Post update

Chile v Ecuador (00:30 BST)

Some breaking news from the Premier League tonight as Liverpool have turned down a bid of £25m plus add-ons from Manchester City for Raheem Sterling.

It is believed Liverpool value the England international forward at £50m (FIFTY MILLION).

The 20-year-old joined the Reds from QPR in 2010 and is under contract until 2017, but has rejected the offer of a new £100,000-a-week deal.

Read more on this developing story.

£50m for Raheem Sterling? Are we sure...?

Goals on the cards?

Chile v Ecuador (00:30 BST)

"Tournaments often find a tone, which can have a tendency to hang over all the matches. In the last Copa, played in Argentina four years ago, defences came out on top. This Copa has the potential to produce something much less attritional.

"In 2011 Argentina had yet to find a way to harness the talents of Lionel Messi. Neymar was a callow youth, still in the early stages of development.

"James Rodriguez was with Colombia's Under-20 side - and as soon as he was promoted the senior side started to get full value for their generation of strikers. Ecuador were a mis-selected mess in 2011. All these teams would clearly seem to have more attacking firepower to offer this time round."

What are Chile's chances?

Chile v Ecuador (00:30 BST)

The bookmakers make Chile third favourites to win the Copa, behind Brazil and favourites Argentina.

Image caption: Arturo Vidal could tackle a rhino

Their squad has plenty of class throughout, with Claudio Bravo of Barcelona, Juventus' Arturo Vidal and Arsenal's Alexis Sanchez the key men.

English football fans will recognise a few more too, as Mauricio Isla, David Pizarro, Eduardo Vargas, Jean Beausejour and Gonzalo Jara all having played in the Premier League or below.

Plus Gary Medel, once of Cardiff. It looks a good mix of youth and experience to me.

99 problems but Sanchez ain't one

Chile v Ecuador (00:30 BST)

For 99 years Chile have been striving to win the Copa America.

They have had to watch neighbours Argentina amass 14 titles, look on enviously as Uruguay collected 15 trophies and see Brazil lift the cup on eight occasions.

Image caption: Is Alexis Sanchez the man for Chile?

Even Bolivia have won it once. Bolivia!

But could this be Chile's year? The tournament is being played on home soil, their goalkeeper has just helped Barcelona win the treble, their midfield dynamo was on the losing side in the Champions League final and their livewire forward comes into the competition on the back of one of the great Wembley Cup final goals.

Thirty-seventh-time lucky?