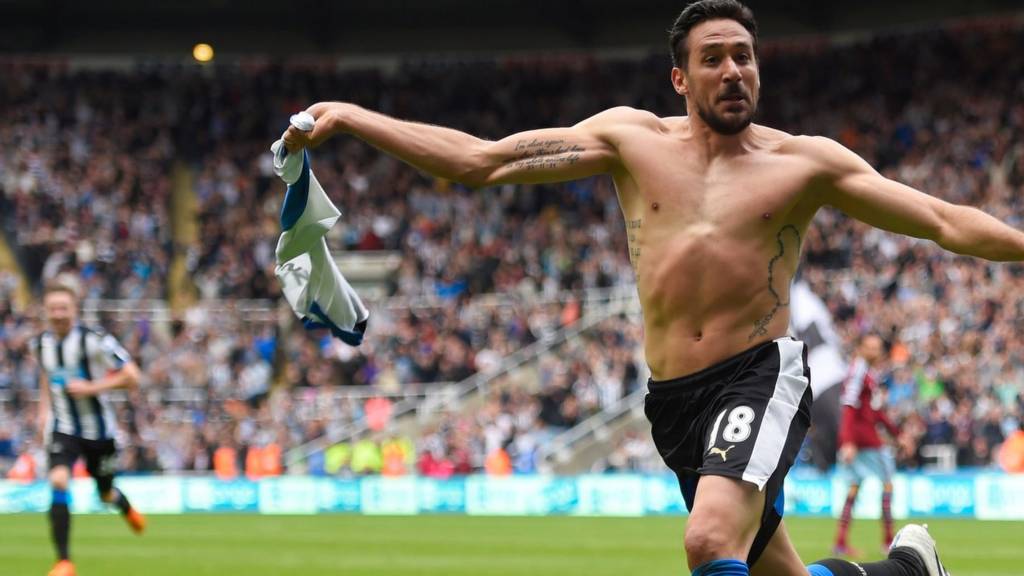 That's it for today and for this Premier League season. It's been a pleasure. Cue emotive montage...

Andrew Wall: Burnley have shown fighting spirit in the entire Premier league season and were unlucky in that they did not survive relegation.

Richard McQuade: Bad preparation for next week's cup final for Villa as they end with a defeat against Burnley who bid farewell to the top flight.

Calling it quits

Aston Villa 0-1 Burnley

Ings 'wants fresh challenge'

Aston Villa 0-1 Burnley

Burnley boss Sean Dyche on the departing Danny Ings: "I just think he wants a fresh challenge and a bigger challenge, he certainly wants to be in the Premier League.

"He gets a lot of the headlines and I understand why but I wouldn't single him out against the rest of the group."

'Mentality has to change'

Aston Villa 0-1 Burnley

Aston Villa manager Tim Sherwood: "Where you finish in the league is where you deserve to finish. We have a lot of players, and we can't just keep bringing them in. The mentality needs to change, it's been a club used to losing games and it's not good."

Decisive moment

Aston Villa 0-1 Burnley

Where will Danny Ings be playing next season? The striker had three touches inside the Aston Villa penalty area this afternoon but made one of them count. It was his 11th goal of the season.

The story of your season in emojis

I'm not even going to pretend to understand this. It's for the young ones, apparently...

Image caption: Your stories of the season in 'emojis' were brilliant and baffling - here's a selection of the best

Quality control

Crystal Palace 1-0 Swansea

Swansea manager Gary Monk: "It's been an incredible season, to finish where we are with a record number of points.

"Some of the quality has been the best I've seen at the club and hopefully it's a foundation to build on."

'We want to kick on'

Crystal Palace 1-0 Swansea

Crystal Palace boss Alan Pardew: "We have a squad here who is not short of quality or character and they've shown that. It's been a great experience, I've thoroughly enjoyed it. We want to kick on now."

The Pardew effect

Swansea City 0-1 Crystal Palace

Get involved

#motd, text 81111, BBC Sport Facebook, Google+

Bob Vincent: Palace was a great game. But it's Palace. So it's on 10th.

Ninth actually, Bob...

The goal of the season vote is now closed and 35% of you have gone for Jack Wilshere's effort. Charlie Adam, the Dundonian Pele, is in second with 21% and Juan Mata third with 12%.

'Europe got in the way'

Everton 0-1 Tottenham

Everton boss Roberto Martinez: "The problem has been we couldn't enjoy any momentum in the first half of the season. I think Europe got in the way; it's not an excuse, it's a reason, but something we can learn from.

"We want to be in Europe, we want to fulfil our level in the domestic competitions."

'Fifth is fantastic'

Everton 0-1 Tottenham

Tottenham boss Mauricio Pochettino: "To finish fifth is fantastic for us. It changes a lot of our plans for the summer. We go straight to the Europa League group stage and it's very important for the club to prepare with more time for next season."

AtourT: Eric Dier crosses like Beckham.

Arry Gill: What a cross, takes everyone out of the game.

Timmy Robson: Harry Kane is the real deal...... Comes to a point were you can't keep doubting him.

Kane is able

Everton 0-1 Tottenham

Men In The Middle: Looking forward to the soft focus montage of Chris Foy's best card brandishings #MOTD #ThankYouChrisFoy

Man City v Southampton was Chris Foy's last game as a Premier League referee.

'Finishing seventh is our title'

Man City 2-0 Southampton

Southampton manager Ronald Koeman: "If we get that chance to play in Europe, I would like that. It means a lot for the club and a lot for the players.

"We had a difficult pre-season but we have always tried to play attractive, offensive football. If you finish seventh, that is our title, behind the big six."

Southampton will qualify for the Europa League if Arsenal beat Aston Villa in next Saturday's FA Cup final.

Guarantee of goals

Man City 2-0 Southampton

Yousaf: A Chelsea fan of 18 years. Shed a tear when Super Frank Lampard scored his final PL goal. #Legend

Harry Wallace: Lamps has always had that ability to force defenders to leave him alone. It's like a mind trick.

'I've no doubt I will stay'

Man City 2-0 Southampton

Manchester City manager Manuel Pellegrini on the likelihood of staying at the club: "I've never had any doubt in my mind all season.

"I know what the owners think, I speak with them all the time. They're not owners who think that, because you do not win the title, you must go out."

Golden boy

Man City 2-0 Southampton

Goodbye... again

Man City 2-0 Southampton

Copyright: Vincent Kompany

'We have to get back to where we want to be'

Leicester 5-1 QPR

QPR manager Chris Ramsey: "We are in the position we are because we haven't had the quality to take chances when they come and because we've made too many errors in defence.

"Everybody here wants to look to the future and to start putting plans in place to get back to where we want to be as a club."

Post update

Leicester 5-1 QPR

Lisa O'Keeffe: What's with all the snazzy pitch designs on #Motd tonight?

Geordie Tractor Boy: Leicester celebrate staying up by letting the local kids have a go at cutting the pitch.

'We need to stretch ourselves'

Leicester 5-1 QPR

Leicester manager Nigel Pearson: "Let's keep the celebrations in context. It's a fabulous achievement but I wouldn't want to be looking at avoiding relegation as a target to aspire to.

"I'm a big believer in setting targets which are going to stretch people but I have also got a sense of realism about them."

Pitch perfect

Leicester 5-1 QPR

Looks like the Leicester groundsman has had fun this week, judging by all those jaunty stripes on the pitch.

David Burke: Chelsea's immaculate preparation won them the league. They have thrown the gauntlet and it's up to the others to keep up and compete.

Steve Limb: 99% of football fans would love their team to play boring boring football like Chelsea I'm sure.

Party time

Chelsea 3-1 Sunderland

'Making the impossible, possible'

Chelsea 3-1 Sunderland

Sunderland boss Dick Advocaat: "At least we tried to score some goals and give them a hard time. We gave cheap goals but they deserved it. The players responded excellently - to get 12 points makes me very proud. My assistant said to me we made the impossible, possible. I have a big decision to make."

Chris Carver: Who's idea was it to carry Drogba off? The worst thing I have ever seen.

James Moore: Drogba being chaired off the field.. One of the best moments of the game! Love it!

I'm with you, Chris. Straight red card offence. Four-match ban.

'We are a complete team'

Chelsea 3-1 Sunderland

Chelsea manager Jose Mourinho: "I think we have everything. Can anybody say we don't play fantastic football? No. Well, they can, but it's not true. We have art in our game but we also have fantastic spirit, organisation and pragmatism. We are a complete team and that is why we are champions."

Fond farewell?

Chelsea 3-1 Sunderland

"And all of you people, you were unbelievable today... As always for last 11 seasons," tweets Petr Cech, perhaps hinting at a future away from Chelsea.

Get involved

#motd, text 81111, BBC Sport Facebook, Google+

Bill Biss: Gone old school today - avoided all scores until MOTD. Much harder these days, even a cricket report I read alluded to the Liverpool score.

He's here all week.

Abdicating the throne

Chelsea 3-1 Sunderland

Vote for goal of the season

What is your goal of the season? Chose one of the options on the right (desktop users) or by clicking the tab above (mobile).

Ready for a holiday

Arsenal 4-1 West Brom

West Brom manager Tony Pulis: "I think the performance against Chelsea took a lot out of the players. Maybe I should have rested a couple, because they looked jaded.

"It was a disappointment because we'd done so well. We hadn't reached the standards you need. But we were better in the second half."

'Slow start cost us'

Arsenal 4-1 West Brom

Arsenal manager Arsene Wenger: "We had a slow start to the season, but progressively, we got stronger, and from January onwards we got competitive.

"We have qualified directly for next season's Champions League, but we want more. We want to challenge for the Premier League. But first we want to win the FA Cup next weekend."

Rob Atkinson: I could watch Wilshere's goal over and over again!

Dan Murfin: Thought Walcott's first was good, Wilshire Smashing it! Wow.

Adam Stubbings: Late, late Goal of the Season candidate from Wilshere. Awesome strike.

Hip with the kids

Arsenal 4-1 West Brom

Did we all enjoy Arsene Wenger's hip hop hand gesture to celebrate that Jack Wilshere goal?

Three and easy

Arsenal 4-1 West Brom

Theo Walcott was deployed in an advanced role for Arsenal, and struck a hat-trick against West Brom.

Vote for goal of the season

Final day means we have a vote and it is your chance to pick goal of the season.

The vote will start at 23:15 BST. Here are the contenders:

1) Angel Di Maria 2) Graziano Pelle 3) Philippe Coutinho. 4) Juan Mata. 5) Charlie Adam 6) Bobby Zamora 7) Jermain Defoe 8) Jack Wilshere

Full details will be given on the show.

Seven goals in 20 seconds

Stoke 6-1 Liverpool

Conor McNamara

BBC commentator

We asked Match of the Day commentator Conor McNamara to give us a 20 seconds report on Stoke's win over Liverpool. So he did...

'Everything came together'

Stoke 6-1 Liverpool

Stoke manager Mark Hughes: "The level of performance in that first 45 minutes was exceptional and I don't think it reflects badly on Liverpool. I think most teams would have struggled to cope with the quality and intensity of our play.

"Everything came together and we showed what a good side we are."

'If the owners want me to go, then I go'

Stoke 6-1 Liverpool

Liverpool manager Brendan Rodgers: "I've always said that if the owners want me to go, then I go, it's as simple as that.

"For everybody connected with Liverpool, we are all embarrassed by that. They [the fans] deserve an apology. They were angry at half time - and rightly so - because that was awful, absolutely awful.

"They have every right to be angry and frustrated and of course I take full responsibility for that as the manager."

Daniele Accurso: Lovely little header there from Jon Walters. I'd happily take 11 of him in my team.

Isa Zina: Sterling benched? With Sturridge out.. Rodgers might be losing it!

Freddie Hunt: Liverpool's defence today we're truly horrific. Did someone at Stoke pay off Mignolet?

Heads, he wins

Stoke 6-1 Liverpool

Lost cause

Stoke 6-1 Liverpool

Was Steven Gerrard really gesturing to his Liverpool team-mates to retrieve the ball from the net at 5-1 down with 20 minutes to play?

Doing things by half

Stoke 6-1 Liverpool

No you won't... Anyway, it's a Bank Holiday weekend so you can stay up a little later.

Arrivederci Allardyce

Newcastle 2-0 West Ham

West Ham decided to announce within minutes of their loss to Newcastle that manager Sam Allardyce will be leaving the club.

The 60-year-old has spent four years at West Ham, but the Hammers have decided not to renew his deal this summer.

Allardyce said: "I didn't want to stay. I suppose you could say it was mutual if they didn't want me to stay either."

Get involved

#bbcfootball, text 81111, BBC Sport Facebook, Google+

Raphael Wilson: I celebrated Gutierrez's goal like he was a MUFC player. I hope NUFC gives him a new contract, he deserves it.

Fran Reilly: I don't like Newcastle United, but I'm delighted for Jonas Gutierrez.

Derek Connor: Can't help but feel good for Gutierrez there. Must have felt such a long road back to playing.

'We have all made mistakes'

Newcastle 2-0 West Ham

Newcastle head coach John Carver: "We can't afford to get ourselves in this situation ever again. We all know we have made mistakes, everybody, and we have admitted those mistakes.

"This is a big summer now and I have had assurances that we are going to spend money, so the fans can now go away, have their summer holidays, look forward to players coming through the door, but also look forward to that fixture list coming through."

Not entirely sure you'll still be at the club to do likewise, John...

Get involved

#bbcfootball, text 81111, BBC Sport Facebook, Google+

Joe Simkins: Abel Hernandez should serve a ban for his right hook to Phil Jones, during the Hull v Man Utd game. It was a better punch than any thrown in the Mayweather-Pacquiao fight.

Chris Wilson: Steve Bruce says Hull did enough to get something from the game. They did. A point.

Matt Cox: Things I'll miss on MOTD: Van Gaal's hair and accent.

Man Utd 'rose to big occasions'

Hull City 0-0 Manchester United

Manchester United manager Louis van Gaal: "When we analyse our season, we have played our best matches against the top six and our worst matches against the bottom six."

Gradual slide

Hull City 0-0 Manchester United

To think the season started so well for Hull...

Mind you, if you fail to score in 17 of 38 games you're asking for trouble.

'Relegation is an awful experience'

Hull City 0-0 Manchester United

Hull manager Steve Bruce: "It's an awful experience and it will dawn on the players we are not in the Premier League any more.

"There is talking and soul searching to be done. It is bitter and sad at the moment. We all have to take the brunt of it, we have not been good enough."

Get involved

#bbcfootball, text 81111, BBC Sport Facebook, Google+

Lucan aka Gonzales: Fair play to the linesman in the Hull v Man Utd game, both offside calls were correct.

Paul Seaton: Do we really have to put up with this Newcastle kit every Saturday night for another year?

Stephen Mitchell: If only Hull learnt the offside rule today, then they might have stayed up.

A fairytale story

Newcastle 2-0 West Ham

Even a miserable old sod like me almost smiled when cancer survivor Jonas Gutierrez scored Newcastle's second goal.

'Fellaini was unbelievably stupid'

Hull City 0-0 Manchester United

Louis van Gaal on Marouane Fellaini's sending off: "It was unbelievably stupid because next season he starts in the stands."

Staking a claim

Hull City 0-0 Manchester United

We can criticise Hull's finishing all night, but Victor Valdes looks the part in the Manchester United goal, doesn't he?

Doing it the right way

Newcastle 2-0 West Ham

Newcastle's best and most frequent attacks came down the right through Moussa Sissoko, who was assisted by attacking full-back Daryl Janmaat. He set up striker Emmanuel Riviere in the opening minute and from then on had the beating of West Ham left-back Aaron Cresswell.

Post update

Hull City 0-0 Manchester United

Hull scored 33 goals in 38 Premier League games this season.

That was more than Sunderland and Aston Villa (both 31) and Burnley (28) but they scored just five in their final 10 games.

Falcao leaves Man Utd

Hull City 0-0 Manchester United

Manchester United have decided not to keep Radamel Falcao following the end of his season-long loan from Monaco.

The Colombian missed Sunday's 0-0 draw with Hull due to injury and scored just four goals in 29 appearances.

United did not take up a reported £43.2m option to buy the 29-year-old, who did not net in his final 13 games.

"Falcao is a top professional and a good human being," said Louis van Gaal. "On behalf of myself and everyone at the club I would like to wish him well for the future."

Friends or foes?

Hull City 0-0 Manchester United

You suspect Alan wasn't the only Geordie with similar allegiances today...

Get involved

#bbcfootball, text 81111, BBC Sport Facebook, Google+

Suzanne Ramshaw: I'm just gonna enjoy the last MOTD of the league season and be grateful my beloved NUFC survived! Phew.

Matt Lewsley: Alan Shearer will have his Cheshire Cat grin on tonight then!

Logan Robson: Stoke vs Liverpool should be first, then Newcastle.

Jamie Warriar: Feel sorry for Hull and Brucie but they've had all season to dig themselves out, not just one game. But I'm also over the moon for Jonas. Deserved to bow out of Newcastle that way. To see him score and keep them up is a nice moment regardless of how they've played this season. Touching.

The theme tune has started, get yourself sat down...

Now the important part - when are your team on? No complaints from Villa and Burnley fans, please. After all, the former have an FA Cup final to look forward to and the latter... well, think of it as us prolonging your stay in the Premier League.

The final @BBCMOTD of the season and @alanshearer and Danny Murphy are ready to shine....

We know that you know and you know that we know, so we might as well talk like grown ups. Besides, if you're still able to avoid the scores in this day and age, you're a better man than me.

The main news of the day is that Hull have been relegated to the Championship, their goalless draw with Manchester United rendered moot by Newcastle's 2-0 victory over West Ham.

Elsewhere, Liverpool captain Steven Gerrard's farewell to the Premier League ended with a 6-1 skelping at the hands of Stoke and Arsenal warmed up for the FA Cup final by putting four past West Brom.

Champions Chelsea beat Sunderland 3-1, Leicester City battered five past relegated QPR, Manchester City brushed aside Southampton 2-0, Crystal Palace scored the only goal against Swansea, Tottenham won 1-0 at Everton and Burnley departed the top flight with a 1-0 win at Aston Villa.

First, the nuts and bolts. The programme starts at at 22:30 BST on BBC One (23:20 in Scotland, once Sportscene is finished) or you can follow it on this very page via the BBC Sport website or app. What a world we live in.

Might you, the coverage is for UK users only...

Right, get the kettle on, look out your favourite biscuits and find a comfortable chair... the final Match of the Day of the season is coming up.

Plenty fans of Hull and Liverpool will be busy pretending that the events of today did not happen, understandably enough, but the rest of us can still revel in their misfortune over the next couple of hours.