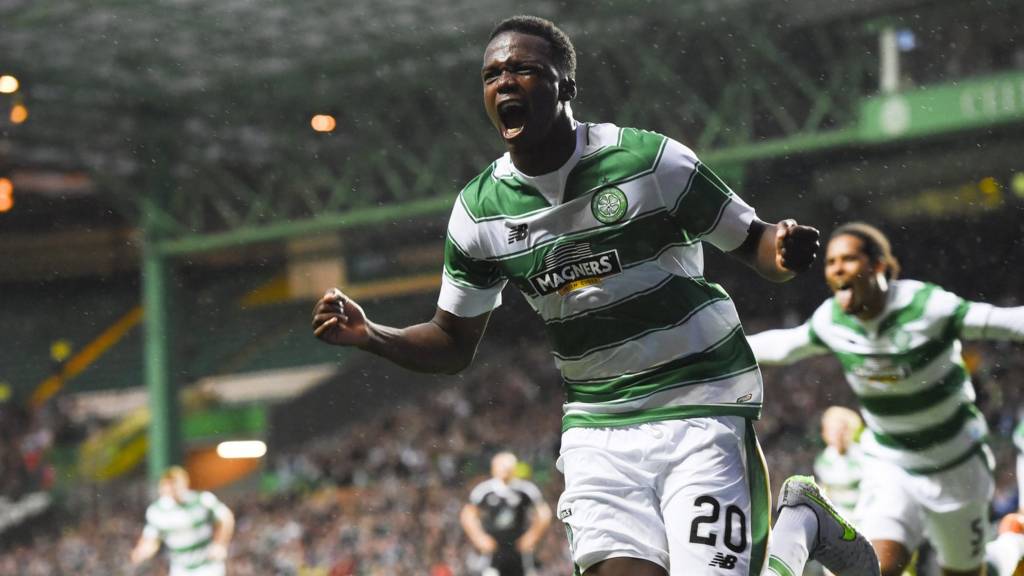 Celtic v Qarabag as it happened
BBC Radio Scotland 810MW/DAB
Good night and thank you for your contributions.

Please join us again tomorrow afternoon for live coverage of Kairat Almaty v Aberdeen in the Europa League third qualifying round first leg. That match kicks off at 15:45 BST.

Almost time for me to sign off.

Should they progress, they will enter the Champions League play-off round - the final hurdle to the group stage of the competition.

Celtic travel to Azerbaijan for next Wednesday's return leg at the Tofiq Bahramov Stadium in Baku.

Celtic manager Ronny Deila

"I think it was a very good football game. Two good teams. I'm happy that we got a clean sheet and a goal. We did enough to get one goal and I'm happy with that."

Image caption: Defender Dedryck Boyata has had quite a start to his Celtic career, scoring two goals in his three European appearances so far

Former Celtic forward Scott McDonald

"I think Ronny Deila will be pleased in the end to come out with at least a lead."

Pat, Glasgow: "boyata exploits the aerial weakness again."

Anonymous: "Commons & Griffiths should have started. It's goals we need and these guys can provide..."

Chris McLaughlin

BBC Sport at Celtic Park

"A fairly muted cheer of satisfaction greets the final whistle here at Celtic Park. A 1-0 win but fans head home knowing next week's trip to Azerbaijan is going to be a very tricky one."

FULL-TIME

Celtic 1-0 Qarabag

Celtic will take a solitary goal lead into next week's return leg in Azerbaijan. They wanted a clean sheet and a lead - they got both.

Join the debate at #bbcscotfootball

Conor Cunningham: "So happy and now to get another. Theres no turning baku for qarabag now #bbcscotfootball"

MBEHAN: "Didn't take Commons long to make an impact did it ? #classact #bbcscotfootball"

Emilio Izaguirre is able to continue for Celtic.

There will be four minutes of stoppage time.

Rydell Poepon takes the place of Alharbi El Jadeyaoui in Qarabag's final substitution.

Blow for Celtic as Emilio Izaguirre pulls up in pain clutching his thigh. Celtic have used up all their substitutions.

Kris Commons has made a difference since coming on and he shoots narrowly wide.

Elvin Mammadov fires well over the Celtic crossbar, prompting ironic cheers from the home crowd,

Five minutes left of regulation time.

Not long before that goal, Qarabag made a change with Joshgun Diniyev replacing Dani Quintana.

Chris McLaughlin

BBC Sport at Celtic Park

"Boyata lifts the roof off Celtic Park with the goal the Celtic fans have been so desperately craving. Sighs of relief all round. Great ball in from Commons."

GOAL

Celtic 1-0 Qarabag (Boyata)

He scored Celtic's first goal in the last round and he's done so again. Dedryck Boyata gets free of his marker to meet Kris Commons' corner and head the hosts ahead.

Gary Mackay-Steven's shot comes off Gara Garayev and loops narrowly over the crossbar.

Kris Commons makes his first competitive appearance of the season as Nadir Ciftci makes way. Celtic's final change.

Ibrahim Sehic is out quickly to collect after James Forrest delivers for Celtic. Time beginning to run out in this first leg.

Chris McLaughlin

BBC Sport at Celtic Park

"Qarabag's game plan working very well for now - organised without being flashy and not taking any chances. Celtic look to be running out of ideas."

Image caption: A header by Virgil van Dijk that was saved has been Celtic's best effort of the game so far

Join the debate at #bbcscotfootball

Samad Safarov: "#bbcscotfootball If this match ends with a draw, a very hard match in a far and hot country awaits Celtic fc"

Elvin Mammadov comes on for Javid Tagiyev in Qarabag's first change.

Image caption: Celtic and Nadir Ciftci have had a frustrating night in front of goal so far

Chris McLaughlin

BBC Sport at Celtic Park

"The biggest cheer of the evening as Leigh Griffiths enters the action. He wasn't happy at being left out again. Can he give Celtic a much needed goal?"

Striker Leigh Griffiths makes his entrance for Celtic, replacing midfielder Nir Bitton. A statement of intent from manager Ronny Deila.

Another effort from Virgil van Dijk, this time a shot from outside the box and it's not too far over.

Stefan Johansen's free-kick is headed firmly towards goal by Celtic defender Virgil van Dijk but goalkeeper Ibrahim Sehic throws himself to his left to make a fine save.

With around 25 minutes left, the Qarabag defence are growing in confidence and doing their best to cut out the space available to Celtic.

Nico: "The quality of passing from midfield tonight is appalling. None of the teams who automatically qualify for group stages pass like this. Very poor."

Anonymous: "So when is Griffiths coming on? We need goals and Deila plays a guy who hasn't scored a goal."

Chris McLaughlin

BBC Sport at Celtic Park

"The game now turning into the kind of scrappy battle Celtic wanted to avoid. The frustration from the stands, a suggestion the home fans might not fancy their side's chances in Azerbaijan next week."

Celtic manager Ronny Deila goes to the bench with James Forrest taking over from Stuart Armstrong.

Qarabag's first booking as Ansi Agolli is cautioned for taking down Gary Mackay-Steven.

Nadir Ciftci fires a shot straight at goalkeeper Ibrahim Sehic. That was the kind of glimpse of goal he had been waiting for.

Join the debate at #bbcscotfootball

Conor Cunningham: "come on the hoops we can do it and go to baku comfy #bbcscotfootball"

Chris McLaughlin

BBC Sport at Celtic Park

"Ronny Deila standing arms folded on the touchline. His side continue to dominate this match but they desperately need a goal."

Celtic driving forward with more purpose now and Nadir Ciftci heads just wide from Emilio Izaguirre's cross.

Nir Bitton sizes up a shot from distance but it rises over the Qarabag crossbar.

Groans from the home crowd as Gary Mackay-Steven is penalised inside his own half. Frustrating start to the second half for the hosts.

Join the debate at #bbcscotfootball

Paddy Docherty: "We are going to have to pick things up and get at least a 2-0 lead to avoid a tricky away trip! #bbcscotfootball"

The match resumes for the second half.

Kevo: "what does Leigh Griffiths have to do to start we need goals he can give us them"

Pat, Glasgow: "celtic's best chance will be at set pieces where qarabag are vulnerable and van dijk and boyata are dangerous."

Mark Scullion: "We can still win by two c'mon the Hoops"

Chris McLaughlin

BBC Sport at Celtic Park

"Qarabag heading up the tunnel happy with their 45 minutes' work. They've grown in confidence as the game has progressed. Celtic passing the ball well at times but lack of end product is frustrating the fans. Can't imagine it'll be too long before we see Leigh Griffiths. Time for a pie and a heat. #pressroom"

HALF-TIME

Celtic 0-0 Qarabag

The first half ends without a goal. Not much in the way of chances so far in a tight contest in Glasgow.

Fergal: "Come on Celtic don't concede tonight, that's the main thing"

Richard Almeida de Oliveira fires in the free-kick and Celtic goalkeeper Craig Gordon saves the ball to safety.

Qarabag are allowing Celtic very little space on the ball and have become adept at winning free-kicks. Virgil van Dijk is the latest player penalised and he is booked. Dangerous position for Qarabag's free-kick.

Join the debate at #bbcscotfootball

christopher wren: "#bbcscotfootball settle for a 1-0 victory for the hoops tonight I think , disappointed @Leighgriff09 isn't starting"

Decent break from Qarabag with Alharbi El Jadeyaoui getting clear of the Celtic defence but his cross goes out of play, much to the frustration of his team-mates.

Gerry: "Celtic need 3 goals this team will be dangerous at home"

Quintana received some treatement after that foul by Izaguirre but has been able to continue. Before too long, he wins another free-kick for Qarabag.

Dani Quintana, who has been a fulcrum of most of Qarabag's attacking play so far, is fouled by Emilio Izaguirre, resulting in a booking for the Celtic defender.

Join the debate at #bbcscotfootball

Stef McCormack: "Sounds like a decent game so far for #Celtic will take a 1-0 any time #bbcscotfootball"

A Celtic corner puts more pressure on the Qarabag defence but the hosts are eventually frustrated by the award of a free-kick in favour of the visitors.

Chris McLaughlin

BBC Sport at Celtic Park

"Celtic continue to look lively but Ronny Deila might be a little concerned that they haven't properly tested Sehic in the Qarabag goal after 30 minutes."

Richard Almeida de Oliveira has a pop at goal for Qarabag. Plenty of pace on it but it is well past the frame of the Celtic goal.

Image caption: Gara Garayev and Stefan Johansen contest possession in the first half at Celtic Park

Former Celtic forward Scott McDonald

"Celtic are really on the ascendancy. Qarabag look like a team with not a lot of pace. Celtic will be encouraged."

Join the debate at #bbcscotfootball

MBEHAN: "Why is RD starting with his 2 best goal throats on the bench #confused #bbcscotfootball"

Finally, a decent effort at goal. Gary Mackay-Steven plays some nice one-twos around the Qarabag box before firing in a shot and though Ibrahim Sehic initially fumbles, the goalkeeper recovers.

Chris McLaughlin

BBC Sport at Celtic Park

"Ciftci looks like a man desperate to get his first goal. He's started well. Always keen to drop deep in search of the ball. In other news, I'm rummaging about in my bag looking for gloves. #July."

Image caption: Hearts head coach Robbie Neilson (centre) and Partick Thistle manager Alan Archibald (right) are among the interested parties having a look at Celtic in action this evening. Hearts and Thistle will be playing Ronnie Deila's side in the coming weeks

Nadir Ciftci tries to get on the end of a through ball but the Qarabag defence stand up well to the latest advance from the hosts.

Image caption: Kris Commons is back in the Celtic squad this evening following injury, one of the substitutes available to manager Ronny Deila

Dedryck Boyata slices the ball somewhat as he tries to make a clearance and is relieved to see the ball go to a Celtic team-mate, goalkeeper Craig Gordon.

Chris McLaughlin

BBC Sport at Celtic Park

"As expected, Qarabag knocking the ball around with confidence. They're enjoying more of the ball than Celtic would have liked at this early stage."

No goals or decent efforts so far as the two sides size each other up.

Join the debate at #bbcscotfootball

thomas bowman: "#bbcscotfootball why is ciftci starting again over @Leighgriff09 !! It's crazy!"

Paul Black: "Comfortable 2-0 for Celtic tonight. Ciftci to get off the mark hopefully #COYBIG #bbcscotfootball"

You can listen to live Sportsound commentary of tonight's match on BBC Radio Scotland 810MW and DAB digital radio.

Chris McLaughlin

BBC Sport at Celtic Park

"A decent atmosphere inside Celtic Park but the gaps in the stands mean it's not quite the hair raising reception that we've witnessed before here. Huge game. Ronny Deila told me before game that clean sheet is the most important thing tonight."

Image caption: Motherwell and former Celtic striker is part of BBC Radio Scotland's commentary team at Celtic Park this evening and believes the full-backs will be key in attack for the hosts this evening

Celtic manager Ronny Deila

"It's a good team (Qarabag) and a big team. They are good players.

"We are ready for it and we are looking forward to the game. It's important to get a clean sheet. We have to be really up for the game."

Image caption: Nadir Ciftci (right) gets the nod in attack this evening. He has yet to score for Celtic since joining from Dundee Untied while Leigh Griffiths (right) netted against Stjarnan last week

Let me know your thoughts on tonight's game. You can text 80295 or tweet using the hashtag #bbcscotfootball.

Image caption: The Scottish champions overcame Stjarnan of Iceland 6-1 on aggregate to reach the third qualifying round. Qarabag beat Montenegrin side Rudar Pljevlja 1-0 over two legs

Celtic: Gordon, Lustig, Boyata, van Dijk, Izaguirre, Biton, Brown, Armstrong, Johansen, Mackay-Steven, Ciftci. Subs: Bailly, Ambrose, Griffiths, Commons, Rogic, Janko, Forrest.

Qarabag: Sehic, Gurbanov, Guseynov, Sadygov, Agolli, El Jadeyaoui, Almeida de Oliveira, Garayev, Quintana, Tagiyev, Reynaldo. Subs: Veliyev, Vuqar Mustafayev, Mammadov, Salahi, Poepon, Yunuszada, Diniyev.

Referee: Robert Schorgenhofer (Austria)

Emilio Izaguirre returns to the starting line-up for Celtic tonight, taking over at left-back from the injured Charlie Mulgrew.

Nadir Ciftci again leads the line in attack for the hosts, with Leigh Griffiths again on the bench.

It's the first leg at Celtic Park, with the return in Azerbaijan next Wednesday.

Good evening and welcome to live coverage of Celtic v Qarabag in the Champions League third qualifying round.