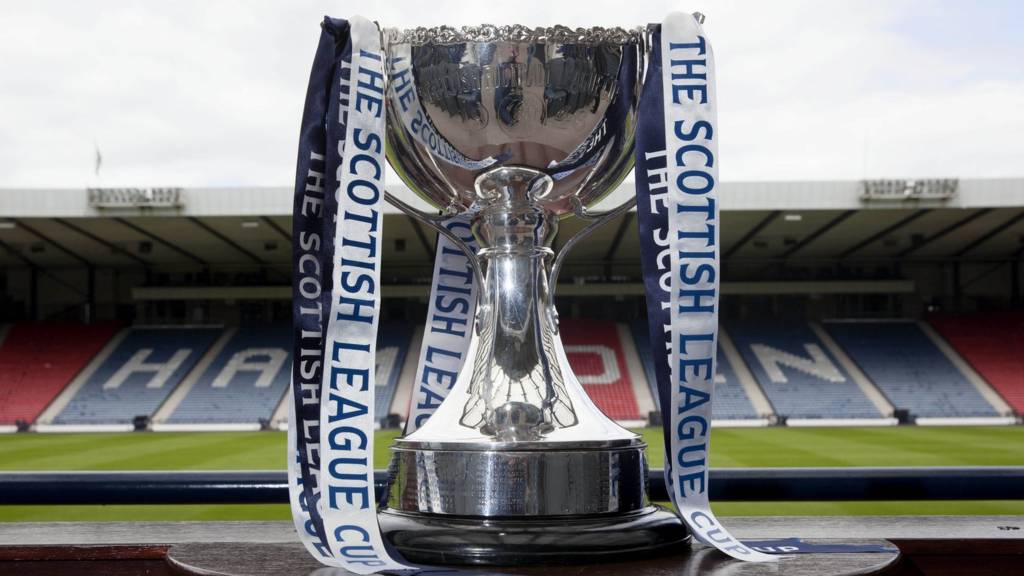 League Cup draw as it happened
We'll have reaction to this afternoon's draw on our website, Sportsound and Reporting Scotland later.

Thanks for your comments and company. Cheers.

BBC Scotland was on hand to snap a few pictures of the draw at Hampden.

Image caption: BBC Scotland's Jonathan Sutherland interviews Celtic coach John Kennedy

Image caption: Many clubs have their eyes on the prize

Get Involved

Tweet #bbcscotfootball

Pat Perez: I'll take Rangers! Fancy our chances! Let's go! Hehe #bbcscotfootball

Adam Campbell: Ross County away. It's certainly winnable. We've already taken one Premier League scalp. Come on ye Bairns! #bbcscotfootball

Are you happy with the draw? The sun has put in an appearance.

Tie of the round? Hibs v Aberdeen looks a corker; as does Kilmarnock v Hearts.

Kilmarnock v Hearts

Livingston v Inverness CT

Ross County v Falkirk

Rangers v St Johnstone

Celtic v Raith Rovers

Morton v Motherwell

Dundee United v Dunfermline Athletic

Hibernian v Aberdeen

The ties are scheduled for the midweek of 22/23 September

Image caption: More than a few juicy ties to look forward to next month

Your Views

Tweet #bbcscotfootball

Desmond Mehaffey: Rangers v St Johnstone. Happy with that #bbcscotfootball

Max Baggins-Craig: Aberdeen v Hearts (possibly this will be the final, prediction), they're the two most deserved teams without doubt.

The third-round ties are scheduled for the midweek of 22/23 September.

Dundee United v Dunfermline Athletic

Livingston v Inverness CT

BBC Sportscene's Jonathan Sutherland draws the first ball...

Not long to go now. SPFL chief executive Neil Doncaster and Pat Bonner share a word or two ahead of the big draw at the National Stadium.

Your Views

Tweet #bbcscotfootball

Andy Morris: Hearts for the Cup this year, as long as they don't draw Celtic before they get to Hampden. Would love and Old Firm game too.

Pat Perez: Hoping for a St Johnstone v Falkirk game. Have a feeling it would be a good game! LOL #bbcscotfootball

Rangers booked their place in the third round with a 5-0 thumping of Airdrie last night.

Image caption: Rangers were on song against Airdrie

Championship rivals Hibs, meanwhile, accounted for Stranraer with a 1-0 victory, courtesy of a Scott Rumsby own goal.

Image caption: Stranraer's Scott Rumsby netted an own goal as Hibs progressed

Get Involved

Text using 80295

David Limond, Shawlands: I'm a Rangers fan and I would love to draw Celtic. It would be the worst Celtic team in 10 years meeting the best Rangers team in 20 years.

John Lloyd, Rosyth: No club would fancy Dunfermline at East End!

Mac: Come on Aberdeen! Let's win it again!

Thankfully, the heavy rain and blanket of grey clouds above Hampden have given way to the odd sliver of blue sky.

It's not barbecue weather out there but it's a start...

YOUR VIEWS

Tweet #bbcscotfootball

Craig Mckenzie: I'd take Rangers at home for the mighty Dons. Let's see how good they really are under Mark Warburton!

Reece: Hoping for a Glasgow derby in the draw ... Oh wait Thistle are Out #bbcscotfootball

Rangers Till We Die: Think as a Rangers fan we'd take almost anyone on. I fancy Celtic at Ibrox... we'd welcome the chase.

Gary Martin: Give us Celtic at Ibrox...#WarburtonIsMagic #bbcscotfootball

Seeded clubs and numbers:

1 Celtic

2 Aberdeen

3 Inverness CT

4 St Johnstone

5 Dundee United

6 Ross County

7 Kilmarnock

8 Motherwell

Unseeded clubs and numbers:

9 Hearts

10 Hibernian

11 Rangers

12 Falkirk

13 Raith Rovers

14 Livingston

15 Morton

16 Dunfermline Athletic

The teams that finished in the top five of last season's Premiership enter the competition.

Hearts, Hibernian and Rangers are among the unseeded teams and could face Premiership opponents.

We couldn't see a certain draw, could we?

BBC Scotland is streaming events live from Hampden...

GET INVOLVED

Tweet #bbcscotfootball

Iain: Well, with Thistle out I'm going to be like an urchin looking through the glass of the sweetie shop, but OK then.

Who do you fancy in the draw? Text 80295, tweet using #bbcscotfootball or @bbcthomasmcg

BBC Sportscene presenter Jonathan Sutherland is hosting proceedings from 14:30 BST.

The draw will be conducted by SPFL Chief Executive Neil Doncaster, along with former Celtic goalkeeper Pat Bonner.

Glasgow may be under torrential rain this afternoon, but a ray of sunshine has appeared in the form of the Scottish League Cup draw at Hampden.

Image caption: Clubs are dreaming of making it all the way to Hampden in March

Holders Celtic, Aberdeen, Inverness CT, St Johnstone and Dundee United are among the seeded teams awaiting to hear their fate when the balls are drawn at the National Stadium.