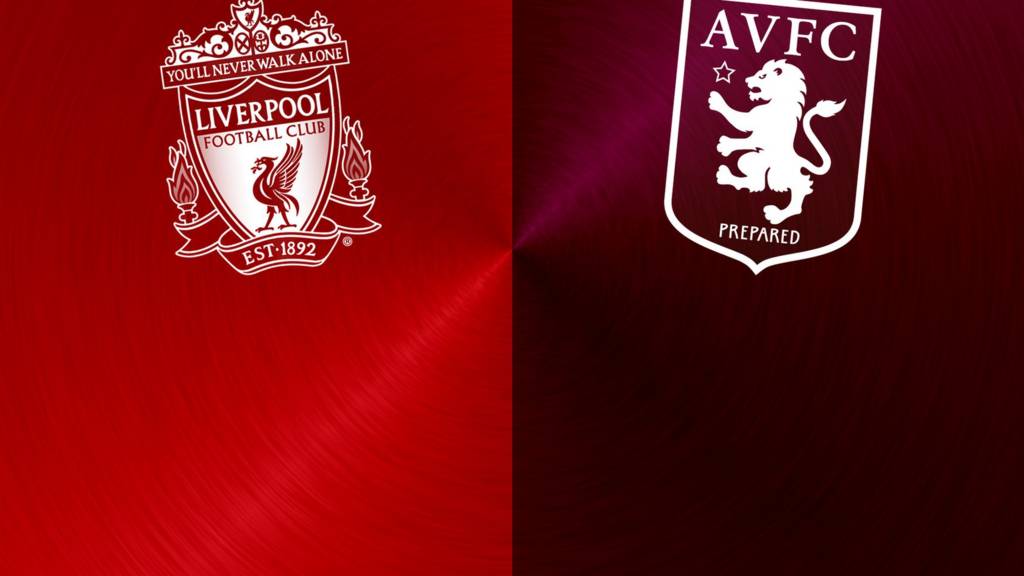 FULL-TIME - Liverpool 3-2 Aston Villa

Liverpool end a six-game run without a win (not including penalties) and end Villa's four-game unbeaten run at Anfield.

Great reception as you'd expect as Daniel Sturridge comes off for Joe Allen.

Four minutes added on. Can Villa muster a last chance?

Derek Mountfield

Former Aston Villa defender on BBC WM

Quote Message: Adama Traore has made a difference for Villa since he came on and you wonder why he didn't start if he was fully fit, he could have had a big impact.

'Very, very close' at Anfield

Liverpool 3-2 Aston Villa

Martin Keown

Former Arsenal defender on Final Score

"It looked pretty good at one stage for Liverpool, but Villa got straight back in it. It's very, very close this one."

Villa forward Scott Sinclair gets the ball in the box but he's immediately surrounded by a sea of red and the four or so defenders on him manage to panic him enough so he doesn't get a shot away.

Daniel Sturridge has another opportunity for number three but Brad Guzan gets down low to tip his shot around the post.

Daniel Sturridge has a chance for a hat-trick here but Micah Richards - once a Manchester City colleague - stands him up well at the edge of the box and blocks his shot.

Daniel Sturridge tries to find Danny Ings - another goal would kill this game off - but keeper Brad Guzan intercepts the ball, which was overhit.

Villa midfielder Idrissa Gana has a shot from outside the box but it's easily saved by keeper Simon Mignolet.

Villa defender Micah Richards heads a free-kick over the bar. Villa are still in this despite not playing particularly well. 

Sam on Twitter: This is the Brendan Rodgers' Liverpool we know and love - just outscore the opposition. At least we get SOMETHING to cheer about!

Ashan: If Brendan Rodgers Liverpool can put 3 goals past us we are certainly relegation bound.

Have your say using #bbcfootball now or on the BBC Match of the Day Facebook page.

Liverpool playmaker Philippe Coutinho takes his seventh shot of the game (he's yet to score) but it's straight at Brad Guzan from the edge of the box.

Gestede 'dominates in the air'

Liverpool 3-2 Aston Villa

Jermaine Jenas

Former England midfielder on Final Score

"If I was Tim Sherwood I would have no other instructions for Villa than get that ball into the box. Rudy Gestede is one of the best headers I've seen in a long time. He dominates Sakho in the air."  

Liverpool almost seal the game thanks to a brilliant free-kick from Philippe Coutinho. His effort from 25 yards is heading into the top corner but Brad Guzan tips it over.

Derek Mountfield

Former Aston Villa defender on BBC WM

Quote Message: Villa have got to tune in this time now they are back in the game, last time they switched off when they had scored this time they need to focus and not concede again.

GOAL - Liverpool 3-2 Aston Villa

Rudy Gestede

Well actually maybe the comeback is on again. Jordan Amavi's brilliant cross from the left is met by an outstanding header from Rudy Gestede - for his second goal of the game.

The man is an absolute animal in the air.

Just as they did after Liverpool's second, Villa make a change. Jack Grealish comes off and youngster Adama Traore - the former Barcelona winger - comes on.

GOAL - Liverpool 3-1 Aston Villa

Daniel Sturridge

And the comeback is over. Daniel Sturridge scores his second of the game. The striker plays the ball to Philippe Coutinho, who backheels it to the England man again and he fires home.

GOAL - Liverpool 2-1 Aston Villa

Rudy Gestede

Awful defending. Where are all the defenders? Alan Hutton beats his man down the right and crosses to Rudy Gestede, who is six yards out and unmarked scrambles home.

Liverpool have had seven shots to Villa's one in this half. But wait a minute...

It's all Liverpool now as Nathaniel Clyne finds Daniel Sturridge, who lifts the ball up into Brad Guzan's arms from inside the area.

A colleague has just pointed out the last time Liverpool beat Aston Villa at Anfield, Roy Hodgson was manager. Villa were unbeaten on their last four trips to the Reds.

'What Rodgers has been missing'

Liverpool 2-0 Aston Villa

Jermaine Jenas

Former England midfielder on Final Score

 "That's the little bit of quality we've been waiting for in this game. That's what Brendan Rodgers has been missing. As Milner lifts it over, the quality of the volley from Sturridge with the outside of his left foot was just beautiful, and the dance came out again too."  

Derek Mountfield

Former Aston Villa defender on BBC WM

Quote Message: That goal could have killed off Villa, we said how important the next goal would be and the red shirts have got it and that could be that.

Straight after that goal, Villa make a change as Jordan Veretout comes on for Carlos Sanchez in midfield.

Hard to see a way back for Tim Sherwood's lads here.

GOAL - Liverpool 2-0 Aston Villa

Daniel Sturridge

Daniel Sturridge scores his first goal since March. The striker plays an aerial one-two with James Milner and hits a brilliant volley with the outside of his foot from about 16 yards out.

Sturridge used to be a Villa youngster and, like Milner earlier, he celebrates his goal too. With that stupid dance.

Liverpool win a free-kick after Scott Sinclair handles - Philippe Coutinho takes a clever effort under the wall but it's saved by Brad Guzan.

Best chance of the second half so far. James Milner's shot from outside the box is saved by Villa keeper Brad Guzan but the rebound lands to Nathaniel Clyne, whose shot is brilliantly blocked by left-back Jordan Amavi.

Jack Grealish showing why he is in the team there as he goes for a dribble but the ball just gets away from him as he nears the box.

Alan Hutton crosses from the right and Scott Sinclair heads wide. Villa really wanted Rudy Gestede in that position.

Jack Grealish takes too slow to clear the ball on the edge of the box and Nathaniel Clyne wins possession and crosses but Danny Ings and Philippe Coutinho double-team the ball and it's deflected wide for a corner.

Liverpool had already scored by this stage of the first half. They had an attack which broke down just outside the box - as did Villa at the other end.

KICK-OFF - Liverpool 1-0 Aston Villa

Second half under way at Anfield. No changes for either side.

As it stands Villa will go into the relegation zone. Liverpool would go seventh.

The story of the first half

HALF-TIME - Liverpool 1-0 Aston Villa

Jonathan Pearce

BBC MOTD commentator at Anfield

"Liverpool needed a good start and they got it. Villa have had two good chances through Rudy Gestede. This game isn't over yet."

Derek Mountfield

Former Aston Villa defender on BBC WM

Quote Message: Villa look dangerous when they get on the front foot but generally it's too patient, Liverpool look jittery when they're put under pressure.

Scott Sinclair's effort from distance is straight at keeper Simon Mignolet, but at least Villa are having a go now. Almost half-time.

'Rodgers will be frustrated'

Liverpool 1-0 Aston Villa

Jermaine Jenas

Former England midfielder on Final Score

"In terms of needing belief there's nothing better than an early goal to kick-start a good performance. I've not seen that yet. The front three of Daniel Sturridge, Danny Ings, and Philippe Coutinho sounds good on paper, but I think Rodgers will be frustrated because it's not been great to be honest."  

Alan Hutton crosses with Simon Mignolet punching the ball into the danger zone, Liverpool can't clear and Ashley Westwood's volley is deflected wide for a corner.

The corner comes to nowt.

Liverpool playmaker Philippe Coutinho takes a shot from 25 yards, Carlos Sanchez gets his head onto it and it flies up into the air. It's looping, it's looping. Is it looping in? Yes, probably but Brad Guzan touches it over.

Villa midfielder Idrissa Gana gets the ball 30 yards out but he can't find a team-mate or shoot and ends up retreating, drawing a foul on Lucas nearer halfway. But their free-kick comes to nothing.

Derek Mountfield

Former Aston Villa defender on BBC WM

Quote Message: This is painful and frustrating to watch at the moment Villa are really predictable and I don't see how they are going to get on the ball and get back into the game.

If you want an indication of how this game is going, Brad Guzan has played more passes than any other Villa player (12).

In contrast Simon Mignolet has had six compared to Lucas's 36.

Liverpool - who have had two thirds of the possession so far - are dominating, although without causing problems for Brad Guzan in the Villa goal. Passing it round with ease in midfield.

As you can see from the average positions of the first 25 minutes, Liverpool have done most of the attacking so far. Only two of Villa's players have made regular appearances in the Reds' half.

Derek Mountfield

Former Aston Villa defender on BBC WM

Quote Message: That is a big miss from Rudy Gestede, the way Villa are playing, they need to take those sorts of chances. They might come to regret that miss.

Villa have their second effort of the game and it's Rudy Gestede again - this time volleying wide. Alan Hutton puts in a cross for Villa, it's not great - but neither is Emre Can's clearance which lands to the summer signing on the edge of the box - but his first-time effort isn't good enough.

Game has just calmed down a bit - it was threatening to be excitingly open for a few minutes there. The problem for Villa (as is the case in a lot of games) is they rarely look like scoring.

Idrissa Gana has been fairly quiet in Villa's midfield on his return from injury.

Derek Mountfield

Former Aston Villa defender on BBC WM

Quote Message: You can tell Villa's confidence is low, they are not playing as a team, Villa's attacks are not working. They are not supporting each other when they go forward, they are off the pace at the moment.

Horrific by Scott Sinclair but he gets away with it, the Villa winger, who is back in a defensive position, tries to volley a long ball clear but he totally air-kicks it and Alberto Moreno, who is behind him, takes on a volley of his own from an angle but fails to score.

Milner involved at the start as well as the finish

Liverpool 1-0 Aston Villa

It is exaggerating things slightly to say James Milner (7) was involved at the very start and finish of that Liverpool goal, which involved 14 passes and saw the ball spread from right to left, but he played a one-two with Nathaniel Clyne (2) before running forward to score from a central position on the edge of the Villa area.

Copyright: BBC Sport/Opta

Emre Can finds Danny Ings on the edge of the box, the ex-Burnley man turns and shoots but his effort is a bit scuffed and rolls into the hands of Villa keeper Brad Guzan. 

And seconds later James Milner plays a long ball to Ings, who fires over from 18 yards out.

Villa have their first chance as Jack Grealish goes for a little dance down the left wing and he pulls it back for Jordan Amavi who crosses it into Rudy Gestede.

The Villa striker absolutely dominates Mamadou Sakho but his header drops wide of Simon Mignolet's right post.

Derek Mountfield

Former Aston Villa defender on BBC WM

Quote Message: Poor start from Villa - they stood off Liverpool's runners and they've been punished and the way Liverpool are set up they will cause Villa a lot of problems.

It's all Liverpool so far and Emre Can gets his head onto a free-kick but it's straight at keeper Brad Guzan. Villa have barely been past halfway.

GOAL - Liverpool 1-0 Aston Villa

James Milner

How Brendan Rodgers needed that goal - although the Liverpool manager doesn't react.

Philippe Coutinho finds James Milner centrally about 20 yards out and the England midfielder fires past Brad Guzan into the bottom corner.

He used to play for Villa but does that stop him celebrating? No, it does not.

KICK-OFF - Liverpool 0-0 Aston Villa

As we get under way, here's a reminder of the line-ups.

Liverpool: Mignolet, Can, Skrtel, Sakho, Clyne, Lucas, Milner, Moreno, Coutinho, Ings, Sturridge. Subs: Toure, Gomez, Lallana, Allen, Origi, Ibe, Bogdan. 

Aston Villa: Guzan, Hutton, Richards, Lescott, Amavi, Sanchez, Westwood, Gana, Grealish, Gestede, Sinclair. Subs: Clark, Bacuna, Veretout, Ayew, Traore, Gil, Bunn.

Both sets of players almost ready to go at Anfield. 

'It's not about Rodgers'

Liverpool v Aston Villa (15:00 BST)

Martin Keown

Former Arsenal defender on BBC Final Score

"Last week was a little bit better, but to fail to beat Carlisle - alarm bells are ringing. He's just got to go and win games and do his talking on the pitch. It's not about the manager, it's about the club and the players, doing the talking on the pitch. Win today and it will all be OK."  

Villa are unbeaten in their last four matches at Anfield and have lost just two of their last eight games at the ground.
Liverpool could go five league games without a win for the first time since doing so in Brendan Rodgers' first five games in charge in 2012.
Villa are winless in five league games for the first time under Tim Sherwood.
Four points is their lowest points tally after six matches since the 1986-87 season, when they were last relegated.
The home side has not won any of the last eight league fixtures between these clubs since Aston Villa beat Liverpool 1-0 at Villa Park in 2011.

'Fans only interested in wins'

Quote Message: I believe that points tally-wise we haven't got what we have deserved this season. The performances have been encouraging with a new group of players. But it's about wins. I know the fans are interested in wins. They are not dissecting the game like I do every week. from Aston Villa manager Tim Sherwood

'Gestede can destroy defenders'

Trevor Sinclair

Former England winger on BBC Radio 5 live

"Rudy Gestede's bread and butter is for his team to get the ball wide and into the box and he'll score. His movement and the timing of his headers is great. 

"Like John Hartson, he's difficult to mark. On his day if he's up for it, he will destroy any defender - the sheer size of this guy. 

"But if you're not playing that way then you're losing a lot of his game."

'Grealish needs to track back'

Chris Sutton

Former Aston Villa striker on BBC Radio 5 live

"Villa have a lot of good young players including Jack Grealish. They are very good with the ball, they can control games, but defensively Grealish doesn't track back. That's a problem for Villa. 

"He has to learn that other side of the game. A lot of it is mental. In Spain, the big teams can leave the forwards up – but Villa aren't Real Madrid. They need to have a structure when they lose the ball. 

"It's not just Grealish. Your system doesn't matter, when you lose the ball you have to have a structure and players with a desire to get back."

'Good neighbours become good friends?'

Aston Villa manager Tim Sherwood, who revealed he is neighbours with Brendan Rodgers with their Spanish properties, thinks the Liverpool boss could have gone on to manage Real Madrid had they won the title two seasons ago.

Quote Message: After that season they finished second, if they'd won the league could they have kept hold of Brendan Rodgers? All of a sudden he doesn't turn into a bad manager, it's fine margins. We might have seen him at Real Madrid. He would have been the hottest property in football. He's paying the price for overachieving a couple of seasons ago. from Aston Villa boss Tim Sherwood

'Crossroads game for Rodgers'

Mark Lawrenson

Former Liverpool defender on BBC Football Focus

"There was no atmosphere at Anfield on Wednesday. Carlisle's fans went mad, but the Liverpool fans were apathetic, and it's as though they can't make their mind up about the team. It was a Simon & Garfunkel record - the sound of silence.

"You don't want to say it's a crossroads game for Brendan Rodgers against Aston Villa, but it is."

'Don't get carried away with Klopp'

Chris Sutton

Former Blackburn striker on BBC Radio 5 live

"There are similarities between Jurgen Klopp and Brendan Rodgers  – Klopp lost Mario Gotze and Robert Lewandowski to Bayern Munich and then failed in essence. I don't think we should get carried away with Klopp. 

"What is he going to bring that Rodgers couldn't? His last season at Borussia Dortmund was a failure.   

"If Liverpool were going to change manager they'd have done it after the final day of last season when they lost 6-1 to Stoke.   

"The next three games – I think it's getting pretty critical. The Villa and Sion games, we all expect Liverpool to win but if they get thumped in the derby he's a goner. Liverpool fans are patient so if they turn against Rodgers there'll be no choice."

'Why get rid of Rodgers now?'

Trevor Sinclair

Former England winger on BBC Radio 5 live

"Foreign managers seem so appealing – the mysterious manager that has done well on the continent. But sometimes we should be more insular and see what we have in this country. 

"We're always looking further ashore. Jurgen Klopp did fail at Borussia Dortmund. 

"Liverpool succeeded that season barring the slip against Chelsea. It's fine margins – Rodgers was a very successful manager and he's proven himself at Liverpool. 

"He's swayed away from his own model. He's buying players who don't fit into his fold. He's bringing players in, like Rickie Lambert and Christian Benteke, because they're available and not because they fit his formation. 

"I don't understand why get rid of him now? There's nothing you can do now. You can't bring anyone in. If a giant football club want to change manager, they need to do it at the right time."

Quote Message: I'm never complacent enough to think that it has never been. It's probably what drives a manager on, that fear. Positive fear. Every day you need to be at your best and when you come into here, into a club of this stature, that is always there. It doesn't frighten me, I have an inherent belief in what I do. from Liverpool boss Brendan Rodgers on if he was afraid of losing his job

'Rodgers like a stage show'

Kevin Kilbane

Former Republic of Ireland player on BBC Football Focus

"I feel overall with Brendan Rodgers, with how he started – with that documentary – and how he talks before and after the games, he doesn't endear himself to me. It's almost like a stage show.

"If there was one player that could help him in the Liverpool dressing room, it's Steven Gerrard. He should still be at the club. If they had sent out the right message and offered him a contract early, he'd still be there now."

Liverpool 'not progressing anymore'

Jason Roberts

Former West Brom striker on BBC Radio 5 live

"We've seen varied results under Brendan Rodgers. When he came second, it was with a certain brand and style of football and since then it has gone downhill. 

"I feel like he isn't progressing anymore and you can understand the pressure on him. It doesn't fill you with confidence that this team is going to replicate past performances, especially when Liverpool had Luis Suarez."

'Change is not always for the best'

Jonathan Pearce

BBC MOTD commentator at Anfield

"Memories in football are ludicrously short in an age where short-term success is constantly demanded. Two seasons ago, Liverpool could have won the league but for nine mad minutes at Palace.

"Brendan Rodgers has made poor signings. All managers do. Twenty nine players from the 2012-13 squad have gone, including twin pillars Jamie Carragher and Steven Gerrard.

"They should have beaten Norwich. They were poor against Carlisle. It is a crucial week. But now is not the time to call for a sacking.

"Nor is it at Villa. Tim Sherwood kept them up, took them to Wembley and then had to sell his best players.

"Change is not always for the best."

Do you read Mark Lawrenson's predictions every week and think you could do better? Here's your chance.

Play our Premier League Predictor game here.

Mark Lawrenson

Former Liverpool defender

"Liverpool manager Brendan Rodgers is under pressure because he has not won in 90 minutes for six games and has spent many millions in the transfer market.

"I don't think he can afford to lose any of his next three games - on Saturday against Aston Villa, a Europa League tie with Sion and then a trip to Everton.

"Villa is massive to start with and then we have the Merseyside derby to finish that run. It is a massive 10 days for him. Absolutely massive."

Liverpool make only one change from last weekend's 1-1 draw with Norwich. Christian Benteke misses out against his old club with a hamstring injury, and Danny Ings replaces him. Daniel Sturridge starts after being rested in midweek against Carlisle.

Aston Villa bring in Rudy Gestede up front for the injured Gabriel Agbonlahor. The other change from last Saturday's 1-0 derby defeat by West Brom sees Idrissa Gana return from a hamstring injury to replace Carles Gil.

Image caption: Tim Sherwood and Brendan Rodgers in happier times (last season)

Queen and David Bowie may have written Under Pressure but I think both managers at Anfield today will be feeling it.

Liverpool fans are planning to dress like Jurgen Klopp, the man they want to replace boss Brendan Rodgers, this afternoon. Their team haven't won in five matches (excluding penalties against League Two Carlisle).

Tim Sherwood at Villa doesn't quite have the dead man walking feel of Rodgers yet but boos have been heard at recent games and he needs improved performances and results quickly.

"Pressure pushing down on me;

"Pressing down on you, no man ask for;

"Under pressure that burns a building down;

"Splits a family in two;

"Puts people on streets."

Welcome to our live page for Liverpool v Aston Villa. We'll have text commentary here from 14:30 BST, plus you can follow Final Score via the live coverage tab. You can keep up to date with all the build-up to today's games here.