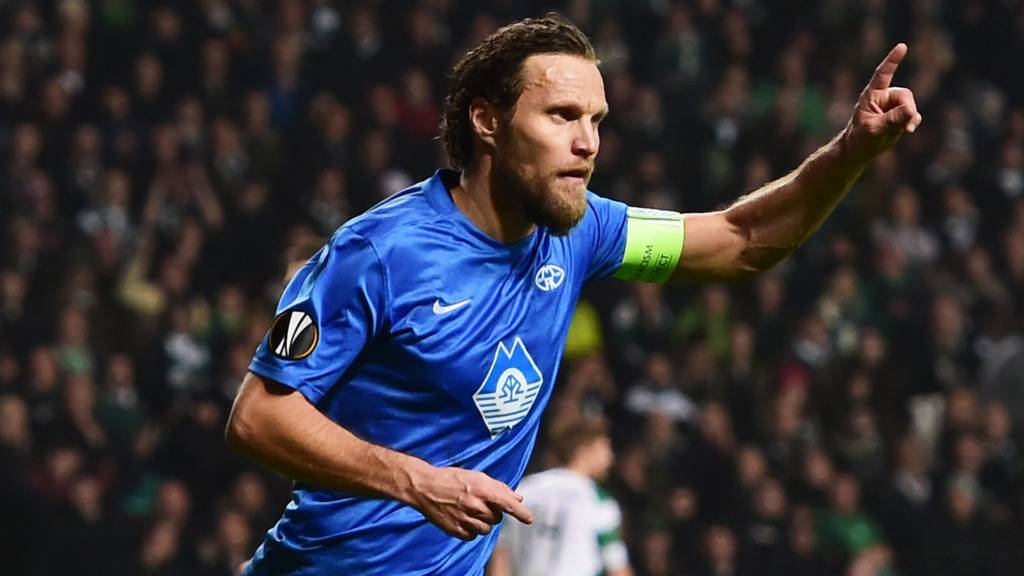 Celtic 1-2 Molde as it happened
Please join us again at the weekend for live coverage of Saturday and Sunday's Scottish games.

Almost time for me to sign off. There will be reaction to Celtic's defeat on the BBC Sport website later.

John in Blantyre: "Sorry. Was for ronnie in beginning but going backwards in europe but cant seem to get formation right. Sorry but ronnie has put us back 3 yrs."

Image caption: It was another disappointing Europa League night for Celtic manager Ronny Deila

Willie, Glasgow: "What a shocker! Fair play to Molde but this is a game Celtic shouldn't be losing. It shows how poor the scottish league is. An average team."

Adam in Fife: "One of the poorest Celtic teams in 20 years. Yet they are pulling away at the top of the league. No money no quality in Scottish football."

Jimmy, Edinburgh: "Ronny delay must be sacked ASAP!"

Join the debate at #bbcscotfootball

Callum: "Another dissapointment for Celtic in Europe.Get Deila out while you still can #bbcscotfootball"

Chris McLaughlin

BBC Sport at Celtic Park

"A crushing and utterly deflating defeat for Celtic that all but ends their Europa League hopes. The fact that they were undone in such a frustratingly familiar fashion will be even tougher to take for their fans.

"Yes, they looked dangerous at times; yes, they had drive and determination for long spells; and yes, they lost Simunovic early to injury but their defensive deficiencies were once again laid bare and ruthlessly punished by a side that they should have been capable of beating.

"Ronny Deila asked to be judged by his side's performances in Europe this season. The jury that was out is making its way back into the room and the Celtic boss might well be worried."

FULL-TIME

Ajax 0-0 Fenerbahce

No goals in Amsterdam in tonight's other Europa League Group A fixture.

It's a night to remember for Molde but one to forget for Celtic. The Norwegian side go five points clear at the top of Europa League Group A and are guaranteed a place in the last 32.

Celtic remain bottom on two points but are not quite out of the tournament yet. They face Ajax at Celtic Park next, with the Dutch side a point ahead of Ronny Deila's side and two behind Fenebahce.

Molde use up some time by putting on Ruben Gabrielsen in place of Etzaz Hussain.

Join the debate at #bbcscotfootball

EC: "Depressing to see how rubbish the champions of Scotland are in the grand scheme of things #bbcscotfootball #RealityCheck #celtic"

Jack Tanner: "#bbcscotfootball deila isnt the right man for celtic. make the call now so the new coach is ready for the qualifiers next season."

Former Celtic player Murdo MacLeod on BBC Radio Scotland: "I think the Celtic players are feeling sorry for themselves. Most of them have just put the tools away."

Four minutes of stoppage time begin.

Join the debate at #bbcscotfootball

MBEHAN: "No where for Delia to go from here & that is why he has to go along with Collins & Kennedy #bbcscotfootball"

Match somewhat petering out, which is not what the depleted hosts need.

Molde very close to a third as Ola Kamara's curving shot from the left edge of the box bounces off the top of the crossbar.

Ten minutes of regulation time left at Celtic Park.

Former Celtic striker Scott McDonald on BBC Radio Scotland: "It's been a big problem all night, that ball in behind. It just seems to be so easy for them to get in behind. It was two defenders versus one attacker and he's outpaced them both."

Graeme Kinross: "Getting taught a lesson by Barca, Milan or Benfica is acceptable. Getting taken apart by Molde and Malmo is not. They have much less money and poorer players."

Chris McLaughlin

BBC Sport at Celtic Park

"When you watch Leigh Griffiths fail to beat the goalkeeper from four yards, you start to think it's not going to be Celtic's night. Nir Bitton's sending off may well have cemented that thought. The home side have huffed and puffed in this second half but the Molde back door has shown no sign of being blown down. Are Celtic watching their Europa League hopes disappear into the mist?"

RED CARD

Nir Bitton (Celtic)

Celtic are caught out by the pace of Ola Kamara again and Nir Bitton barges over the striker, denying a clear goalscoring opportunity resulting in a dismissal.

Image caption: Leigh Griffiths and Vegard Forren challenge for an aerial ball

Stefan Johansen's chip over the top finds Leigh Griffiths free in front of the Molde goal but he lifts the shot wide after controlling on his chest.

It looks as though Nadir Ciftci will join Leigh Griffiths in attack and Nir Bitton with drop from midfield in to defence following that third Celtic substitution.

Final change for Celtic. Defender Tyler Blackett, who replaced Jozo Simunovic in the first half, comes off and striker Nadir Ciftci is introduced

John, Inverness: "I wish fellow Celtic fans would have a reality check. We have a brand new, young inexperienced defence. We are getting schooled in Europe not surprisingly. Deila is obviously a good coach and motivator, we can't afford to attract managers with experience. Deila will learn eventually."

Stefan Johansen bundles over Mohamed Elyounoussi and is shown a yellow card. That means the Celtic midfielder will be suspended for their next Europa League Group A game against Ajax.

Dave Payn: "#bbcscotfootball So, Commons off. Throwing in the towel? What next, bring Ambrose on to ship a couple more goals?"

Another stunning block from Ethan Horvath, this time a reaction save to keep out Nir Bitton's header after Leigh Griffiths had swung in a teasing corner.

Former Celtic striker Scott McDonald on BBC Radio Scotland: "That ball was behind him and he's plucked it out and put it round for a corner kick. Unbelievable save."

Mattias Mostrom is stretchered off after pulling up on the turf. Molde replace him with Eirik Hestad.

Confusion in the Molde defence as Ethan Horvath comes off his line only for one of his defenders to clear away. He recovers though after the ball comes in, diving to his left to make a stunning save to block Mikael Lustig's header.

Join the debate at #bbcscotfootball

Steven McNamara: "#bbcscotfootball Celtic are terrible defensively. We will win 4-2 if we defend properly 2nd half. Molde are poor, don't get carried away"

Another scramble in the Celtic box. The home defence eventually get it clear but Molde seem determined to get a third goal.

It could be another injury blow for Celtic with Nir Bitton pulling up with what looks like a hamstring strain.

Dedryck Boyata comes to Celtci's rescue again, this time knocking a Martin Linnes cut-back out for a corner.

Celtic goalkeeper looks uncomfortable at a corner as Ola Kamara heads wide from a corner.

Another Dedryck Boyata intervention breaks up a Molde attack. Celtic still looking stretched at the back.

Kieran Tierney flashes in a shot that Ethan Horvath has to palm over. From Leigh Griffiths' corner, Dedryck Boyata heads wide.

The pace of Ola Kamara troubles Celtic straight away as he gets away from Tyler Blackett and Dedryck Boyata has to come across to make the block.

Celtic begin the second half.

Celtic also make an alteration. Kris Commons makes way for James Forrest.

Molde making a half-time change. Ola Kamara replaces Tommy Hoiland.

George Docherty, Edinburgh: "Can someone remind the Celtic defence that, in football, being in Europe doesn't mean being on holiday."

Join the debate at #bbcscotfootball

Adam Reid: "#bbcscotfootball Celtic are great when they're beating teams like Dundee United and Ross County .. go AWOL against the big boys.. poor show"

Image caption: What can Celtic manager Ronny Deila do to turn this match around?

Tom English

BBC Scotland at Celtic Park

"If Ronny Deila didn't watch the video of the 3-1 defeat in Molde, why not? It's exactly the same thing happening all over again."

HALF-TIME

Ajax 0-0 Fenerbahce

No goals so far in tonight's other Group A match in Amsterdam.

Join the debate at #bbcscotfootball

MBEHAN: "Celtic so poor defensively, look like conceding at every opportunity #bbcscotfootball"

Former Celtic striker Scott McDonald on BBC Radio Scotland: "It's been a game of mistakes from both teams. Unfortunately, Molde have punished Celtic more than the other way round. Celtic don't need to go for it fully here and sometimes they're throwing too many bodies all it it at once."

Chris McLaughlin

BBC Sport at Celtic Park

"It's a familiar story for Celtic as their half-time post mortem begins. They've looked determined and dangerous pouring forward but worryingly naive at the back.

"The early injury to Jozo Simunovic didn't help but it should serve as no real excuse.

Image caption: Forty-year-old Hestad scored Molde's second

"Mistakes they get away with domestically continue to be cruelly exposed and punished in Europe. They need to chase the game in the second half. The problem is, they don't appear to have the players to deal with the Norwegian counter-attack."

HALF-TIME

Celtic 1-2 Molde

Molde hold their lead until the break with a fair bit of scrappy play at the end of that first half. Celtic look capable of scoring more goals but have been too vulnerable at the back.

That strike by 40-year-old Hestad means Celtic have lost at least two goals in each of their Europa League Group A games so far.

Former Celtic striker Scott McDonald on BBC Radio Scotland: "It's mistake after mistake. They keep shooting themselves right in the foot. They get a foothold in the game and then they just make silly errors."

Kieran Tierney is brought down near the edge of the Molde box by Martin Linnes, who is cautioned. The home crowd shout for a penalty but it is a free-kick outside the area for Celtic.

GOAL

Celtic 1-2 Molde (Hestad)

Molde skipper Daniel Berg Hestad puts Molde ahead again after meeting Mohamed Elyounoussi's deflected cross. That all stemmed from a corner Celtic just could not get clear.

Chris McLaughlin

BBC Sport at Celtic Park

"This is turning into a captivating encounter as both sides chase the victory amidst a flurry of poor passing and desperate defending. It's anyone's game."

This game remains very open. Every time either side goes forward, they look capable of hurting their opposition.

Celtic almost get ahead. Goalkeeper Ethan Horvath loses the ball in his own box under pressure from Nir Bitton but neither Tom Rogic nor Kris Commons can take advantage, with the latter's shot deflected over.

Celtic captain for the night Mikael Lustig catches Mohamed Elyounoussi with a flailing arm and is promptly booked.

Chris McLaughlin

BBC Sport at Celtic Park

"A touch of fortune about that Celtic equaliser. Nir Biton's 30-yard volley took a wicked deflection off Commons and slithered past Horvath. Momentum now with the home side as the crowd roar them on."

Former Celtic striker Scott McDonald on BBC Radio Scotland: "You're hoping that's the little bit of luck that they've needed. A big deflection, may have been a little bit of smart play from Kris Commons."

GOAL

Celtic 1-1 Molde (Commons)

Celtic have the ball in the net a third time but on this occasion, a goal is awarded. Nir Bitton fires in a shot and the ball is deflected into the net by team-mate Kris Commons.

Chris McLaughlin

BBC Sport at Celtic Park

"Just like two weeks ago, it was all Celtic and then they are caught out at the back. Great build-up and strike from Elyounoussi but questions once again about the Celtic defence. Far too casual at times."

Former Celtic striker Scott McDonald on BBC Radio Scotland: "Great touch, great goal, but from Celtic's point of view all poor. Far too slow to close down the man on the edge of the box."

GOAL

Celtic 0-1 Molde (Elyounoussi)

A tame defensive header by Tyler Blackett is chested down by Mohamed Elyounoussi, who then volleys confidently past Craig Gordon. The Group A leaders are ahead at Celtic Park.

Image caption: This shot by Nir Bitton was deflected into the Molde net but Celtic's Leigh Griffiths was flagged offside

Liam McLeod

BBC Scotland commentator at Celtic Park

"That was just way too easy the way Molde cut through that Celtic defence."

Tommy Hoiland goes through for Molde and gets to the ball ahead of the Celtic defence but takes a poor touch, allowing goalkeeper Craig Gordon to gather.

Image caption: Manager Ole Gunnar Solskjaer watches on from the Molde bench

First real chance for Molde as Mohamed Elyounoussi capitalises on a loose clearance and sees his shot blocked by the Celtic defence.

Image caption: Celtic defender Jozo Simunovic lasted only nine minutes, the Croatian unable to recover from an ankle knock

Chris McLaughlin

BBC Sport at Celtic Park

"The net has bulged twice in two minutes but both chopped off for offside. Celtic are in the mood though as is this crowd, who sense this could be their night."

Celtic net again, this time through Leigh Griffiths, but the offside flag again frustrates the home side. The striker fired in on the rebound after Ethan Horvath had saved from Kris Commons.

The ball is in the net after Nir Bitton's shot takes a deflection past Ethan Horvath in the Molde goal but Celtic striker Leigh Griffiths is in an offside position and no goal is awarded.

That change takes place with Tyler Blackett on for Jozo Simunovic.

Image caption: And one of Molde

Image caption: A pre-match shot of the Celtic team

Chris McLaughlin

BBC Sport at Celtic Park

"A headache for Ronny Deila after just 5 mins. Simunovic is off injured. He'll be replaced to Tyler Blackett."

Jozo Simunovic goes down after being caught in the ankle by Tommy Hoiland. The Celtic defender was a pre-match doubt for the hosts.

An early push from Celtic and Leigh Griffiths rises to meet a cross only to head wide.

Molde get the game started.

Pre-match handshakes ensue, the match is almost underway.

Murdo McLeod on BBC Radio Scotland: "I don't believe this [Celtic] side is better than last year's side."

Both sets of players are in the tunnel preparing to come on. Mikael Lustig captains Celtic in the absence of regular Scott Brown.

Join the debate at #bbcscotfootball

Azor Ahai: "Glad Rogic is getting a chance and Tierney is way more reliable than emilio so goodstuff.. #bbcscotfootball"

Chris McLaughlin

BBC Sport at Celtic Park

"Huge night for Celtic here under the lights in the east end of Glasgow. A win and they are back in contention in group A but a defeat would leave them struggling badly.

"Molde are in great form having won their last five matches, including that 3-1 victory over Celtic two weeks ago.

"Ronny Deila's side are also flying and the fans arriving to take their seats here will be buoyed by the fact their side can't possibly play any worse than they did the last time the sides met."

Join the debate at #bbcscotfootball

Andrew Priestley: "Huge game for Celtic tonight. Bottom of the group at the halfway point, but they're only 2 points away from 2nd place. #bbcscotfootball"

Image caption: Celtic manager Ronny Deila greets fellow Norwegian Ole Gunnar Solskjaer before kick-off at Celtic Park. Solskjaer is in his second spell as Molde boss

To take part in tonight's coverage, you can text 80295 or tweet using the hashtag #bbcscotfootball.

Also in the Highlights tab, you will find interviews with Celtic manager Ronny Deila, Molde defender Vegard Forren and former Celtic striker Chris Sutton.

Image caption: Molde manager Ole Gunnar Solskjaer on the pitch pre-match. The former Manchester United striker said yesterday he wished he had played at Celtic Park. You can watch more of his media conference via the 'Highlights' tab

Celtic, without captain Scott Brown, start with Stuart Armstrong, Nir Bitton, Stefan Johansen, Kris Commons and Tom Rogic in midfield.

Kieran Tierney starts at left-back with Emilio Izaguirre left on a substitutes' bench that also features James Forrest.

Jozo Simunovic is fit enough to start in central defence after being a pre-match doubt.

Celtic: Gordon, Lustig, Boyata, Simunovic, Tierney, Armstrong, Bitton, Johansen, Commons, Rogic, Griffiths. Subs: Bailly, Blackett, Izaguirre, Ambrose, Ciftci, Mackay-Steven, Forrest.

Molde: Horvath, Linnes, Toivio, Forren, Rindaroy, Singh, Daniel Hestad, Hussain, Mostrom, Hoiland, Elyounoussi. Subs: Neydson, Semb Berge, Gabrielsen, Kamara, Flo, Eirik Hestad, Agnaldo.

Referee: Slavko Vincic (Slovenia).

However, a win for Celtic tonight would take them to within two points of the Norwegian side.

Image caption: Two weeks ago, Group A leaders Molde triumphed 3-1 over the Scottish champions, leaving Ronny Deila's side bottom

Good evening and welcome to this evening's live coverage of Celtic v Molde in the Europa League.