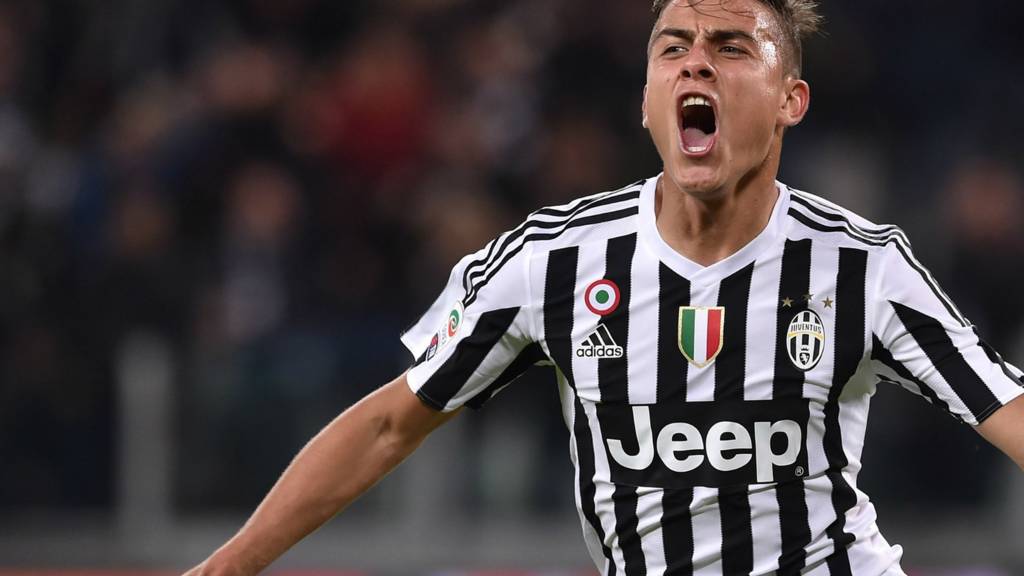 Barca thrash Real 4-0 - as it happened
Thanks for joining us today for a classic Clasico and the night Juventus showed they are title contenders again.

So Juventus move into sixth above AC Milan and close the gap on the leaders to six points. After a shocking start to the season, Juve are back in the title race.

FULL-TIME - Juventus 1-0 AC Milan

That was the last chance of the game - Juventus win.

Alessio Cerci almost levels for AC Milan in the last minute from distance but Gianluigi Buffon tips his piledriver away.

Free-kick to Juventus, who look like they're taking the ball to the corner. But Alex Sandro has other ideas and squares the ball to Mario Mandzukic, who blazes over a woeful effort from inside the box.

Milan don't really look like levelling here - Juventus on the attack as we approach injury time.

Actually maybe M'Baye Niang wasn't OK, he's just been replaced by Keisuke Honda.

Five minutes for one of AC Milan's talented attacking players to level this one up.

Juventus defender Stephan Lichtsteiner tries to volley home Alex Sandro's cross at the far post but he's tackled by M'Baye Niang's desperate last-ditch saving tackle. 

Both players go down injured but they recover.

Neymar has scored in his last four competitive games for Barcelona in all competitions (six goals).

Juventus bring off their goalscorer Paulo Dybala for Alvaro Morata. Not a bad sub to have on the bench - Real Madrid could have done with him earlier.

Juventus defender Andrea Barzagli breaks and has a go but it's an awful effort from outside the box, miles wide.

The hosts have definitely been the better side, but Milan are still in this.

As things stand, Juventus are up to sixth - above AC Milan - and are only six points below the top three after turning around their abysmal start.

AC Milan bring off Juraj Kucka moments after I praise him, former Shakhtar Donetsk striker Luiz Adriano replaces him.

AC Milan's Juraj Kucka controls a cross on his chest but volleys over from 12 yards out. I've not seen too much of the Slovak this season, but he's looked decent today.

Luis Suarez has scored or assisted in his three games against Real Madrid (three goals, one assist).

Seconds later, Paulo Dybala tries to make it 2-0 but his shot from 25 yards is saved by AC Milan keeper Gianluigi Donnarumma.

The Juventus forward seems to have hurt himself.

GOAL - Juventus 1-0 AC Milan

Paulo Dybala

Finally, something to write about. A great goal from Juventus' summer signing. Alex Sandro plays a one-two with Paul Pogba, who plays a brilliant return ball. Sandro crosses it in from the left and Paulo Dybala chests the ball before smashing his volley home.

Just realised 16-year-old Gianluigi Donnarumma is literally half my age.

Sad face

Paul Pogba's ambitious effort from distance is tipped around the post by Gianluigi Donnarumma and the AC Milan child keeper punches the corner away to safety.

The ball rolls to AC Milan boss Sinisa Mihajlovic, who flicks the ball up in his polished black shoes and does a few keepy-ups. Was just missing one of his trademark 30-yard piledriver free-kicks.

There has been an average of 4.3 goals per game in the last nine league El Clasico encounters at Santiago Bernabeu.

Second half has been a bit more lively than the first and Juventus sub Alex Sandro cuts inside and fires an effort just high and wide.

Juventus defender Stephan Lichtsteiner is booked for fouling M'Baye Niang near the halfway line.

AC Milan's Giacomo Bonaventura wants a penalty as he is fouled by Leonardo Bonucci, who has only been on the pitch for seconds. But it's called back for a free out for a foul on Stefano Sturaro by M'Baye Niang, who headed the ball down to Bonaventura.

Lucky escape for Juventus. 

KICK-OFF - Juventus 0-0 AC Milan

Second half is now under way.

Juventus bring on defender Leonardo Bonucci for midfielder Hernanes at half-time.

Barcelona's 4-0 win was their second biggest win without conceding in a league away game against Real Madrid (5-0 in 1974).

HALF-TIME - Juventus 0-0 AC Milan

Half-time at the Juventus Stadium. Not a classic.

The game between Panathinaikos and Olympiakos was called off before kick-off. A flare thrown onto the pitch exploded near an Olympiakos player. The champions refused to play and after an hour-long delay the game was called off.

That sparked a pitch invasion with fans fighting with police and ripping up seats.

Richard has attached a video of the chaos which you can see if you click on his tweet. 

Paul Pogba fires an effort over from the edge of the box. Not sure he's hit the heights this season so far. A metaphor for Juventus' season perhaps.

Luis Suarez's first goal came after a build-up of 24 passes; the most for a La Liga goal in 2015-16 (24 passes).

Juventus bring off Patrice Evra, who has picked up a knock, and Alex Sandro comes on to replace him.

Barcelona's president is a happy man, unsurprisingly.

Claudio Marchisio has a go from 25 yards for Juventus but it's well saved by AC Milan keeper Gianluigi Donnarumma, who wears number 99.

Roma missed the chance to go top of Serie A today as Mattia Destro's 87th-minute penalty rescued a 2-2 draw for Bologna.

Adam Masina gave Bologna the lead but Bosnian pair Miralem Pjanic and Edin Dzeko scored a penalty each to put Roma ahead.

They are now level on points at the top with Inter Milan and Fiorentina, who are both in action tomorrow.

Image caption: Mattia Destro channeled his inner Fabrizio Ravanelli after levelling late on

Giacomo Bonaventura's free-kick for AC Milan is poor and it's straight into the wall. There really isn't much to tell you about in this game.

Real Madrid keeper Keylor Navas, formerly of Albacete and Levante, has conceded 13 goals in his four games against Barcelona in La Liga, more than versus any other club.

With Neymar's form, nobody dares say anything to him about not following the dress code.

Plenty of security checks before this game, as has been the case all across Europe this weekend.

Keep your thoughts on El Clasico, as well as Juventus v AC Milan, coming.

Juventus have a corner, which comes to nothing. This game is lacking the edge of El Clasico.

Barcelona won 4-0 in an away game in a Spanish league competition against Real Madrid for only the second time in Clasico history (4-0 in the now defunct League Cup in 1986).

AC Milan's first shot and, while Juraj Kucka's volley was technically excellent, it was well wide.

Paulo Dybala blasts his free-kick into the wall for Juventus the follow-up is driven over the bar.

AC Milan are sixth and Juventus are seventh in Serie A. The hosts would overtake Milan with a win. 

KICK-OFF - Juventus 0-0 AC Milan

Under way at the Juventus Stadium.

The French national anthem is played before kick-off with a minute's silence in memory of the Paris attacks.

Juventus have a 37-year-old legend of the game in goal. AC Milan have a 16-year-old.

Juventus v AC Milan is almost under way. Line-ups to follow.

BBC Radio 5 live's Chris Waddle has just sent us his player ratings for the game.

Andres Iniesta and Claudio Bravo got 9s.

Real Madrid's Toni Kroos didn't fare quite as well...

Chris's full ratings will be up on the website later.

Tom in Brighton: Re 85 mins: "Real have lost their heads" Come on, it wouldn't be a Clasico without at least one red. 

Ben in Manchester: Real Madrid playing very loud music straight after the whistle to drown out any boos! 

Barca win 'will go down in history'

More from Barcelona boss Luis Enrique: "We were the better side and the triumph is down to us. There is a long way to go but it is always important to win here.

"It has been an all-round performance. It will go down in history as a memorable game for the Blaugranes."  

Barcelona - the new Osasuna?

This was the first time Real Madrid conceded seven or more shots on target at home in the league since June 2013, when Osasuna hit 13.

Real actually won that game 4-2, it was Jose Mourinho's last match in charge.

Barcelona boss Luis Enrique: "This victory is glorious, especially in the way that it came about."

As well as Clasico reaction throughout the evening, we will be bringing you Juventus v AC Milan updates here. That one kicks off at 19:45.

Benitez feeling the pressure?

Barcelona captain Andres Iniesta: "We only wanted to be ourselves and we have done that. We neutralised Madrid."

Stats don't always tell the tale

These stats don't really tell the story of the game. Real Madrid did have chances - Claudio Bravo was excellent - but they were calamitous at the back. 

Barcelona were so phenomenally incisive up front, they could have won by a few more goals.

Has Tim Sherwood really been linked to a La Liga side?! Brilliant. Please let that happen.

Chris Waddle

BBC Radio 5 live at the Bernabeu

"Barcelona are the best side in the world at the moment. They have ability in abundance. I don't think there is a better team."

The white handkerchiefs are out from Real Madrid fans. That's Spanish football's way of showing their displeasure with things. Either that or it's hay fever season.

FULL-TIME - Real Madrid 0-4 Barcelona

A brilliant night for Barcelona comes to an end but this has been a real embarrassment from Real Madrid and Rafael Benitez.

Barca midfielder Sergio Busquets is booked for pulling down Karim Benzema.

Two minutes added on. One to go.

Chris Waddle

BBC Radio 5 live at the Bernabeu

"One team turned up tonight and that is Barcelona. They controlled the game. Their passing, movement was everything you want from a football team."

Cristiano Ronaldo's powerful header is parried away by Claudio Bravo, who has been brilliant when called upon tonight. A few good saves from the Barca keeper.

It should be 5-0 as Neymar squares the ball to Munir El Haddadi, who somehow puts it wide unmarked from 15 yards. 

To be honest, it could be 7-0 or 8 -0.

Karim Benzema has a shot from outside the box deflected wide. Rafael Benitez would like a goal here just to make it look slightly less of a demolition.

Neymar pulls the ball across to Munir El Haddadi, who has loads of space 16 yards out but the substitute fires over.

It's hard to describe just how bad Real Madrid have been at the back tonight. I'll have a go though - shambolic.

Just when Real Madrid think it can't get any worse. Substitute Isco absolutely boots Neymar from behind. Straight red. Really stupid play. Real have lost their heads.

Real Madrid defender Dani Carvajal comes in with a hefty challenge on Neymar. I say challenge, it was a hack. Booking.

The expectations for these sides are so big that any one-off defeat (which is what this is really) is seen as a crisis. But you really can't afford to lose 4-0 at home to your arch-rivals!

Karim Benzema has a decent header saved by a diving Claudio Bravo.

Karim Benzema, definitely not match fit, is played in by Gareth Bale but his first touch is poor. An in-shape Benzema controls that and fires home. He was offside anyway, but he didn't know that.

Chris Waddle

BBC Radio 5 live at the Bernabeu

"A lot of the fans are starting to walk out, rightly so, but a lot are wanting to stay and let Benitez know what they think. Real have been shocking."

Barcelona bringing on a guy who looks like the work experience kid here for one of the greats of our generation. 

Andres Iniesta, who hands the armband to Lionel Messi, comes off for Munir El Haddadi.

Even the Real Madrid fans are applauding Iniesta off.

GOAL - Real Madrid 0-4 Barcelona

Luis Suarez

This is officially a rout. Lionel Messi lays the ball off to Luis Suarez, who fires past Keylor Navas from inside the box.

That's Suarez's second of the night. Fifteen minutes for a hat-trick.

Gareth Bale wanted a penalty after a challenge from Jordi Alba. No dice though.

Chris Waddle

BBC Radio 5 live at the Bernabeu

"Two good passes by Gareth Bale in the second half. Great ball but Ronaldo was offside there."

Real Madrid are all over the place defensively. Luis Suarez has a chance to make it 4-0 but his shot is flicked up in the air by defender Sergio Ramos and the hosts escape.

Cristiano Ronaldo outpaces Gerard Pique, charging in on goal and hits the woodwork, he's desperate for a goal tonight. But it's called back for offside. It could have gone either way.

Get Involved

Text us on 81111

Lee, Gloucester: The biggest difference between these 2 giants is teamwork. Barcelona have it and Real don't. You can hide behind individual brilliance most of the time but not against individual brilliance moulded within a true team.

And seconds later Real Madrid are almost back in this game. They break and the ball lands to Cristiano Ronaldo near the penalty spot, but Claudio Bravo comes flying out of his goal and makes himself big to keep the effort out.

A frustrating night for the Portuguese.

Free-kick to Barcelona 30 yards out. Lionel Messi takes but it's into the wall...

Do they get Neighbours in Spain?

Lionel Messi plays a wonderful ball over the top but Luis Suarez can't control the ball. Neymar plays the ball back to Messi, whose shot is deflected wide by Raphael Varane.

There's still goals in this game.

Gareth Bale wants a Real Madrid penalty for a handball by Gerard Pique. He blasted it right at the defender's arm though. Not a penalty for me. Or the referee.

Barcelona just keeping possession now in midfield, with Lionel Messi getting involved. And they now win a free-kick in a dangerous position. Dani Carvajal was frustrated and fouled Sergi Roberto to stop the move which went on for ages.

Real Madrid have done better since Barca's third and Raphael Varane has a header saved by Claudio Bravo.

Dani Carvajal, just on for Real Madrid, plays a one-two with Karim Benzema and his shot is deflected wide by Jeremy Mathieu for a corner, which is cleared by Barca.

Before they can take it though, Dani Carvajal replaces Marcelo in the Real defence.

The corner comes to nothing.

Real Madrid have a corner. They haven't given this one up yet.

Wow. Wow. Wow. Luis Enrique is showing no mercy here. Lionel Messi comes on, making his return after nine games out through injury. Midfielder Ivan Rakitic is the man replaced.

Real Madrid make a change and Isco replaces James Rodriguez in attacking midfield.

Luis Suarez slams into the side-netting. And Lionel Messi is warming up!

Chris Waddle

BBC Radio 5 live at the Bernabeu

"What a shot. You have to say, there are so many great players on that pitch but Andres Iniesta has been the best of them."

GOAL - Real Madrid 0-3 Barcelona

Andres Iniesta

Woof.

Real Madrid are done. This is phenomenal football.Andres Iniestaplays the ball to Neymar, who backheels the ball back to the captain, who absolutely smashes his shot into the top corner.

Neymar almost does seal the win but his free-kick is tipped over by Keylor Navas. Jeremy Mathieu was also standing over the free-kick. top marks for optimism there from the centre-back.

Sergio Ramos loves a tackle and he's booked for bringing down Sergi Roberto in a dangerous position. Can Barcelona quell this Real Madrid rally and finish this game?

Chris Waddle

BBC Radio 5 live at the Bernabeu

"Real Madrid have done more in the first few minutes than they did in the entire first half. They are all over Barcelona at the minute."

Rafael Benitez has obviously done a Braveheart-like speech at half-time. Real Madrid a different side so far and a fantastic James Rodriguez belter from 25 yards is tipped around the post by Claudio Bravo.

Gareth Bale has an effort from distance that goes just over.

Real had one shot in the first half. They've had three in four minutes.

That was the chance for Real Madrid to get right back into this game so early in the second half. Marcelo does Brazil team-mate Dani Alves for pace and - with about £1bn worth of goalscoring team-mates in the centre waiting for a cross - the left-back slams his shot into the side-netting.

Chris Waddle

BBC Radio 5 live at the Bernabeu

"I would say it was men against boys in the first half. I've been really disappointed by Real Madrid. Too many egos. Barcelona are a team, they work as a unit, but Real don't."

No subs at half-time for either side. Hard to believe a Real Madrid side with all these star players are doing so badly here. Although if we're being honest, none of us expected Rafa Benitez to do a great job at the Bernabeu, did we?

KICK-OFF - Real Madrid 0-2 Barcelona

Second half under way. Are we in for one of the great Clasico comebacks?

Players are out for the second half. Not long to go.

Get Involved

Have your say on our Facebook pages

Craig Maisey: Barcelona giving Madrid a football lesson

Jennifer Diane Evans: Barcelona are giving Real Madrid a masterclass in total football  

Siyabonga Nkutha: Messi must get in second half and show them football

Jamie Goode: Yeah but neither are as good as Leicester City.....and Jamie Vardy is having a party and Barca/Madrid aren't invited  

Real Madrid are usually so good at home. They are unbeaten in 22 La Liga games at the Bernabeu, winning 19 of those.

It is going to take one hell of a second half to keep that run going.

Could Everton and England centre-back John Stones play for one of these clubs in the future?

Phil Neville certainly thinks so. 

He told BBC Radio 5 live last night: "I think he can play, not just at the best clubs in England, but at the best clubs in Europe. I really do.

"One of the big boys in Spain, or Bayern Munich - I think he's at that level. They'll be looking at him and thinking this boy is something special."

Not a vintage Real Madrid performance. Barcelona rampant...

It's only a couple of years since people were talking about Brendan Rodgers as a possible Real Madrid or Barcelona boss!

Spanish writer has his say

Liverpool are 3-0 up against Manchester City if you're into that kind of thing. Live text on that game here. Come back to us for the second half though.

HALF-TIME - Real Madrid 0-2 Barcelona

The scoreline is reflective of the first half. Real Madrid have been pretty poor, Barcelona have been brilliant at times. As things stand they go six points top.

How is this not 3-0 to Barcelona? Marcelo saves Real Madrid. Neymar and Luis Suarez play a few quick passes to each other and the defender heads Suarez's close-range shot off the line. A remarkable goalline clearance.

Two minutes until Rafael Benitez can try to turn this around in the Real Madrid dressing room.

Neymar finds Luis Suarez again, but the Barca striker is tackled in the box. Real just need to get to half-time still in this game.

Neymar, who is OK, runs down the centre and tries to play Luis Suarez in down the left but the Uruguayan has to cut back to try to find a team-mate and the attack is over.

Real, who have had one shot so far, are all over the place.

Neymar is triple teamed by three Real Madrid players who are all sort of fouling him. He goes down injured but I'm not sure what the moment was to hurt him there.

Chris Waddle

BBC Radio 5 live at the Bernabeu

"Another fantastic goal by Barcelona. Iniesta is a genius when he has the ball. Fantastic feet. Neymar is played onside and gets a little help via the keeper's hand."

GOAL - Real Madrid 0-2 Barcelona

Neymar

Real Madrid missed their chance and Barcelona have made them pay.

Andres Iniesta slides the ball through to Neymar, who slots the ball udner Keylor Navas. There was quite a strong offside appeal there.

That's the 19th consecutive Barcelona league goal scored by Luis Suarez or Neymar.

Barcelona lucky not to concede here. Barcelona substitute Jeremy Mathieu makes a hash of a clearance with Real failing to take advantage and then Claudio Bravo gets his positioning wrong but Barca escape again.

Karim Benzema fails to control a ball forward. The Real Madrid striker hasn't looked sharp today on his return from injury as well as, um, off-field problems.

Dani Alves is on the ground again, this time caught by Sergio Ramos.

If only Opta did stats for most time spent on the ground by players. Surely El Clasico would never be beaten. Marcelo has a little roll on the floor but he's fine.

Just seen Toni Kroos, had forgotten he was playing. Real Madrid have been pretty poor so far.

Chris Waddle

BBC Radio 5 live at the Bernabeu

"Barcelona should put this game to bed. The amount of possession they have had and the way they are moving the ball, this game should be over. If it is 1-0 at half-time, Real Madrid will be delighted."

Dani Alves fouls Cristiano Ronaldo, who catches him with an elbow.

The Brazilian is wriggling around on the ground like a worm, but the referee waits patiently for him to get up with a yellow card in his hand. Alves is going to yellowtown.