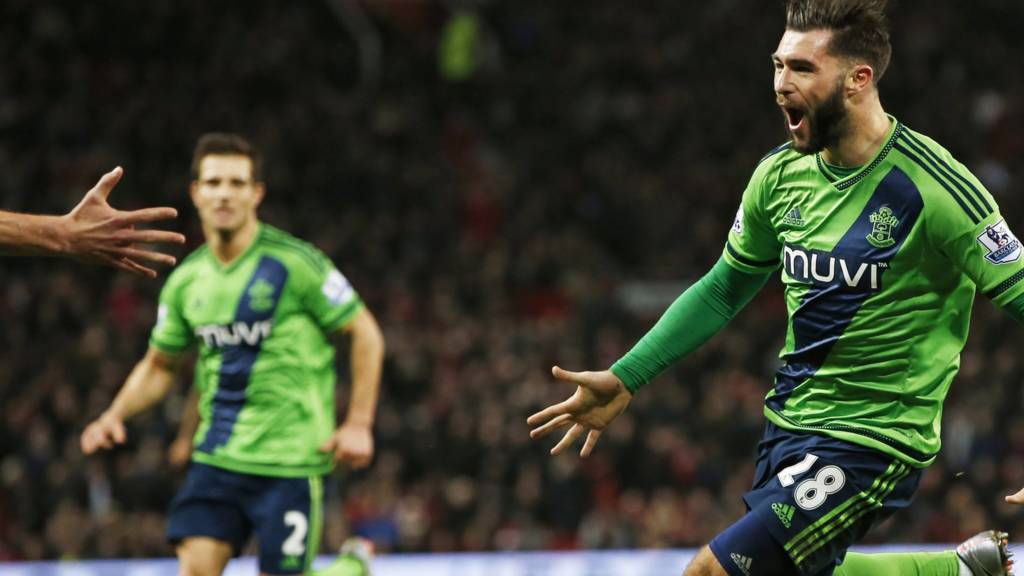 HALF-TIME

West Ham 1-1 Man City

He looks more like Anderson to me...

Payet, Ronaldo's double?

West Ham 1-1 Man City

West Ham's Dimitri Payet is producing all the tricks and flicks this evening. Some pirouettes, you name it, plenty in the locker.

I should think you were happy...

Crystal Palace 1-3 Tottenham

Manager reaction

Watford 2-1 Newcastle

Watford boss Quique Sanchez Flores:

"We played very well - it was an energetic team. It was difficult against Newcastle.

"It was a crucial match during the season - Newcastle are trying to avoid the same position as us [relegation]. We have got more of a gap to Newcastle now. 

"Half time today is the period where we tried to correct things. It was important to score quick and then score the second goal. Troy Deeney and Odion Ighalo always play well. Today it was important to play Troy Deeney, Odion Ighalo and Jose Manuel Jurado together."

GREAT SAVE!

West Ham 1-1 Man City

Joe Hart made a brilliant save from a Dimitri Payet free-kick to keep the Hammers at bay.

Get Involved - England's future?

#bbcfootball

Paul Witts: Alli and Barkley in the engine-room for England is an enticing prospect in France this summer.

Robert Thompson: Is it time to start following the European method of basing the National Team around a top club side? Spurs could be that side.

YELLOW CARD

West Ham 1-1 Man City

Oooof! Martin Demichelis steps across and chops down Michail Antonio, who was sprinting in on goal! Demichelis is booked but should that have been red...?

The big move approaches

West Ham 1-1 Man City

Not many games left to play under the lights as the Premier League prepares to say goodbye to the Boleyn Ground. 

Riaz Munir: LVG needs to stop stating the obvious, blaming injuries and accept he is the problem. He needs to change.

Aidan Mifsud: Anybody remember LVG 's Holland's terribly boring 0-0s in Brazil '14 vs. Costa Rica, Argentina. Nothing new.

'A goal that will be seen around the world'

Crystal Palace 1-3 Tottenham

Tottenham manager Mauricio Pochettino: "After the first half I was a bit disappointed but we sorted out some problems and with the maturity we showed in the second half we fully deserved the win.

"After 95 minutes the result was fair. It was a fantastic performance.

"We have the youngest squad in the Premier League, but the way the players showed their maturity it looked like the oldest.

"Dele Alli's goal was a fantastic goal and it showed his quality. It is a goal that will be seen around the world on television - it was unbelievable. We knew he was a player of unbelievable potential, but today he showed unbelievable maturity and quality."

And he should know...

Crystal Palace 1-3 Tottenham

Hot off the mark!

West Ham 1-1 Man City

Enner Valencia's opener after 53 seconds was the 2nd quickest goal scored in the Premier League this season. Matt Ritchie's goal against Spurs inside 49 seconds, remains the quickest so far.

SUBSTITUTION - Byram on

West Ham 1-1 Man City

Daniel Osunbor: The fans are tired of hearing excuses. We can't take this. Just one shot on target against Southampton at Old Trafford.

Andrew Miller: They are looking a new manager in my local garage and Iwouldn't give it to LVG!!

Paul Newcombe: With MUFC now it's not the losing that gets to you it's the inevitability it'll be boring whatever the result...

We controlled the game - Koeman

Man Utd 0-1 Southampton

Southampton manager Ronald Koeman: "We played very good. Our organisation was good, we were very compact, we had good pressing.

"We stayed in the game, controlled the game and you saw more nerves in the Man Utd team and finally we score from a corner kick. 

"We showed spirit today, it was an amazing result for the second time here."

'We've had a tough Christmas'

Watford 2-1 Newcastle

Newcastle manager Steve McClaren: 

"We started the game so well and looked in control. The two goals really killed us. It's disappointing - we fought and came back. We threw everything at them - it wasn't our day. 

"We talked about focus and the first 10 minutes being important - [referring to the first goal]. The second goal was from an aimless cross into the box. We then had a mountain to climb.

"Apart from the two goals - the performance was terrific. We've got to get it right at both ends. We've had a tough Christmas. The last few results we've been growing and getting better. We lick our wounds and go again."

Only Christmas?

Aguero levels it up

West Ham 1-1 Man City

Sergio Aguero won the penalty when Carl Jenkinson cut him off and went thigh-to-thigh with the Argentine, and Aguero stepped up to convert into the corner.

Jenkinson has got a dead leg too so new signing Sam Byram is warming up.

GOAL - West Ham 1-1 Man City

Sergio Aguero (Pen)

PENALTY MAN CITY

West Ham 1-0 Man City

An electric start in East London...