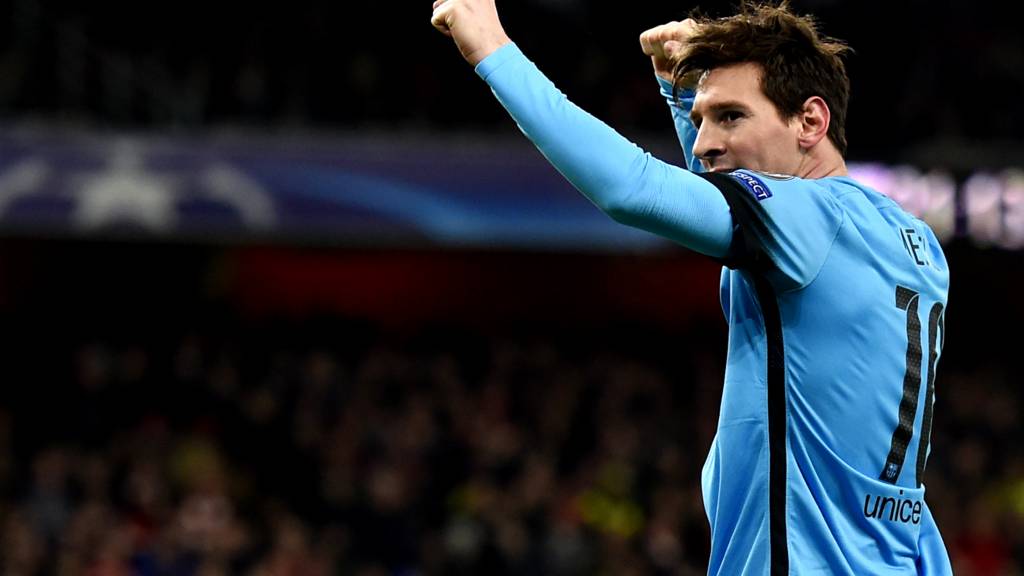 Barca beat Arsenal - reaction
Post update

Arsenal 0-2 Barcelona

That's it from me.

Thanks for your company.

Cheerio.

Chief football writer Phil McNulty is conducting a live video Q&A on Facebook right now. Send him your question and he'll answer as many as he can. Head this way.

Stat attack

Arsenal 0-2 Barcelona

Some stats for you...

- Lionel Messi scored in his 51st different Champions League match – only Raul (56 games) and Ronaldo (60 games) have scored in more.

- Messi ended a run of 10 hours and 11 minutes without a goal against Petr Cech (seventh game against him). 

- Messi now has eight Champions League goals versus Arsenal.

- Barcelona are unbeaten in 33 competitive games – their best ever run in all competitions. The record for a Spanish team is for Real Madrid with 34 games without defeat in a row back in 1987/88.

What a team...

An instant impact

Arsenal 0-2 Barcelona

'They are better than us

Arsenal 0-2 Barcelona

More from Arsenal manager Arsene Wenger on BT Sport:

"We knew we could not afford to give them counter attacks and that is exactly what we did. It is too easy to blame, you have to respect the effort. They always can kill you when you think you are on top.

"In their transition they never make a bad pass. They are better than us, there is no shame, they are European champions and that is no coincidence."

Despite Barcelona's win, in our vote 59% said they would prefer Arsene Wenger to manage their club than Luis Enrique.

Thanks for getting involved.

'We were naive'

Arsenal 0-2 Barcelona

Arsenal manager Arsene Wenger on BT Sport: "Barcelona is a great team. We put a lot of energy in the game and technically we were very average. 

"The regret I had was once we looked like we dominate the game, we give the goal away. Similar to Monaco last season, naive, and that is frustrating. When we looked like we could win the game, we just gave it away.

"Realistically it is very,very difficult, if not impossible. We have to go there and fight. We had the chances, we didn't score."

'We had enough chances to score'

Arsenal 0-2 Barcelona

Per Mertesacker speaking on BT Sport: "We had to score at one point here and that's why we do not deserve anything. You will never keep them quiet for 90 minutes. 

"We took more risks and then they scored. We had enough chances to score at least one. We have to concentrate on the Premier League now. In one month we face Barcelona again and we still have a chance. We never give up."

'You have to take your chances'

Arsenal 0-2 Barcelona

Aaron Ramsey speaking to BT Sport:  "We did really well in the first half - we created a few opportunities but didn't take them. It will be tough for us now but we will go there and try out hardest. Against a side like that you have to take your chances."

Call 0500 909693 or text 85058.

Post update

Arsenal 0-2 Barcelona

Interesting looking at that Gerard Pique yellow card.

Interesting he speaks to coach Luis Enrique and then seconds later gets booked for a cynical lunge to rule him out of the next match.

Let's just say Barca won't mind scrubbing his yellows clear for the quarter-final...

I wish I had Andrew. Great spot...

The top four in the Championship all won to preserve the status quo.

Hull therefore stay top thanks to their 1-0 success at Ipswich.

There's no change at the bottom either with none of the bottom five winning - unless Rotherham can do something dramatic by turning around a 1-0 deficit at Reading in the late kick-off.

MK Dons could have moved up a place but 10-man Huddersfield came back to secure a 1-1 draw.

In League One, Oldham increased their survival hopes with a 2-1 win at Peterborough.

They are now just a point behind Shrewsbury and Fleetwood, who lost 1-0 at Rochdale.

League Two leaders Northampton made it 10 straight league wins with a 2-1 success at struggling York.

Oxford and Accrington both won but Plymouth dropped points in a 0-0 draw at Yeovil.

Elsewhere in Europe

Juventus 2-2 Bayern Munich

In the day's other Champions League tie, Juventus came from 2-0 behind to draw with Bayern Munich.

Should be a cracker in Germany. Read the report here.

'What could have been'

Arsenal 0-2 Barcelona

Jermaine Jenas

Ex-Spurs & England midfielder on BBC Radio 5 live

"I felt the Arsenal players gave good account of themselves in parts of the game but this Barcelona side have got too much class. Tonight is a flavour of how dangerous they can be. 

"Arsenal will be thinking what could have been. They didn't capitalise on the opportunities they had. They didn't seem to have enough when Barcelona ramped it up.

"I was really happy with Arsenal's tactics for once but I don't think they had the quality in the final third."

A brave shout that Helles. Perhaps get your tin hat on?