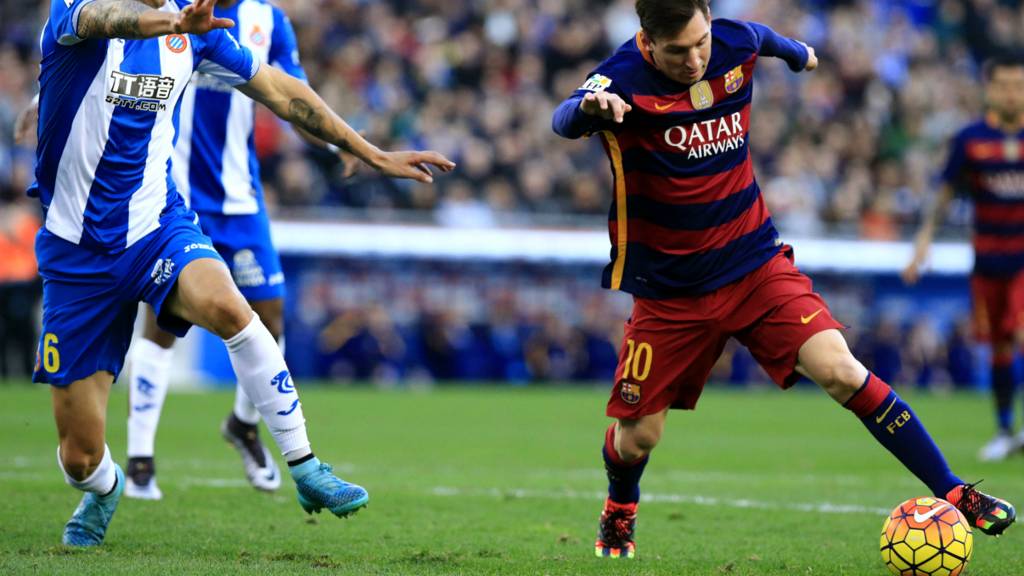 FT: Barcelona 4-1 Espanyol
FULL-TIME - Barcelona 4-1 Espanyol

Barcelona win tonight's leg and realistically they're surely into the Copa del Rey quarter-finals.

Lionel Messi squares to Luis Suarez, who misses an open goal. And that's the last action.

Luis Suarez almost adds a fifth as he chases onto a through-ball but the defence just about clear.

We're halfway through four minutes. The game is up by this stage.

GOAL - Barcelona 4-1 Espanyol

Neymar

A world-class goal by world-class players in a world-class team. Neymar plays the ball to Lionel Messi, who lofts a first-time pass over the defenders and Neymar is on the other end to volley home with venom. Fantasy football.

Neymar nutmegs Javi Lopez, who goes in with a studs-up challenge. If he'd made contact Espanyol would have finished with eight men.

Luis Suarez crosses in the 'corridor of uncertainty' but no-one is there to turn it in - it lands to Aleix Vidal but his effort is blocked wide for a corner.

Can Barca kill this tie off against nine men?

A corner comes in which Espanyol keeper Pau Lopez misses and Luis Suarez - not expecting the ball to come to him - heads wide of an empty net from four yards out.

He is angry with Lopez about something and Gerard Pique - rarely a peacekeeper - drags him away. This is a proper heated derby.

Lionel Messi and Espanyol defender Enzo Roco are both booked. It's mayhem at the Nou Camp!

It's all kicking off. Both sets of players are starting to clash on a regular basis now. Could we lose another player in the final 13 minutes?

Espanyol are down to nine! Pape Diop, who was already booked, is sent off for what I presume is dissent as he moaned to Luis Suarez and the referee.

Gerard Pique is booked and he's furious. He's battling for the ball with Victor Alvarez, who goes down holding his face - even though Pique's arm never went near it. Horrendous dive.

Espanyol midfielder Hernan Perez takes Jordi Alba down off the ball. It's a second booking and he's got to go. A bit of a surprise it took this long for someone to be sent off.

I predicted Lionel Messi would take the next free-kick - he did but it's straight at keeper Pau Lopez.

Aleix Vidal becomes Barcelona's second debutant today - the versatile defender/midfielder comes on for Dani Alves. So he'll go in at right-back.

The other debutant comes off, Arda Turan is replaced by Ivan Rakitic.

Lionel Messi - who scored a free-kick earlier - steps over this one and Neymar shoots but keeper Pau Lopez palms it away. I think Messi will be taking the next one.

Lionel Messi goes on a dribble and Pape Diop - who was already booked - brings him down just outside the box. He might regret that.

Lionel Messi is fired up here - he gets the ball in the box but concedes a free-kick as he tries to climb over an Espanyol player to get the ball. Barcelona in total control.