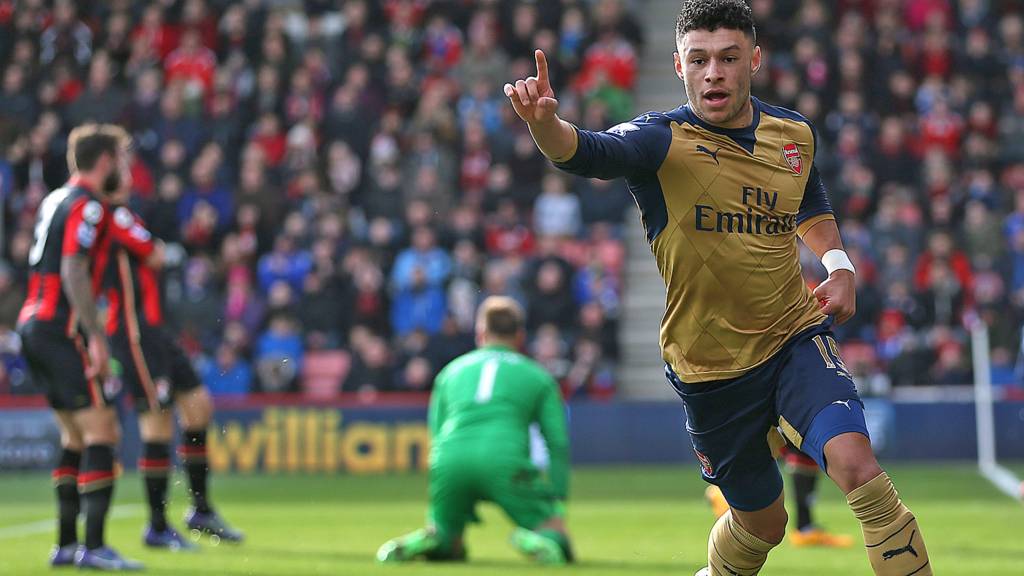 Summary
Ozil smashes in from close range
Oxlade-Chamberlain drives in from tight angle
Gunners had not scored in previous three PL games
Win takes Arsenal up to third
We're asking for your suggestions for the cast and title of a Hollywood blockbuster charting Leicester's incredible season.

While Leicester take all the headlines, Tottenham are quietly picking off those above them and are now five points behind the Foxes in second.

They too are a team to be taken seriously, and manager Mauricio Pochettino says his players are beginning to think about title glory.

"You can see in their eyes, the feeling, the energy, that they believe," Pochettino said.

"Belief is the most important word. If we believe, anything can happen."

We're asking for your suggestions for the cast and title of a Hollywood blockbuster charting Leicester's incredible season.

Steve Knight: Ethan Hawke as Vardy. Tom Hardy as Huth. Gary Lineker as Ranieri. "Tinkerman strikes back".

Thafseer: The Impossible Dream: Jared Leto as Vardy, Rami Malek as Mahrez Tom Hanks as Ranieri.

Dan: Claudio With A Chance Of Mahrez.

As if the Saturday night of Leicester fans up and down the country couldn't get any better, Jamie Vardy signed a new three-year deal.

"I'm absolutely delighted to be fighting to achieve something special with this club. I've never known a spirit like it," the 29-year-old said.

"I want to be part of it for a long time."

Words you might want to rehearse, Louis Tomlinson.

Can Leicester win the title?

Former Leicester City boss Martin O'Neill on BBC Radio Five Live's Sportsweek programme: "When you are starting to open up gaps now and games are running out you've got to give yourself a great chance.

"Leicester should give great hope to everybody else in the league.

"There is more money than ever before so there is no reason why supposedly inferior clubs should get rid of players at a moment's notice – it is the biggest incentive of all if Leicester can actually do this."

Can Leicester handle the pressure?

Chris Sutton

Former Chelsea & Norwich striker on BBC Radio 5 live

"The longer you stay up there, and the closer you get to seeing it through, the harder it gets. We (Norwich) got through March and were back on the top of the table and it hit us. All of a sudden we started thinking about whether we could actually do it."

'An astonishing story'

Man City 1-3 Leicester City

Former Leicester City boss Martin O'Neill was on BBC Radio 5 live's Sportsweek programme discussing his old's team prospects of winning the Premier League.

Leicester won 3-1 at Manchester City on Saturday and are now six points clear at the top of the league.

"It is an astonishing story - I'm running out of superlatives, it has been remarkable," said O'Neill.

"I can compare it with Nottingham Forest back in 1977-78 season. We went up in third place from the old second division and stormed right through.

"Until Christmas people thought our bubble would burst but we went to Manchester United a few days before Christmas and won 4-0.

"There is nothing flukish about what Leicester are doing."

We're asking for your suggestions for the cast and title of a Hollywood blockbuster charting Leicester's incredible season.

Roar Media: Could be Phillip Schofield's big break to play Claudio.

Dave Busfield-Birch: Based on their going from near relegation to top, I would call it Escape to Victory.

Don't bet on it. Or maybe you should?

You can now walk into any bookmakers in the country and you'll find Leicester are favourites to win the Premier League.

This is a team who, 12 months ago, were seemingly a lost cause.

Asked about the bookies' odds, Leicester boss Claudio Ranieri said: "I don't believe them. 

"They said I was first to be sacked! But I hope they are right."  

You never see a broke bookie, Claudio.

OK... maybe Peter Barlow in Corrie. But apart from him.

The next Oscars could look a lot like this...

Surely the Hollywood script-writers are training their sights on Leicester. They've got to make a movie out of it. But what would it be called? And which actors would you want to play Jamie Vardy, Claudio Ranieri and the other Foxes heroes?

Let's have a bit of fun - get involved using #bbcfootball or send a text to 81111.

I've heard rumours One Direction's Louis Tomlinson is already being lined up to play Vardy... 

The morning papers are split. They want to talk about Leicester, but they also seem keen to focus on the ongoing saga at Old Trafford where it's rumoured that Jose Mourinho is being lined up to replace Louis van Gaal...

Morning one and all. It still doesn't sound right, does it?

But we better get our nut around it. Leicester are five points clear and history suggests they will now go on and win the league.

I'll raise a glass to that.