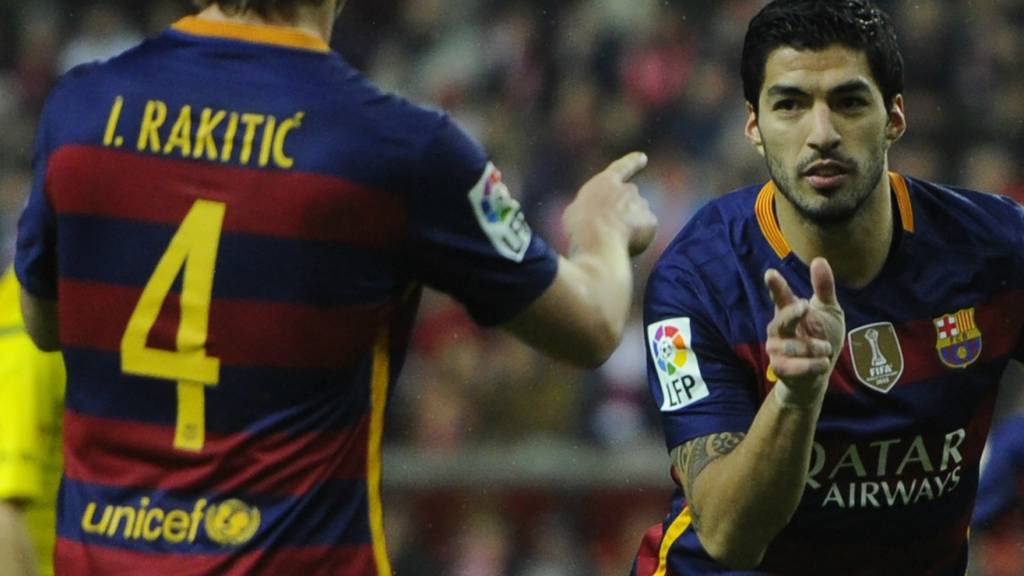 Messi passes 300 La Liga goals
Summary
Messi now up to 301 La Liga goals
Suarez has penalty saved but then scores
Castro had equalised from six yards out
Barca rest several players but Messi, Neymar & Suarez start
Visitors would go six points top with win
Barcelona go six points clear at the top of La Liga with a deserved win as Lionel Messi becomes the first man ever to score 300 Spanish top-flight goals (and then the first to score 301).
Three minutes added on that neither side really want. This game is done.
Sporting Gijon attacking midfielder Alen Halilovic gets the ball about 30 yards out and has a pop but it's over the bar against his parent club. Not too long left now before this game reaches its certain conclusion.
Barcelona midfielder Sergio Busquets gets booked, which sees him suspended for Saturday's trip to Las Palmas. He's immediately replaced by Javier Mascherano.
And Gerard Pique comes off for Marc Bartra at centre-back.
Luis Suarez chases onto a Lionel Messi through ball and Ivan Cuellar rushes out to take the ball off his feet at the edge of the box. If the keeper had got that wrong, he'd have been off.
Sporting Gijon bring on Alex Barrera for Alex Menendez, who was one of their liveliest players and assisted their goal. Admittedly that goal feels like a lifetime ago now.
Lionel Messi plays a ball over the top to Arda Turan, who is unmarked. The Turkey international has two options - either shoot from an angle or square it to Luis Suarez - who couldn't miss.
He can't really make his mind up and he almost seems to pass it wide of the far post.
Barcelona have only scored directly from eight of their 16 penalties this season, although one of the ones not scored was the Lionel Messi to Luis Suarez goal. Even so, that's a pretty shocking record.
GOAL - Sporting Gijon 1-3 Barcelona
Luis Suarez
Brilliant by Luis Suarez, he gets the ball in the box with two defenders around him, a couple of good touches and he's in space and then he just curls the ball off the inside of the post and in.
Get Involved
#bbceurofooty
Wale Ibraheem: The keeper gave away the penalty and saved the penalty. It's redemption week.
On Sunday, Luis Suarez scored from Lionel Messi's penalty.
Today the Uruguayan takes it himself but Ivan Cuellar dives down to his right and saves it. Good keeping.
Sporting Gijon keeper Ivan Cuellar comes flying out of his goal and takes Neymar out of the equations.
He's booked, rather than sent off, as the forward was a bit wide.
Penalty.
Sporting want a penalty as Alen Halilovic goes down in the box but he'd kicked Arda Turan's leg instead of the ball, which is why he'd gone down, so no penalty.
Get Involved
#bbceurofooty
Marcus: However fantastic Messi is, Spanish league is boring as only three teams can win it, and Barcelona top favourite. Give me the Premier League.
Until this season, isn't it just the same three or four teams who challenge for the Premier League every year?
Neymar plays the ball through to Luis Suarez, who tries to flick the ball over keeper Ivan Cuellar but a defender clears it, I'm not sure it was going in anyway. Neymar then bicycles the ball over after it lands to him.
Sporting Gijon forward Alen Halilovic tries to cross the ball in but instead blasts it at Sergio Busquet's head. The Barca midfielder looks in some discomfort and has to go off for treatment.
I think Halilovic might get a crunching tackle from Busquets in his first Barcelona training session next season when he returns from his loan spell in Gijon.
Luis Suarez is the first player in this season's La Liga to reach double figures in goals and assists. He has scored 23 and assisted 10, including Lionel Messi's second today.
Luis Suarez thinks he's in to make it 3-1 here but he just timed his run wrong and was flagged offside.
Get Involved
#bbceurofooty
Damien Hill: Here's a topic for discussion, how many goals will Messi end up with? I reckon 500 at least..
Barcelona defender Gerard Pique tries a bicycle kick but it's easily saved by Ivan Cuellar. The Spain international is one of the few centre-backs in the world who would try that.
Our Champions League live text has just started over here.
It's Gent v Wolfsburg and Roma v Real Madrid tonight. This game will be over before those start so there's no rush to leave us here to follow those games!
Barcelona start the second half. 

Midtjylland chairman Rasmus Ankersen has defended his club's decision to charge Manchester United supporters £71 for tomorrow night's Europa League tie in Denmark.
"It's a big game for the region, we could have taken in to another stadium and sold 50,000 or 60,000 tickets, but wanted to dedicate this game to the fans who come every week," Ankerson told BBC Radio 5 live.
"We are charging the same amount for Danish fans as Manchester United fans. Our fans have not complained about it. I understand the frustrations of the United fans but we have to try to make everyone happy.
"It's a lot of money but people here think this is a once in a lifetime experience."
Hear the full interview on the European Football Show on 5 live Sport tonight, from 21:00 GMT.
Your 45 minute (ish) warning

If European football is your thing - and since you're here reading this, I have a feeling it might be, check out the European Football Show on BBC Radio 5 live tonight from 21:00 to 22:30 GMT.
Mina Rzouki, Julien Lauren and Steve Crossman will be discussing Serge Aurier's suspension by PSG, Liverpool new boy Joel Matip and Europa League side Midtjylland. There will also be an interview with Napoli keeper Pepe Reina on his side's title bid.
Barcelona are dominating. To be honest you didn't need to read the stats to know that would be the case.
Under-strength Sporting Gijon are lucky to still be in this really although they've defended well.
Lionel Messi has scored his 300th - and 301st La Liga goal - as Barcelona threaten to go six points clear at the top.
The referee lost his footing and fell over - a moment that's funny no matter what league it happens in.
Barca are starting to get a bit frustrated as Sporting's defence are standing strong. Arda Turan concedes a free-kick for knocking over Alex Menendez while trying to get the ball. The visitors should be further ahead.
Neymar sends his defender one way and then the other with some great footwork but then he flashes his shot against goal and wide of the far post from an angle.
Sporting are lucky to only be one goal down, they're being totally dominated now.
Lionel Messi now has 301 La Liga goals. Telmo Zarra with 251 is second on the all-time scoring list.
Cristiano Ronaldo is third with 246.
Get Involved
#bbceurofooty
John McEnerney: Sporting play some nice stuff which is surprising considering Albeardo was a hoofer/hatchet man in his playing days.
It's almost a Lionel Messi hat-trick as he gets the ball on the edge of the area and forces a save from Ivan Cuellar when you'd expect him to score.
The ball breaks to Neymar... and his curler hits the post. 
Sporting Gijon are on the ropes now.
GOAL - Sporting Gijon 1-2 Barcelona
Lionel Messi
Lionel Messi plays the ball over the defence to Luis Suarez, who holds the ball up, turns and plays it back to Messi, who smashes home from about 10 yards out.
He starts the road to 400 La Liga goals...
I really wasn't expecting that. Remember Sporting have put out a weakened team, with the weekend's match against Real Betis in mind.
Neymar has a shot for Barcelona but it's straight at the keeper.
GOAL - Sporting Gijon 1-1 Barcelona
Carlos Castro
Scenes.
Sporting Gijon are level almost immediately. They play a few passes around the box to work it out to Alex Menendez out left and he fires in a low ball across the box which Carlos Castro slides in at the far post.
LANDMARK GOAL - Sporting Gijon 0-1 Barcelona
Lionel Messi
Lionel Messi turned down the chance to score his 300th La Liga goal when he set up Luis Suarez with his penalty the other day.
Well today, he's reached the landmark. The Argentine gets the ball outside the box and just lamps it into the bottom corner. Great finish by a legend of the game.
It's some pretty desperate defending by Sporting Gijon at the moment, players throwing themselves at the ball to deny Lionel Messi and Arda Turan in a Barca attack.
They'll be happy to make it to quarter-way through the game level.
Neymar slips the ball through to Luis Suarez, who darts in behind the Sporting defence but his shot from eight yards out is well saved by Ivan Cuellar. 
Sporting defender Jorge Mere is back on with a head bandage.