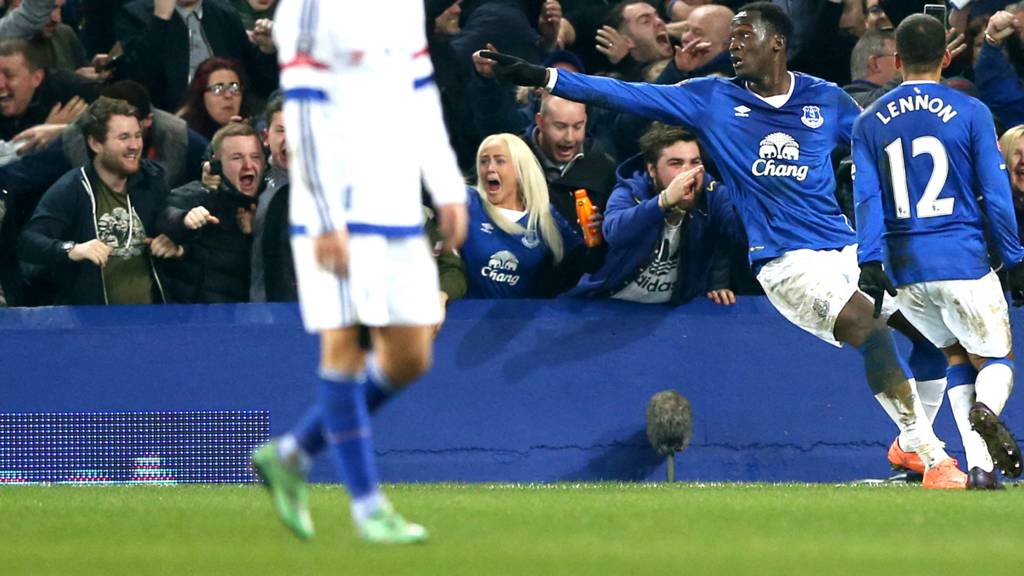 Everton knock Chelsea out - reaction
That's all from us for the night - see you soon!

Barry plays it down

Everton 2-0 Chelsea

Gavin, in Luton: Who I feel sorry for is the parents of the children watching that match. Trying to explain Costa's actions. Hopefully he will leave the prem soon. Disgrace.

Grant Wright: Was never a bite, Barry should have been cautioned much sooner, could have prevented the whole incident.

Alawode: Thanks to Barry for not simulating, Diego would have been in trouble. Not a bite, otherwise Barry would have been up in arms

Emegbo Charles: Sometimes it pays to be patient. Hope Chelsea has learnt a hard lesson to keep faith with their young stars

Robert Snell: Can Loftus-Cheek finally get a run in the side now?

Post update

Everton 2-0 Chelsea

"There are a lot of idiots on social media but it is going berserk about Diego Costa. If I had done what Diego Costa has done I would expect to be talked about."

'I haven't seen it'

Everton 2-0 Chelsea

Chelsea manager Guus Hiddink: "I haven't seen it on TV - and then I will give a fair comment. Everton were going after him all game."

Post update

Everton 2-0 Chelsea

"Would you say that Everton are spectacularly, consistently inconsistent?"

'I didn't see it'

Everton 2-0 Chelsea

Chelsea manager Guus Hiddink: "There is a lot of emotions still going on after the game, but when I tried to calm down and analyse, the team did rather well for 70 minutes and then we conceded. The energy was out and we had a few injuries. I cannot criticise our attitude but the sharpness was left around the box.

"We knew already Romelu Lukaku was making his goals, he is a good guy, a good player.

"I didn't see the Diego Costa incident. If I had have seen it I would give proper comment so it is difficult to give a comment on that.

"It was a tough game between all the players involved, they were going after him a little bit. The referee don't have to protect but must know when they are going after them.

"Everyone knows where Chelsea were. The first task was to get out of the relegation zone and we did that fast, we went from 16th to 10th. Then there were two cups at stake. it is important now that we have the pride to play when there is nothing much at stake. 

"We will be proud and play for the public."

Here he comes...

Everton 2-0 Chelsea

'One of the great FA Cup goals'

Everton 2-0 Chelsea

Everton manager Roberto Martinez: "It is a fantastic feeling, more than anything the atmosphere that was created. Every one of us will take it away.

"Romelu Lukaku's goal was one of the great goals we will see in the FA Cup. We played a great team in Chelsea but we looked a team that was hurting from the weekend loss to West Ham. We had the responsibility to relieve the pain and did that in the last 12 minutes. Today was the complete feeling.

"I am the one bringing expectation and every single player at the club has the right mental character. We wanted to get to Wembley and our chairman deserves that for what he has achieved. 

"I can't comment if Diego Costa did anything. It is a game full of emotions and there were two sending-offs, the referee played a very good game."

Get involved

Text us on 8111

SMS Message: While it doesn't excuse Costa's reaction, I'd be getting frustrated too by the persistent fouling from Barry. Wasn't punished until late on and gets away with it because he's English. from Alex, Bristol

SMS Message: A disgrace you say, I wish there was someone who cares as much as Costa at Old Trafford. from Patrick in Salford

Is Costa in trouble?

Everton 2-0 Chelsea

6-0-6 is well under way on BBC Radio 5 live, with Diego Costa's tussle with Gareth Barry one of the hot topics.

You can have your say on that incident by calling 0500 909693 or by texting 85058.

Take a look at the clip below and make up your own mind.

Danny Powell-Thomas: Costa is just vile - knew exactly what he was doing, then squared up to the ref after the red! As always, fully deserved.

Yousuf Ali: This CFC team needs to look in the mirror, not convinced most want to play for the club, have given nothing this season.

Gervase Kempinski: We've paid the price for José's ego. But too many players not turned up. There must be a diamond in amongst the 30 kids on loan

'I have nothing to prove'

Everton 2-0 Chelsea

Everton striker Romelu Lukaku: "It feels great, I am just happy for the team and to do something we wanted. Now we have 90 minutes to go and we delivered a good performance after the loss against West Ham.

"I think the first goal is the best thing, I didn't know where I was going but then I was in the box. I saw Gary Cahill not know where he was going so I shifted it onto my left foot.

"It was just another goal and happy for the team. If you wan to win cups, you have to beat the big teams.

"I don't think I have anything to prove to Chelsea, I went there as an 18-year-old and learnt the trade of being a professional footballer. I will always be grateful to them.

"If we work hard and are clinical offensively and defensively, we have a chance."

Russel in Torquay: Chelsea's reputation has been irrevocably tarnished by Mourinho. Costa is an example of his win-at-all-costs, forget professionalism and honour approach, and it's exactly the reason why no one has the least bit of sympathy in seeing them fail. Don't let your reputation go the same way, United!

Stat attack

Everton 2-0 Chelsea

Everton are yet to concede a single goal in the FA Cup this season.

The Toffees have reached the FA Cup semi-final for the first time since 2011-12, where they were eliminated by Liverpool.

Guus Hiddink lost his first FA Cup match as Chelsea manager, having won all six of his games previous to this.

'Tiresome Costa'

Everton 2-0 Chelsea

Alan Shearer

MOTD at Goodison Park

On Diego Costa's red card: "I know we were laughing at half-time but it is tiresome. He spends too much time fighting and scrapping, you can't do that every game because you turn the ref against you."