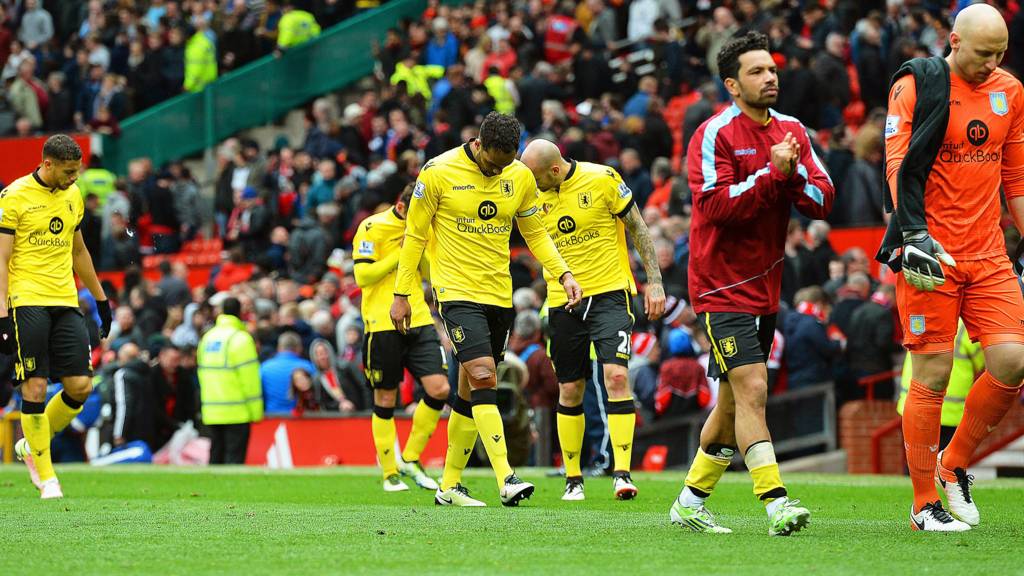 Saturday football reaction
It has been a big day at the bottom of the Premier League. Sunderland and Newcastle boosted their hopes of surviving the drop, while Norwich saw their optimism dented.

I will leave you, though, with the tale of Aston Villa, whose 28-year stay in the top-flight came to a sad end today...

By Patrick Jennings

BBC Sport

By Dafydd Pritchard

BBC Wales Sport

By Mandeep Sanghera

BBC Sport

Post update

West Brom 0-1 Watford

Post update

Newcastle 3-0 Swansea

Injured keeper Rob Elliot was pleased with Newcastle's result today and the performance of the man between the sticks for United, Karl Darlow...

Post update

Norwich 0-3 Sunderland

It was a good day for Fabio Borini, who scored one and made one in a big win for Sunderland today...

'The pressure is still on us'

Norwich 0-3 Sunderland

More from Sunderland manager Sam Allardyce: "The most pleasing thing of all was the clean sheet, that is our way forward with five games to go. 

"I know if we can keep two or three clean sheets in those game we'll be safe because I know we can score. 

"Five games to go, the pressure is still on us, but we've a better chance of getting out of it. Hopefully we'll take it. We can't afford to fail anymore. 

"As a performance, in terms of what we need at this moment, which is a result, it's fantastic for the lads."  

GOAL - Chelsea 0-2 Man City

Sergio Aguero

Another breakaway, another goal. City break up a Chelsea attack and burst away. Kevin de Bruyne finds Samir Nasri, who holds his pass to allow Sergio Aguero to stay onside and break clear. The rest is inevitable. 

Sunderland answer Big Sam's questions

Norwich 0-3 Sunderland

Sunderland boss Sam Allardyce, talking with MOTD: "A huge win and the lads have been able to take the pressure today which is something I was a little anxious about this morning.

"The position we've left ourselves in was making me feel a bit edgy this morning. Will we handle the pressure? Will we cope with the pressure? They've answered my questions. They've coped with the pressure and coped with everything Norwich could throw at them.

"To come here and win 3-0 shows you what a massive result it is."

Post update

West Brom 0-1 Watford

'Penalty misses will make Berahino stronger'

West Brom 0-1 Watford

West Brom manager Tony Pulis: "It's a cruel game at times, I thought we played really well today. 40 crosses, two penalties, but it was just not our day."

On Saido Baerahino, who had two penalties saved: "Good strikers miss penalties, and Saido is a good player – this will only make him better and stronger, He just has to bounce back, and he will feel it as much as anyone."

On the second penalty: "Saido wanted to take it, and some top, top players have missed penalties, players who have had the nous to take the next one and that is what Saido did. I hope if we get another penalty in the next few games I hope he is the one to smash it in.

"It was disappointing not just for Saido but for the team, because I thought we were much better than Watford today."