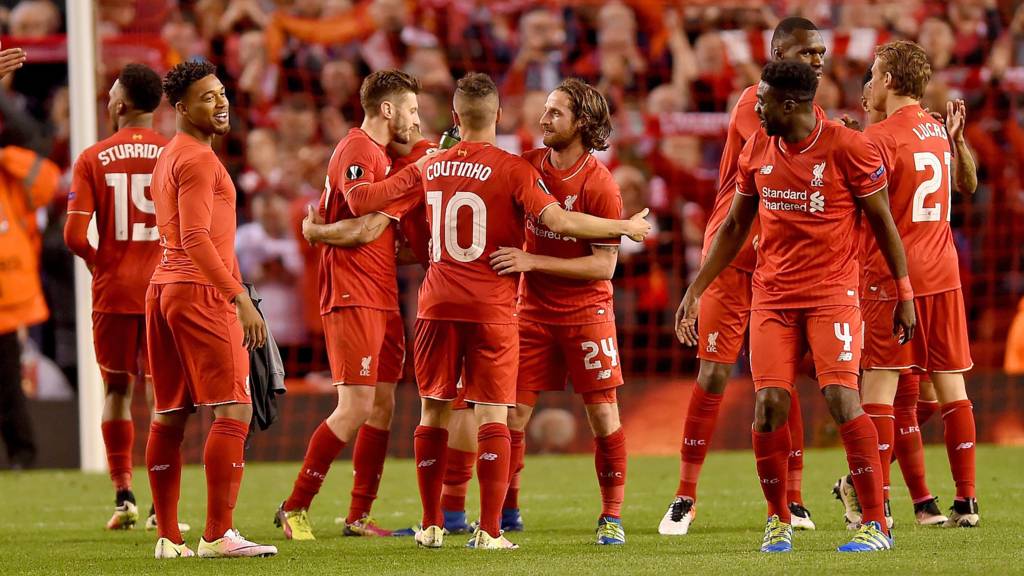 Liverpool into Europa League final - reaction
More magical nights ahead?

Not bad is this Klopp chap is he?

Seven months in the job and he's got Liverpool into two finals. Will this one end with a trophy?

Against defending champions Sevilla. In Basel. In just under two weeks. Should be a belter.

That's it from us, see you later.

'Out fought, out though and out played'

Liverpool into the Europa League final

Mark Lawrenson

Former Liverpool defender on BBC Radio 5 live

"I think Liverpool made Villarreal play at a pace they were not comfortable playing at. 

"The third goal was obviously key but in the end Liverpool had Villarreal making all sorts of mistakes. That was a sign of a team that had been out fought, out thought and out played."

Tony: Well done L'pool , I was at the Bernabeu last night . If you put enough into a match you'll get something out of it.   

Hulk Wogan: Got to turn this cup form into league from next season and get a new left back...

Real Madrid, Alaves, Sevilla

Liverpool will face Spanish opposition in a European final for the third time, having played Real Madrid in the 1981 European Cup Final (won 1-0) and Alaves in the 2001 UEFA Cup (won 5-4 after extra-time).

The Reds have only failed to score in one of their 21 home Europa League games (0-0 v Braga in December 2010).

Daniel Sturridge has scored in four of his past five appearances for Liverpool at Anfield in all competitions.
Only James Milner (14) has more assists in all competitions for Liverpool this season than Roberto Firmino (9).
Daniel Sturridge was involved in more Europa League goals tonight (2, one goal, one assist) than in his previous 13 games combined in the competition (1).
The Reds are the third English team to qualify for a Europa League final, following Fulham in 2010 and Chelsea in 2013.

Mark Lawrenson

Former Liverpool defender on BBC Radio 5 live

"He had an aura about him that Klopp certainly has."

Get involved #bbcfootball

Khalid:#EuropaLeague final in Klopp's first season in charge, great achievement as we beat BIG teams like Dortmund en route 

Mickey Somiah: Dankie #Jurgenklopp for bringing the belief back to @LFC...Two finals in 7 months..who would have thought..

He's right, you know. Basel is a nice city.

A bit more from Jurgen Klopp, who is doing his best to boost Switzerland tourism: "We go to Basel. We take 50k, 60k not in the stadium - maybe 100k - it is a nice city by the way, close to my home."

Liverpool boss Jurgen Klopp, speaking to BT Sport: "Wonderful night, brilliant game from my side. What a performance. The first half an hour was a big emotion. It was great. The last 15 minutes of tthe first half we lost patience. The second half plan was to keep going with the emotional football but using the brain a bit more and in the end brilliant.

"Everyone spoke a lot about this team before I came here. It was all about quality and not good transfers, I came here because I thought they had a nice squad but now we are in the final - Basel - a longer season!"

When's the final?

Liverpool into Europa League final

Liverpool into the Europa League final

Liverpool midfielder Adam Lallana, speaking to BT Sport: "We knew it would be a difficult night, we knew they could get the away goal but credit to the lads. The lads deserved to be in the final and hopefully we can win it. You have to show this competition respect and I feel we have done that."

Get involved #bbcfootball

James Williams: Jurgen Klopp giving 1980s @HulkHogan a run for his money touting up the crowd  

Huw Savage: Outstanding performance @LFC..looking forward to another day out in KC on the 18th!!!  

Ed O'Toole: Well done Liverpool. Almost as if Villarreal hadn't heard of Anfield when they celebrated at the end of the first leg.....  

Liverpool into the Europa League final

Liverpool striker Daniel Sturridge, speaking to BT Sport: "There will always be ups and downs in football. It is about being prepared to put your body on the line and take chances. It is a great feeling."

Liverpool into the Europa League final

Jurgen Klopp is on the pitch and fist pumping the sky. He's loving this.

Defending champions await the Reds

Want to know who Liverpool's opponents in the final in Basel on 18 May will be? Sevilla. They've just beaten Shakhtar Donetsk 3-1 on the night and 5-3 on aggregate.

LIVERPOOL INTO EUROPA LEAGUE FINAL

Mark Lawrenson

Former Liverpool defender on BBC Radio 5 live

"When you talk about Liverpool in the final think about this: Manchester United, Borussia Dotmund and Villarreal home and away. A very difficult run and they have done it."

FULL-TIME

Liverpool 3-0 Villarreal (3-1 agg)

That's it and Liverpool are into the Europa League final!