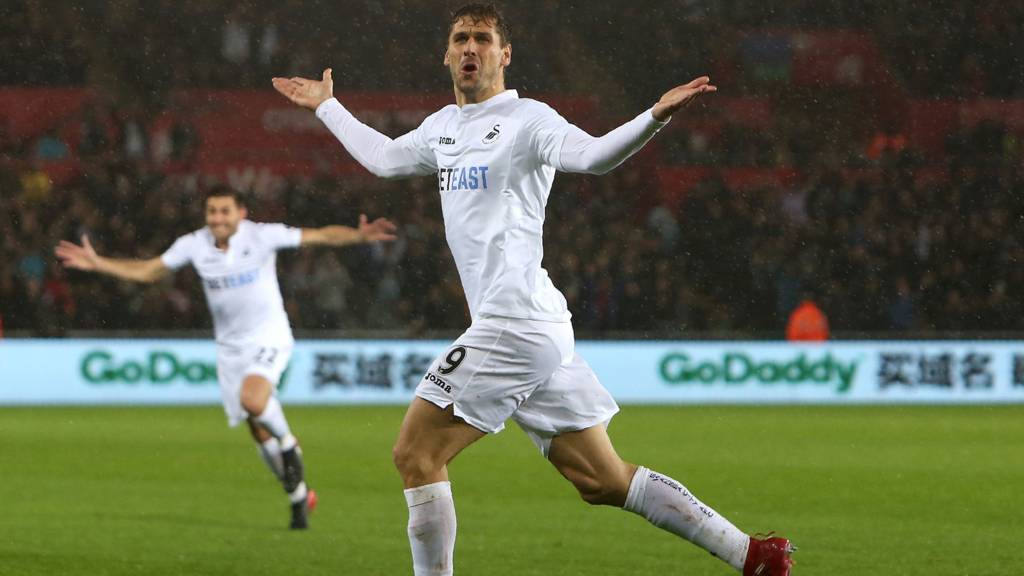 Summary
FT: Arsenal 3-1 Stoke City
Walcott, Ozil & Iwobi for Gunners
FT: Burnley 3-2 Bournemouth
Hendrick, Ward & Boyd for Clarets
FT: Hull City 3-3 Crystal Palace
Campbell hits late Palace equaliser
FT: Swansea City 3-0 Sunderland
Sigurdsson pen, Llorente (2)
This page is checking out now but there is still plenty to keep you entertained.

Leicester running riot

Leicester City 3-0 Manchester City

'Tight penalty decision' changed game

Swansea City 3-0 Sunderland

David Moyes says that Sunderland's 3-0 defeat at Swansea "turned on a tight decision" after the Swans were given a penalty for a Jason Denayer handball when the game was goalless.

MATCH REPORT: Swansea 3-0 Sunderland

Watch highlights on Match of the Day, 22:30 GMT, on BBC One, the BBC Sport app and this website.

Manchester City boss Guardiola taking some stick....

Jason Moore: Don't know what Pep expects when playing full-backs as centre-backs so often. Plus a very poor keeper. Frankly awful managing

Tomassii: Man City... no, Guardiola is in SERIOUS trouble. Emphasis on "serious"

Jaleel Oladipo: Pep will be found for what/who he is in England

'Good feeling to get on top'

Swansea City 3-0 Sunderland

Swansea City manager Bob Bradley speaking to BBC Sport:

"The word we used with the players this week was pride, and we wanted to change it to intensity and a clean-sheet. I am satisfied with that.

"It is a good feeling to get on top. It has not happened enough this season. It helps and gets the supporters behind us. The atmosphere starts to change. The momentum goes through the team and that is what we really need right now.

"It shows the supporters are with the team. It has been a tough time but they know how to support the players. They were there for us.

"It is important that we enjoy the moment but we cannot lose focus. We need to build on this result.

"It is a nice boost to be out of the relegation zone but we don't want to get ahead of ourselves."

'We didn't play well enough'

Swansea City 3-0 Sunderland

Sunderland manager David Moyes speaking to BBC Sport: 

"It was frustrating. We didn't play particularly well and we didn't take a couple of opportunities. 

"We should have created more chances. We had one or two moments, but it was a tough game and circumstances as well.

"If you get the first goal it always gives you confidence.

"The game turned on a tight decision. The cross was only two or three yards away from him (Denayer) when it came in. That said, I don't think he should have had his hands up there. It was a big call.

"We've been bottom most of the season. We've been on a good run for three or four games. Now we want to go again."

'We gave ourselves a mountain to climb'

Burnley 3-2 Bournemouth

Bournemouth manager Eddie Howe speaking to BBC Sport: "The most disappointing thing is we had given ourselves a mountain to climb going two goals down so early on, even though I felt like we controlled the game. 

"Those two goals we can rue but we can't keep putting ourselves in the position where we have to chase the game like that. 

"They put too many balls in our box but we got a lot of balls into their penalty area too but from our point of view there were too many wasted deliveries and bad decisions."

Leicester City 2-0 Manchester City

A stunning start from Leicester City! The Champions are 2-0 up already against Manchester City.

Zaha was 'magnificent'

Hull 3-3 Crystal Palace

Crystal Palace boss Alan Pardew is asked for his view on Hull's first penalty:"There were some contentious decisions but I do feel genuinely sorry for the referee because the angle, when Scott Dann goes to ground, the player has really fabricated that. 

"It really frustrates us. There's no point trying to protect players when they dive. We then get a yellow card for Scott Dann complaining. Does that then get transferred to Robert Snodgrasss?"

He adds: "Let's not get bogged down. There was great commitment from both sides. This was a very different Hull than the side who played Middlesbrough. Mike [Phelan] did a good job today.

"And there was a magnificent performance from Wilfried Zaha. He was sublime. They couldn't cope with him, and that goal is a contender for goal of the season.

"We made defensive errors, scored three away from home and still have not won. When Wlif got the second we really should be seeing that out from there.

"We score goals but we just need to tighten up."

KICK-OFF

Leicester City 0-0 Manchester City

Up and running at a very wet King Power Stadium.

"I've not seen it" is a strange thing to say isn't it when you are the player who was fouled?

'I've not seen it'

Hull 3-3 Crystal Palace

Robert Snodgrass is asked about his side's first penalty, when he appeared to dive.

"I've not seen it. I thought the boy [Scott Dann] was going to come in so I tried to ride the tackle. The players weren't happy but I've not seen it again."

Snodgrass then gave away a Palace penalty in the second half, for a foul on Wilfried Zaha.

"I think the ref couldn't wait to give them a penalty in the second half. I thought he went down really soft as well, that's part of football."

'I am super pleased with my subs today'

Burnley 3-2 Bournemouth

Burnley manager Sean Dyche speaking to BBC Match of the Day: "I am very pleased. We are still learning as a side and we can definitely play better but the mentality was brilliant from my players.

"Bournemouth are a great side - Eddie Howe is doing a fantastic job and we knew they would come here feeling confident with their shoulders back after a strong performance against Liverpool but we had a bright start and threatened their back line which I think we did brilliantly. 

"Let's not talk too much about the time-keeping, we could debate that all day but sometimes I don't know where they get the timing from. We've had it happen before where the referee seems to just let the time play out as if to give them a chance and lo-and-behold the ball ends up in our net. We can only hope it pays us back but it hasn't so far.

"Having said that I am super pleased with my subs today - I don't usually say something like that but they came on and changed the game and I thought they were outstanding. 

"It's hard to kill teams off in the Premier League. The challenge is evident but there is clarity to the thoughts of the players and we will take that into the next matches. All we can do is work hard with the aim to get a result." 

'We should see it through'

Hull 3-3 Crystal Palace

Hull manager Mike Phelan, speaking to BBC Sport: "I'm disappointed, but also really proud of the way we played. We were on the front foot most of time, we were competitive, but when you score three at home and don't get a win... we should have seen it through. The last goal was a poor goal to concede, these things happen when you lose concentration."

On the Robert Snodgrass penalty decision.

"I think there were a few penalties that could have gone today. The ref made the judgment and we've had many appeals turned down this season, so I am not going to complain."

Did he dive?

"You said so, the ref didn't feel that way, we take the penalty."

What about signings in January?

"My goalscorers have been Michael Dawson and Robert Snodgrass. Adama Diomande did really well, but we need all players to prove they are capable of scoring goals. Today we got into position and we took our chances.

"But in January we need additions. The players want fresh faces, more energy, and we want to build on this squad."

Follow Leicester - City

Leicester City v Manchester City (17:30 GMT)

'Teams can't cope with Arsenal'

Arsenal 3-1 Stoke City

Stoke City manager Mark Hughes: "We created a number of good opportunities when in previous years we have struggled to even get shots on goal here. We had a number of good moments even before the penalty.

"I thought he (Joe Allen) got sideswiped and was in possession of the ball in the box, my initial thought was it was a penalty.

"We stood up to them and maybe conceding the equaliser before half time lifted them and hurt us more than we thought.

"We had to push the game and look for opportunities at the other end - a lot of teams will struggle to come here and cope with the pace and power Arsenal have at the moment.

"You have to take it on the chin and go again."

'We can fight at the top'

Arsenal 3-1 Stoke City

More from Arsenal manager Arsene Wenger: "We are there for the fight and we have been consistent after the first game. It is down to us to maintain the focus and the desire to improve. We have a chance to fight at the top."

On goalscorer Theo Walcott: "His main quality is the combative side to his game and that changes you as a player, he is more resolute, determined and you can see he wins more balls back than ever before.

"I have the luxury of top quality on the bench, but in fairness you look at the bench of everybody in the Premier League and it is quite impressive."

Party time for Bradley

Swansea 3-0 Sunderland

Bob Bradley says his plans for tonight are watching the MLS final with some friends, some family and some wine.

'Penalty not even a foul'

Arsenal 3-1 Stoke City

Arsenal manager Arsene Wenger: "We have scored many goals this week and had an excellent run, so let's keep the focus and keep it going on.

"We had a hesitant start, but when you play every few days sometimes it takes you time to get into a rhythm and today that is what happened.

"We got a very unlucky penalty against us because it is not even a foul in my opinion. But we have showed great mental strength.

"Everybody was amazed (by the penalty) and I haven't seen it yet but it was of course a blow for us. Mentally it was good for morale to get back to 1-1 before half time."

Two points cover the bottom five then. One win can get you out of dodge at the moment.