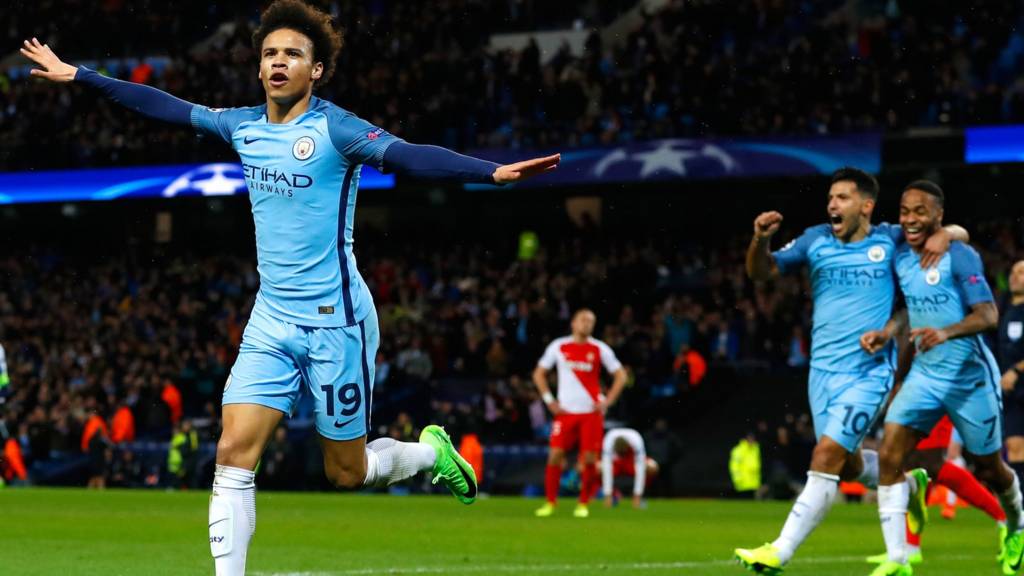 Man City 5-3 Monaco - reaction and analysis
After 14 goals in two games, and two stupendous Champions League matches, we're calling it a night.

Same again tomorrow?

'The experience will help us in the future'

Manchester City 5-3 Monaco

Manchester City manager Pep Guardiola speaking to BT Sport: "A lot of things happened but in the moment we were lucky. We were stable mentally. The old and young guys in the team played amazing. To live this experience helps us a lot in the future. Monaco has more history than us in the competition and you need this kind of experience to learn and improve. Of course anything can happen in Monaco and we have to score goals.

"We think in attack. Attack, attack, attack. Monaco score maybe 80 goals in one season and attack with a lot of people. They are physically strong and are a top, top team. That's why they're top of the league. That's why we take a lot of credit with this result.

"The result is ok. It could be better, could be worse, but it is what it is."

Want to share your thoughts on that crazy game? Now's your chance. Phil McNulty is live from the Etihad taking your questions. Get involved!

Post update

Manchester City 5-3 Monaco

'Attack, attack, attack' is Pep Guardiola's consensus of the game and that about sums it up...

'It was a crazy game'

Manchester City 5-3 Monaco

Manchester City goalkeeper Willy Caballero speaking to BT Sport: "It was a crazy game. Fortunately we won but we have to play against this fantastic team again. We have to enjoy this but we don't have anything yet. The most important thing is we recover our mentality and team spirit.

[On saving Falcao's penalty] "Fortunately for me and the team I chose one side. We studied Falcao and the rest of the penalty takers a lot and I have been lucky today to choose the right side.

"I made a mistake in the first goal and we have a lot of things to improve, but we never gave up and the team was strong today, even when we conceded easy goals. We stayed in the game and finish up winning the game."

Five from five

Manchester City 5-3 Monaco

Manchester City have saved each of their last five penalties in the Champions League (two from Caballero, three from Joe Hart).

Teenage dream

Manchester City 5-3 Monaco

Kylian Mbappe is the second youngest French scorer in the Champions League, following Karim Benzema (17y 352d) who scored for Lyon against Rosenborg in December 2005.

The record breaker

Bayer Leverkusen 2-4 Atletico Madrid

Antoine Griezmann is the top scoring player for Atletico in Champions League/European Cup with 13 goals, overtaking Luis Aragones (12).

SMS Message: I'm old enough to remember when Champions League games were 0-0 or 1-0. Those were the days! from Medway Spence

SMS Message: Saturday Premier League 15 goals 7 matches. Tuesday Champions League 14 goals 2 matches! Ridiculous! from Tim from York

SMS Message: I think we can put the whole Guardiola teams are not fun to watch argument to bed once and for all after tonight. from Luke

SMS Message: Some wonderful players on show at Etihad but not a decent CB on the pitch - this has turned into a Sunday league game from Frank

'Class'

Manchester City 5-3 Monaco

Stoke forward Bojan - out on loan at Mainz - enjoyed that one too.

Fernando Forestieri's late strike gave Sheffield Wednesday some hope but Brentford held on to secure a 2-1 victory at Hillsborough. 

QPR avoided an upset as they won 2-1 despite a few nervous moments against relegation-battling Wigan at Loftus Road.

Huddersfield recorded a crucial 1-0 win over play-off rivals Reading but it remained goalless at Pride Park between Derby and Burton Albion.

Yusuf Yassin: 8 goals, 10 yellow cards, one missed penalty and a fantastic chip goal from Falcao it makes you wonder why he flopped in the Prem.

Seth: This kind of game is very entertaining for the neutrals but I'm sure it's a recipe for heart attack for fans of those two teams

Nikul: The only thing missing was someone eating a pie from the bench. 

'We need to tighten up at the back'

Manchester City 5-3 Monaco

Manchester City's Raheem Sterling speaking to BT Sport: "It was good to be a part of. It was end to end stuff and Monaco gave us a tough game and pushed us all the way. We got the win and that's the most important thing today.

"It's always difficult to go down but the boys did really well. We played our football and stuck to our game and it worked out in the end. At the end of the day we need to tighten up at the back as well."

'Great spirit, great desire, great goals'

Manchester City 5-3 Monaco

Manchester City defender John Stones, speaking to BT Sport: "Lot of goals. The three goals we conceded from a personal point of view is something we need to work on but great team spirit, great desire and great goals from us as well."

Goal of the night

Manchester City 5-3 Monaco

Radamel Falcao's lob was quite simply superb.

It hasn't been a good evening for Wycombe as they slump to a 1-0 defeat against Colchester and miss an opportunity to move into a play-off spot. To make matters worse, Joe Jacobson picked up his second yellow card for a late trip on Tarique Fosu and now misses the next match against Crawley. 

Elsewhere in League Two, Newport had to settle for a 1-1 draw against Morecambe despite taking the lead early in the first half. 

Southend produced a convincing performance to record a comfortable 4-1 win over Peterborough in League One, while Millwall and Gillingham had to settle for draws at home. 

Oxford United held on to their 1-0 lead over Charlton after Conor McAleny broke the deadlock after just 12 minutes at The Valley.

'Falcao simply incredible'

Manchester City 5-3 Monaco

Julien Laurens

French football expert on BBC Radio 5 live

I agree with Chris Waddle. We bigged Falco up before the game but he's 31 years of age! To finish it that way is simple incredible. 

Who do you make as favourite for the Champions League at the moment then?

'Neither of these teams will win Champions League'

Manchester City 5-3 Monaco

Chris Waddle

Ex-England winger, BBC Radio 5 live

I don't think either of these teams will win it. You can't concede goals like that and win the Champions League but this is how they play. Defensively either side aren't strong enough.

'Why not make a change?!'

Manchester City 5-3 Monaco

Julien Laurens

French football expert on BBC Radio 5 live

They ran out of gas but that's what happens when you play that style of football. Set pieces have always been Monaco's weakness this season. We've praised Leonardo Jardim before the game but why on earth didn't he change anything at 3-3? When you realise they're all shattered especially in midfield, you make a change! I have to question tactically what Jardim did tonight, but credit to City.