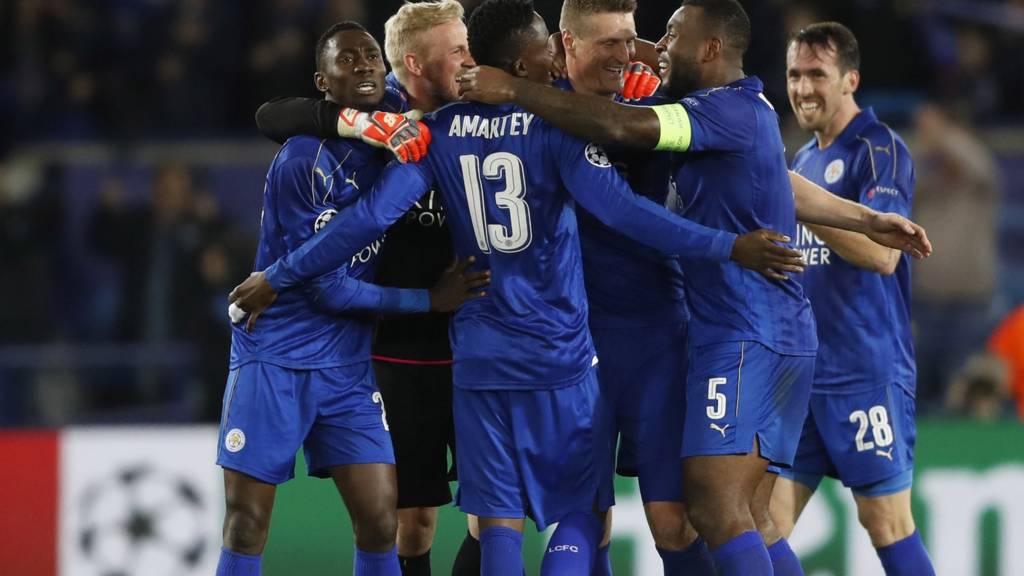 Leicester stun Sevilla to reach last eight - reaction
That's your lot. Good night all.

Bask, Leicester fans, bask.

Copyright: The Daily Mail

Copyright: The Daily Telegraph

Copyright: The Daily Star

Post update

Leicester 2-0 Sevilla (agg 3-2)

To finish tonight's coverage, here is how some of tomorrow's papers are reporting on a glorious night for Leicester...

'It just had that epic quality'

Leicester 2-0 Sevilla (agg 3-2)

Jonathan Northcroft

Sunday Times football correspondent on 5 live

It reminded me of last season so much. It just had that epic quality. Everything was the same as last year tonight, except the man in the dugout. 

But you have got to be honest, this is not the set up Ranieri would have chosen - they would have had different instructions.  This was back to basics for Leicester tonight and that is what the players wanted - that's what got them success last year. It's a pretty simple blueprint but they do it so well. 

'Immensely proud'

Leicester 2-0 Sevilla (agg 3-2)

Leicester manager Craig Shakespeare, speaking to BT Sport: "Immense. The players can be immensely proud of themselves. We were immense from the first whistle until the last. We rode our luck at times but the character was immense.

"These players enjoy pressing from the front. We are a better team when we do that. The idea was to make it as uncomfortable as we could for Sevilla in the first 15 minutes. 

"When we needed Kasper the most he came up trumps. We deserve to be there, we have just knocked out one of the best teams in Europe in my opinion. Their credentials are there for everyone to see and we can be immensely proud.

"It is only three games, somewhere along the line there might be a hiccup but I have to enjoy tonight."

'From League Two to the Champions League last eight'

Leicester 2-0 Sevilla (agg 3-2)

More from Kasper Schmeichel: "It is a great feeling to help the team progress. It is about confidence. We have gone out and played more like we did last season and we are reaping the rewards of it now. It was a fantastic night.

"A lot of us have come along way. I've been all the way down in League Two and to be standing here in the Champions League quarter-finals is incredible."

'I don't think they would want either Real Madrid or Barcelona'

Leicester 2-0 Sevilla (agg 3-2)

David Pleat

Former Leicester City manager for 5 live Sport

They looked so fluid and had such amazing passion and determination tonight. It has been such a fantastic time for them over the past few years, which is why we love the game. 

You have to beat your opponents over the course of 180 minutes which makes the win even more impressive. I don't think they would want either Real Madrid or Barcelona in the quarter-final. 

Perhaps Monaco if they make it through against Manchester City tomorrow.

Who would have thought they would win the title last year so whoever they face, who knows?

'We stuck to the plan'

Leicester 2-0 Sevilla (agg 3-2)

Leicester goalkeeper Kasper Schmeichel, speaking to BT Sport: "It is an unbelievable achievement for the club. I am proud of the boys and proud of everybody. We had a game plan, we stuck to it and it came off perfectly. 

"We always knew they would have a lot of possession. First half they had a lot of possession and played really well but you know you have to defend against a team that keeps the ball like them and we kept them to just a couple of chances."

Post update

Leicester 2-0 Sevilla (agg 3-2)

A very emotional Leicester fan Chris in Leicester: "I have been a Leicester City fan since I was 9 and I'm 42 now. I have been there through thick and thin and at one stage it was very thin but tonight my little team have got through to the quarter final of the Champions League and I am crying. It's the team that defied the odds and they are doing it all over again.  

"This is more exciting than winning the league because we are playing the biggest clubs in history, the best players in the game and little Leicester are up there with them. 

"I was joking after we won the league when I said 'Bring on Barca' but now I would love to see it happen. I would absolutely love to see that."

Phil McNulty's verdict

Leicester 2-0 Sevilla (agg 3-2)

Chief football writer Phil McNulty is live on Facebook now discussing tonight's match. Get involved and send him your questions here.

'Lost for words'

Leicester 2-0 Sevilla (agg 3-2)

Leicester goalscorer Marc Albrighton, speaking to BT Sport: "I'm lost for words. What a night, we deserved the victory. We pressed them from start to finish, defended triumphantly and two goals a clean sheet - fantastic.

"We have been brilliant in this campaign, the Champions League is fantastic."

Meanwhile, in the Championship...

Leicester 2-0 Sevilla (agg 3-2)

It has been a dramatic night in the Championship as well. 

There was a belting game at Craven Cottage where Fulham were denied a play-off spot by a 94th-minute Blackburn equaliser. Meanwhile, Wolves came from a goal down late on to win 2-1 at Brentford.

You can relive those games here.

A quick recap

Leicester 2-0 Sevilla (agg 3-2)

If you've been out doing something else this evening you've missed a cracker of a game. One of those 'can't take your eyes off it' kinda matches. It was so gripping I wasn't even distracted by being offered Lukaku and Coutinho for Firmino and Andre Gray in my draft fantasy football league.*

Here is what went down at the King Power. Wes Morgan kneed City ahead in the tie in the first half before Marc Albrighton put them ahead on goals with a strike in the second.

Samir Nasri was then sent off for two fouls that brought him two yellows before Kasper Schmeichel saved a penalty. Sevilla's horror night wad capped when manager Jorge Sampaoli was sent to the stands. 

And thanks to all that, Leicester sealed a spot in the last eight of the Champions League.

*The deal's out there now. It's happening.