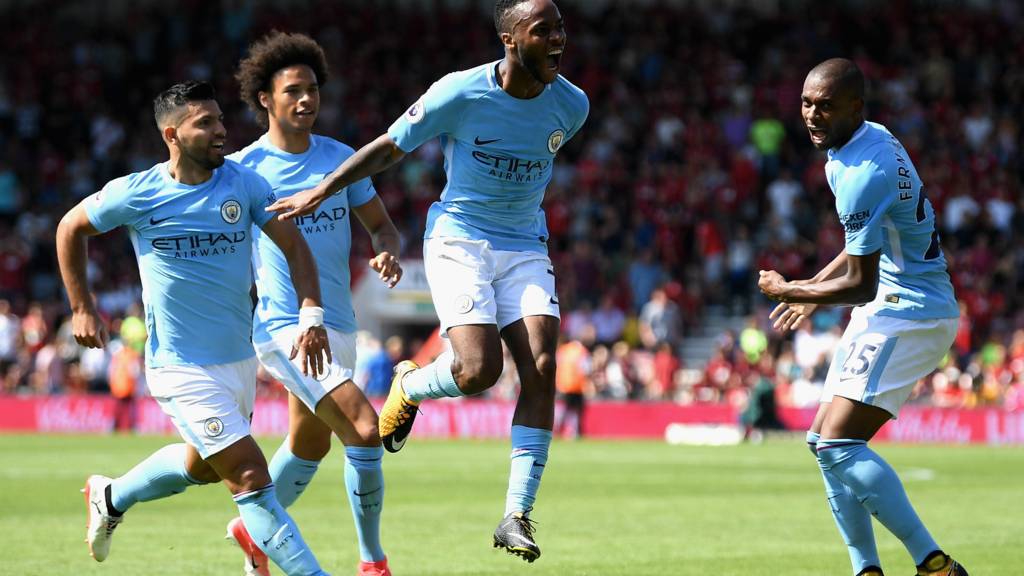 Reaction to dramatic late win for Man City at Bournemouth
Summary
Sterling rescues late, late win with deflected finish - gets second yellow for celebration
Jesus slides home from D Silva pass
Daniels hits stunning half-volley for Bournemouth opener
Get involved using #bbcfootball
Goodbye
Bournemouth 1-2 Man City
A quiet ending to that match then.
Moments of class
Bournemouth 1-2 Man City

Bournemouth manager Eddie Howe tells BBC Sport: "We thought we had hung on for a point, we had chances to win it too, I am disappointing for the players and the supports.
"The second half was bitty, we wanted that to be the case. I am more disappointed for the foul given against Lys Mousset, but these things happen. I am enthused by the performance, which was better than our first two.
"We started really well, very positively. Jermain had a chance to make it 2-0, we created more chances today than in our first two games, but we need to start getting some points quickly.
"You cannot prepare this game to dominate the ball. We know it would be a different test, we had to be disciplined which I felt we were, but one or two moments of class from them can hurt you."
It is what it is
Bournemouth 1-2 Man City

Manchester City manager Pep Guardiola to BBC Sport: "Winning the last minute is always special. It was a tough game, it is always complicated against Bournemouth. They play long balls, balls into the channels and play set-pieces but we got into the game. We tried, our finishing was not good but we are there.
"Frustrating for us? Why? We were better against Tottenham last season, had 60% possession but did not score.
On Raheem Sterling red card: "I do not understand the decision. Hopefully they can call me and explain why. I can speak after winning. I am talking about the decision, I am not the referee. It is what it is.
"We gave them the ball back but the defender did not move."
Louis Porter: I have no idea what is going on...
Parm: That's is a joke. Getting a second yellow for over celebrating. The refs just don't understand the emotions of football.
Dave: Mike Dean making up rules again
Mixed emotions for Daniels
Bournemouth 1-2 Man City

Bournemouth defender Charlie Daniels tells BBC Sport: "There was only five minutes of added on time so ask the referee why we played seven. Then in the lead-up to the goal, he awarded a free-kick which was perfectly a timed tackle by Lys Mousset. It was gutting for us to concede after that and I would like to found out where he got that extra time from.
"It was a nice goal (by me). I thought why not have a crack at it and fortunately it went in."
'Who is Mike Dean appealing to?'
Bournemouth 1-2 Man City

Garth Crooks
Former Spurs striker on Final Score
There was so much about this game that is getting my knickers in a twist.
The biggest controversy for me is the sending off.
Raheem Sterling scores a goal in the dying minutes, he is euphoric and goes to celebrate with the fans and receives a red card for it.
Who is Mike Dean appealing to by sending him off for that? It's certainly not the crowd.
'Feeling well'
Bournemouth 1-2 Man City

Manchester City midfielder Bernardo Silva tells Sky Sports: "It was a tough match for us. We did not start well but we played well after that/ All the games are difficult, all the team are competitive but we got the three points.
"The manage asked me to be myself, as I did last season for Monaco. I need to get adapted to the team and I am feeling well."
'Unbelievable goal'
Bournemouth 1-2 Man City

Manchester City defender Vincent Kompany tells Sky Sports: "Madness. The first thing I did was say to Benjamin Mendy and Bernardo Silva, 'welcome to the Premier League'. I thought we played well, like we did against Everton. We did not score our chances but we have big, fast, strong players and anything can happen. We deserved to win, but they made it hard for us.
"Our strength of character showed and we dealt with the physical challenge well. Overall, we won 95% of our challenges, which is a good sign.
On Charlie Daniels goal: "It was an unbelievable goal, from an angle I did not think was possible. No matter how much you dominate, anything can happen."
On Raheem Sterling red card: "I do not know whether the crowd ran to Raheem or he ran that way. It was too many emotions to control."
All eyes on referee Mike Dean at the final whistle. We have said that before, haven't we?
Was time up? What was the point in sending Raheem Sterling off after celebrating?
Stay with us for full reaction.
FULL-TIME
Bournemouth 1-2 Man City
Bournemouth players surround the referee Mike Dean as he blows for full-time.
A dramatic ending to this game.
RED CARD FOR MAN CITY
Bournemouth 1-2 Man City
Raheem Sterling given a second yellow card, which means a red and is sent off by referee Mike Dean for celebrating with the away supporters.
I make that 10 minutes into added time.
GOAL - Bournemouth 1-2 Man City
Raheem Sterling
Pandemonium in the away stand.
City do not give up and get their winner late on.
Kevin de Bruyne to Raheem Sterling in the area.
Sterling pops it wide to Danilo, who gives it back to Sterling to finish into the far corner.
The shot takes a nick off Andrew Surman's heels, which gave Asmir Begovic no chance.
Sterling and the City players run to celebrate with the away supporters and the police get involved to try and restore order.
CLOSE!
Bournemouth 1-1 Man City
At the other end, Joshua King forces Ederson into a low save to his right.
A good stop.
Kevin de Bruyne puts in the corner...
...which Bournemouth goalkeeper Asmir Begovic comes off line to punch away.
More defending for Bournemouth to do late on.
Charlie Daniels heads Leroy Sane's cross away for a corner...
YELLOW CARD
Bournemouth 1-1 Man City
Copy and paste: Yellow card.
Bournemouth's Adam Smith now.
Sub being subbed.
Benik Afobe cannot continue after taking a knock when challenging for the ball with Vincent Kompany.
Lys Mousset takes his place.
That will add some more seconds on.
O Cube: At this rate even Barca won't take Mr. Guardiola back.
'Segun Olan': Pep, you're getting sacked mid season
Boniface: May be Dimitri Seluk was right after all about Pep: he is not that good, his success came because of good players.
Guess what?
Yellow card, the eighth of the contest.
Raheem Sterling, not for that last shot, but for tangling with Harry Arter.
FIVE minutes added on.
Raheem Sterling smashes a shot high and wide of goal.
The home fans cheered that one as much as the one they scored in the first half.

Mark Schwarzer
Ex-Middlesbrough keeper on 5 live
In a boxing fight here, my money is on Eddie Howe...
City boss Pep Guardiola not happy at how slowly Dan Gosling made his way off the pitch after that.
Fourth official Lee Probert is calling Mike Dean over, who has a chat before calling Guardiola and Eddie Howe together.
Tempers are flaring on the south coast.
Dan Gosling needs the physio to give his foot a rub after that challenge on Leroy Sane.
That should add at least an extra minute on for stoppages.
Leroy Sane threatening inside the Bournemouth box, but Dan Gosling gets back to nick the ball away and it rolls nicely for Asmir Begovic.
Two minutes left, Bournemouth are almost there.
Sergio Aguero and Kevin de Bruyne over it.
Aguero is the one who curls the ball over the wall, but wide of goal.
YELLOW CARD
Bournemouth 1-1 Man City
Mike Dean handing out yellow cards like they are going out of fashion.
Harry Arter the latest after tripping Raheem Sterling 25 yards out.
Left-back Benjamin Mendy's gets forward for City and Nathan Ake makes a real mess of his clearance - not for the first time today.
The loose ball falls to David Silva in the air, but Charlie Daniels' slides in to put the Spaniard off, as Silva blazes over.
Five minute remaining.

Mark Schwarzer
Ex-Middlesbrough keeper on 5 live
For all their talent and ability, I would expect Man City to have had more chances.
They just haven't created enough today.
As a Bournemouth player, you won't want to see someone like Leroy Sane coming on with ten minutes to go.
However, this is not a big pitch so he may be a little easier to contain here.
SUBSTITUTION
Bournemouth 1-1 Man City
Leroy Sane to the rescue?
On comes the German, goalscorer Gabriel Jesus hobbles off.
City bodies being left strewn all over the pitch.
Gabriel Jesus is down in the Bournemouth penalty area, then Joshua King goes in hard on Nicolas Otamendi.
These two sides have been in a tough battle today, they will feel their bumps and bruises when they wake up on Sunday morning.
YELLOW CARD
Bournemouth 1-1 Man City
A sixth booking issued by Mike Dean.
This time for debutant Benjamin Mendy for a trip on Joshua King on the half way line.
A "good" foul, as they say.
Asmir Begovic having to get down to his right to push away Danilo's low cross.
City are being left frustrated...for now.

Mark Schwarzer
Ex-Middlesbrough keeper on 5 live
It's 1-1 in the scoreline and 1-1 in hitting the post so it's a fairly even contest actually!
Bournemouth have dealt with City's attacking threat very well for much of this half, now can they go on and finish the job?
They have 15 minutes left to hold out.
YELLOW CARD
Bournemouth 1-1 Man City
Steve Cook is the latest man into Mike Dean's book for a high, clumsy challenge on City striker Gabriel Jesus.
HITS THE WOODWORK
Bournemouth 1-1 Man City
Kevin de Bruyne swings in a corner which Nicolas Otamendi heads towards goal...
....time stands still...
...the ball drops and lands onto the post and bounces into the hands of Asmir Begovic.
Bournemouth riding their luck.
SUBSTITUTION
Bournemouth 1-1 Man City
Little man Jermain Defoe's race is run, he makes way for big man Benik Afobe.
A different kind of threat for the City defenders to deal with for the remaining 18 minutes.