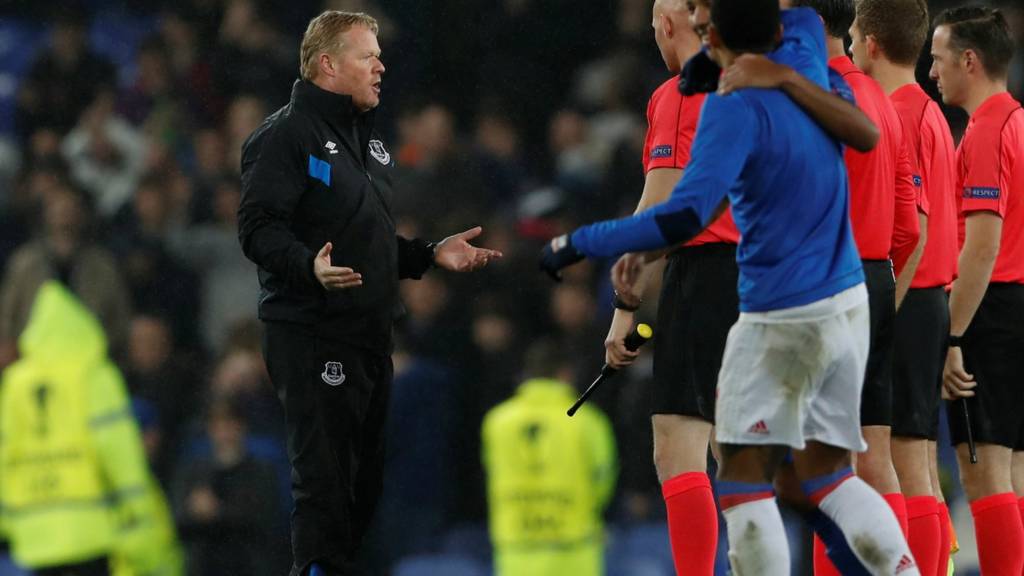 Lyon inflict more woe on Everton - Europa League as it happened
Summary
Traore flicks in winner soon after Williams leveller for Everton
Fekir with opener for Lyon after foul in box from Holgate
Toffees bottom of Group E with one point
Giroud hooks in winner for Arsenal after Zvezda's Rodic sent off
Gunners top of Group H with three wins out of three
And we are wrapping up this page. Reaction from Ronald will be on the site shortly.

We are still waiting for reaction from Ronald Koeman...

You have no idea how much I wish I'd thought of that line Asif.

'He's going to flick one, he's going to flick oneeee!!!'

#bbcfootball or 81111 on text

Asif Maruf: Koeman knows all about scoring when you shouldn't be on the pitch

'Can't see it changing'

Everton 1-2 Lyon

Kevin Kilbane

Former Everton winger

A reminder of what Kevin Kilbane said in his BBC column at the weekend:

"Normally, I would say it is too early to get rid of the manager and you could argue Koeman just needs time for some of his summer signings to adjust and also that if he tweaks a couple of things, they will improve.

"But the problem for Koeman is that I don't see anything changing with the way Everton are playing under him until they can sign players in January."

'We want to show fight'

Everton 1-2 Lyon

Everton defender Ashley Williams on BT Sport: "It is going to be difficult. We wanted to win tonight. I thought we responded well after going 1-0 down but we've taken nothing."

On the clash with Lyon players following his push on their goalkeeper: "It's football. It is what it is. We want to win and so do they. These things happen.

"The pressure you put on yourself is bigger than anything outside. We want to show fight for ourselves, the club and fans. We had a lot of chances - more than them."

On the Arsenal game this weekend: "It is a big one. They are all big, especially against a top team at home. We need a win and a performance."

Get involved

#bbcfootball or 81111 on text

SMS Message: Justice. What a good young Lyon side. from Hywel Stokes

SMS Message: Koeman's time is up. He'll be sacked by lunchtime tomorrow. Dyche next man in. from Mark, Nottingham

Post update

Everton 1-2 Lyon

Will Everton be now facing disciplinary problems for that scuffle which went into the crowd? Uefa are bound to investigate.

Get involved

#bbcfootball or 81111 on text

Marvellous tricoteuse reference here...

Sarah Morgan: Is it apt or ironic I've been knitting while that guillotine hovers closer and closer to Koeman's neck?

So you're saying there's a chance

Everton 1-2 Lyon

Three sides have progressed past the Europa League group stages after collecting one point in the first three games. So it's not all over for Everton but they probably need to go and win in Lyon now.

Which will be a tough ask.

Get involved

#bbcfootball or 81111 on text

Frank Lopez: Dutch Toffee here: Koeman out! Europa League ruined, PL miles off. Enough is enough! This hasn't been a team in months!

Nicky Cassidy: Can see Koeman being sacked shortly. All that spending just not working out. He should have stayed at Southampton.

Niall Hughes: Goodbye Koeman, you won't be missed. You can't blame not having a striker for the fact you concede twice a game!

Post update

Everton 1-2 Lyon

Lyon could have had more. They look a good side.

Everton have picked up just one point after three Europa League group stage games – the worst start of any English club at this stage

FULL-TIME

Everton 1-2 Lyon

All over. Muted boos but plenty of applause too.

Post update

Everton 1-2 Lyon

Jordan Pickford can't be criticised tonight. Michael Keane is turned inside out again, and Pickford saves well from Maxwell Comet.

Post update

Everton 1-2 Lyon

"Under-inspiring, underwhelming, under performing" is the summary of Everton's season so far by Chris Sutton on BT Sport. Fair?

INJURY TIME

Everton 1-2 Lyon

Sandro runs into a cul-de-sac and loses the ball and again Lyon counter well, they have two men over at the far post but the cross is not great, Michael Keane slices away over his own net though.

Post update

Everton 1-2 Lyon

We are back up and running after treatment to the Lyon keeper. Ronald Koeman barks some orders. Can his side find another response?

Nothing to see in the Group F match between Czech side Zlin and Danish visitors FC Copenhagen. Literally.

The game has been suspended with little under 20 minutes left because of thick fog in Olomouc with the score at 1-1..

How bizarre, it was only at 18:53 that I was talking about fog, in Belgrade!

Elsewhere, Everton's Group E rivals Atalanta are tightening their grip on top spot, adding a third against Apollon.

AC Milan are still to break through against AEK Athens at the San Siro, while Dynamo Kiev and Braga also both look set to lose their 100% winning records.

Dynamo are being held at 2-2 by Young Boys, but Braga have virtually no hope of finding a winner. The Portuguese side are 2-0 down at home to Ludogorets.

GREAT SAVE!

Everton 1-2 Lyon

Great end to the game here!

Nobody's minding the shop for Everton as they get caught with a three-on-one counter, sub Jordan Ferri takes on Cuco Martina to burst into the box but Jordan Pickford makes an excellent save!

At the other end instantly Dominic Calvert-Lewin chases down a bad touch but Anthony Lopes makes a brave save of his own!