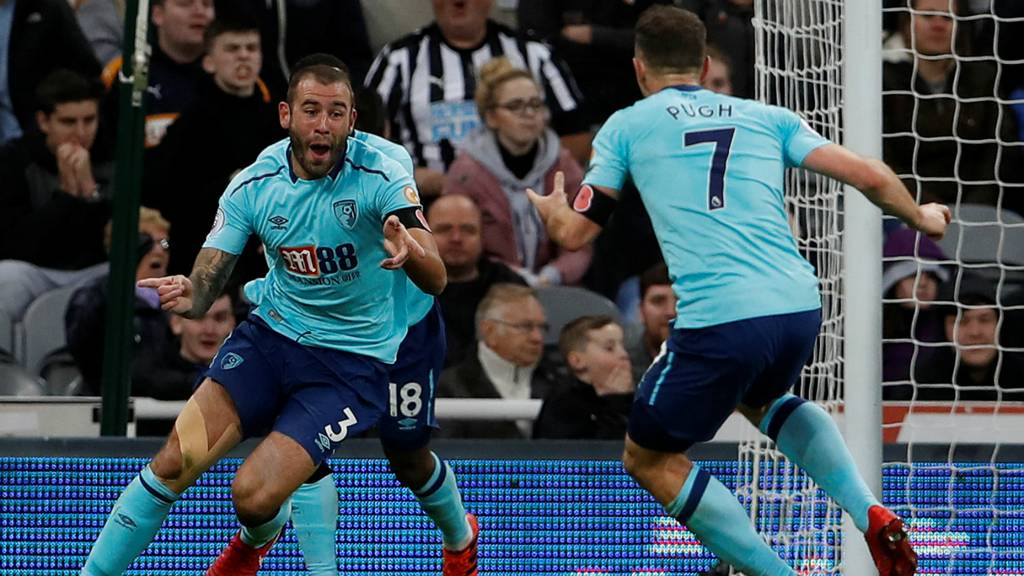 If Tammy can play for England so can I?

Swansea 0-1 Brighton

Of English players since the start of last season, only Harry Kane (37) has scored more goals in the top two tiers of English football than Glenn Murray (27 – level with Tammy Abraham).

Praise for Murray

Swansea 0-1 Brighton

Brighton manager Chris Hughton: "We played very well. We knew it was going to be a tough game and we fought very hard for it and I'm very pleased with what the boys produced.

"The thing with Glenn (Murray) is, he has a very good record of putting the ball in the net, which is what you need, but what I really like about him is his work ethic.

"He works hard on the training ground and then brings it to the pitch. But the boys all put a shift in today and I'm really pleased with the effort.

'Ours was a very good goal, wasn't it?'

Huddersfield 1-0 West Brom

Huddersfield keeper Jonas Lossl: "I knew they would craft some opportunities so for me it was about being ready. A game like that, when we fought our way through that second half and won, is great. That's our team.

"The manager here makes a big effort to bring players with the right character to the team. We know we are underdogs and everyone here works so hard. It's a combined effort and when we have success like that it's just fantastic.

"I appreciate very much the opportunity to play here and I'm doing my best to make it worth it. And ours was a very good goal, wasn't it?"

Post update

Huddersfield 1-0 West Brom

Despite playing against 10 men for 33 minutes of this match, West Brom (49.7%) still held less possession than Huddersfield (50.3%).

This is West Brom's lowest points tally after 11 games of a Premier League season (10) since 2005-06 (8), when they were relegated.

'We need to win ugly'

Swansea 0-1 Brighton

Paul Clement: "I see a team low on confidence and I see a crowd frustrated but there is nobody more low and frustrated than me.

"The responsibility is down to me, the staff and the players. We will continue to work hard. We need to find a way to work even harder.

"We might have to win ugly in order to get some results. We will have to try to go to Burnley and grind out a result.

"Time isn't running out as there are lots of games that need to be played so it's not a crisis but we need to start winning games.

"In all my jobs there has always been difficult moments and I have enough experience to know you have to stay level-headed and not get too down."

'I worry about my players'

Huddersfield 1-0 West Brom

Tony Pulis, West Brom boss: "It was a wonderful goal, an outstanding goal. You can't blame our keeper - it was a great strike. You can't fault my players, who have worked incredibly hard. But we are in the results business and these results mean there's some pressure on me.

"When they went down to 10 men there were times when we could have displayed a little more care in the final third. But we were beaten by a wonder goal when it should have been a free-kick given our way. And the crowd here is absolutely fantastic - it reminds me a little bit of Stoke City when we first got promoted.

"I am disappointed professionally - it hurts to go such a long time without winning a game. But things conspire against you at times and you don't get the breaks. I worry about my players more than anything else, whereas I've been in this game too long to be affected by any criticism."

'You can't expect to win like that'

Swansea 0-1 Brighton

Swansea manager Paul Clement speaking to BBC Sport: "If we perform at that level you can't expect to win a game. I haven't said too much to the players after the game to be honest.

"It is best to reflect in a calm manner and give feedback in the next available opportunity. It is different to say what went wrong.

"When the goal went in we lost our shape and identity. We had two big chances in the second-half but they were blocked on the line."

'Only one side wanted the win'

Huddersfield 1-0 West Brom

'Look at what my players left out there on the grass'

Huddersfield 1-0 West Brom

Huddersfield manager David Wagner: "This is one of the highlights since I arrived at this club. Two weeks ago we beat Manchester United but the win today was another big moment for this club.

"Look how my players worked, what they left out there on the grass. It was an absolutely deserved win today and I am delighted for my players because the workload was unbelievable. It was a great afternoon for us.

"There was a long time left in the game at the point of the sending off, more than half and hour, and my players responded by showing a real Terriers reaction.

"The support here was amazing, just electric. The crowd played their part today as we got the result over the line.

"Two years in this job? That's the reality, and from where we started two years ago this is something unbelievable, extraordinary."

Niche question of the day

#bbcfootball or 81111 on text

SMS Message: When was the last time three teams all starting with the same letter of the alphabet all won 1-0 and away from home in the Premier League? from Glen - Manchester

The late show

West Ham v Liverpool (17:30 GMT)

It's all about to kick-off at the London Stadium.

Join Shamoon Hafez here for commentary of Liverpool's trip to West Ham as we continue to round up the reaction.

'We deserved more'

Southampton 0-1 Burnley

Southampton boss Mauricio Pellegrinio, speaking to MOTD: "We did everything we had to do against an opponent that was defending 90% of the game. We were much better than them in all different aspects of the game apart from efficiency. They had one chance and scored. It is really painful for us, we did everything. The intensity and football was good, but we lost.

"I don't want to talk about luck. In this aspect we need to improve our accuracy. Today the spirit of the team and the attitude was really good.

"We had to use this game as a reference about how I would like my team to play. We deserved more.

"We have quality and capacity to keep playing in this way. We controlled the opponent totally in my view but in the respect of efficiency, Burnley were better than us."

'The fans are disappointed, aren't they?'

Huddersfield 1-0 West Brom

West Brom defender Jonny Evans: "Their keeper pulled off a few good saves at the end, and they hung on. That's disappointing for us.

"There were times when we should have played better, broken them down and created a few more chances earlier on. The fact they went down to 10 men should've meant the game swung in our favour but we couldn't find the goal.

"It's been a while since our last win but we keep our heads up into the international break.

"The fans are disappointed, aren't they? But they clapped us off the pitch at the end, which was good to see."

'I just get on with it'

Southampton 0-1 Burnley

Burnley boss Sean Dyche on Sky Sports, speaking about reported Everton interest: "It is the story that is outside of me and yes it is about me but I have no control on what is put out there. I just get on with the job."

Get involved

#bbcfootball or 81111 on text

Pete Rowley: Tony Pulis surely has to go now. Absolute shambles for weeks and weeks, can't get any worse than watching this tripe.

Mark Russell:#wemarchon to the Championship with a team that can't score and a keeper that moves like a wardrobe. #Saints

NE How: On the evidence of these afternoon's games the big six deserve all the money they want. Some of these games have been awful

It's been a busy day in the FA Cup, with three non-league sides knocking out teams from the EFL.

This was the moment National League outfit Boreham Wood completed their fightback to win 2-1 and knock League One's Blackpool out in the first round.

'Our team spirit is amazing'

Swansea 0-1 Brighton

Brighton's Anthony Knockaert, speaking to BBC Sport: "First and foremost it's important to keep clean sheets. We've had two great performances away from home. Swansea is never easy to win against. It's really good for our confidence that we have now won four games.

"Our team spirit is amazing, it is working well at the moment but we have to stay focused as there are a lot of games to go.

"I'm delighted to have assisted the goal to Glenn Murray but the important thing is to get the three points so I'm delighted with our performance."

'Losing is always hard'

Newcastle 0-1 Bournemouth

Newcastle boss Rafael Benitez: "It's always hard when you lose a game in the last minute.

"I have seen it [the disallowed Dwight Gayle goal] but it will not change anything. We have to understand that in these sort of games we have to do better.

"We have created chances in every game, you have to score. We have to keep going, we are Newcastle United, a good team that has been promoted.

"Maybe the break is good, we can keep working with the players. I was happy before the game with how we have been doing but disappointed now. It is still early."

'It was great to see it go in'

Huddersfield 1-0 West Brom

Huddersfield match-winner Rajiv Van La Parra: "I am a happy man! When we got the red card we had to play with 10 men for 30 minutes. They were pressing us really high with the long ball, but we did a great job at a man down. I think we deserved the win.

"Personally, it's nice to score my first Premier League goal. When I was in a position to shoot all I knew was I had to hit the target.

"Sometimes, when you shoot, you have a feeling that it was a nice hit. When it came off my foot I felt that, and it was funny because everyone in the crowd fell really quiet. It was great to see it go in.

"Wins at home this season will be really important - we have to push for wins at home. In this game we had to be patient and our supporters were right behind us, and I'm happy for them that we could get the win."