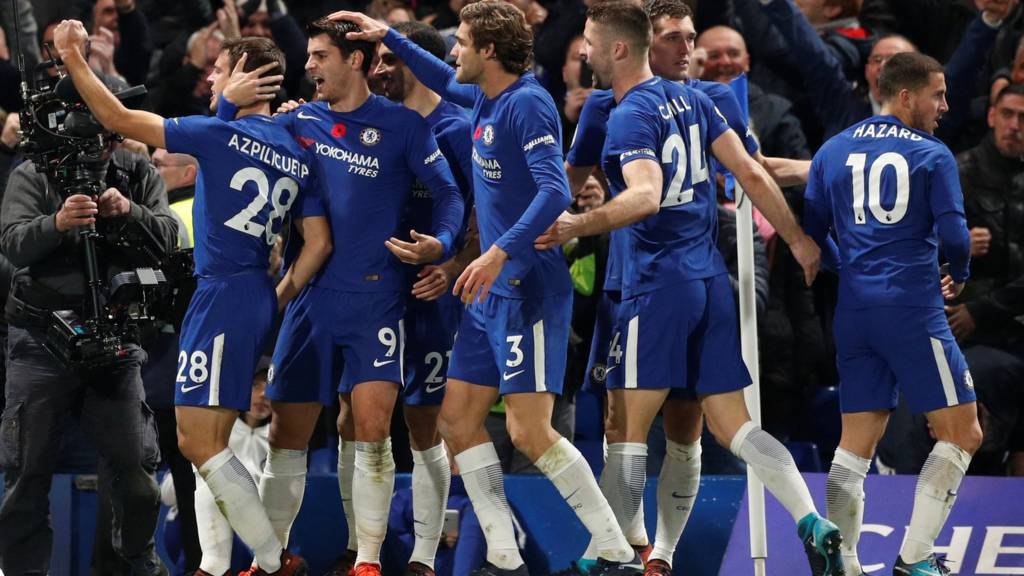 Everton win 3-2 after Watford miss late penalty - reaction as Chelsea beat Man Utd
Super Sunday indeed.

Wins for Manchester City, Chelsea, Everton and Tottenham.

We are back on Monday for FA Cup action.

Until then.

'Everything happened today'

Everton 3-2 Watford

Watford manager Marco Silva told BBC Sport: "We were comfortable at 2-0. I didn't remember a period of 10 minutes when they had big pressure. The details made the difference.

"We made one mistakes and they began to believe. Our player slipped for the penalty, that's very unlucky.

"Gomes has had a bad cut. It's never easy to change the goalkeeper during the match. Everything happened today. I hope in the next few days he wll be able to come back to training."

Have respect off the pitch

Chelsea 1-0 Manchester Utd

Chelsea boss Antonio Conte on Sky Sports: "Alvaro Morata showed great personality to be very strong to play in this league. There is disappointment because he could score more but today he was very good. He's a young player but it's great for his confidence and the confidence of Chelsea.

On the lack of a handshake with Jose Mourinho: "It's not important. It's important to win the game. You have to have the respect on the pitch not outside the pitch."

Conte pleased with spirit

Chelsea 1-0 Manchester Utd

Chelsea boss Antonio Conte on Sky Sports: "It's an important victory. When you play against Manchester United it's always a massive game. We know very well this team is very strong. This type of win is important for our confidence. We showed great desire and passion to win this kind of game.

"We can win or lose but our spirit must be this. Last season our spirit was in every game – we started this season with a lot of problems. We were up and down. This game showed if we want we can."

He is asked if David Luiz has a future at Chelsea: "I don't know. He has to work really hard otherwise they are on the bench or in the stand."

Shearer takes it all in...

What did Alan Shearer make of all that?

He's on Facebook Live right now with reaction - you can see him at 22:30 GMT on BBC One for Match of the Day too.

BBC Sport app users may need to follow the link to view the content.

'We completely fell apart'

Everton 3-2 Watford

Watford forward Andre Gray: "We deserved all three points but we completely fell apart after they scored. I don't know if it's lack of concentration or getting over confident but they scored once and it lifted their crowd.

"We are professionals and we have to deal with that. It's frustrating to miss the penalty but I would feel the same if Tom Cleverley had put it away and we came away with a point.

"We should have been three or four ahead, we were dominant. I'd rather be playing on Tuesday instead of having an international break."

'Thank you to the fans'

Everton 3-2 Watford

Everton caretaker manager David Unsworth told BBC Sport: "We've done it the hard way, but showed incredible spirit and fight. The crowd helped us, they were incredible.

"We needed the goal to get us back to 2-1. It would have been easy for fans to go against us at 2-0 down, but the stayed with us and I thank them for that.

"I'm very confident with Leighton, he's taken a lot of penalties. If anyone was going to stick in the back of the net, it was him.

"I couldn't really see their penalty. I thought Jordan would have saved it if it was on target. You can imagine the emotions. We worked so hard and it would have been gut-wrenching for every Evertonian if that had gone in.

"Whatever will be will be. I have been the proudest man in the world to take charge for the last two weeks and no one can take that away from me.

"I know nothing about it. I'm sure I'll speak to the chiarman and owner and I'll keep giving my best for this wonderful club."

'I am so proud of our club'

Everton 3-2 Watford

Everton caretaker manager David Unsworth: "The game had everything didn't it. It was an Everton performance in the second half and the crowd were amazing. They got us back into the game without a doubt. They could have gone against us but I am so proud of our club tonight.

"I might need to lie down in a dark room for half an hour! We showed great fight and spirit and that's what you need at the bottom of the able. We showed great desire and determination. This club is built on that sort of attitude. The table looks better than it did before the game.

"The win will give us some confidence, it lifts the club and the training ground.

"All I know is that every day since I got the honour of standing in as manager I have given my all and I will continue to do that. I want what's best for this club. If someone else comes in I will shake them by the hand and wish them the very best of luck."

Missed the action?

Join Mark Chapman and the team at 22:30 tonight for highlights, analysis and reports from today's games in the Premier League as well as reaction to Saturday's results.

'Eight points is eight points'

Chelsea 1-0 Manchester United

Manchester United boss Jose Mourinho, speaking to Sky Sports: "We are second - not fifth, sixth or seventh or eight. We have several teams in a more difficult position than we have. Eight points is eight points.

"We went through a very difficult phase with important matches against Tottenham, Liverpool and Chelsea without important players."

On the game: "The game was controlled by us and the game was controlled by them. We had chances and they had chances and with the first goal they were able to bring more people to defend. We tried to change the direction of our game, we created chances to equalise but we couldn't.

"We had chances. If I remember Lukaku shot in the first half and in the last part of the game with Rashford shot and Courtois without a chance with the cross to the far post to Fellaini. We had lots of chances to score goals."

'All us'

Chelsea 1-0 Manchester Utd

Manchester United boss Jose Mourinho speaking to Match of the Day: "It was an even match. Both teams could win. The first to score would be in more defensive control and to win the match.

"The first half was really even. In the second half in the only period where they were on top of the game, they scored.

"It frustrates us to concede a goal in this situation. We lost ourselves after the goal emotionally. We found again the balance and desire in the last 15 to 20 minutes. It was all us. We had big chances to equalise but we couldn't."

Sam: Chelsea thoroughly deserved all 3 points, but they should have scored more. De Gea stopped them there.

Femi: Morata should have scored a hat-trick today! He needs to be more clinical.

Visahavel: Take a bow, Antonio Conte. Could have easily been 3-4 more against the red half of Manchester today. Comfortable win.

'The result Unsworth deserves'

Everton 3-2 Watford

Everton defender Leighton Baines: "It didn't look good but we dug in, showed character and it's a great feeling. Nothing to get carried away with, the sort of win we should be getting but we showed the character Unsy deserves.

"I'm sure the fans would have really felt the emotion. When we conceded the penalty it summed up how it's gone for us.

"David Unsworth deserves more than what he's had from us in terms of results. He's been magnificent. The way he's conducted himself, he's been faultless. It is extra special to give him the result he deserved."

Post update

Chelsea 1-0 Manchester Utd

Jose Mourinho takes the positives from his side's current position of second in the league. He says Manchester United are in a better position than 18 other teams in the league.

Full quotes to come.

Most important goal

Chelsea 1-0 Manchester United

Asked if it was his most important goal for Chelsea, Alvaro Morata told Sky Sports: "For sure.

"It is important that we won. We had a very good chance today to come back to winning ways. We are happy now with the international break we can go with three points."

FULL-TIME

Everton 3-2 Watford

Incredible game at Goodison Park as Everton come from two goals behind to beat Watford.

Listen and get involved now as Kelly Cates and Ian Wright take your 606 calls on all of the talking points from today's games.

Proud performance

Chelsea 1-0 Manchester United

Chelsea midfielder Cesc Fabregas, speaking to Sky Sports: "We had plenty of chances, especially in the first half but we could have killed it off in the second half. It was maybe a little bit more open than expected.

"We prepared for the game in a way we know how they like to defend. We had more possession than usual which is something for me we have been lacking but we had the personality to play. It is fantastic to defend well but this is a team full of fantastic players and we need to take advantage of that.

"We played like a big team, defended like a big team and we have to be proud."

MISSED PENALTY

Everton 3-2 Watford

Oh my god. What a miss.

Tom Cleverley, against his old club, scuffs the spot-kick wide in the 101st minute of the match.

PENALTY TO WATFORD

Everton 3-2 Watford

Jordan Pickford brings down Richarlison.

Chance for Watford to level...